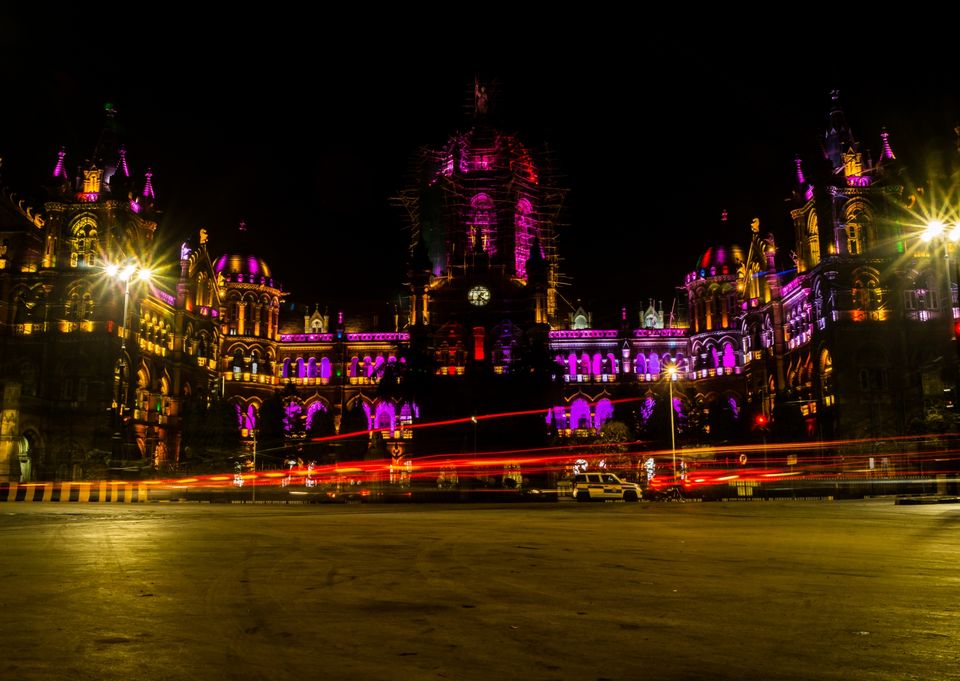 #Pune is a city surrounded by some awesome places out of which #Mumbai is the one which overpowers all the other nearby places. So we decided to start around 8:30 pm on Saturday with an aim to head #Marine Drive (approx 160 Kms) by midnight. Took the #Old Mumbai Pune Highway and Samarth Family Dhabha was our first stop. You can have dinner here with a per person cost of INR 150. Finally after riding for around 4 hrs, we reached Marine Drive around 1:00 am. The place was crowded with couples, families, and friends enjoying the positive vibes from the sea. The place had a magical touch. Do grab a cup of tea and some snacks from the sellers roaming all around the place.
After spending 2 hours at Marine Drive, we went to #CST station which is around 1.7 Kms from #Nariman Point. The lighting on the world famous #Chattrapati Shivaji Terminal (CST) took that place to some other level. Once we finished another tea in front of CST Station while shooting some light trails, we decided to start the morning with Lord Ganesha's blessings. Therefore, we headed for #Siddhivinayak Temple which was around 10 kms from CST. We got lucky as we reached by the time of first morning aarti, which takes place at 5:30 am (Note: Cameras and Laptops are not allowed inside #Siddhivinayak premises, so plan accordingly. However, the authorities have opened up an cloak counter to keep your accessories at a nominal charge, but the counter opens up at 7 in the morning). One you seek the blessings, enjoy some South Indian breakfast at a local cycle stall, trust me it was delicious and it costed me 20 bucks per plate.
Breakfast done. Now we decided to go #Juhu Beach, and we saw a huge crowd at 6:30 am with some fitness freaks. However, if you would like to enjoy the sunrise, then visit #Gateway of India, which we decided as our end point as we can directly head to Pune from there. I was amazed to see the cleanliness at #Juhu Beach, which once was so dirty that I decided not to go there. Kudos to the #Bombay Municipal Corporation. I also urge the people staying in or visiting Mumbai to maintain the cleanliness all over the city and support the government's cleanliness initiative.
Once Juhu was ticked off, we decided to explore the Banglas of some famous superstarts, thus we decided to head to #Bandra Bandstand. From there, we took the root to Gateway of India via Mukesh Ambani's House #Antillia; the costliest mansion all across the world.
As the temperature began to rise around 11:30 am, thus we did not spend much time at Gateway of India, just clicked few pictures and headed to Pune and reached Pune by 5 pm in the evening.
This sums up our overnight trip to the City that never sleeps. Mumbai, will see you again soon.
Till then keep flowing.
Hope this blog will help you in planning your trip. Do let me know what you feel about the blog in the comment section.
Will be back with another blog soon.
Keep Travelling Keep Exploring...!!
Signing off
SANCHIT GOYAL
INSTA ID - sclicks_photography_world