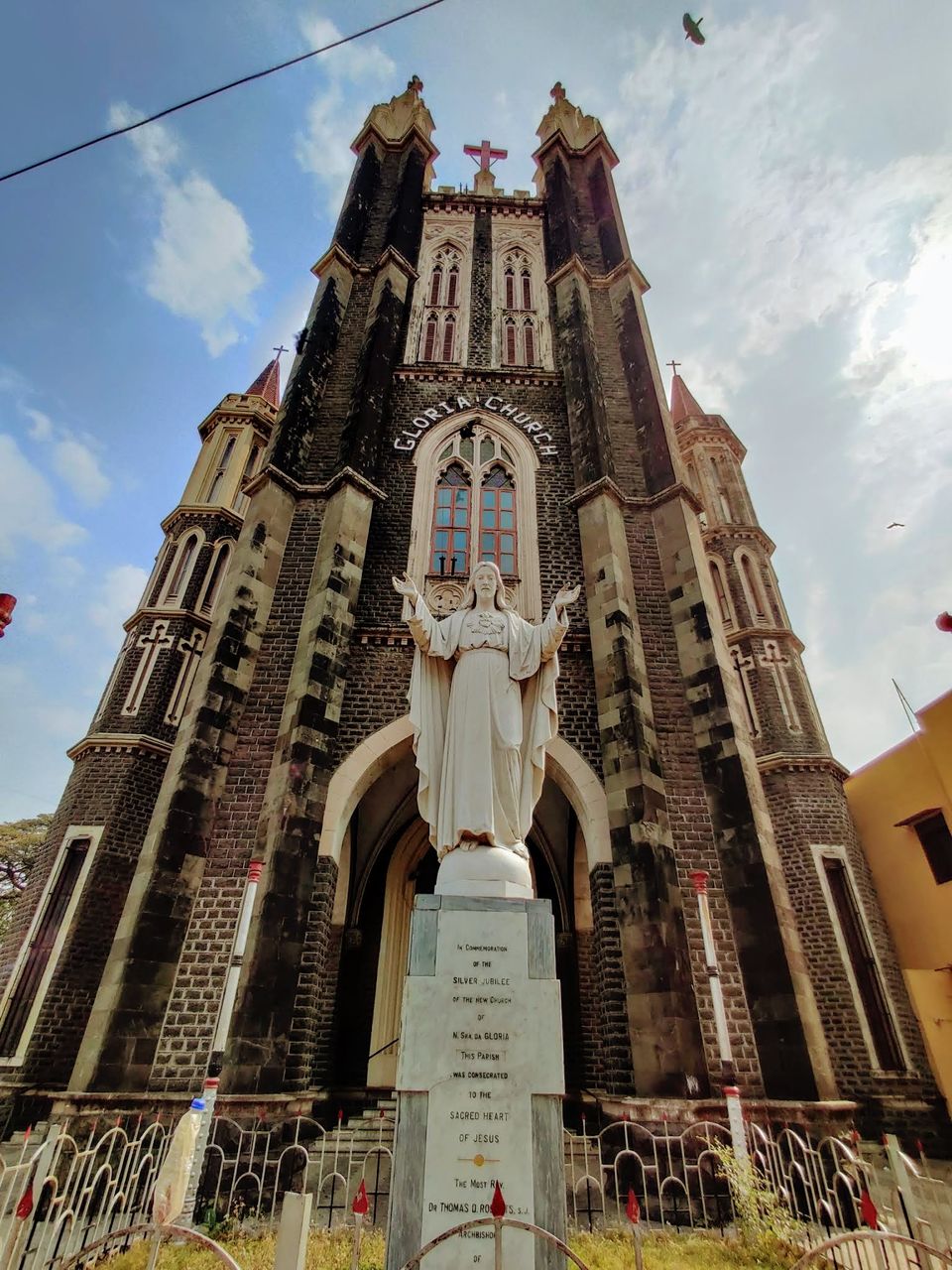 WHAT I LEARNT
Byculla is a one of the oldest neighborhoods in South Mumbai, India. The area is replete with historical places of significance. While in the old days, Byculla was an elite locality boasting of opulent residences, today its main attractions include the Jijamata Udyan zoo and the Dr. Bhau Daji Lad museum.
WHAT I SAW
FIRST STOP: MAGEN DAVID SYNAGOGUE
My first stop is the Magen David Synagogue. For the uninitiated, a synagogue is a Jewish house of prayer and worship. Built in 1864 by David Sassoon, a leader of Bombay's Jewish community, this remarkable synagogue is among the few left where prayers are held twice daily. This imposing blue Victorian structure is half camouflaged by trees and a school building on one side but once you walk through the gate, one can't help but be impressed by the sheer size and beauty of this structure.
Some glimpses of the interior.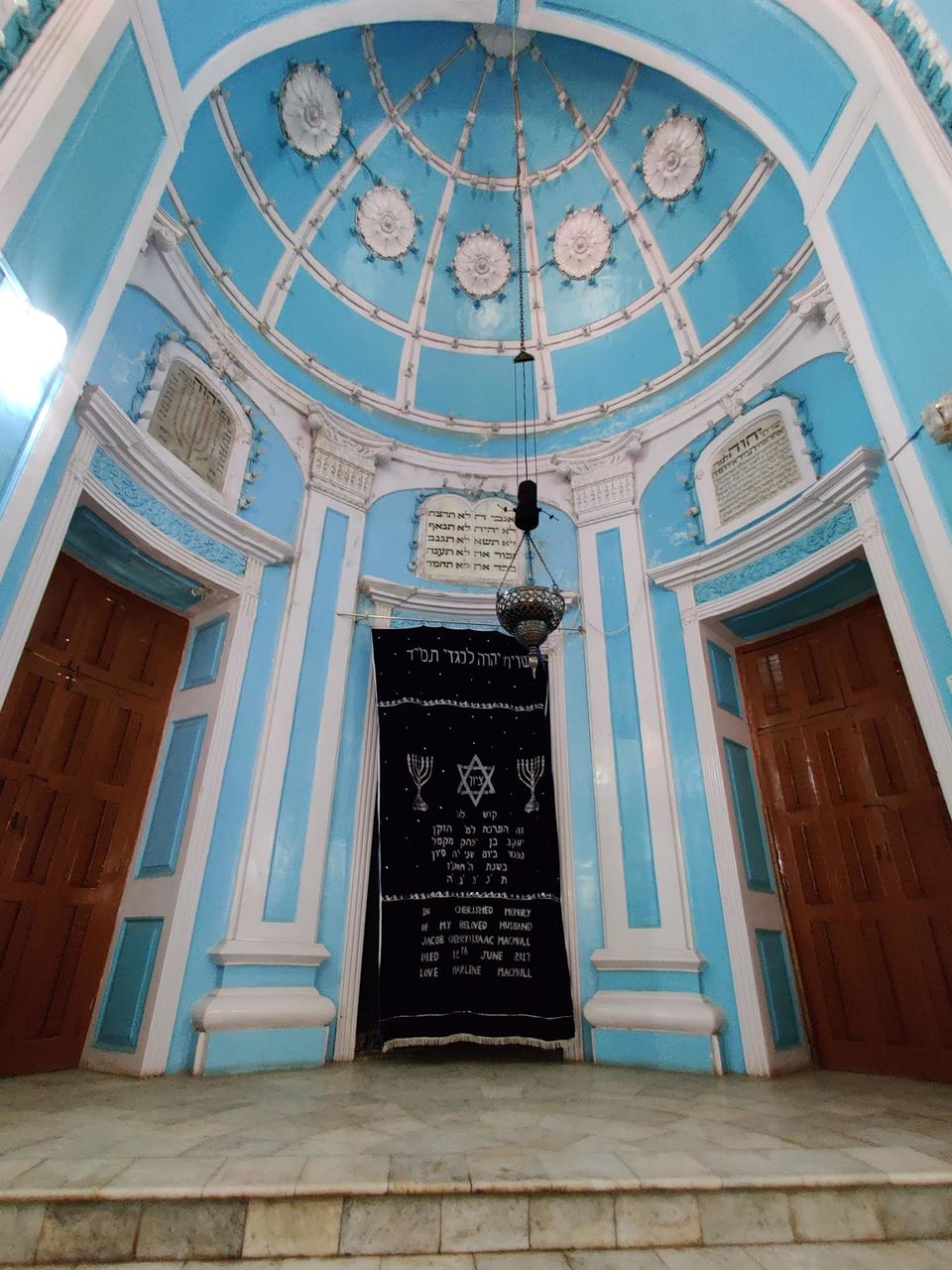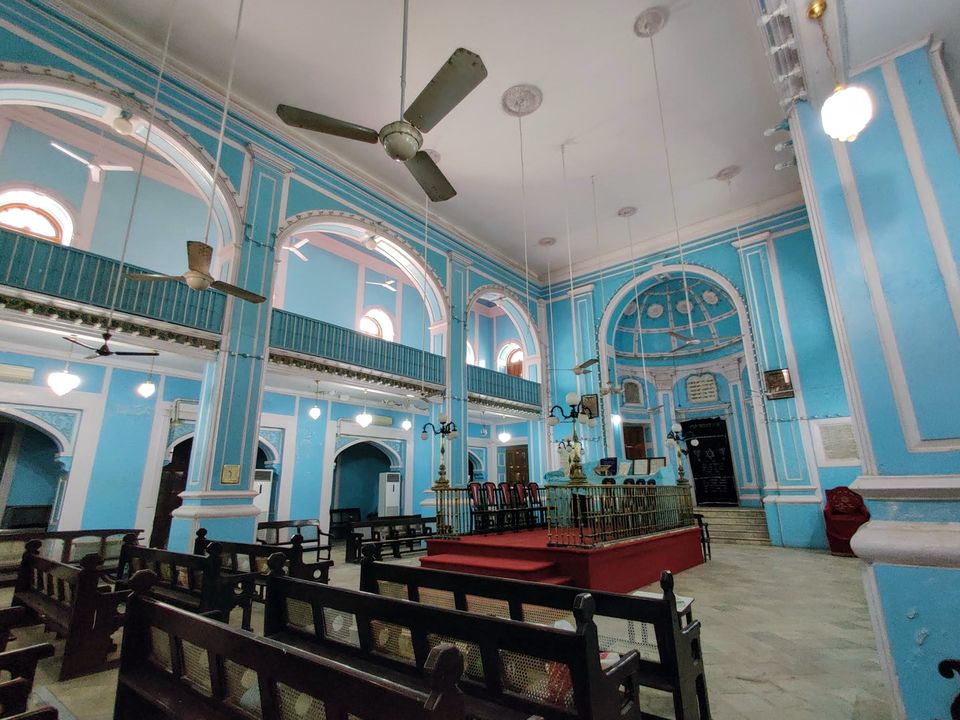 ENROUTE: KHADA PARSI STATUE
Sandwiched between 2 flyovers in the area, this statue is a challenge to photograph.
The Khada Parsi is the statue of Seth Cursetjee Manockjee a 19th century Parsi businessman-education reformer. This 40 feet tall cast iron monument was erected in his memory in 1860s by his son.
SECOND STOP: REGAL RESTAURANT & BAKERY
One of my most favourite things to do is to stop by at quaint cafes and vintage restaurants for a cup of tea and some bun maska. It's a very "Bombay thing" for me and while I have always enjoyed by hot cup of brew, this is an acquired habit that has the flavours of the city. (I will need a separate post on my love for tea.) So I stopped here at Regal.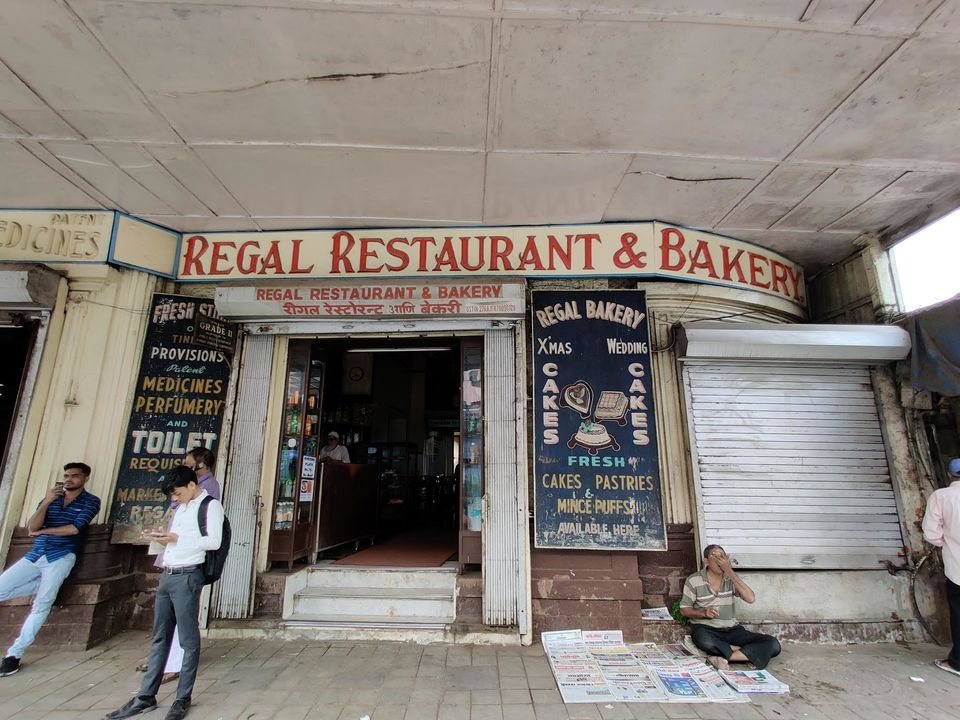 I walk in to the welcoming aroma of puffs and khari fresh out of the oven. They also have a small grocery section and a proud refrigerator with a badge of honour.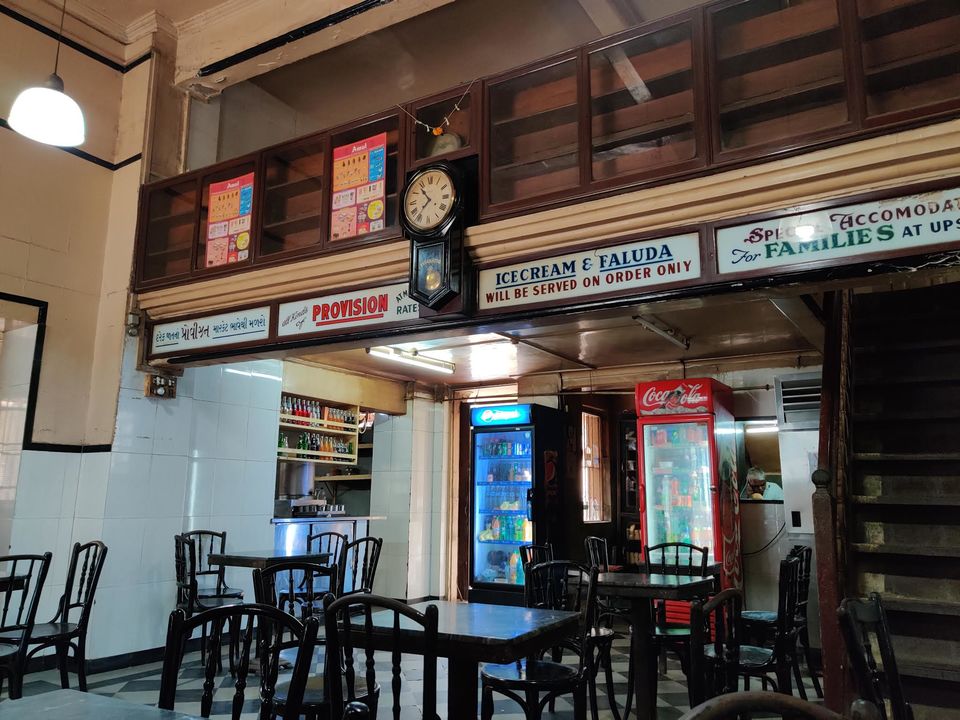 I'll have the usual please, thank you.
Does the Godrej Company know this?? A functioning refrigerator that's 55 years old and still running!!!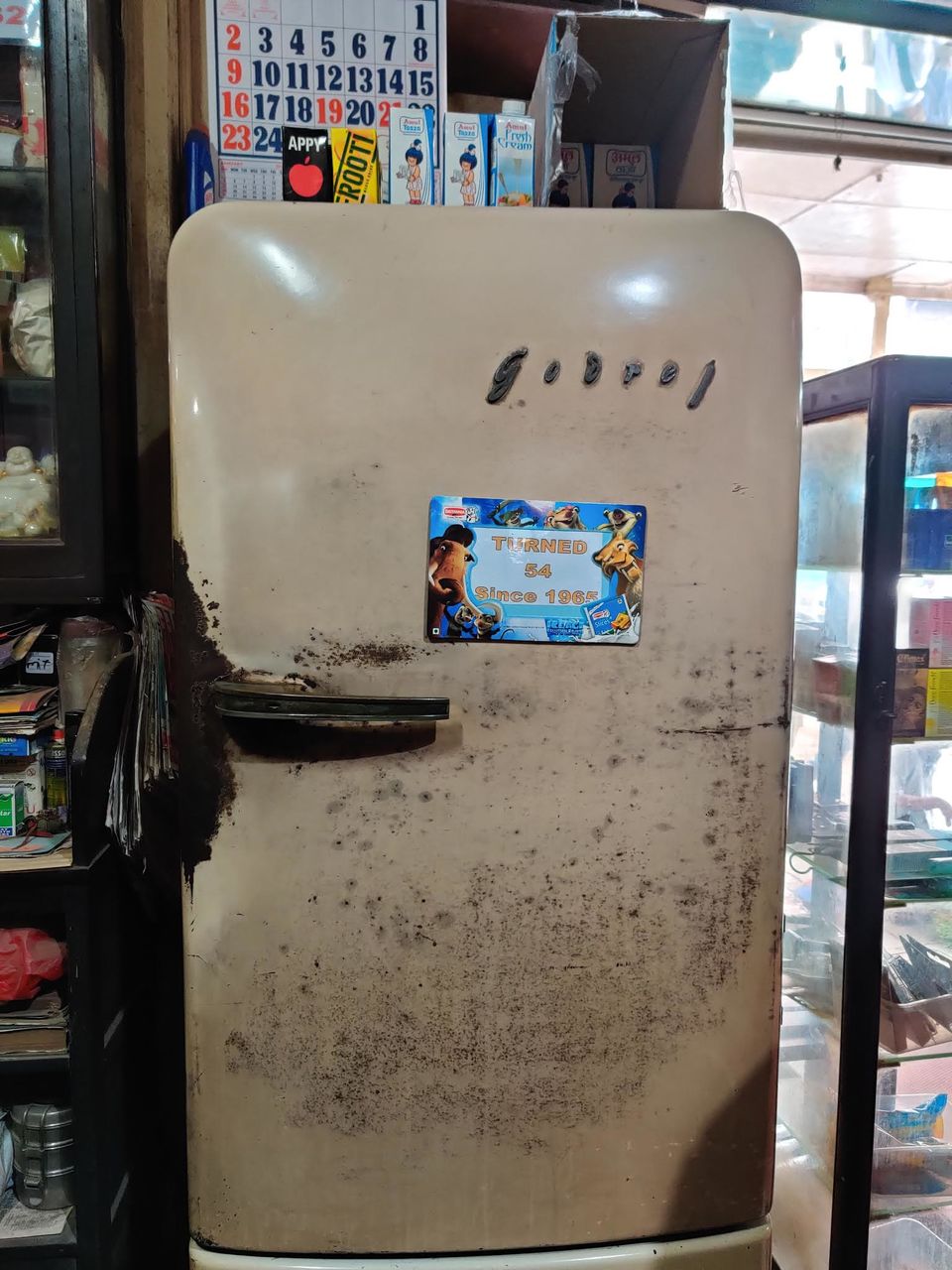 ENROUTE: PALACE TALKIES
Right next door to Regal Bakery is the Palace Talkies, which is perhaps one of the rare single screen theatres in Mumbai that is still screening films.
THIRD STOP: GLORIA CHURCH.
Across the road is my next stop. This is a Church I have seen in many a Hindi film and I'm curious to take a closer look. The Church was closed but I was able to admire the glorious exterior of this huge structure. Gloria Church (Also known in Portuguese as: Nossa Senhora de Gloria) was built in 1911-13 on one of the oldest Roman Catholic church sites in Mumbai.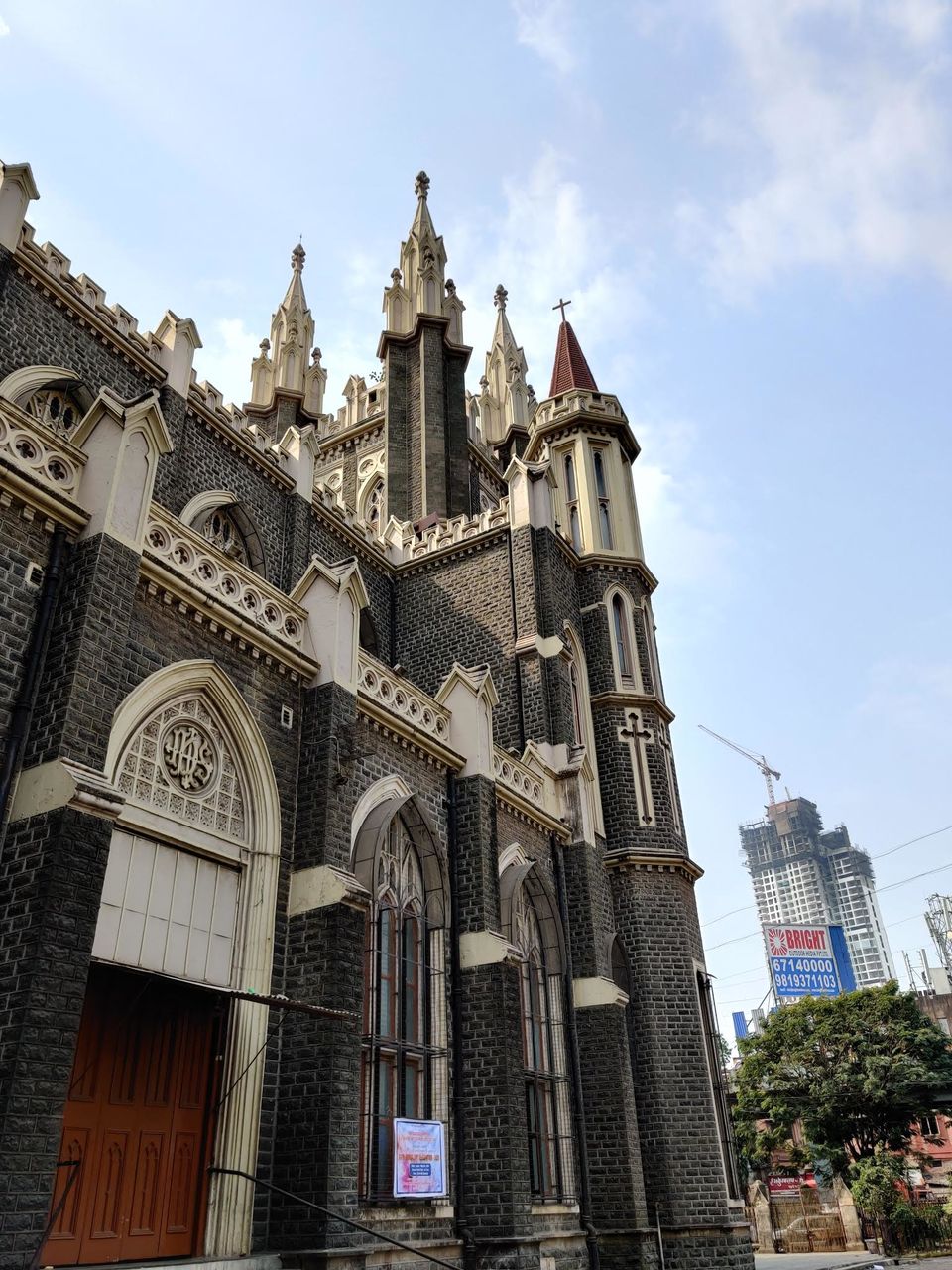 According to the church website, The present Church of Our Lady of Glory which celebrated its centenary in 2013 was built in 1912 and completed in 1913. Previously the Church stood in Mazagaon for over three centuries.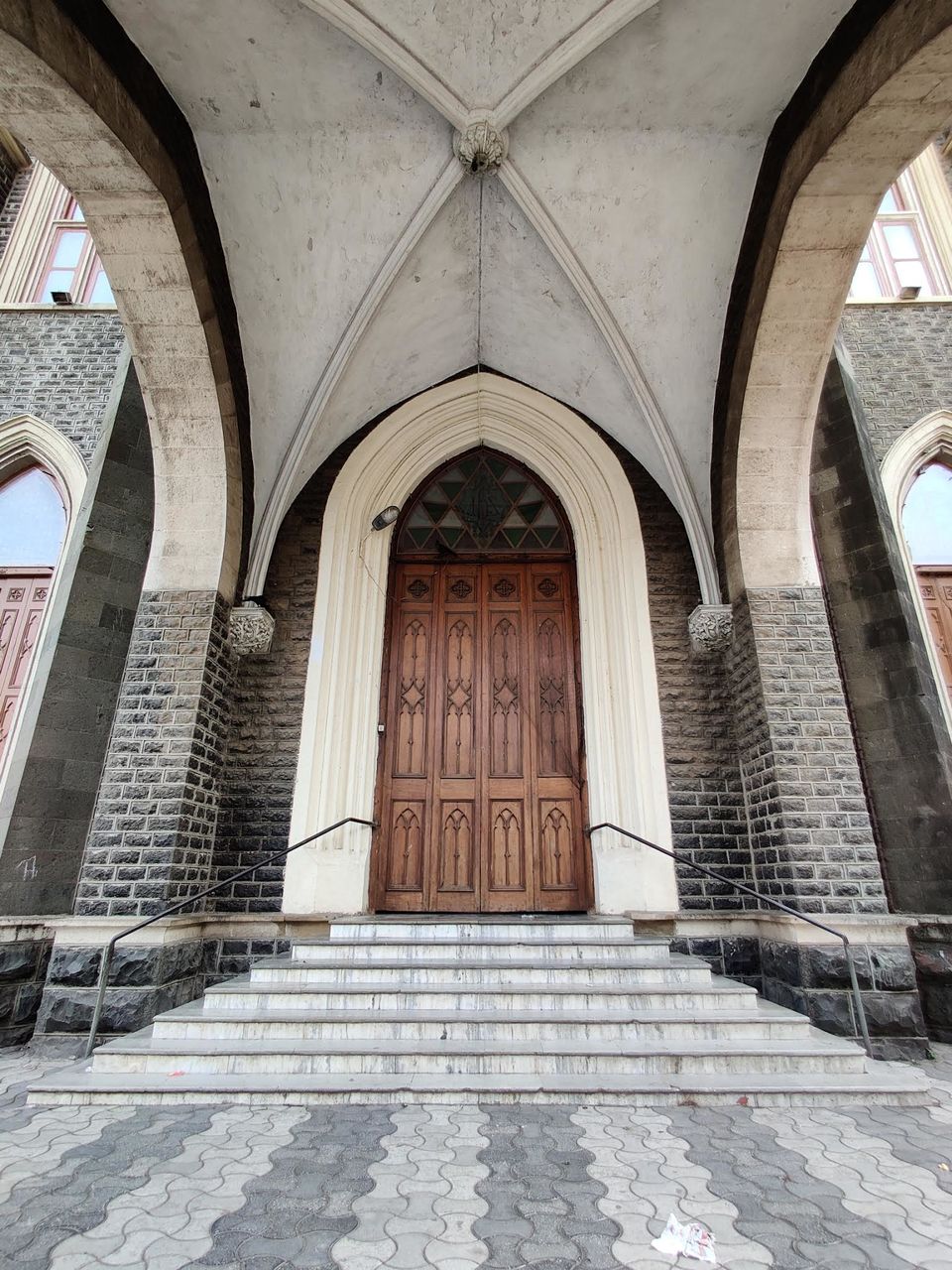 I would love to revisit when these doors are open and I am able to admire the interiors.
ENROUTE: MUSTAFA TIMBER BAZAR
I walk past Mustafa Bazar which is home to more than 100 timber shops and dealers.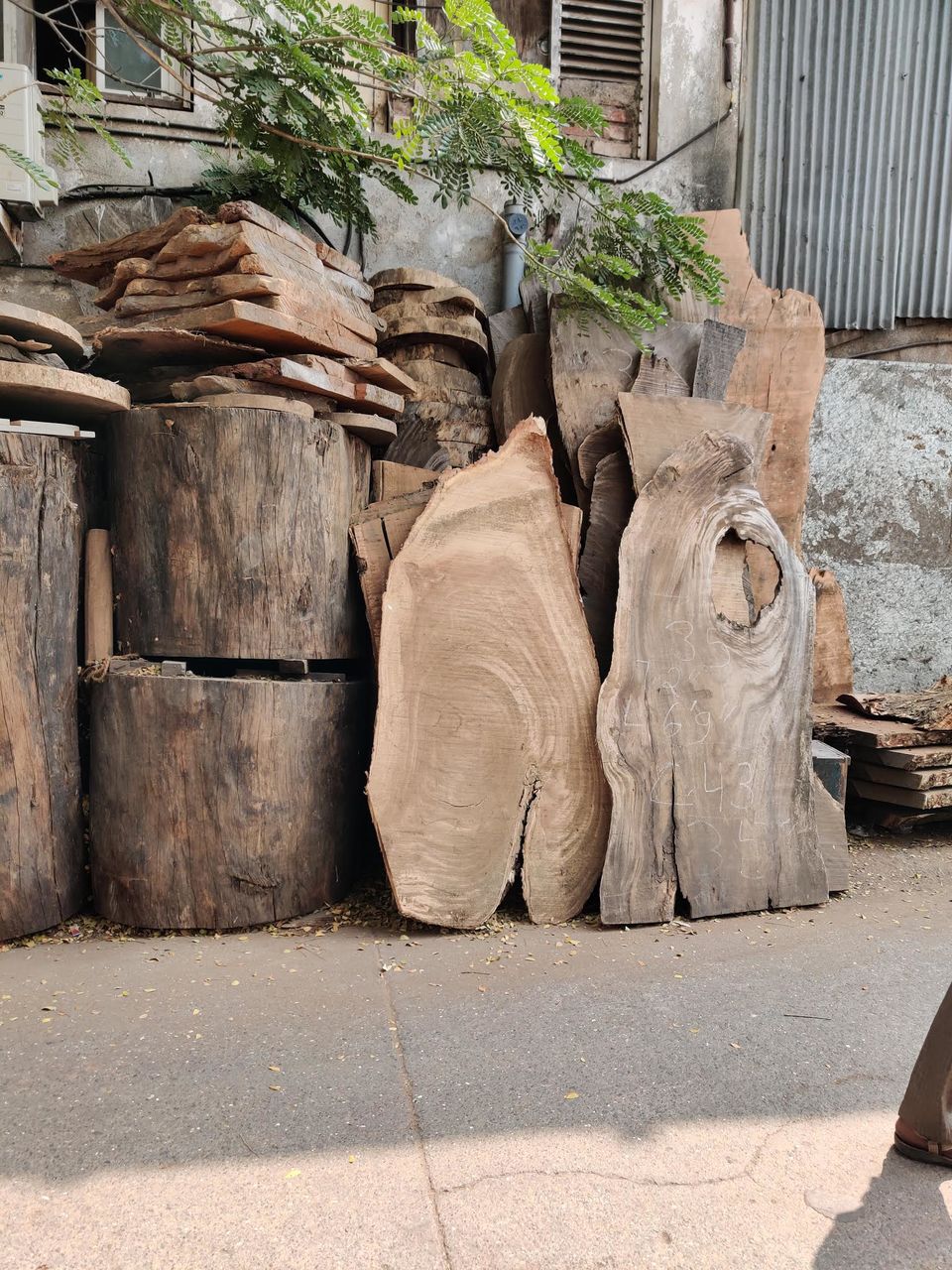 I see wood in all shapes and sizes in the huge yard.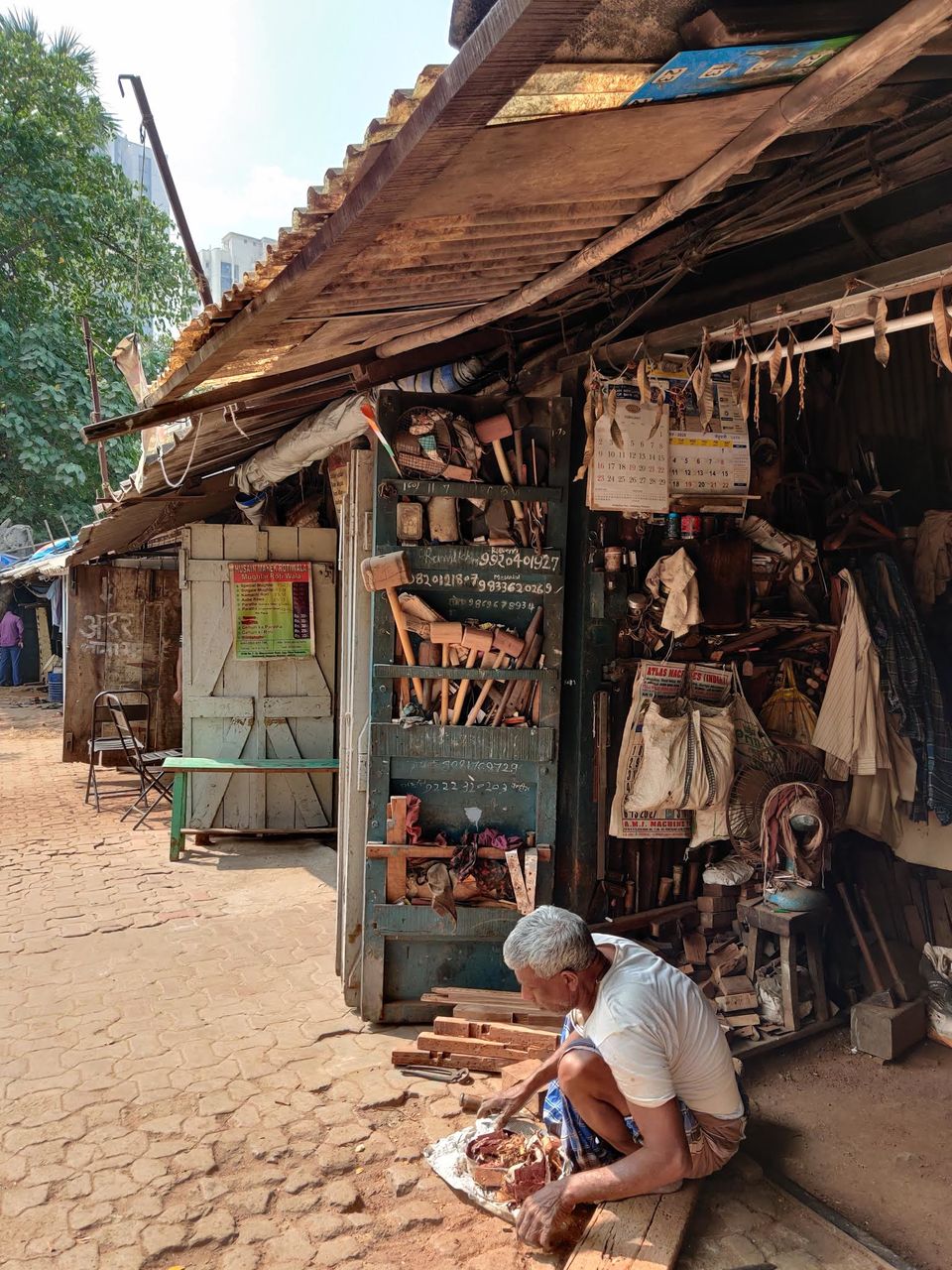 A workman and his tools.
FOURTH STOP: HASNABAD DARGAH
I stop outside the gates of what looks like a huge house of prayer. This has been often called the Taj Mahal of Mumbai so I really wanted to get a closer look.
As I approach the gates, I am stopped by the watchman who tells me that entry is restricted only to a certain sect of the Shia community. However I got lucky as he has to open the gates to let a car drive out and I managed to get a glimpse & a photograph of the Dargah.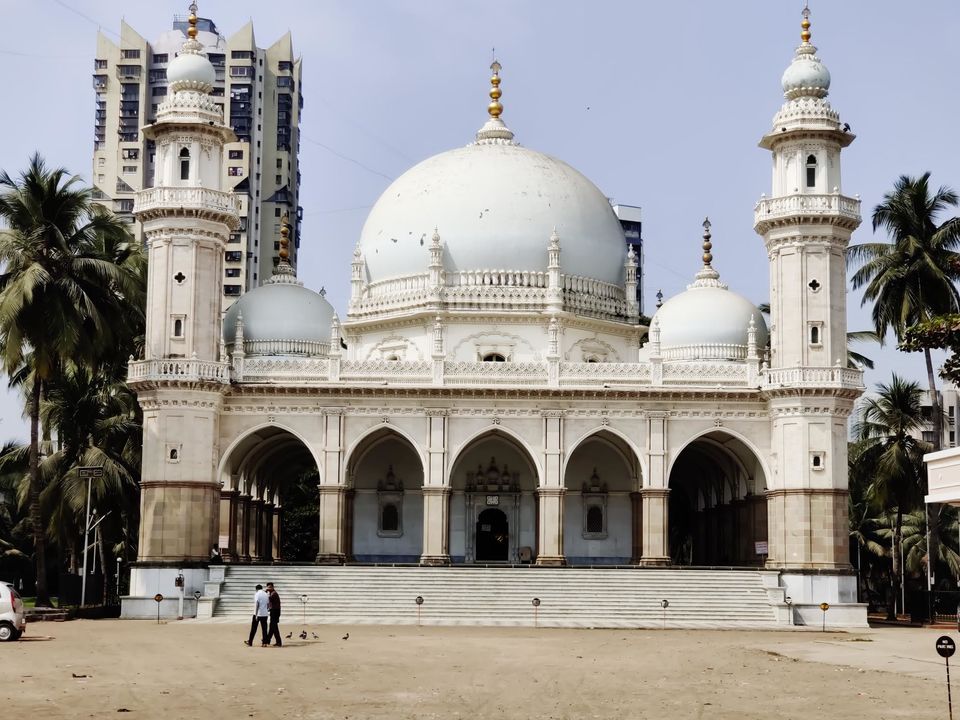 I later learnt that, Hasnabad Dargah or Aga Khan Hassan Ali Shah's Maqbara, or Mausoleum, is the resting place of the 46th Imam, Aga Khan I, Imam of the Nizari Ismailite sect of Shiite Muslims.
The sun is now up and blazing. I have been walking for the last few hours and I'm tired. I still have a few places on my list but I decide to leave them for later. As I hop into a Kaali Peeli (taxi cab) to head home, here are some more enroute images of my fun morning in Byculla bylanes.
ENROUTE: LIFE IN THE CITY COMMUTES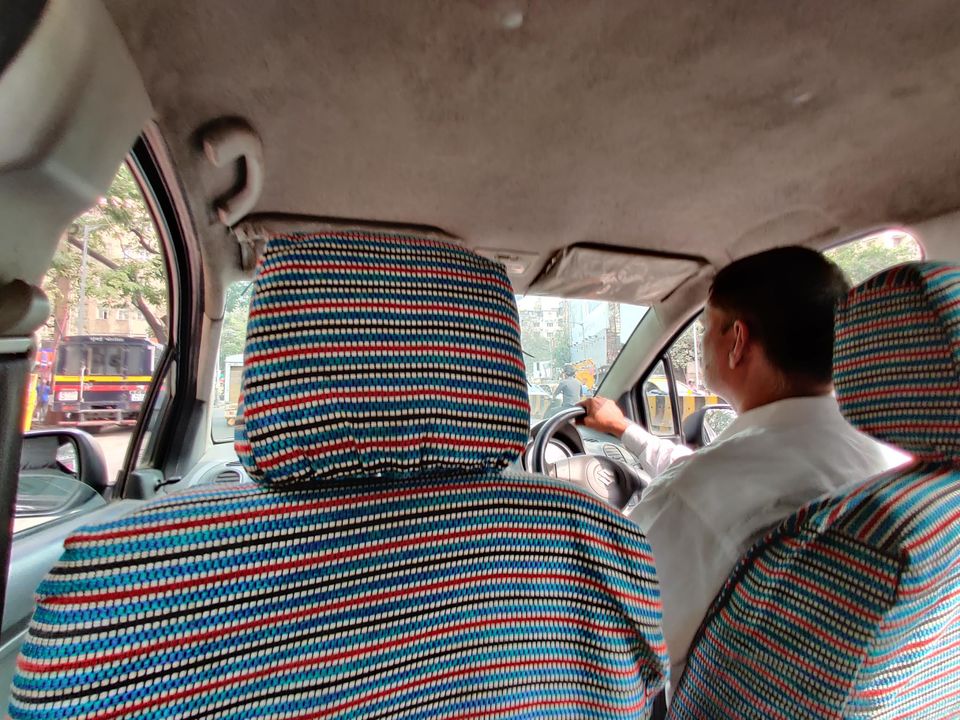 Every cab has a story and most cabbies are storytellers.
WHAT I LOVED
Byculla does not have the touristy crowds of Colaba or the glamour of its SoBo neighbors and is often missing from the must see sights of the city. But there is an unique appeal to the beauty that stands out amidst the clutter. There is history that thrives almost nonchalantly alongside the modern-day chaos. I will return to the bustling bylanes of Byculla to explore more.