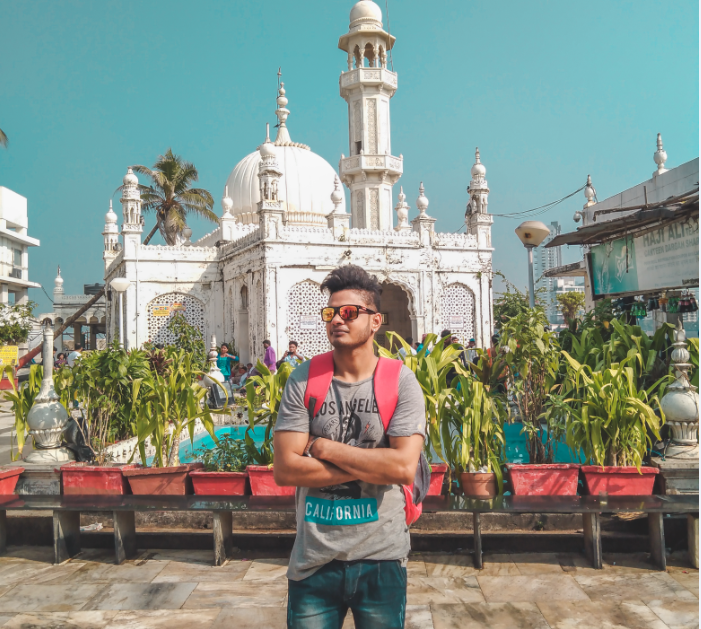 Though i have visited Haji Ali Dargah many time, on 27th Oct me and my friends decided to visit Haji Ali Dargah to explore more about it's history and make a vlog for my channel. We left our home at 7am in the morning and reached Haji Ali Dargah at 8am.
HOW TO REACH
You can reach Haji Ali Dargah by your Car, bike or hired cab/auto. But if you wish to come by local train, take a local train to Mahalaxmi station. You will get a shared cab from there which will drop you in front of Dargah.
COST
Local Train: Rs.10 approx
Shared Cab: Rs.10 per person
Entry Fee: Free
HISTORY OF HAJI ALI DARGAH
Haji Ali Dargah is made in 1431 by the followers of Haji Ali Shah Bukhari. Originally Haji Ali was from Uzbekistan who later shifted to Mumbai. Soon he became very famous in Mumbai for his noble causes. Later he decided to go for Haj in Saudi Arabia but before returning back to Mumbai he was declared dead from some natural cause. His last wish was that his body should be put in a coffin and should be then drowned in the sea. As per his last wish his last rituals was done. But after some time the same coffin appeared in Mumbai. His followers found his coffin and later a Dargah was made on the same spot in the ocean to pay homage to Haji Ali.
My Experience
We left our home and reached Haji Ali Dargah at 8am in approx 1hr with Mumbai local train. There were very less public in the morning and most of the shops are getting opened. We spend 1hr in Dargah and near by sea relaxing. Every time i visit Haji Ali Dargah i feel so peaceful and positive from inside. For some time you forget all your problems and just get relaxed watching the Dargah and Sea.
CONCLUSION
If you are in Mumbai or visiting Mumbai anytime soon, Haji Ali Dargah is a must visit for atleast one time as its one of the most popular travel places of Mumbai.
VIDEO
Here is my full Haji Ali Dargah vlog with all the details. Hope you will find it interesting. Thanks
PHOTOS