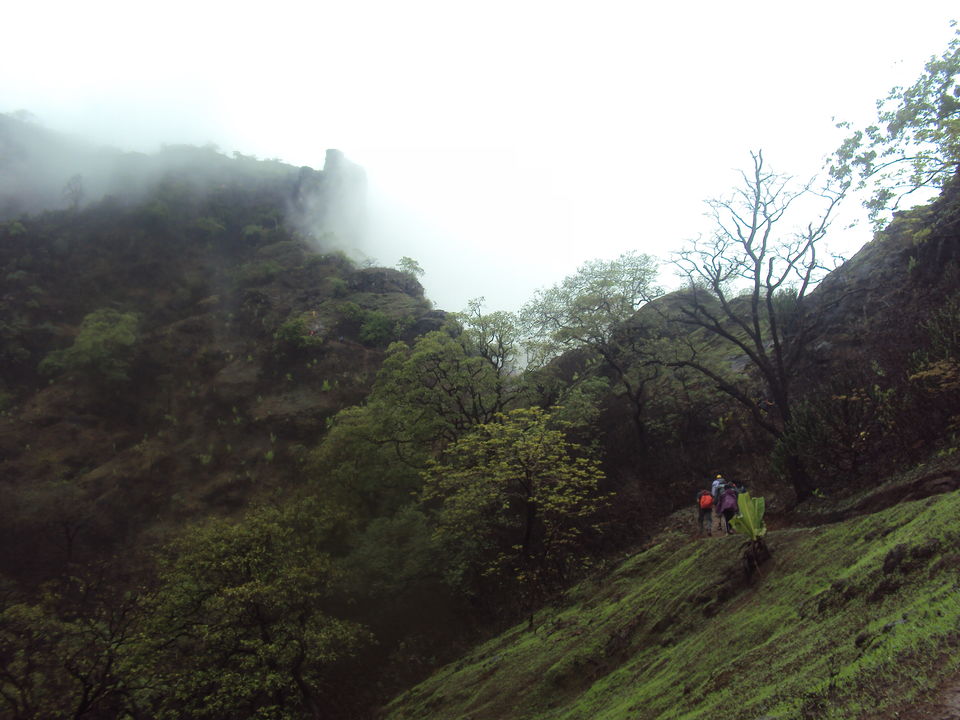 Trekking is not my forte. But monsoon has the power to transform me. When I did Kalsubai trek last year (Kalsubai being the highest peak in Maharashtra), I had told my brother, who is my constant trek companion "This is it, this was my goal & I am done with this trekking business. Kaslubai is my last trek" but as the monsoon started, I found myself browsing through the schedule of various trek groups, trying to find a suitable trek. I found myself in decathlon, finding proper trek shoes, a backpack & all those trekking accessories so that I can start trekking all over again.
All geared up for my trek, all I wanted now was it to rain. Every day as I travelled to office, I would look out of the window, stare at the sky, waiting for the weather to change. "Rains are acting a bit stubborn" this year I thought. What's with this hide and seek that it loves to play.
And finally, it rained and it was time to trek again!!
I was trekking after almost a year & for past few months I was under house arrest due to my exams. Being completely out of practice and remotely connected to any kind of exercise, I chose a short and easy trek on Saturday so that I can rest on Sunday & attend office on Monday. My brother and one of my friend agreed to accompany me. We booked the trek with Mumbai rangers & the plan was set.
The week before my trek, my enthusiasm was at the peak, thinking about the mountain that I would climb. Only wish was that it should not stop raining and I was glad that my wish came true.
We started from Borivali at 5am in morning & caught a 6:26am slow local to Asangaon from Dadar. "You miss the train, you miss the trek" said the message from our trek leader so we had to ensure we were on time. After reaching Asangoan station, we proceeded to our base village in rickshaw, which was a bumpy 15-20 mins ride. By this time, my stomach was growling and I was desperately waiting for cup of hot tea & snacks being served at the base village. (Yeah, I know what you are thinking. You are thinking I could have had some chips or biscuits maybe. But trust me the food served during treks is heavenly & I would not like to lose my appetite over a pack of chips). We hogged on to some hot tea & poha as we reached our base village. Which was then followed by a short introductory session & then the journey began.
The route from base village till the base of the mountain is usually easy. But today, we walked and walked and walked, and the easy road didn't seem to end. I was for a point disappointed that I have chosen too easy trek. I love to walk but I had come for a trek and I needed a bit of adventure (not much, just a bit). Continuous drizzle made the climb very pleasant. We were literally walking 'on the clouds'. Also constant chirping of birds felt like a background score which was not ready to fade. For the benefit of the group we took quite a few breaks. I & my two trek companions got restless, each time we took a break. After all we were in a hurry to reach the peak. All the while as we trekked along, the peak was not visible. It was like walking towards the unknown and then finally we saw the peak, standing tall covered in clouds and suddenly our goal became clear. Also, the trek which seemed easy till now, felt like a bit of an adventure as we saw the route that we were about to take. However, our trek leader made it seem like a piece of cake & we finally reached our goal.
As we reached peak, I was awestruck by the place where we were going to halt for lunch & this is how it looked: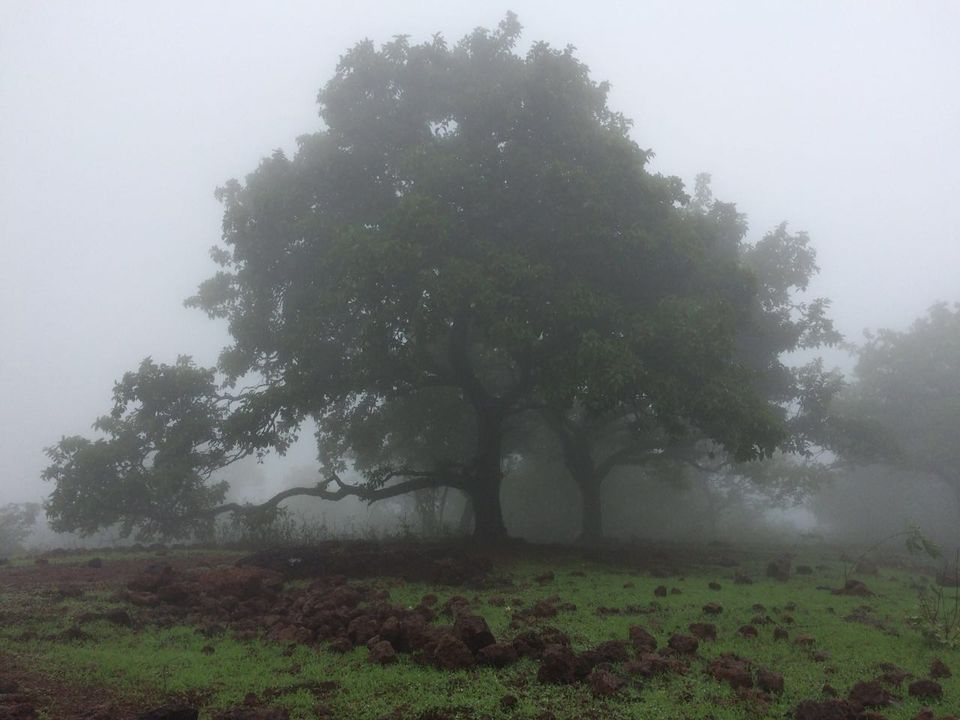 Isn't it a beauty??
We visited the shiv temple at the peak, took mandatory group pic and headed off to lunch.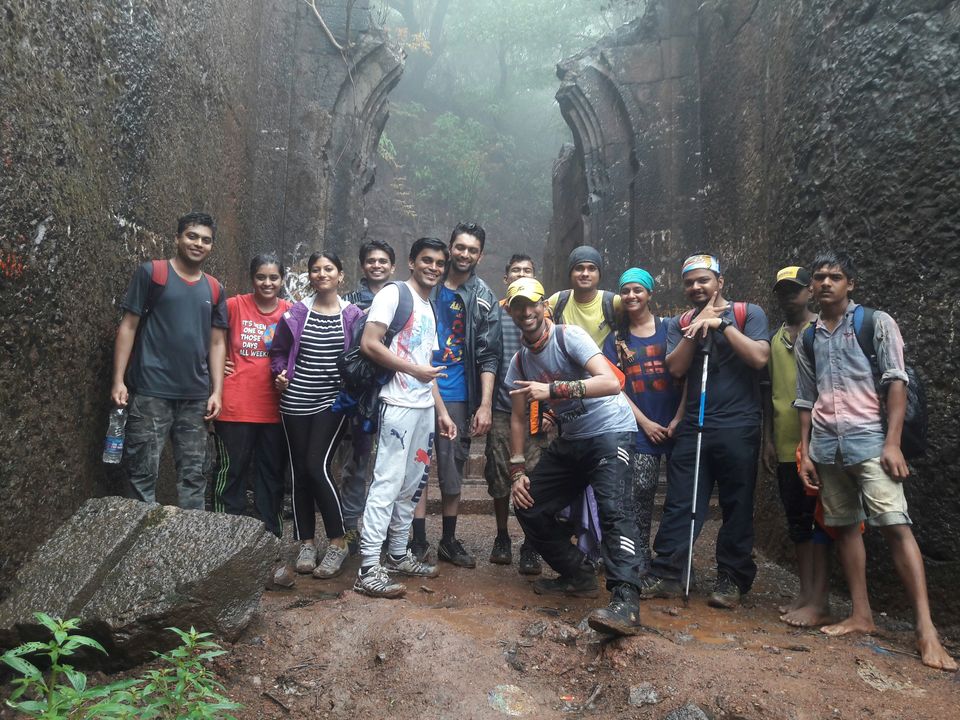 It poured cats & dogs all the way down & all our plans of taking perfect pictures was spoilt as we couldn't take out our phone or camera. Anyway, I do not usually click pics during trek. So most of the pics that you would see on this blog is courtesy my trek companions. After around two hours we reached the base camp, enjoyed some hot tea & Upma & left back for Mumbai.
5:55 slow local from Asangoan took us back to Mumbai & we completed our journey with tired legs & happy faces.
Note: Trekking is indeed an amazing experience but if you are a first time trekker or still amateur, I would suggest you please tag along with a good trekking group to avoid any unpleasant incidents. If you don't know where to start then can visit my next blog for further assistance