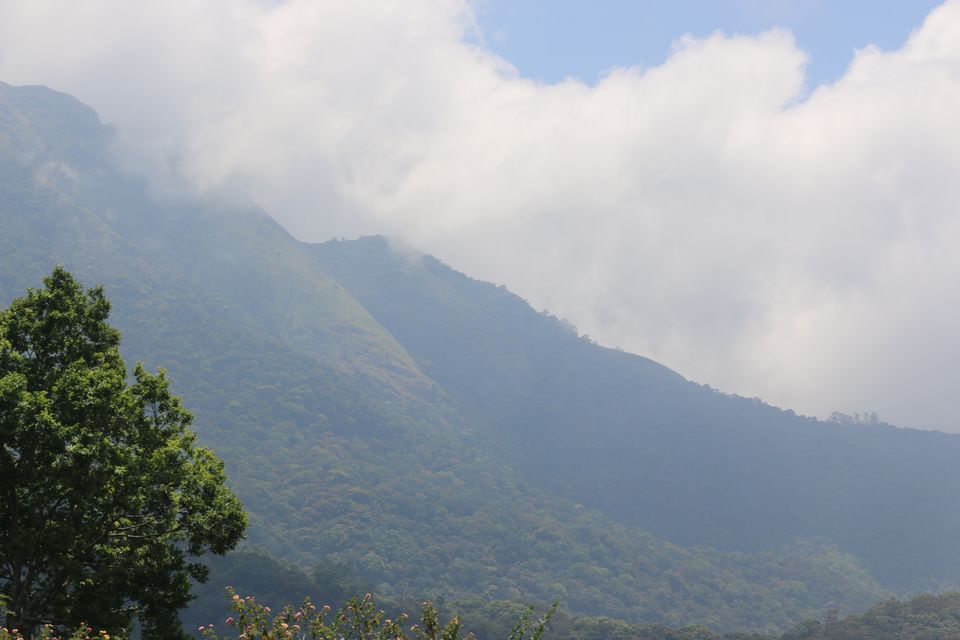 We started from trivandrum at 11:30 pm in bus and we reached munnar at 6:00 am. The journey will be good.But the last hour of journey the actual road(ghat road) will start. You will feel uneasy and vomiting sensation. After getting down we rented two two wheeler vehicle and we started our way towards the freshing rooms. We rented the room for 3 hours they will charge 600(even you take 1 hr or 2 hr) then we started at 8 am from room towards the top view of munnar. If you are nature lover then this will be the best ride you will feel. We started by visiting temple followed by breakfast. Then we started our journey. On the way there will be dam, rivers, waterfalls, t estates etc ., We can find only Maggie everywhere along with carrot.
There will be a area with big trees which resembles like a palm tree forest. That will be the best place to click pictures and it will be very cool when you enter into the forests.
The roads are full curvy and one side will be hilly view and the other side is full valley..
you don't need to be professional to drive there.
We started moving towards top view because this is the best place where we can enjoy with clouds etc.,
We went very slowly , so we reached around 12 in afternoon. you have to walk a lot to reach top view. This will be best place to enjoy full of clouds and flowers on the hills. pleasant weather and the wind will always tries to hug you!
While walking backing you will feel literally you are trekking a hill because the path will be like that.if you are going with parents then don't take them till the top view.
Then we had a breakfast Maggie and lime soda.
Then we started back..while coming we went to some t estate and clicked some photos and talked with the owners what is process and all etc.
That is the beautiful place you will not feel coming back.
Then we started back and we went to echo point it is a place where you hear the name that you shouted its sound similar golconda fort in hyderabad.
There is a river and a forest we enjoyed there for some time and we had mango and pine apple etc ,
We started back..
We went to dam where the boating is there..and we enjoyed there..
We have a very good experience there will be lot of elephant crossing areas you will be going across we found 6 elephants are crossing the road. that is a really good experience.. Those are wild heavy huge elephants.
They moved into t estates and having the t leaves.we also went to wildlife safari where will take on elephants for 15 minutes into the forests and they will click some pictures and video.
Then finally we went to the waterfalls and had fun there clicked some pictures. That waterfall path will be little tricky..you have to drive very carefully if you have missed control then you are gone...drive carefully if you are planning for waterfalls.
there will be tea factory you can have tea and they will show how they will produce the tea etc.,You have to take ticket to enter into factory.
We started back and reached at 8 pm and we returned the bikes.. And we have nice food and we started back to trivandrum..
Munnar is not so far from trivandrum so we planned in one day and its for us to go and come.. In one day we have covered all the best spots in munnar.