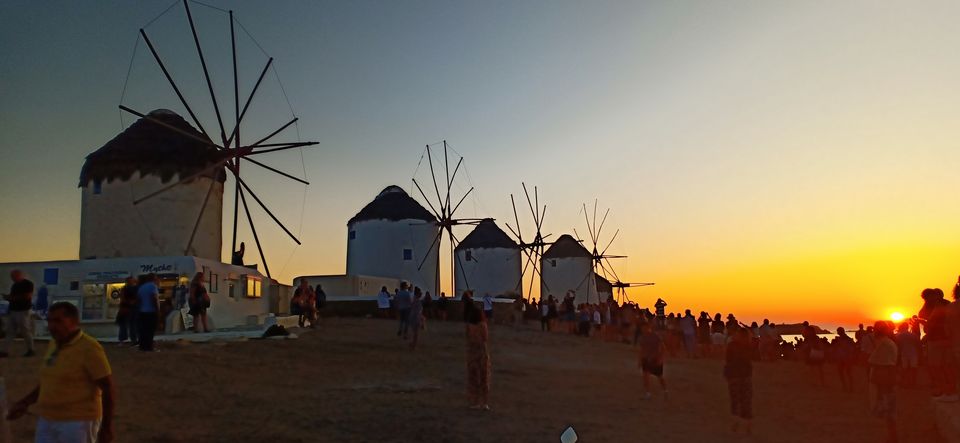 An enthralling island amidst the Aegean Sea, Mykonos captivates one with its serene romantic beaches; scenic whitewashed houses overlooking the majestic blue sea coupled with breath- taking sunset views, thus making it a perfect getaway for tourists. On our trip to Greece in 2019, I had the opportunity to visit this stunning and mesmerizing island for three days. We boarded a ferry from Athinios port in Santorini and it took almost four hours to reach Mykonos. After disembarking from our ship, it was a 10 mins drive by taxi to our accommodation, Hotel Milena, a cozy little boutique hotel situated in the vicinity of the airport and approximately at a 5 mins drive from Mykonos town. Mykonos is a small island and it is quite easy to get around by renting a car or by bus. But the best way to see the whole island is by renting a motorbike which costs around 15-20 euros per day and international driving license is also not required. So, we started our tour of Mykonos in a motorbike meandering through the daint little streets and exploring every beauty that
this amazing island had to offer.
Roaming around Mykonos town
Our first stop was Mykonos Town also known popularly as 'Chora' by the localites. As we entered the town we were amazed to see all the blue and white buildings on either side of the cobbled streets forming narrow alleyways where one can walk through and partake in the beauty of the several quaint jewellery, crockery and souvenir shops, boutiques and restaurants lining the streets. It was a real treat to the eyes.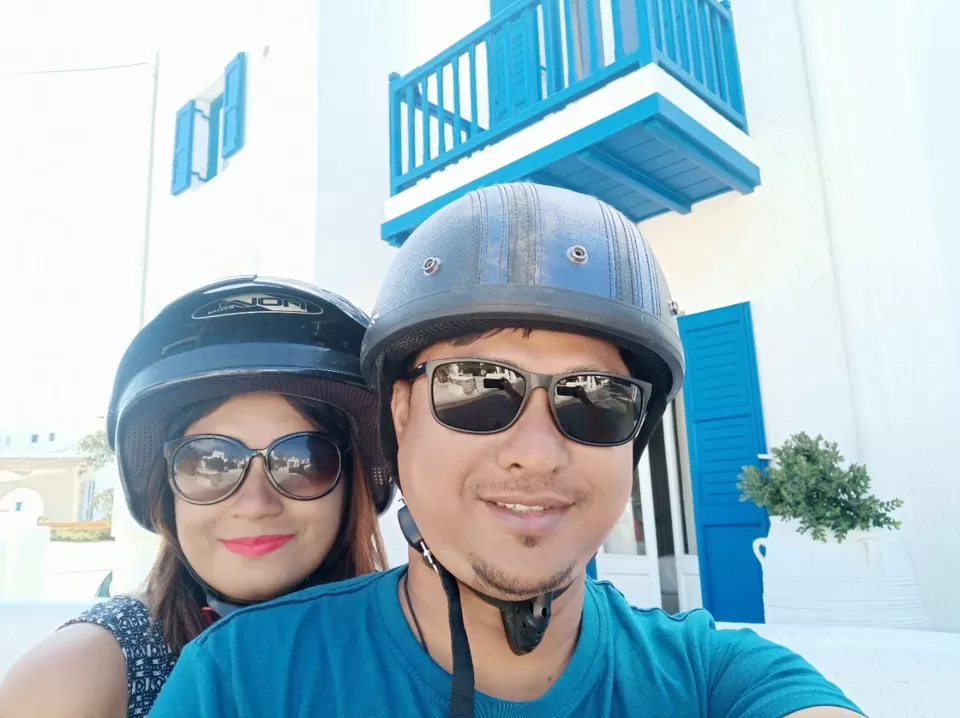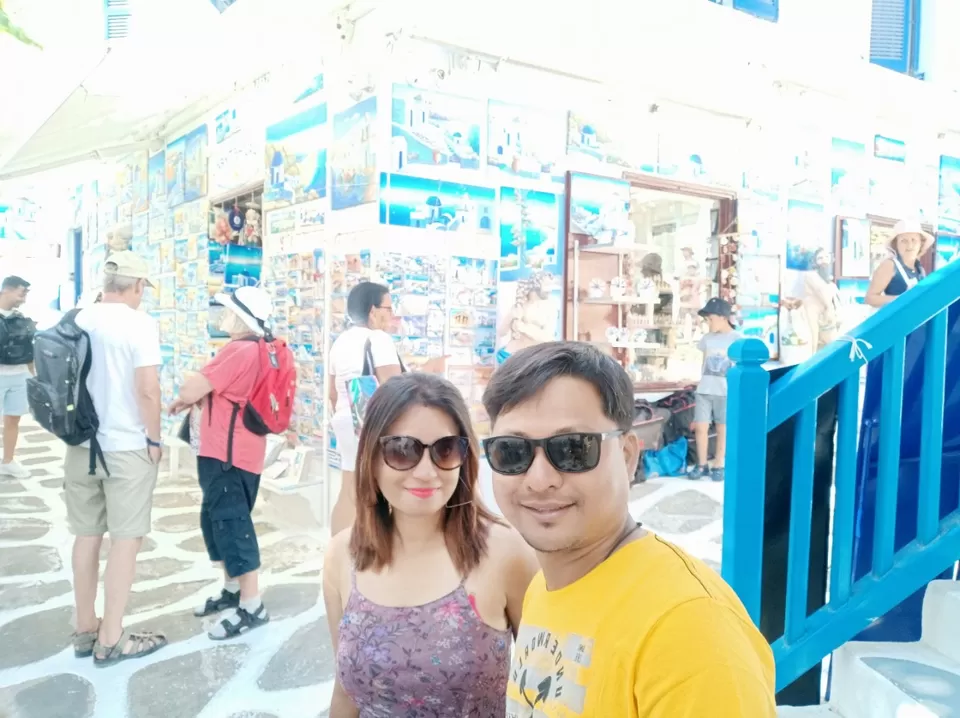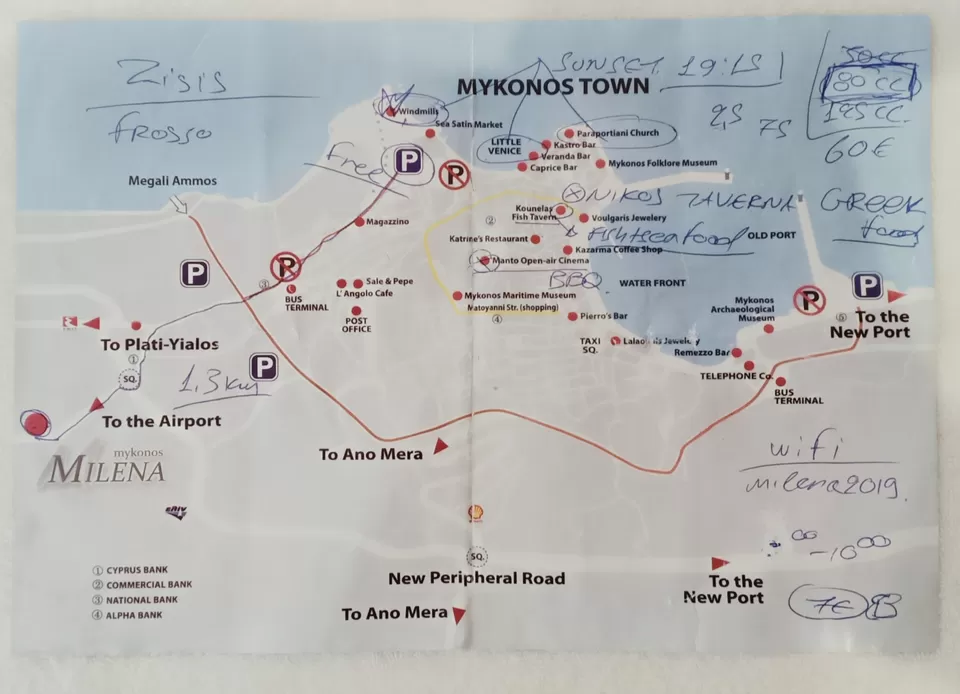 Visiting the iconic windmills and Little Venice
Mykonos is also most popularly known as "the island of the winds" because of the strong winds that blow throughout most of the year and which had once favoured the emblematic windmills that have stood proudly over the centuries marking the island's rich past. Supposed to have been built by the Venetians during the 16 th century, the windmills that are nestled atop a hill in Chora (Mykonos town) overlooking the sea, is really a sight to behold and worth visiting. It was really 'a walk to remember' strolling beside the iconic and picture perfect windmills with an amazing view of the vast sea and Little Venice below. The golden hours of the sunset added further hue to the spectacular sight of the mills.
Situated a few yards from the windmills, built around the edge of the sea, are a cluster of colourful and gorgeous buildings, small bars, tavernas and boutiques which together comprise the picturesque place known as "Little Venice". We walked through the narrow streets of Little Venice immersing in the gorgeousness of the several gift and jewellery shops, bars, restaurants and chapels along the way. One can enjoy the picturesque images of the magical sunset over the Aegean Sea against the backdrop of the colourful daint buildings lining the waterfront that provides an ethereal beauty to the whole place.
While in Little Venice, one should really visit Kounela's Fish Tavern, Niko's Taverna, Katerina's and Souvlaki Story restaurants for their amazing Greek food. One of the most recommendable dishes is the famous 'Gyros'- pork or chicken wrapped with a kind of bread known as 'pita' along with other ingredients like fried potatoes, onions, tomatoes, some flavourable sauces and yoghurt.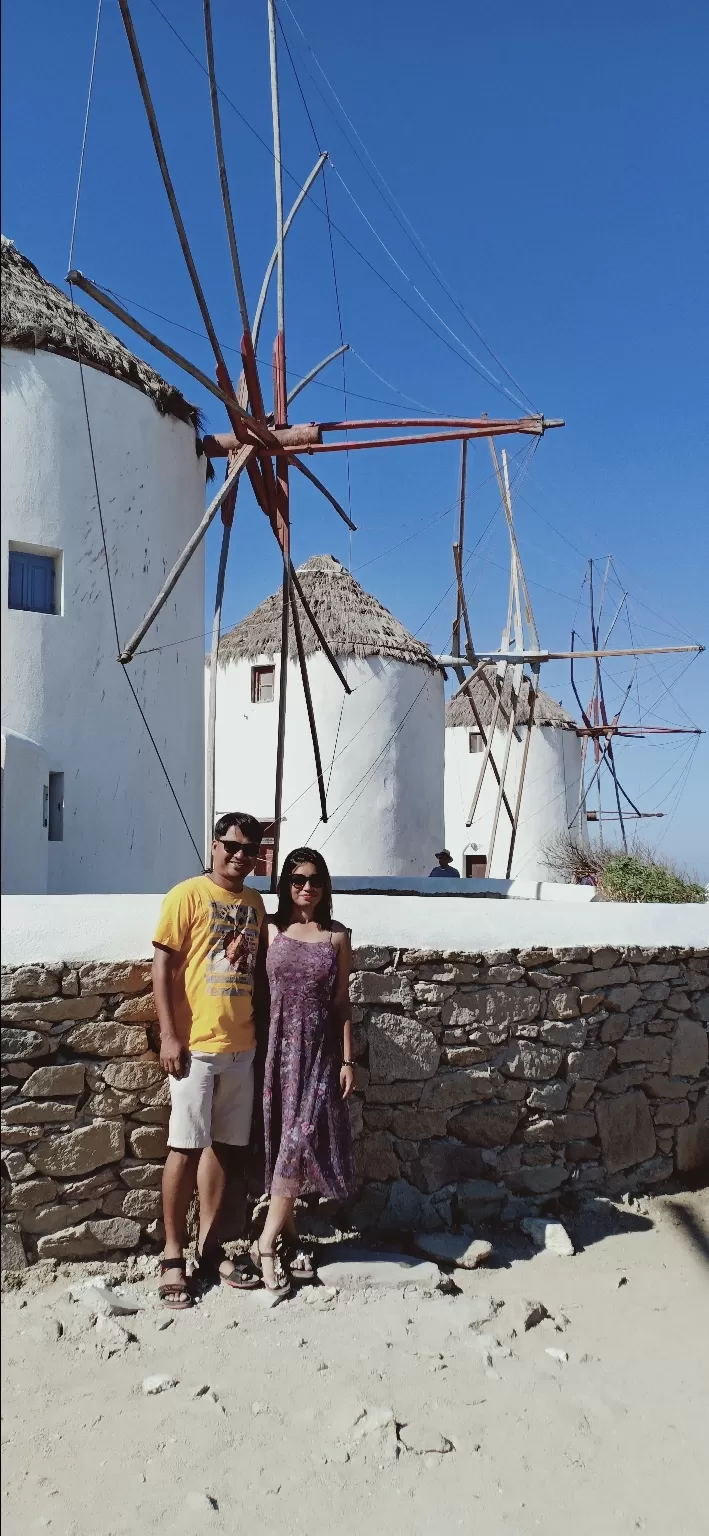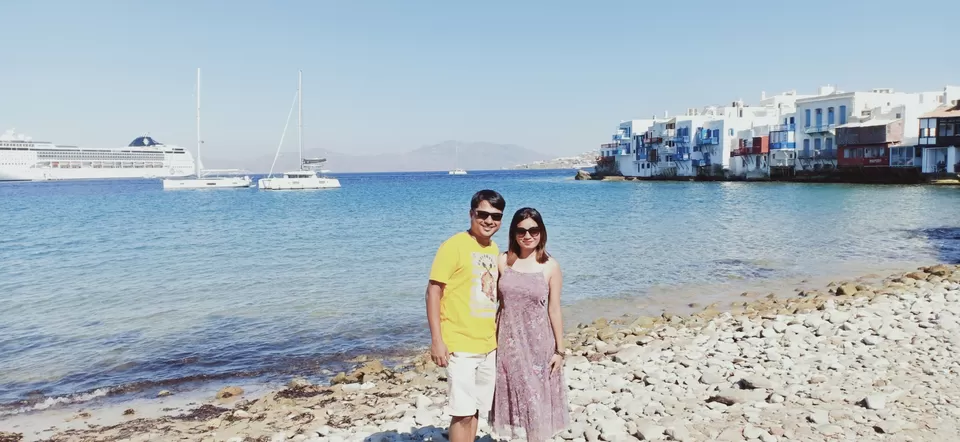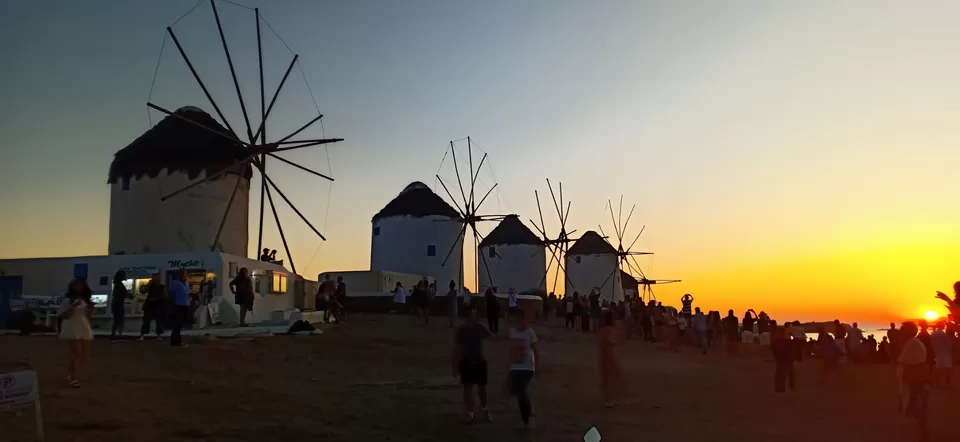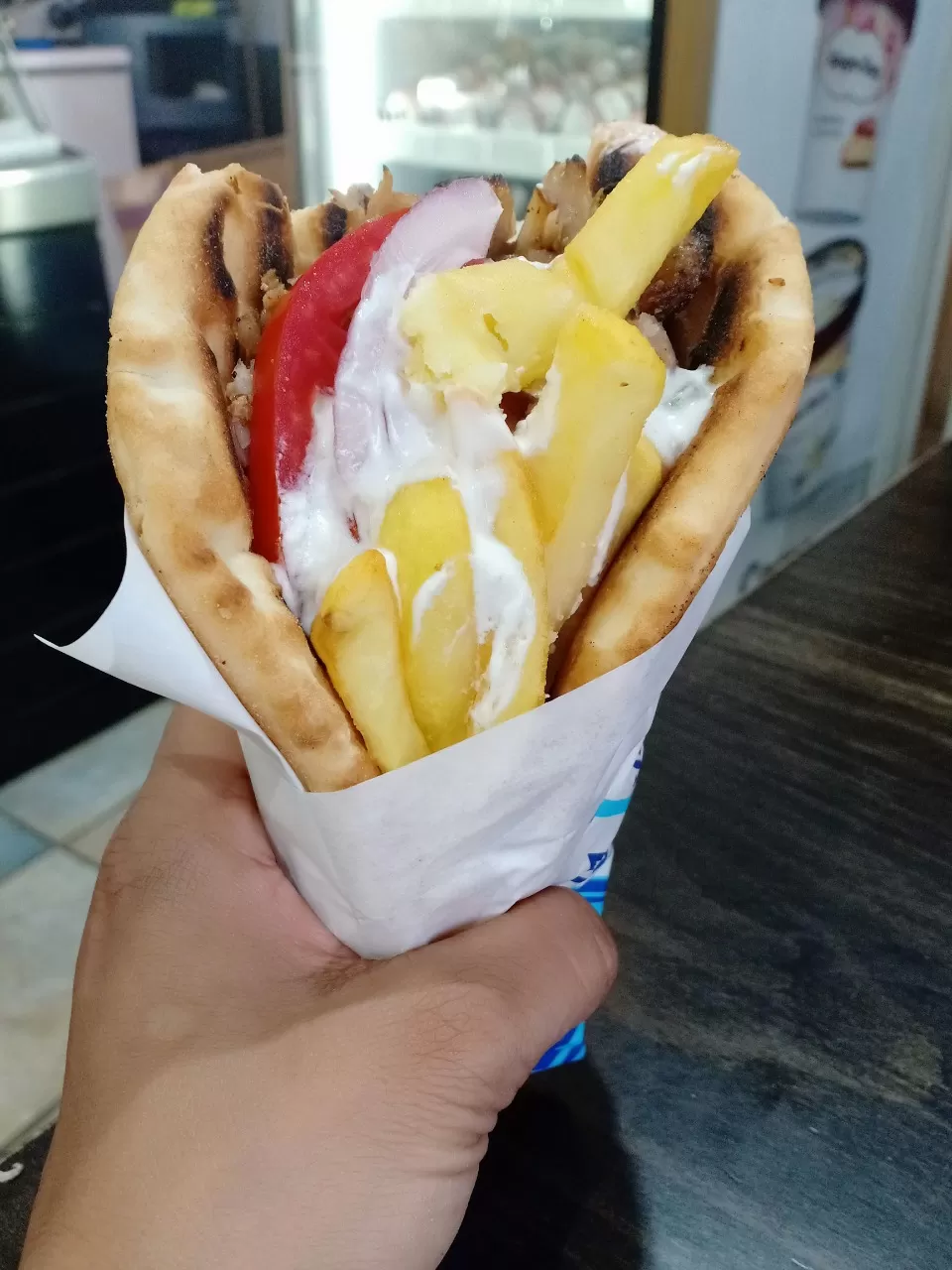 Beach hopping
Also considered as Ibiza of Greece, Mykonos is famous for its bustling nightlife. Although a little expensive, it is the perfect place for party goers and club hoppers to experience live beach side music and party 24 hours of the day. We spent our third day in Mykonos beach hopping through some of the island's famous beaches, relishing in their serenity as well as bustling activity. Some of the must go beaches are Paradise beach, Super Paradise beach, Platis Gialos beach and Psarou beach. On my husband's birthday during the weekend we visited Paradise beach which was approximately 10 mins ride from our hotel and had an amazing club hopping and beach party experience along with good food and music.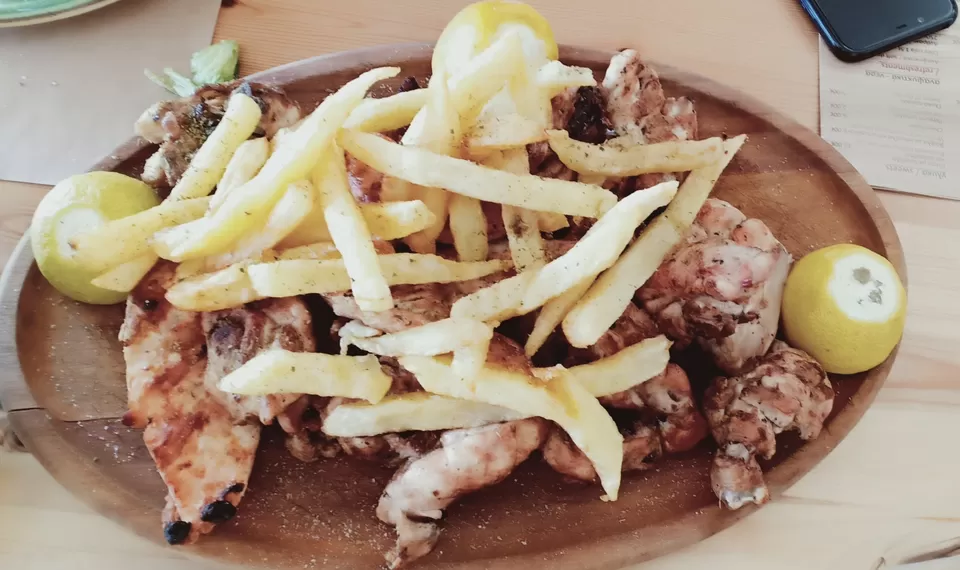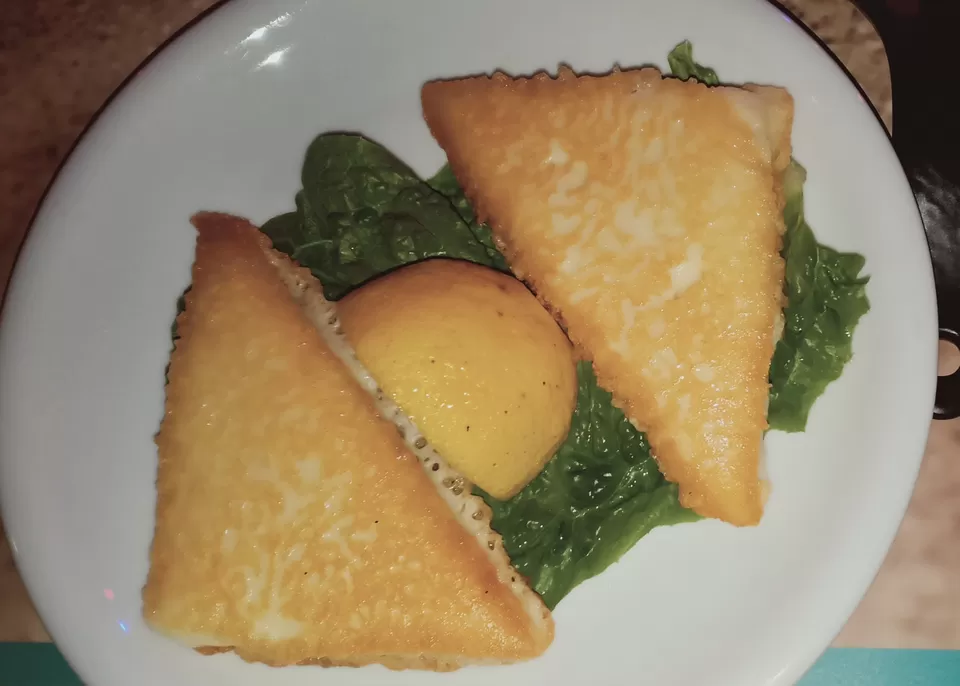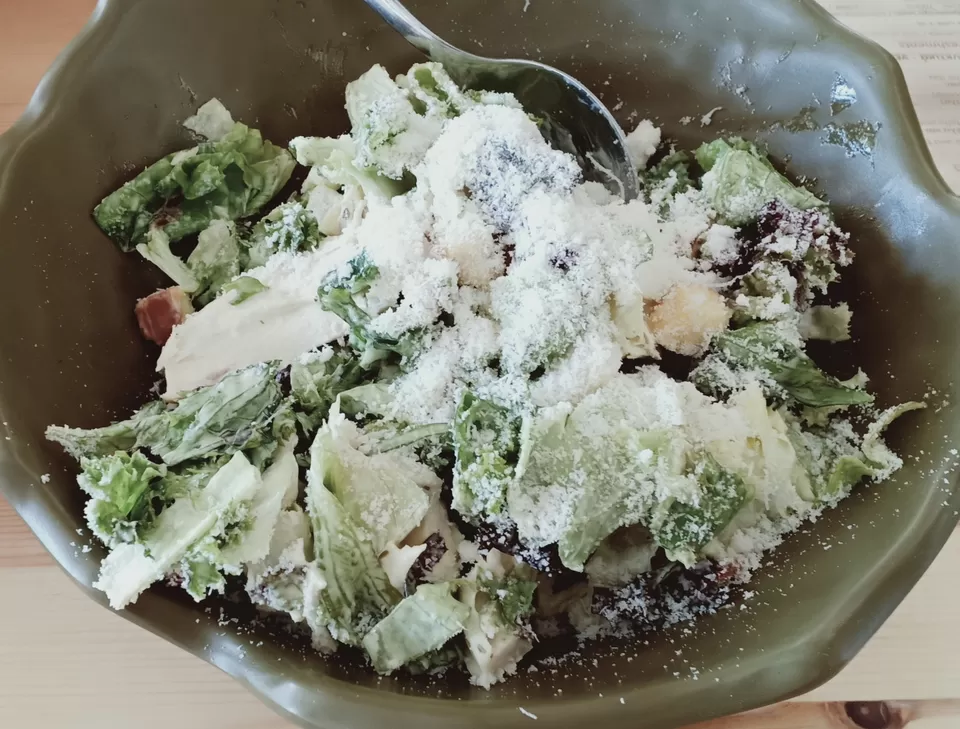 We thus concluded our trip to Mykonos on the fourth day with our minds rejuvenated by this gorgeous and appealing island.
Here are a few useful information while travelling to Mykonos:
How to reach: By air from anywhere or by ferry/ cruise from Athens or Santorini, the latter though is much cheaper.
Where to stay: The best place to stay is Mykonos town for amazing nightlife experience and food. For beach experience and parties one can stay at beach resorts in Ornos , Platis Gialos or other similar beaches.
How to get around: The easiest and convenient way (according to me) is by renting motorbikes as most of the streets are narrow and you either have to walk or ride through. Buses and taxis are also available for commuting.
Hope that my blog renders an insight to fellow travellers wishing to visit Mykonos.