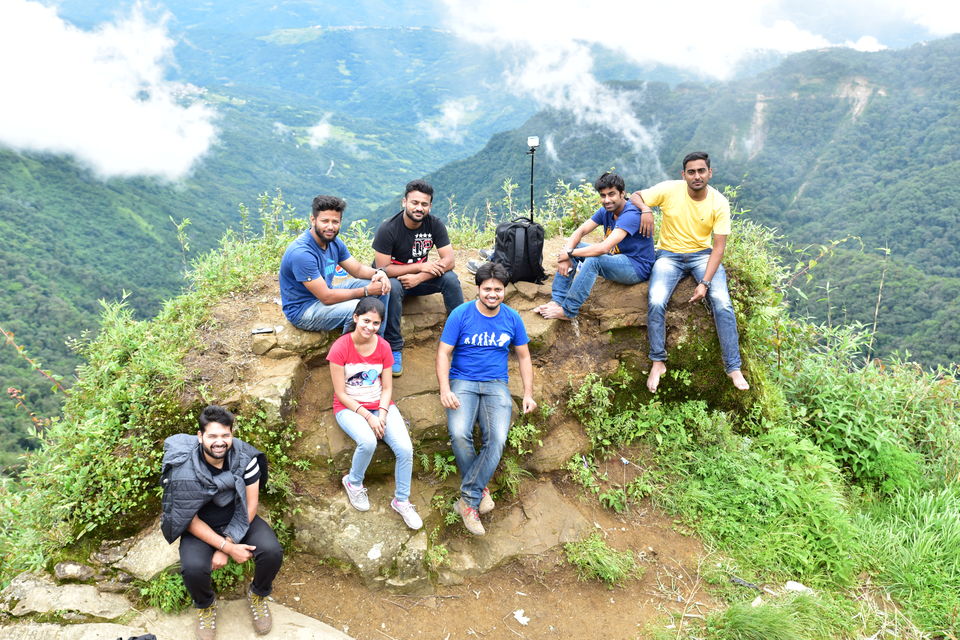 How about some serene peace?
Such serene that all you see 360 around is all green carpet of grass over thousand acres of land, at an altitude of about 2500 Mtrs high, with hundreds of small hillocks ranging your view up and down in a bizarre symmetry, with a touch of colorful flowers at some places and the temperature so cool that no nuisance can even dare to enter your mind?
I am gonna say it once again and probably at the top of my voice, "North-East India; Paradise Unexplored". There is so much and so unique.
It was September'16 when Ashkaran called me up and told about this place Dzukou Valley in Nagaland, i did my research, found it interesting and we decided to back-pack for it. We were a team of 7 interested to visit Dzukou. Me, Ashkaran, Ajay, Satya, Anuroop, Souvik and Nikita.
ALL ABOUT DZUKOU
Dzukou locally means cold and the mini river stream that flows in the valley always has cold water in it; as per the local saying. Dzukou is called, the trekkers paradise of the north-east, of all the trekking trails that has been commercially discovered yet. Dzukou valley is also known for its typical lilies, which is found only at this part of the world and is specified as Lilium Chitrangadae, pink in color and has a single bloom above a thick stem.
Dzukou share its boundaries with Nagaland and Manipur. The trekking from the Manipur side is more proffessional and needs some mountaineering experience. The Nagaland side can be accessed from two places named Jakhama 20 Kms (Zakhama; google name) and Viswema 25 Kms. The trek from Jakhama is more steep and need more climbing, however the Viswema is relatively easier but has longer trails. To do this valley we consulted a local touring agency, headed by a lady named Rokoseino Mor, we decided reach Dimapur and then the agency cab shall pick us up from there.
REACHING DZUKOU
Reaching Viswema village is around 30 Kms from Kohima; the capital city of Nagaland. We boarded a train from Dibrugarh and reached Dimapur by 5 AM. The touring cab reached by 6 and we started our journey towards Kohima that was around 3 Hrs from Dimapur. We met with a road block and had to spend almost a couple of hours extra before we could reach Kohima. The map below shall show you the route more specifically.
We reached the Viswema village and started our tour. we were accompanied by Vime Yalie, the local guide who will be with us through out the tour. Having Vime with us was really great as he came up with interesting facts about the locals, their culture and also the knowledge on Dzukou being cold also came from him. The initial climb of around 5 km is steep and climbing, though the trails are quite curated you just need to climb, as because of the weather, there was very tiny droplets of water falling all the time, it dint bother in our trail but really kept a very joyous weather. It took for about 2 hours in the steep climb but the point from where the climb ends is pretty scenic and mind blowing.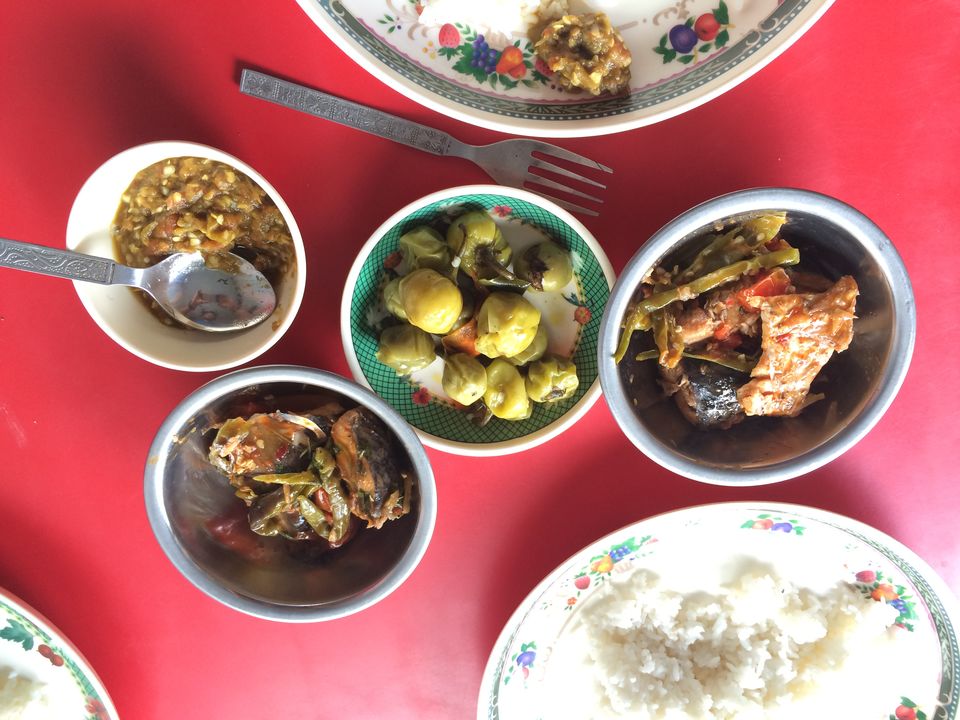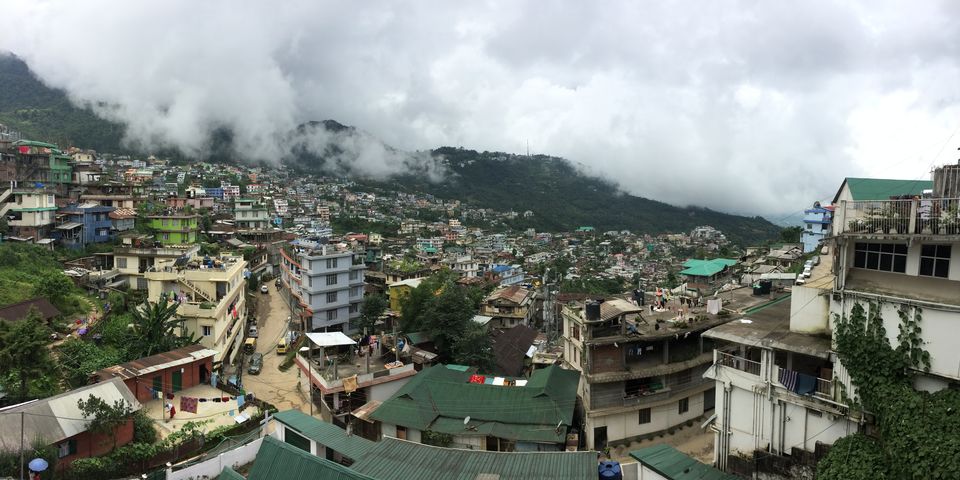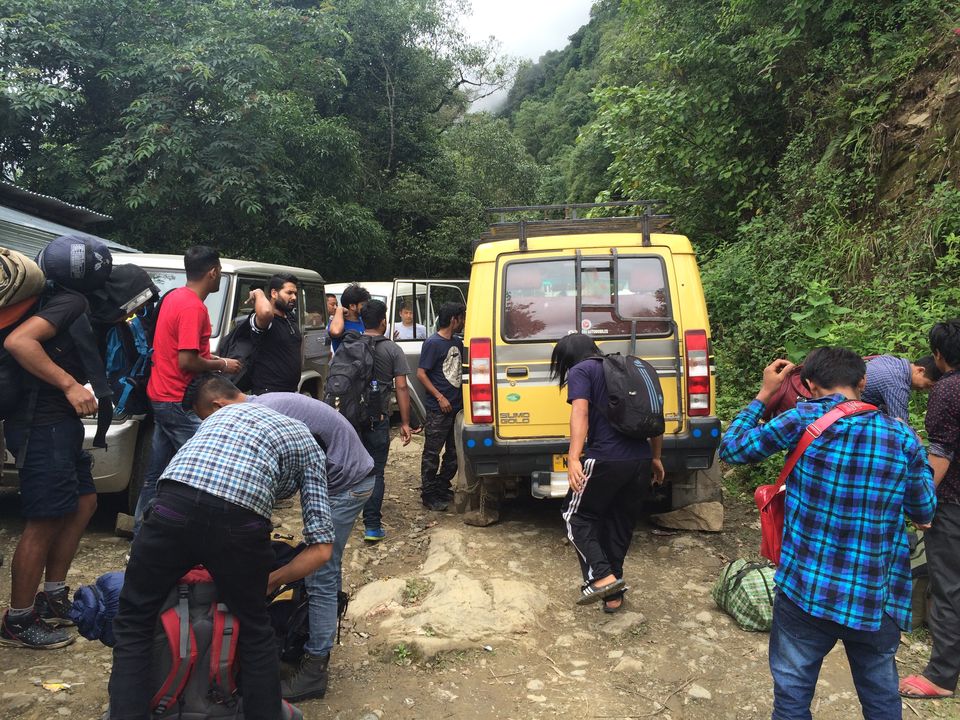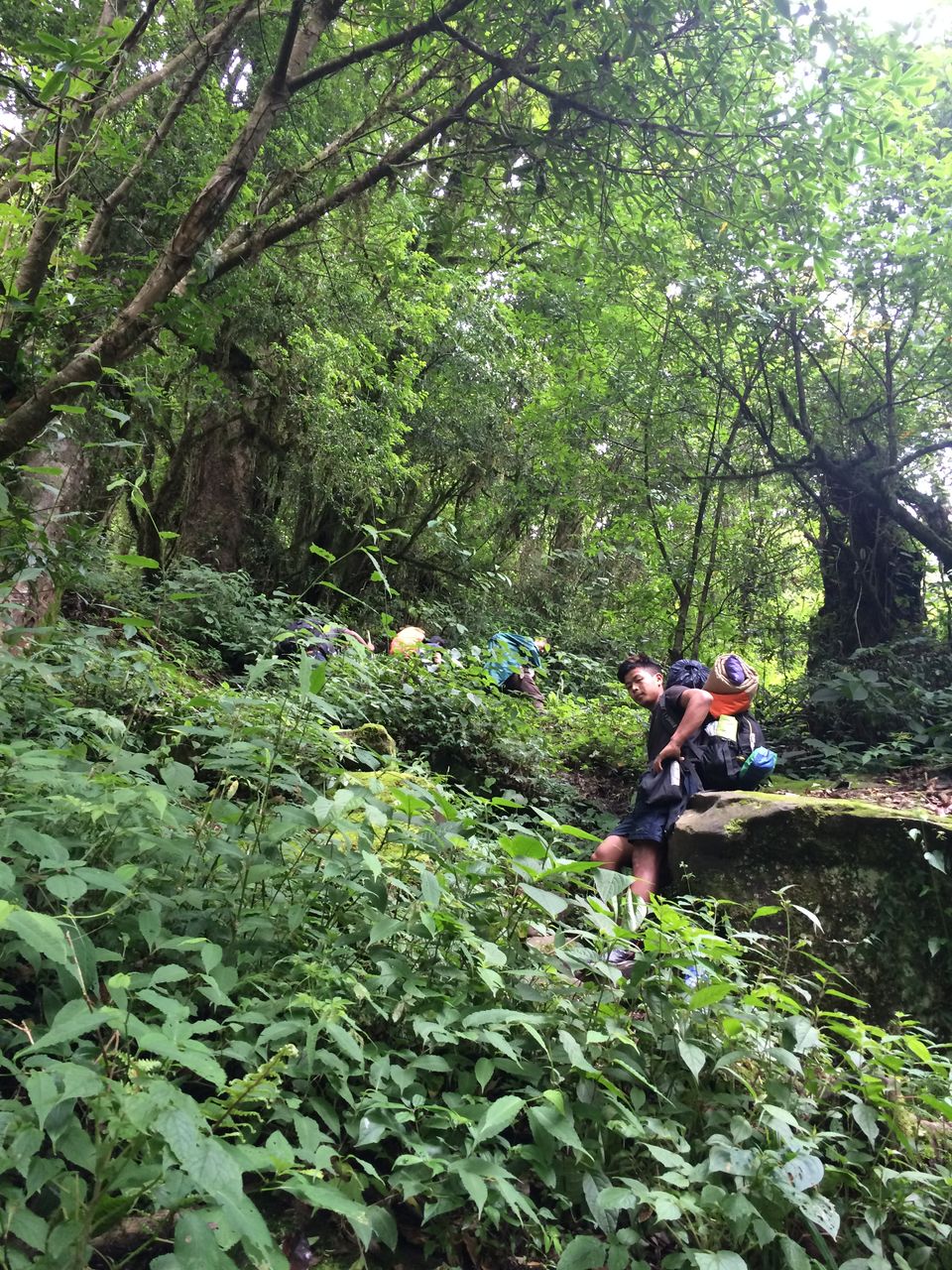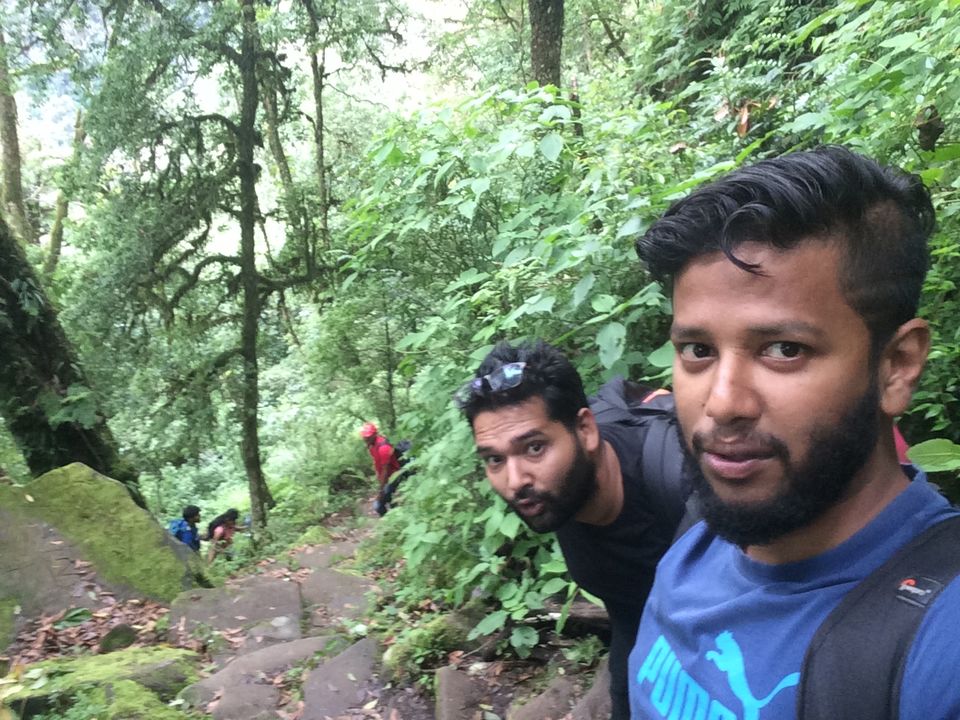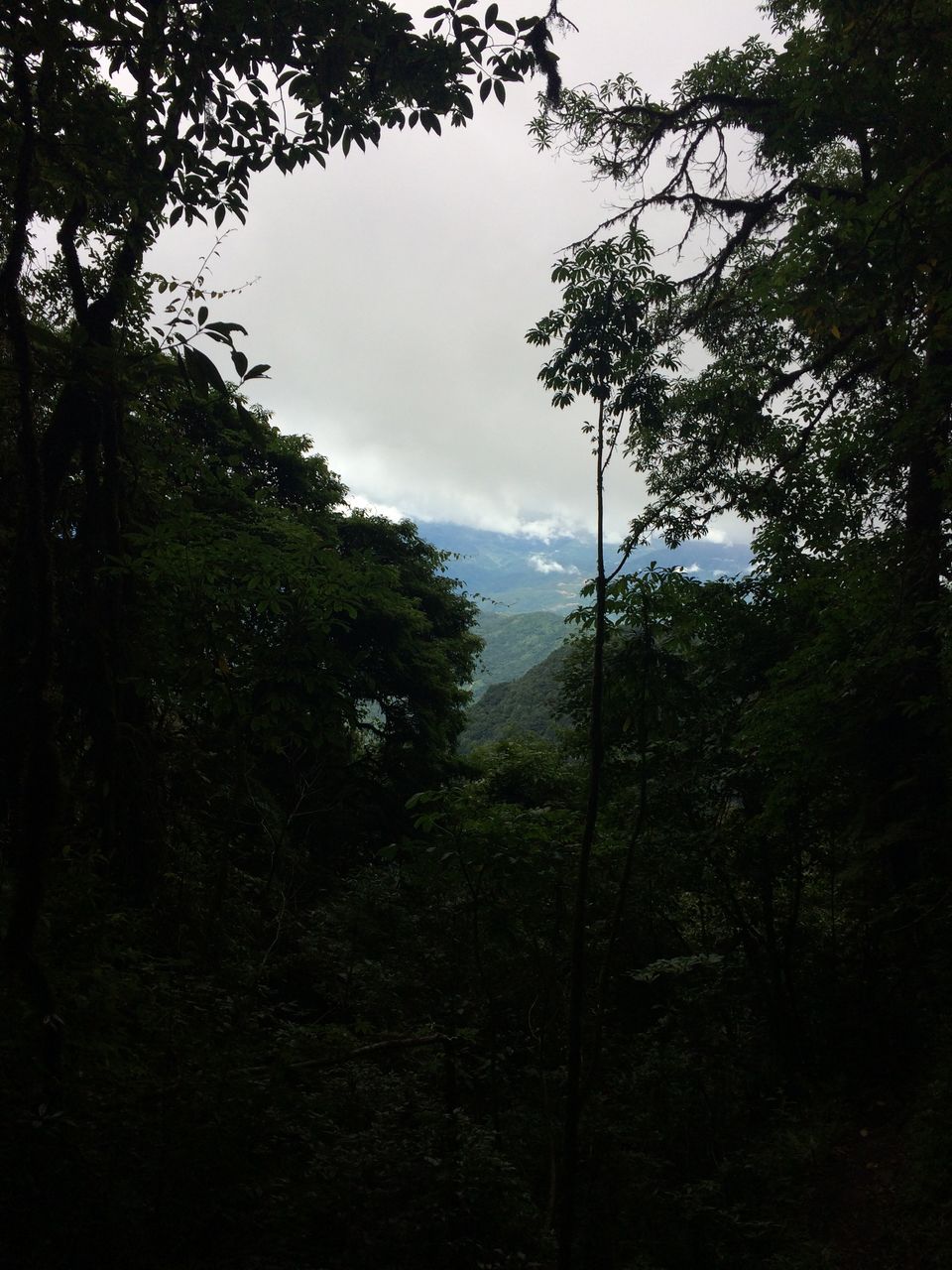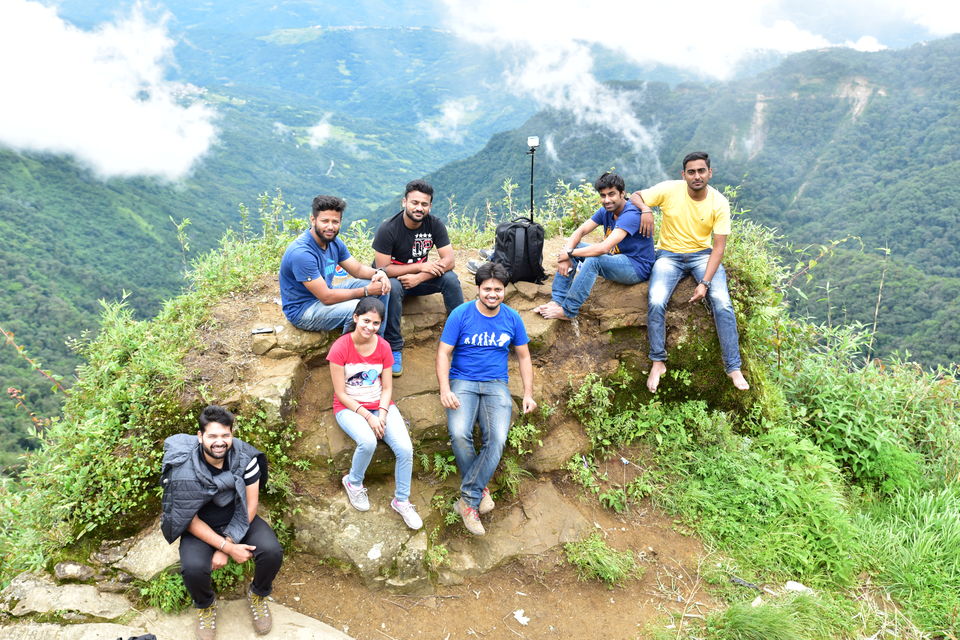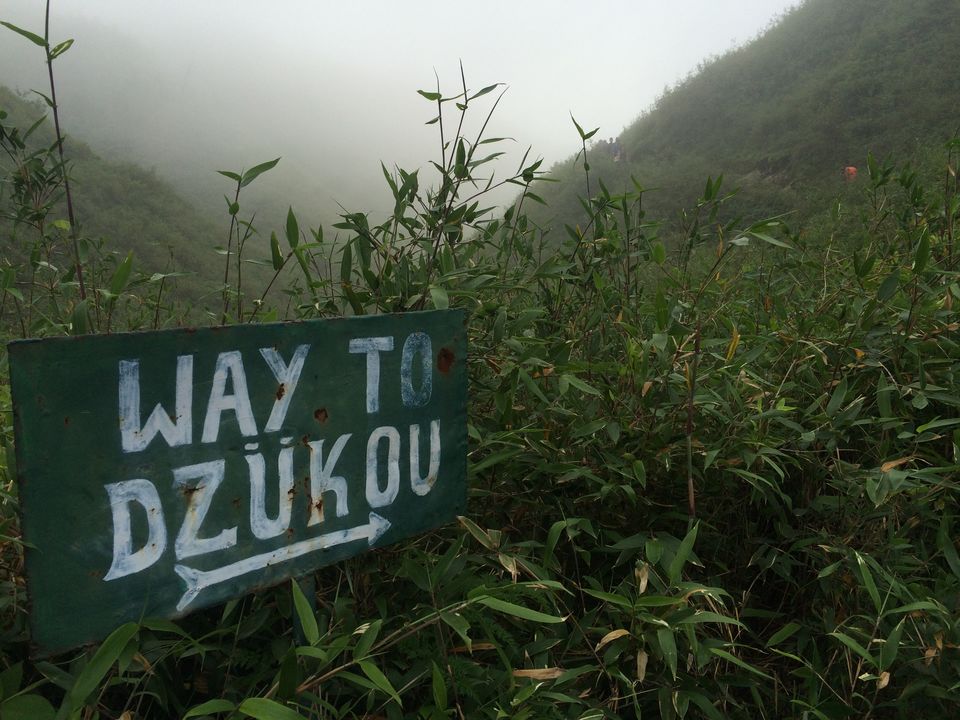 NO MORE CLIMB, NOW JUST WALK
We stayed and relaxed at the spot for a little while, caught our breathe and started again. The rest of the trail doesn't involve much of a climb but trails. Passing hillocks, up and around, the views were so mystic and there was no limit to the end of the small small hillocks, like a never ending sea of hillocks and is all green. Interesting thing was that we could see many tree which are like burnt and doesn't produces any greenery. The trail was pretty long but the awesome beauty it offered after every turn has no words to describe and best to be experienced. We also met few people who were returning and I never seen so many happy faces. We enjoyed such treat for our eyes.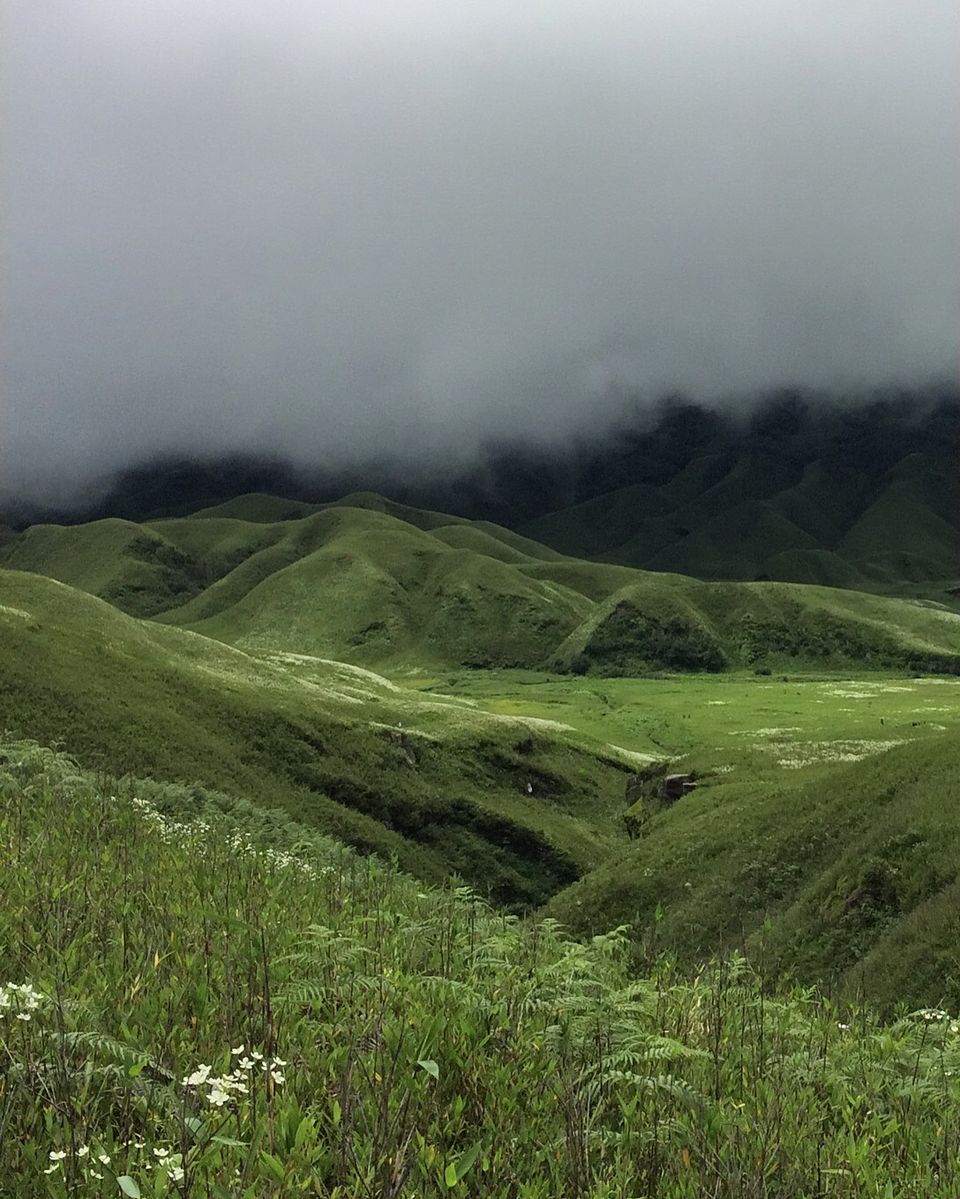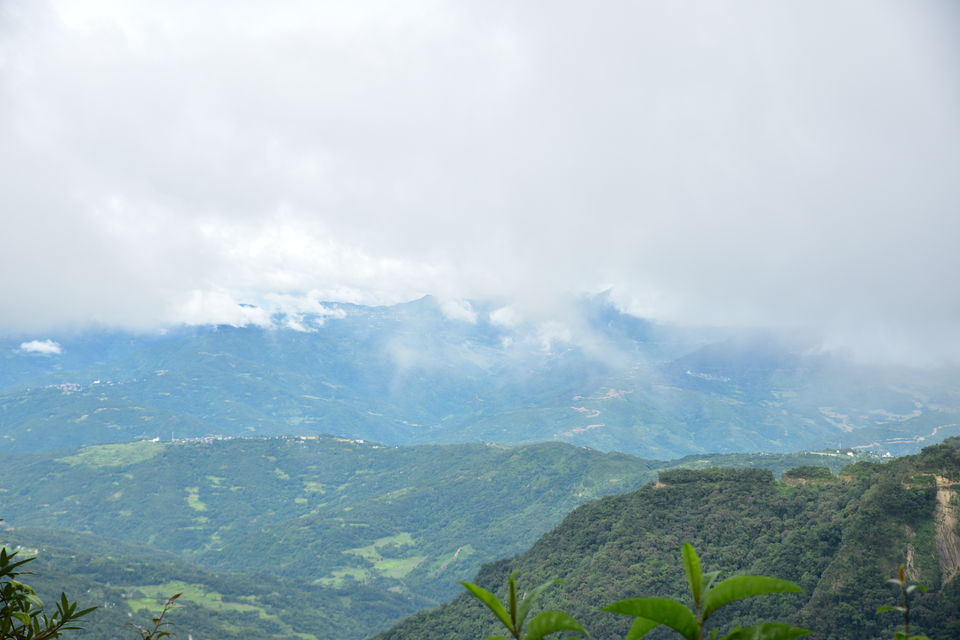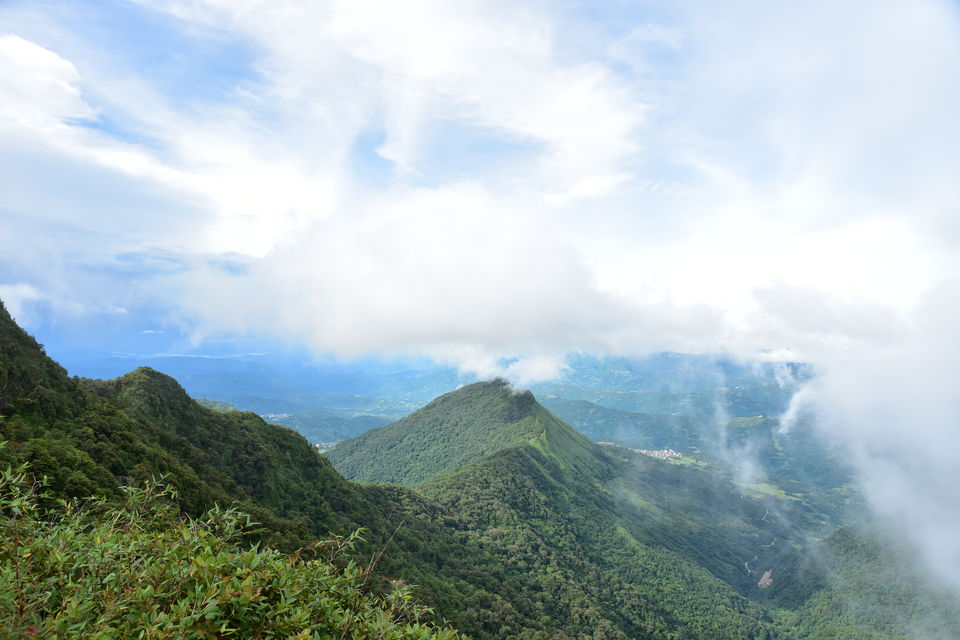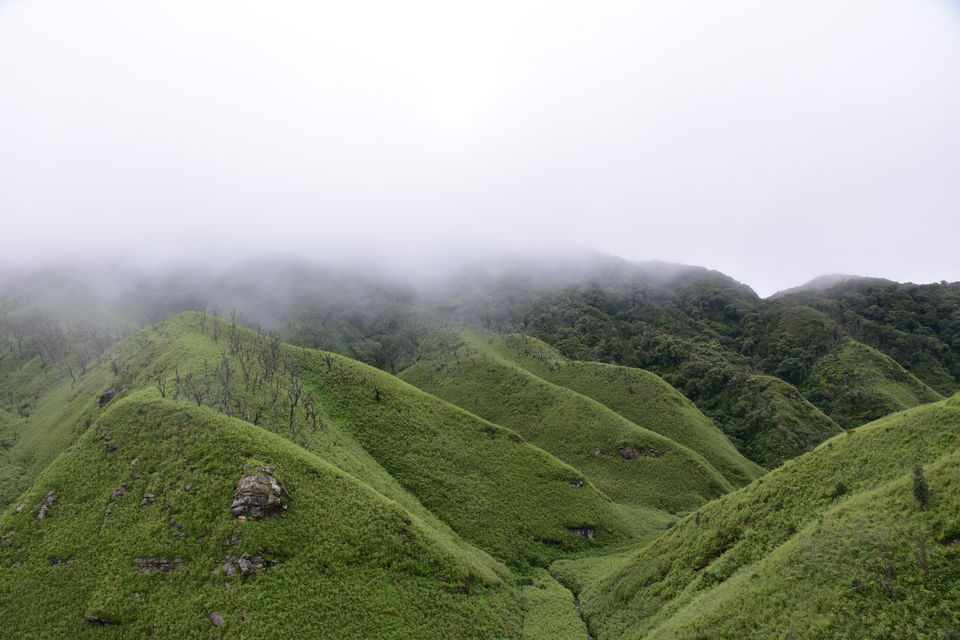 THE STAY
We took around 4 hours to reach the Dzukou trekkers camp, which is being built by the Government of Nagaland and the local tribes of the area maintain it for the tourists. Its like a big hall, made up of wood. There is also a Helipad very near to the dorm and many travelers put up a tent out there and enjoy the nature. The temperature drops drastically during late hours and so proper equipment's for tents are necessary. The dorm area is quite a beautiful place and is placed above the mountain top. Lot of amazing woodwork is done and the place has few washrooms for bathing, a store that houses lots of noodles, biscuits and basic utilities. There is also a local run canteen that prepares great local food. Trust me, we all had double the diet we generally eat, may be cause of the long trek too, but I cannot forget that raw taste till date.
Our stay and food was included with the fees we paid to the agency, however if someone wishes to do it alone, the way is pretty simple and the prices are much low. We had a pretty good time for the stay, the night was colder as the name suggested. We stayed at the dorm itself and woke up to such great views that is just beyond compare.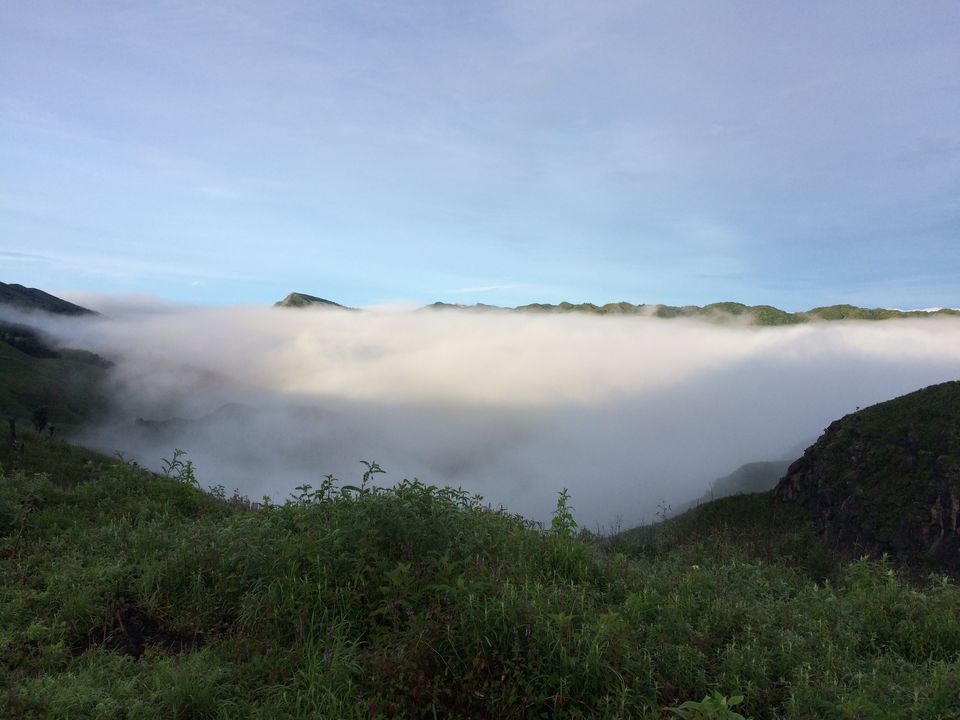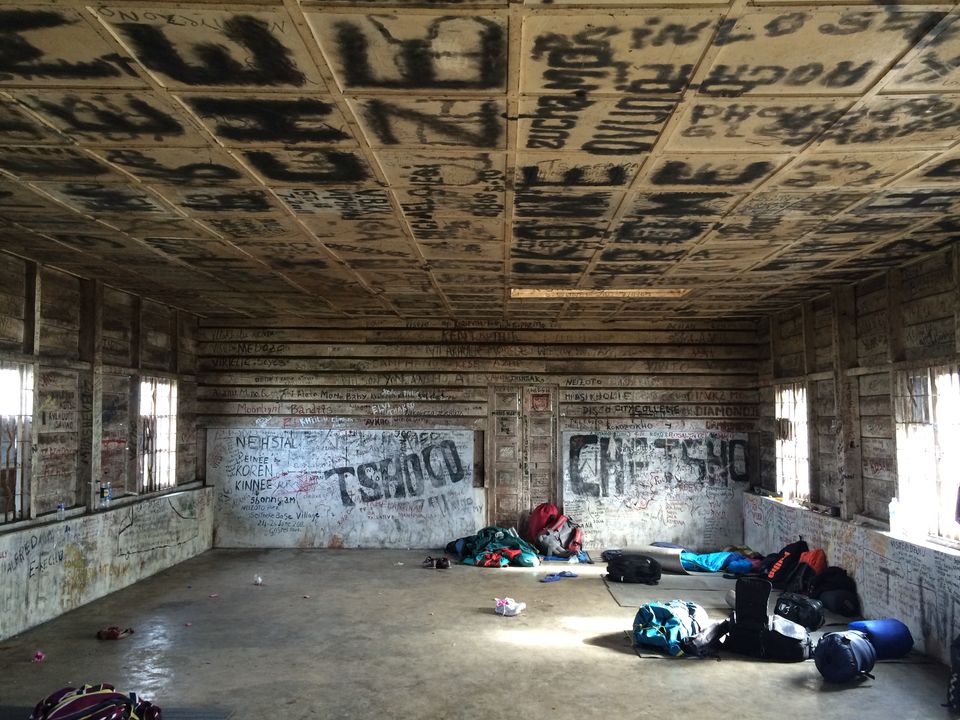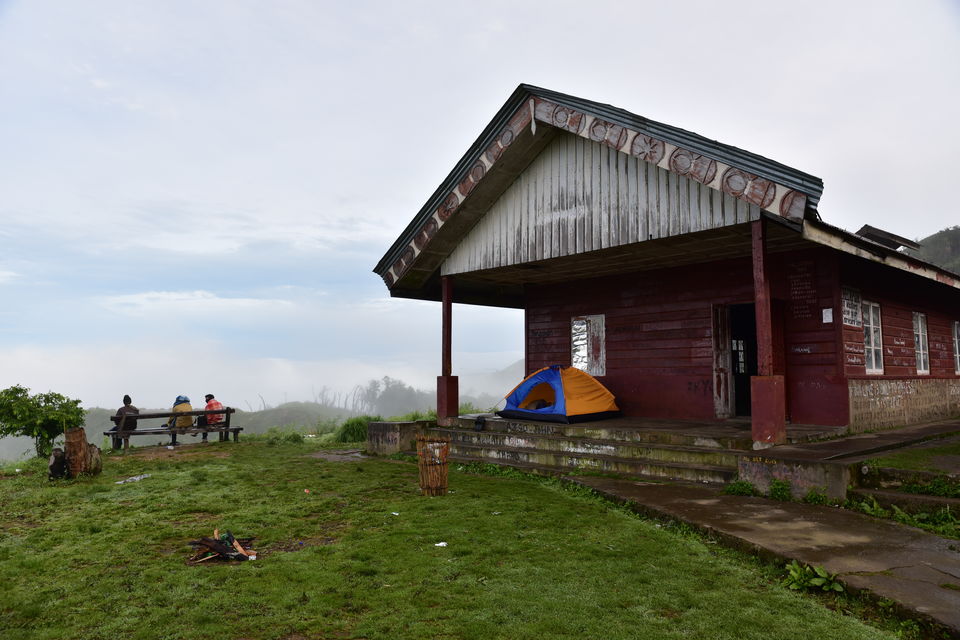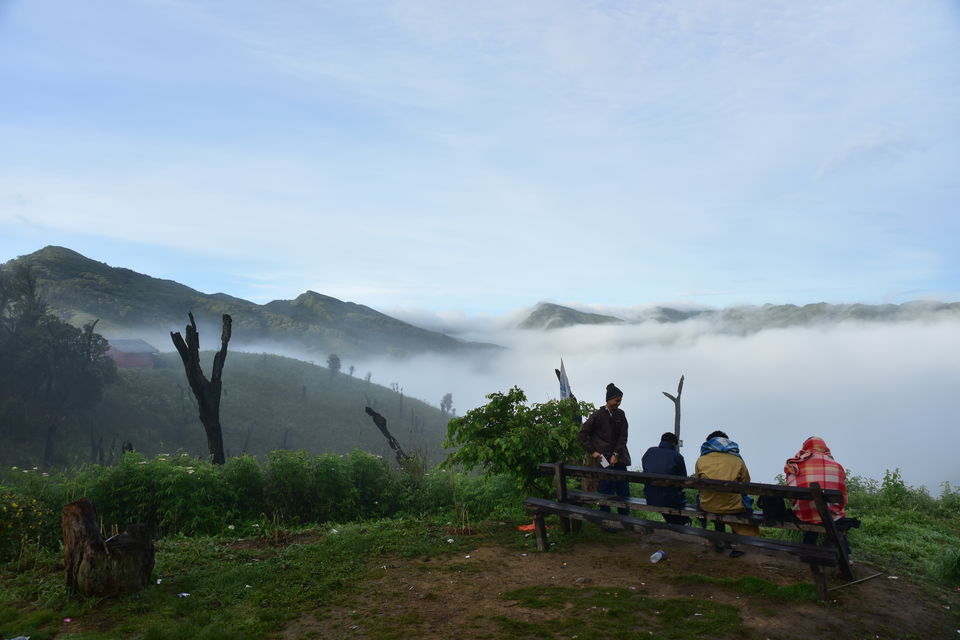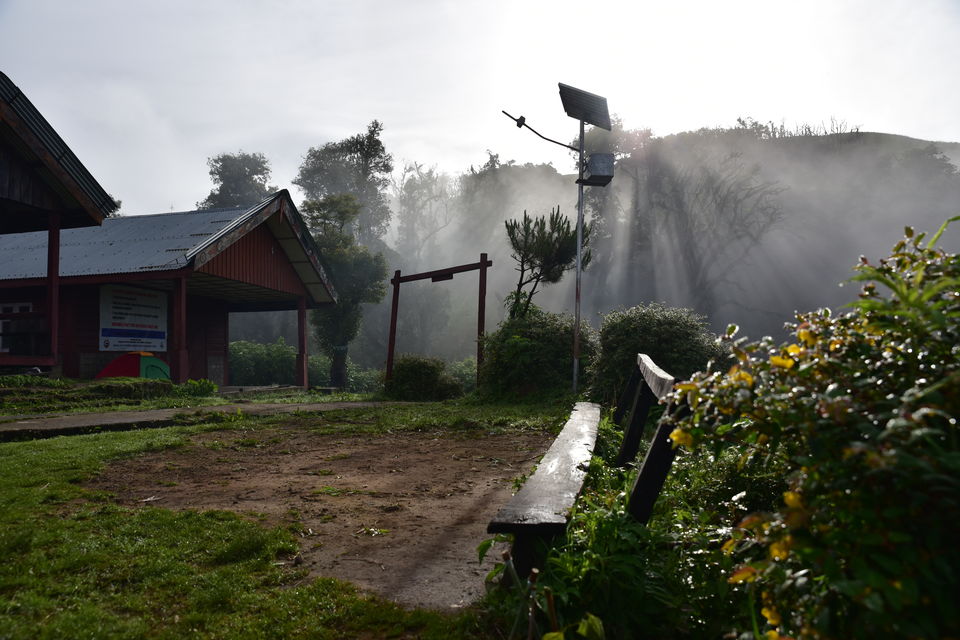 FINAL JOURNEY TO THE DZUKOU RIVER
Post the great photo sessions and lip smacking breakfast we started our final descend to the Dzukou river and a small cave area. This place was around one and a half hour away down hill from the base camp. The hillocks continue to mesmerize, the flowers continue to catch our breadth and the serenity let us focus. The Dzukou water was actually very cold, the water was shallow and a small wooden bridge crossed over it. The place seemed to be like a perfect picnic spot. We spent a lot of time there, chilling and posing with the nature. The cave was also a small hillock carved from one side which acts as a shade.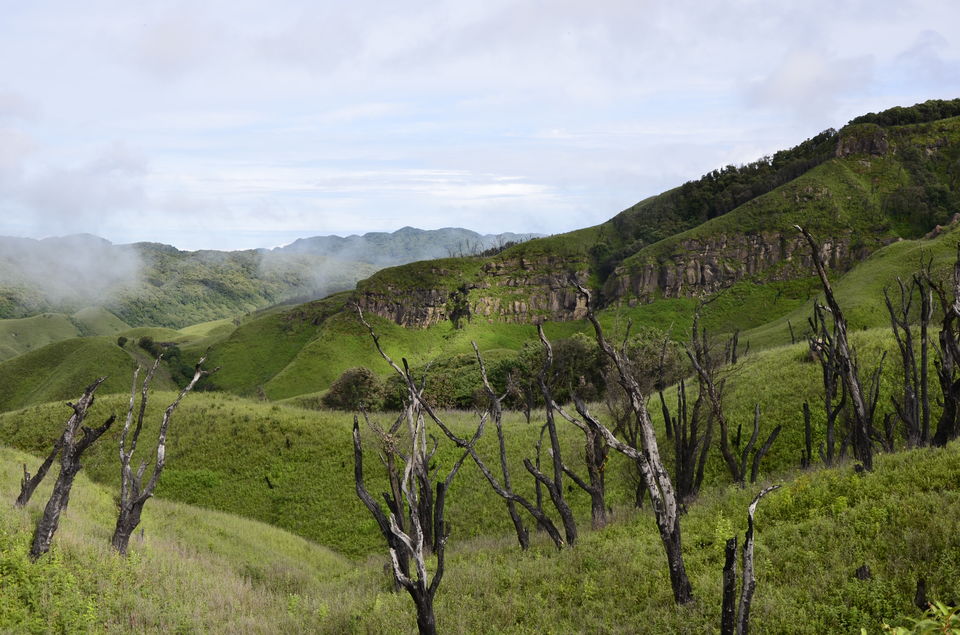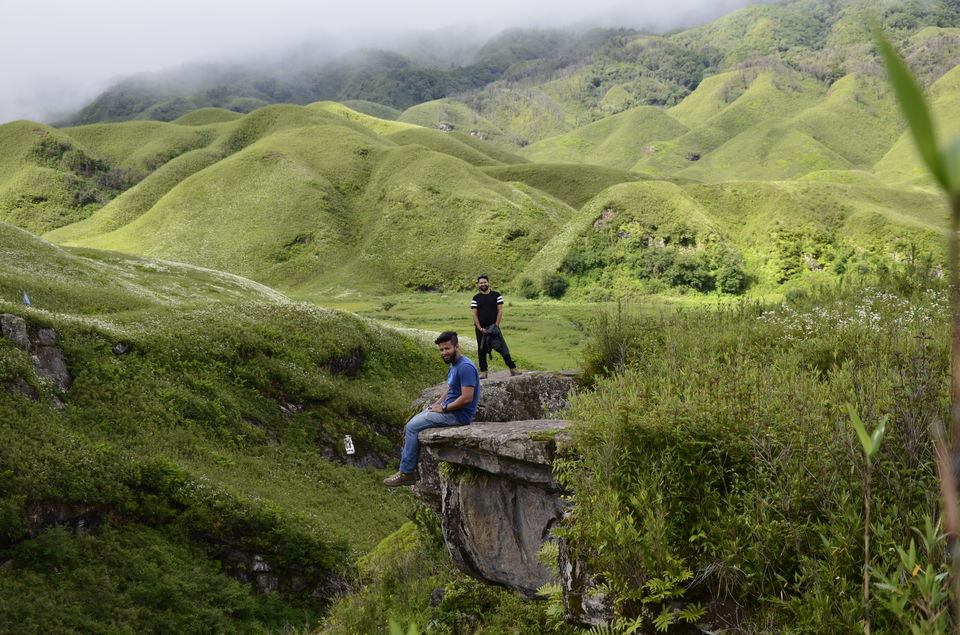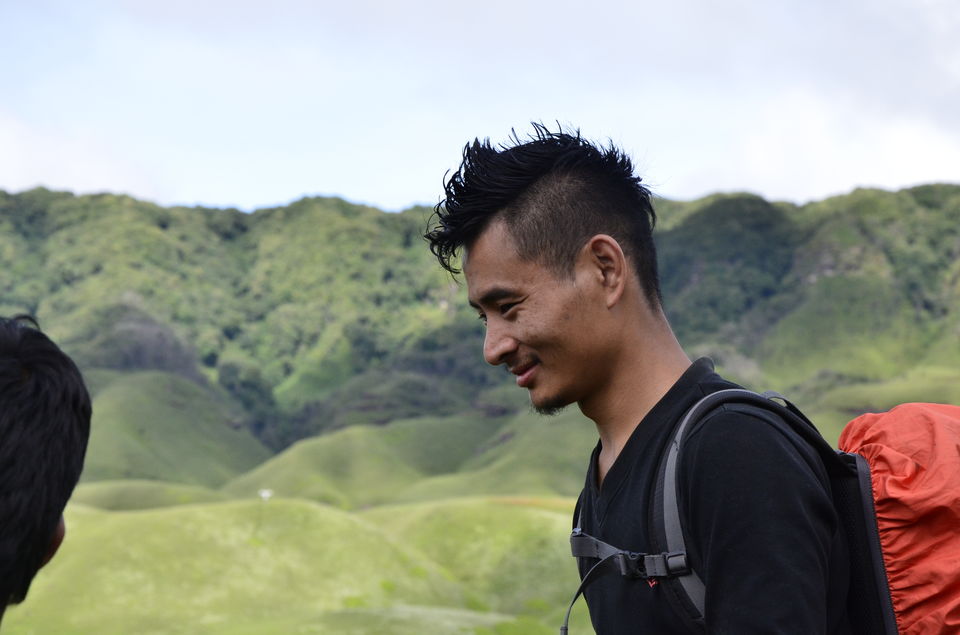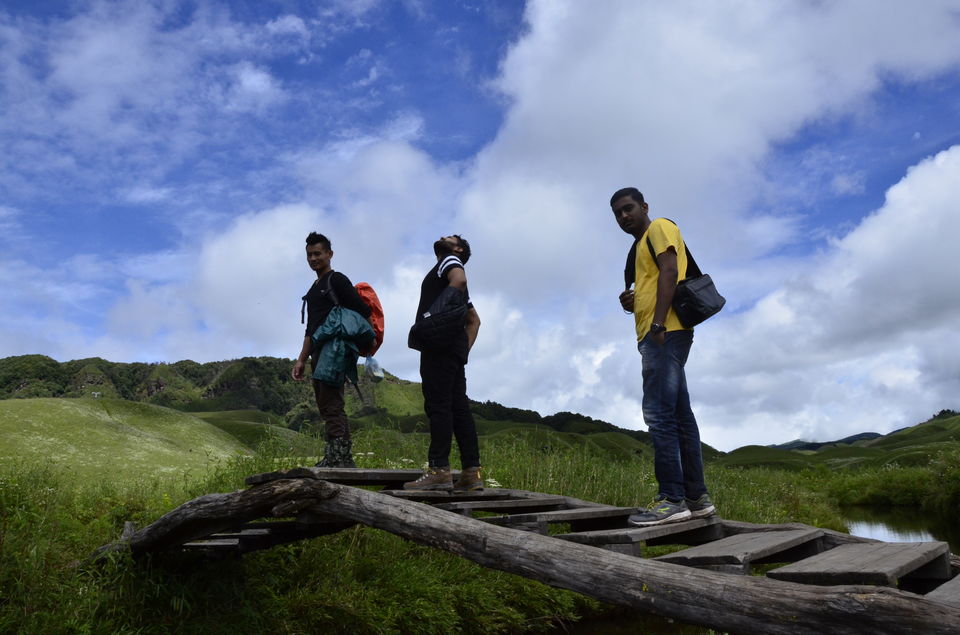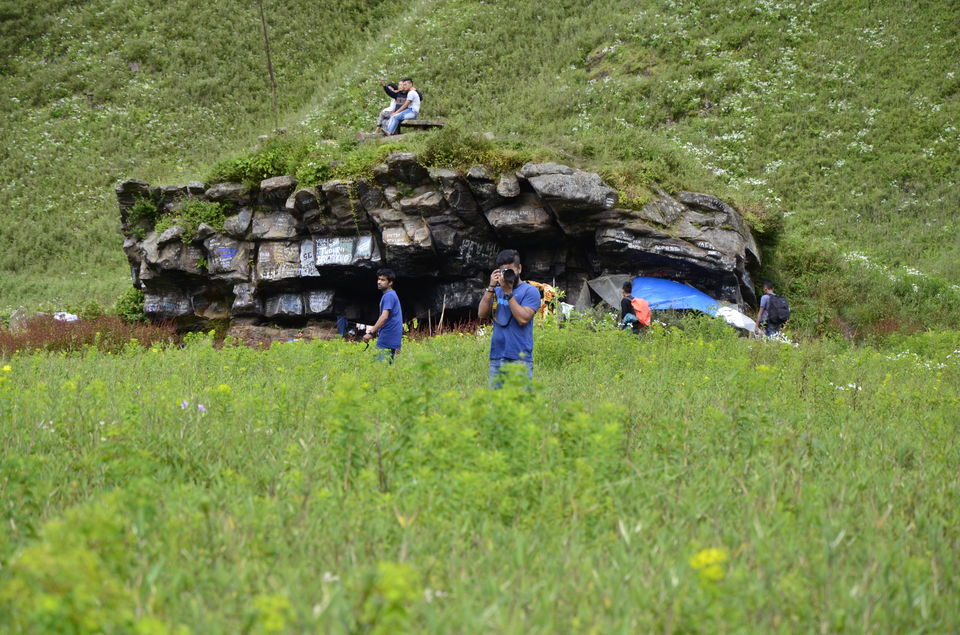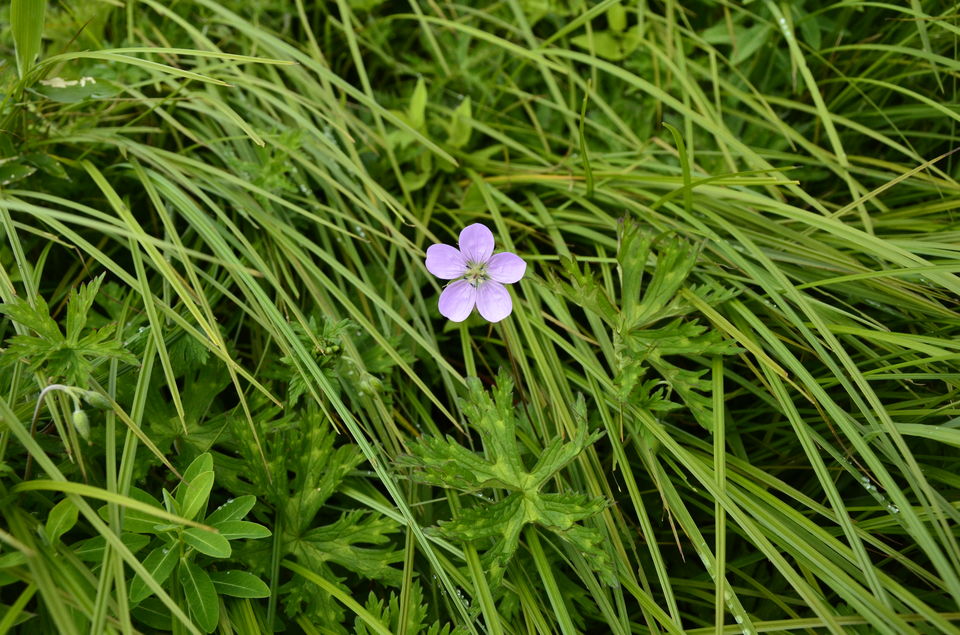 THE RETURN
We soaked up to the cold water, climbed the cave for some splendid photos and then rolled back towards the trekkers hut. We had light meal and decided to turn towards the Viswema village where we would find Rokoseino Mor, the agency lady for our retreat. the return was easier, stepping down was simpler but muddy and so more we need to be more careful. It took us an overall 3 hrs to return as compared to our arrival.
THE COST OF VISITING DZUKOU VALLEY
We paid INR 3000 per head from Dimapur to Dimapur including our stay, Vime, food, shelter and touring, as we took the agency help. However, if one tends to do it on their own, it is gonna be cheaper. Dimapur is well connected with Railway. Dimapur to Kohima bus starts from INR 120 to INR 300. From Kohima to Viswema or Jahkama, one can find sumo public carriers that will charge INR 50. There is a pass for entering Dzukou for the maintenance of the area which is for INR 20 for local villages, INR 50 for Indians and INR 100 for foreign nationals. Other then that general lodging is INR 50 and the VIP lodging is INR 300. Food/meal one time is around INR 200 per plate per meal and the rest lies upon you.
Staying in Kohima is also not very costly, general rooms without food cost starts from INR 700 per head, I could not find any hostel or dormitory then, but i still believe there must be some home-stay in place like Kohima for sure.
BASIC THINGS TO BE CARRIED FOR DZUKOU
The trek to Dzukou is rated as moderate climb, but the rocks are pretty muddy and contains algae on it. The later trails are very moderate and can be done easily. However, carrying your tent and putting it up at the helipad or at the cave near Dzukou river would be quite thrilling. Many places has water on the way, so a good trekking boots and mostly waterproof ones will give you a better experience. Camera's and camcorders as per knowledge, but possible wide angle lenses will do a lot justice with the view. Old Monk is a must to keep you away from the chill and enjoy the night time outside the dorm or the tents.
So here it is, few information about Dzukou from my point of view. Any changes or stay ideas, or any other chore that one can do up there will be most welcomed.
This is a must visit place, even flying up to this place for a short break is gonna be totally worth it. The season is well started, June-September contains the maximum flowers but for Dzukou any time is a good time, if flora is not much of an interest.
#roadsandplaces
Catch all the other in action on their Instagram:
Ashkaran Roy : https://www.instagram.com/ashkaran_royce/ Ajay Parotill (Weather guy) : https://www.instagram.com/ajay_parotill/ Satya Sahu (International rider) : https://www.instagram.com/motomaniac29/