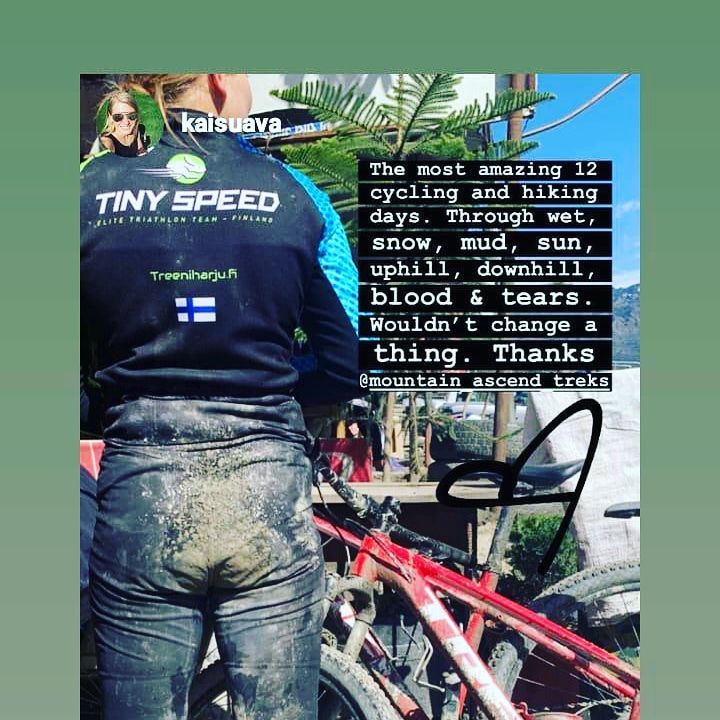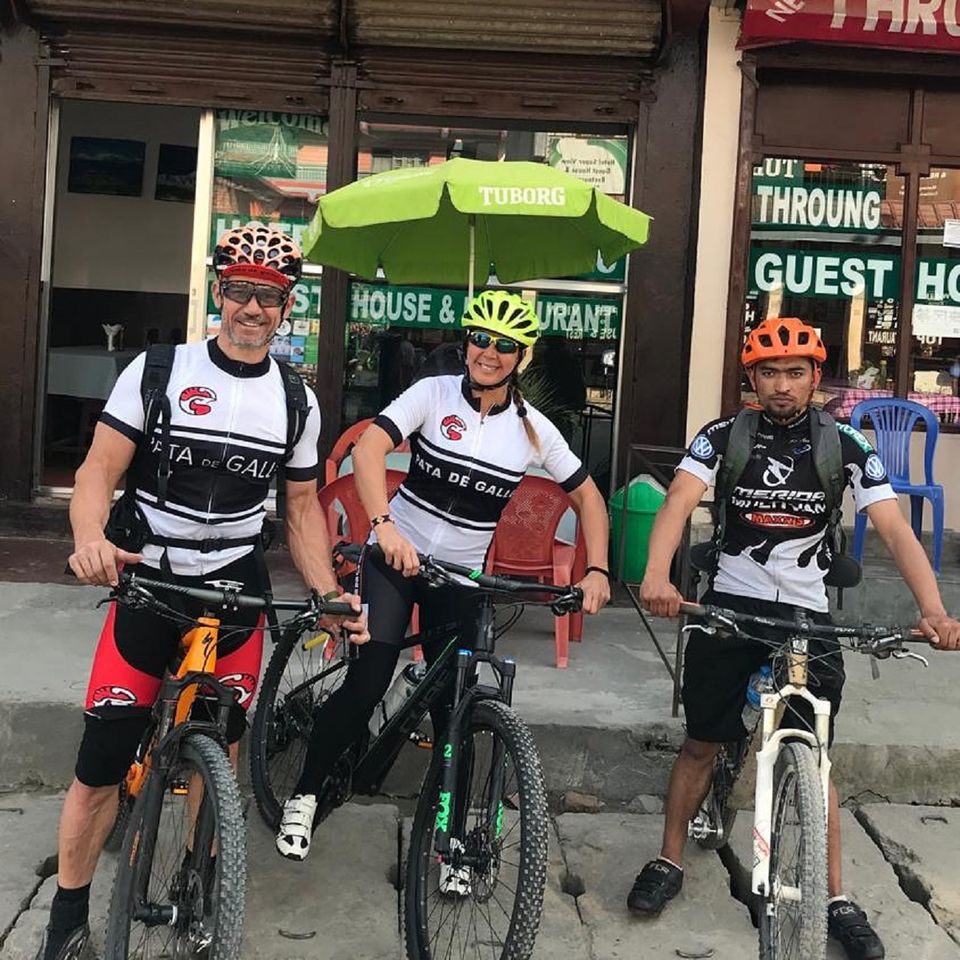 Trip Highlights
Crossing the Thorong La Pass at 5,416 m
Tasting the renowned apples, apple pie and apple wine (Marpha) in Marpha, Jomsom
Sight-seeing in Muktinath and exploring the popular hiking routes in the area
Bathing in natural hot springs at Tatopani
Crystal-clear mountain range visible from Pokhara
Farewell dinner at a typical Nepali restaurant on the day before departure
Trip Information
Annapurna Circuit Mountain Biking is an adventure cycling package in which you ride at an altitude of 5000+ metres watching over the snow-covered mountain pass, called Thorong La Pass. Thorong La is the highest point you reach in this package. The biking route passes through rough terrain, stones, pebbles, steep up and downhill trails which are challenging. This Annapurna Circuit Mountain Biking package gives you an adventurous biking experience in the Himalayan region of Nepal. This is also an uphill biking trail, in which you have to carry a cycle for 4 hours, while from the top of the pass, all you do is cycle downward to Beni.
A THING TO BE NOTED: Before or during the trip, there are certain factors like weather and political situations that are unexpected barriers and out of our control, which will compel us to change your itinerary. In such a case, please try to understand these barriers, but our purpose will always be to follow the itinerary that has been listed in this website that you have gone through before booking the trip.
Mountain Ascend Treks For Social Causes
Mountain Ascend Treks works in cooperation with local porters and tea-houses by giving them jobs and using their services and in this way, it uplifts the economic conditions of the people.
Itinerary
Day 1:Arrival In Kathmandu (1400 M) (Overnight At Hotel With Breakfast)
Day 2:Drive To Besisahar 6 T0 7 Hours (760 M) ) (Overnight At Hotel With Breakfast)
Day 3:Ride From Besisahar To Tal (1,700 M). Distance: 37.4 Km (Overnight At Hotel With 3 Meals)
Day 4:Ride From Tal To Chame (2,670 M). Distance: 22.6 Km (Overnight At Hotel With 3 Meals)
Day 5:Ride From Chame To Manang (3,540 M). Distance: 29.7 Km (Overnight At Hotel With 3 Meals)
Day 6:Acclimatization Day In Manang And Visit Tilicho Lake (Overnight At Hotel With 3 Meals)
Day 7:Ride From Manang To Thorong Phedi (4,450 M). Distance: 19 Km (Overnight At Hotel With 3 Meals)
Day 8:Ride From Thorong Phedi To Muktinath (3,760 M) Via Thorong La Pass (5,416 M). Distance: 22 Km (Overnight At Hotel With 3 Meals)
Day 9:Ride From Muktinath To Tukuche (2,590 M) Via Lupra Valley. Distance: 32 Km (Overnight At Hotel With 3 Meals)
Day 10:Ride From Tukuche To Tatopani (1,190 M). Distance: 42 Km (Overnight At Hotel With 3 Meals)
Day 11:Ride From Tatopani To Beni (899 M). Distance: 25 Km. And Jeep Ride To Pokhara (830 M) (Overnight At Hotel With 3 Meals)
Day 12:Drive From Pokhara To Kathmandu (Approx. 6 Hours) And Farewell Dinner (Overnight At Hotel With 3 Meals)
Day 13:Departure From Nepal (Transportation And Breakfast Are Included)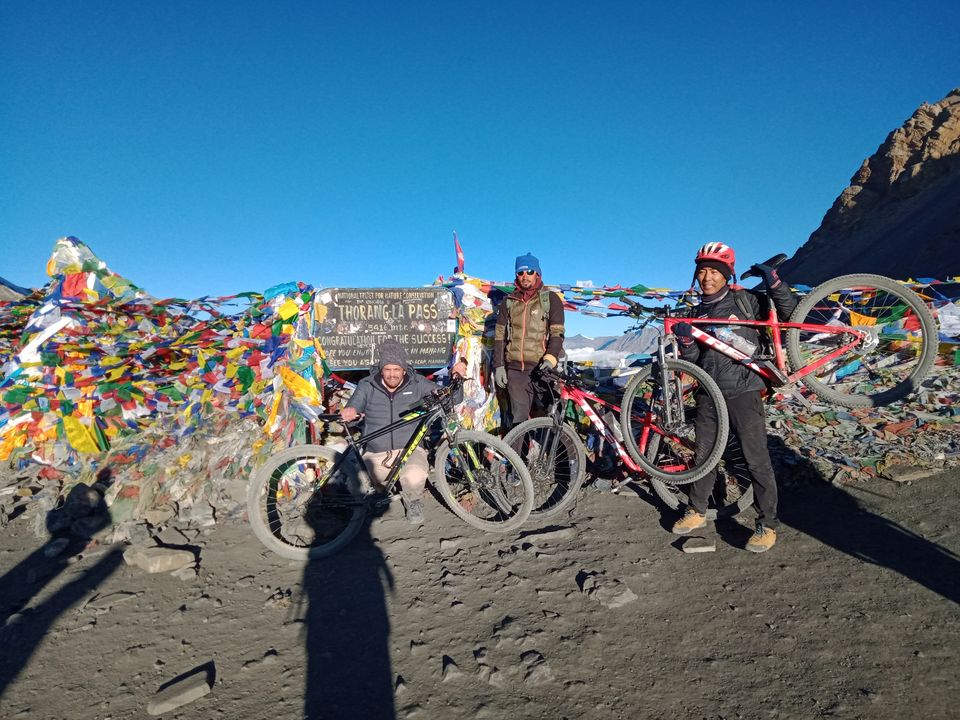 USEFUL INFORMATION
TRAVEL INSURANCE
For everyone who will plan to Trek in Nepal, it is highly recommended that you get travel insurance that covers added expenses that might result due to various health issues, injuries or accidents (together with the ambulance, helicopter rescue, and other treatment costs). Your insurance policy should cover up the entire activities that you are planning to accomplish throughout your stay in Nepal.
In addition to this, the policy should also cover death, misplaced luggage, theft and liability, cancellations, medical treatment (counting hospital charges, cost of the medicine, doctor's fees) as well as repatriation cost. Also, this trekking trail in Nepal takes you of 5,000 m above the altitude, therefore, you also need to ensure that your insurance policy covers treks that go over 5,000 m.
We suggested that you buy your insurance policy from your home country before joining with us, where it is difficult buying a local travel insurance policy for foreigners in Nepal.
MEALS AND ACCOMMODATION
While you're in Kathmandu, your accommodation is at a standard hotel (Arrival time and departure time). Your accommodation is at best local Lodge and Guest Houses where available. The Mountain local Lodges are clean and have comfortable beds. The Lodges are fairly basic and the room is spare with twin beds. Blankets are generally provided. There is a large dining hall and warmed fitted with a chimney duct, in which a log fire is lighted.
Eating is a big part of the Holiday. Traveling with Northern Trekking Team, you experience the vast array of wonderful Nepalese food, Italian, Thai, Chinese, and several local foods. While on the trek it will be on full board all 3 times meals (Breakfast, Lunch & Dinner, with Tea/Coffee) included in the package. Your guide will suggest delicious, hygienic special food during your trips. Generally, choose menu items are Nepalese meals (Dal Bhat), Tibetan fried bread, various types of soups, Momo's (steamed dumplings), boiled and fried potatoes, kinds of pasta and even pizza. So, overall you have a different choice of foods on the trek. During this trek, you will usually have breakfast and dinner at the same guest house.
BOOKING AND PAYMENT
You should book the service at least 15 days before the trek departure date. After you confirm your trip with us, you should be transferring us a photocopy of your passport or your personal information. The personal information you have to provide us your first name, middle name, and last name, passport number, date of birth, nationality, and gender. Importantly, you need to pay 20% of the total price in advance for the domestic flight tickets and hotel booking and permit process. You can pay the remaining balance before you start the trek.
PERSONAL EXPENSES
How much money or cash you should be bringing with you depends on how you do the trip and the number of days you want to spend here in Nepal. Much also depends on your spending habits. Generally, you must have to take10 to 15 USD for spending your expenses, such as laundry, telephone calls, snacks, camera, and mobile battery charging. How much you will be spending during your trekking depends on the standard of the package you have purchased.
OUR GUIDES AND SAFETY
Our guides are fully trained and licensed from Nepal Government Tourism Department, certified by TAAN & Nepal Mountaineering Association.
All our Trekking Guides are professional with decades of experience in this field of adventure. They are trained specially for specified and various trips, to cater the flexible requirement of our clients from different nationalities, this will assure you that your trip will be enjoyable and in safe hands of professional experts.
On every trip, will be one Trek leader and an assistance leader on each additional 7 peoples in the group on treks, this arrangement would ensure that even if any of our guide/ assistance guides gets sick or clients may get sick and need to be evacuated or staying behind from the walks, it wills still works smoothly and there would non-impact with our original trek plan.
Every 7 trekkers will have one Sherpa helper for carrying your trekking bags.
CARING PORTER
Our porter is fully strong, helpful and friendly. Their salary, food, drinks, accommodation, transportation, and Insurance on each trip with us. As you know that we are very trustworthy and polite, while on trek thus we make sure that our porter is fully prepared for the trip. We are closely working with the International Porter Progress Association for the welfare and benefit for trekking porters.
The maximum load carried by our porter minimum 20 to 25 KG maximum so be sure that your trekking bag is not more than the above figure.
HIGH ALTITUDE
This is a high altitude journey and elevation starts from low 1,300 m to 5,416 m high, where symptoms of AMS (Acute Mountain Sickness) might occur due to dry air, cold wind, and less oxygen. Generally, The Annapurna region trip one needs to be in good physical with sound health to avoid other medical complication on the route the journey, just follow our guide he will advise and suggestion which keeps and makes you feel secure to enjoy this fabulous adventure with us.
BEST TIME TO VISIT NEPAL
Three best seasons for the trek to Annapurna region. Generally, the main trails are having with trekkers in the two regions, we suggest you join in at the right time of the year as far as possible.
– High season- Autumn (September-November)
– Shoulder-Spring (March-May)
– Low season- Moonson (June-August)
THINGS TO KNOW BEFORE TREKKING
The main flow of foreign visitors in Nepal is for trekking from moderate to adventurous or challenging treks, the most important is choosing the right trip as per your duration of holiday and fitness, for Annapurna Himalayan trekking adventure one needs to be in sound health and physically fit.
On booking with our preparation of fitness required like walking-jogging-Jumba-aerobic at least fifteen days before your departure from the home country.
Please send us your dietary list and medical history report so that we can arrange well in advance respectively. Book the ticket from home for Kathmandu, Nepal to reach at least two days ahead and earlier from trek departure with much space in Kathmandu after the trek, this allows you with more time in Nepal to enjoy the culture and heritage sites of Nepal.
If you are wondering about how to obtain Nepal visa, then the easiest way to obtain it is at the Tribhuwan International Airport upon your arrival in Nepal or else at the immigration entry point if you are entering through the border of India or Tibet.
Note:There are few countries namely Nigeria, Ghana, Afghanistan, Zimbabwe, Somalia, Cameroon, Swaziland, Iraq, Ethiopia, Liberia, Palestine, etc. People from these countries do not get a visa from the immigration entry points of Nepal.)
PASSPORT & VISA INFORMATION
1) WHAT DO YOU NEED TO OBTAIN A NEPAL VISA?
If you are thinking of taking a visa at the airport or immigration entry point, the following are your requirements:
– A valid passport (The passport should have a validity of at least six months)
– You should fill the application form for visa available at airport or immigration entry points.
– Two passport size photos
– Visa fees which should be paid in cash.
2) ENTRY POINTS TO NEPAL
– Tribhuwan International Airport, Kathmandu
– Eastern Nepal – Kakarvitta, Jhapa
– Central Nepal – Birjung, Parsa
– Northern Border – Kodari, Sindhupalchowk
– Western – Rupandehi (Belhiya, Bhairahawa)
– Mid-western – Banke (Jamuna, Nepalgunj)
– Far western – Kailali (Mohana, Dhangadhi) / Kanchanpur (Gaddachauki, Mahendranagar)
3) VISA FEES
– USD 25 or equivalent convertible currency for 15 days.
– USD 40 or equivalent convertible currency for 30 days.
– USD 100 or equivalent convertible currency for 90 days.
– For the tourist of SAARC nationals, free visa up to 30 days.
– Visa is not required for Indian nationals. However, if they enter Nepal via air, they will have to show a valid identification certificate (passport/ citizenship certificate). The children under the age of 10 do not need to show an identification certificate.
4) VISA EXTENSION
– If you want to extend the visa for 15 days or less, visa extension charge is USD 30 or equivalent convertible currency
– If you want to extend the visa for more than 15 days, USD 2 will be charged per day after 15 days. However, the visa can be extended maximum up to 150 days in a visa year (Visa year refers to the year starting January to December.)
5) TRANSIT VISA
When a foreigner has to get down at Nepalese airport as a result of his/her transit point or due to any force landing for whatever the reason, the foreigner can obtain a transit visa for a day after paying USD 5 or any other currency equivalent.
OTHER GENERAL INFORMATION
– Entering into Nepal or staying in Nepal without a valid visa is illegal.
– A tourist visa can be obtained either through the Nepalese embassy or consulate or other mission offices in your nation or at the immigration entry points in Nepal listed above.
– Visa once issued cannot be amended and the visa fees are non-refundable.
– You should pay the Nepal visa fees in cash. Credit card or cheque is not acceptable.
– Visa charges are not applicable for children under 10 years of age, however, they must obtain a valid visa.
– If you are obtaining a new passport or travel document, you are advised to contact the Immigration Department for the document transfer.
– Always carry your passport and trekking permit while on trekking.
– Some of the areas are restricted for filming. Therefore, be careful not to do the activities that are strictly prohibited.
– The culture, tradition, and sentiments of Nepalese people should be respected. Do not perform any activities that would hurt their sentiments.
– Do not perform any activities that would lead to moral turpitude.