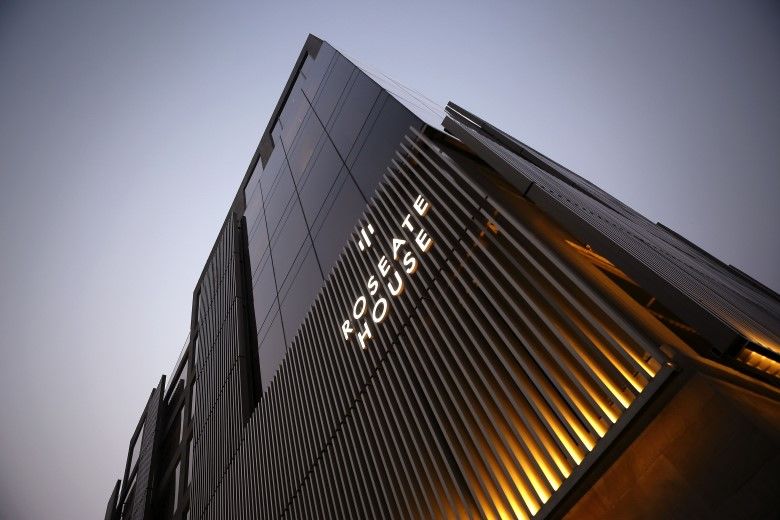 Roseate House is a modern business and leisure hotel located 10-minutes away from Delhi's International Airport. The hotel is located in the airport hospitality district known as Aerocity, which is well connected to both the historic sights of New Delhi and to the sky rises of the satellite township of Gurugram.
The vicinity of Aerocity is home to some of the National Capital Region's finest dining establishments as well as high-end and boutique retail outlets, whereas a short 15-minute car ride will get you to Gurugram, a bustling township famous for its business district, towering condos, and numerous shopping centers, bars, restaurants, and cinema halls. If you intend on visiting the historic buildings and markets of Purani Dilli, ask the hotel to organize a day-cab as Delhi is quite large and traffic can get dense during peak hours. However the trendy southern and central parts of New Delhi, packed with pubs, shopping arcades, cafes, and a wide range of dining options varying from delicious street foods to high-end specialty cuisines, are relatively easy to access and take around 45-minutes by car.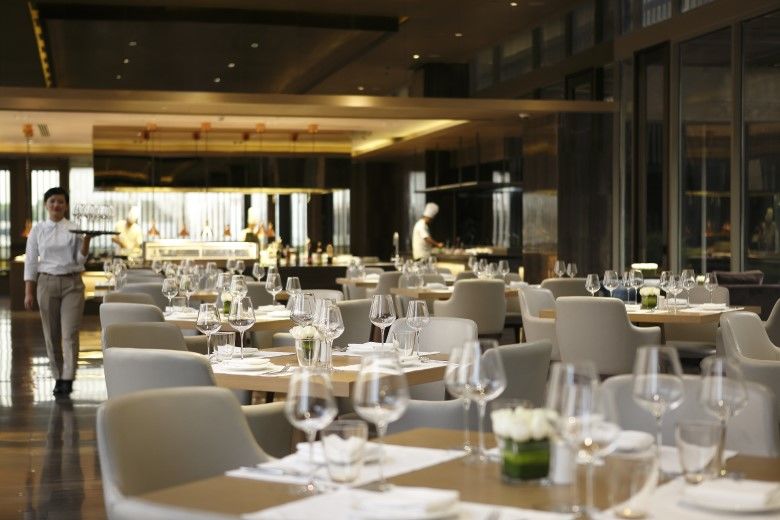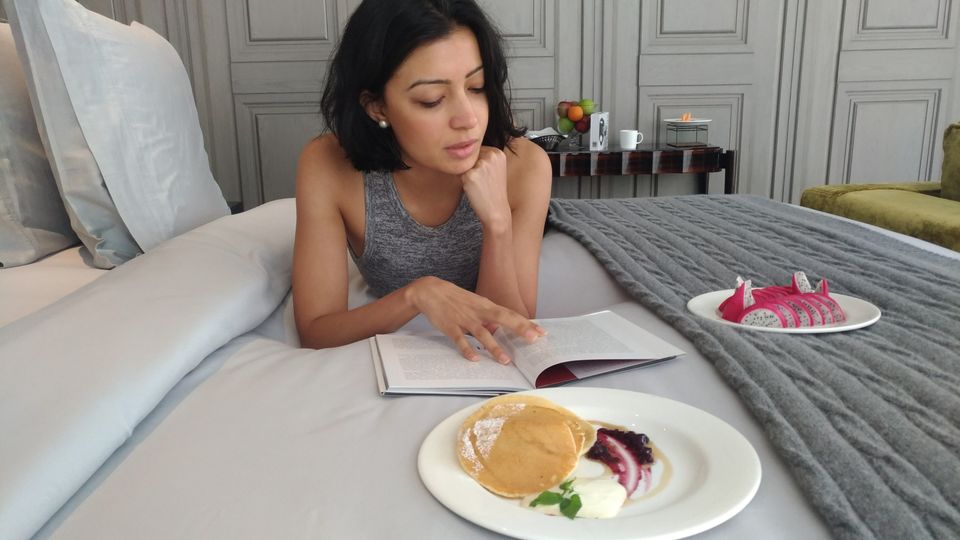 Roseate House has 216 elegantly appointed rooms and 15 suites, including the opulent Presidential Suite, as well as an edgy Panorama Suite, aptly named because of the 180-degree view of the airport runway that it affords its residents. The chic rooms and suites are done up in earthy tones and feel quite airy owing to the clever use of lots of glass and mirrors. The building theme is that of a book, and thus each floor is labeled a 'Story' and each room category is a 'Chapter'.
For entertainment, in addition to food, drink, a rooftop infinity pool the hotel has taken a unique approach by allowing guests access to a private on-site cinema room called Upstage, which is fitted with 71 plush recliners. And if it's an out of the ordinary activity that you have in mind, just request the concierge to hand craft a tour package based on your requirements. The hotel also caters to work meetings and has a state-of-the-art conference room and business center.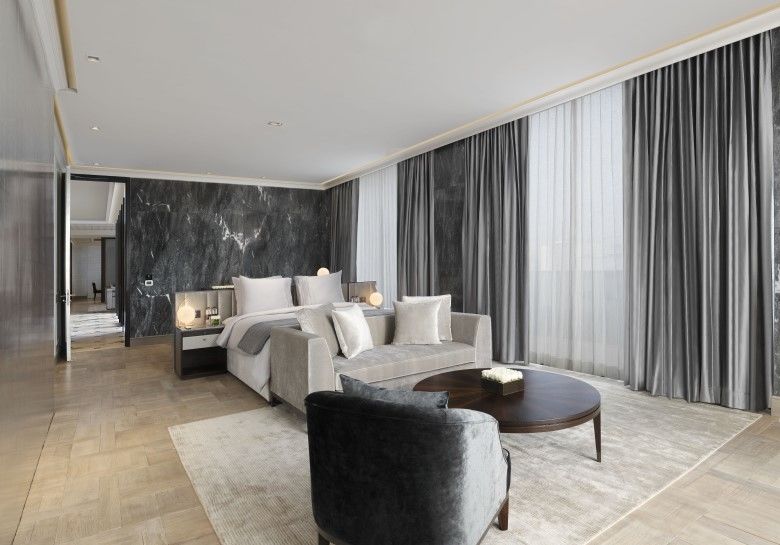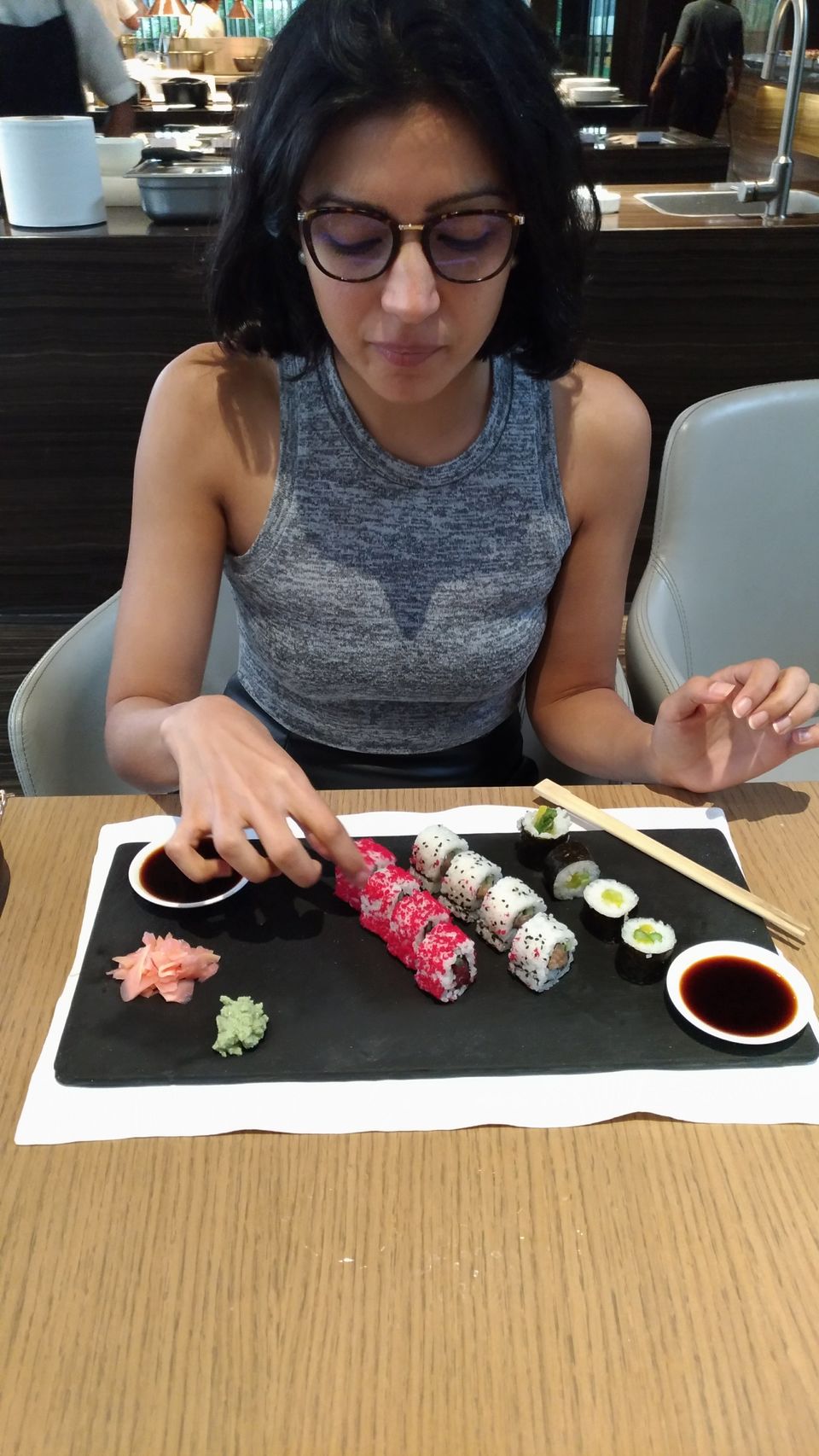 Roseate House features an impressive list of food and drink options. Named after Delhi's airport code, DEL is a world cuisine bistro that features live cooking counters that plate up Continental and Asian delicacies. For those who seek a bit of spice, Kheer is a fine dining restaurant, designed by Noriyoshi Muramatsu, which serves Indian cuisine and street food. The restaurant has a wine cellar, whiskey shelf, beer-island, and a mixology bar, to cater to a vast range of beverage requests. Roseate House even has an in-house patisserie and boulangerie called Roasted, famous for its delicious coffee, and wide range of teas and snacks.
If it's not food you're after but rather a comfy bar to grab a few drinks at, Chidyaghar is an old school timber and brass themed bar room known for its nostalgic vibes and classic cocktails. Also, the best bar nibbles this side of the Suez canal- the 'nakli chicken 65' (made from soya chaap), 'wild mushroom galouti', 'bataq ke kebab' and 'south indian sushi' are melt in your mouth delicious. If you have to eat one meal at Roseate House, make sure to pair drinks and snacks at Chidyaghar with Kheer to enjoy a dining experience you will never forget. Given that Roseate House sits next to the airport and caters to weary frequent fliers, the award winning Aheli Spa is the perfect cure for sore necks and aching backs. Located on the top floor of the hotel, the tastefully done up spa sits between two water bodies and presents visitors with an expansive menu that includes salon services, refreshing facials, Indian-inspired Ayurvedic massage therapies, body wraps and scrubs, yoga therapy, and reflexology. I would highly recommend that you consult the spa manager who might even tailor make a ritual to suit your needs. They also offer aqua aerobics and aqua yoga sessions as well as guided meditation and a personal training session, too, can be booked upon request.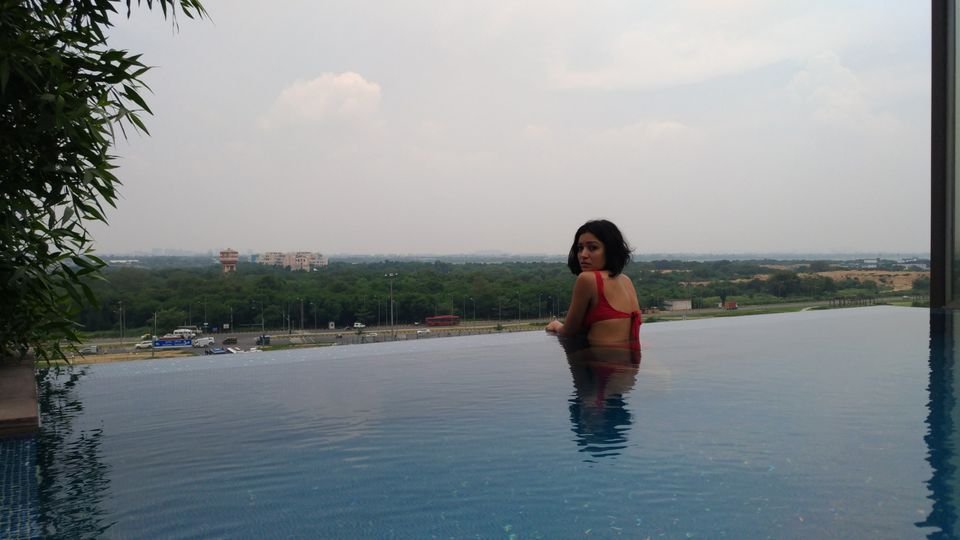 Bird Group's Roseate House has certainly made waves in the hotel industry as it took home the North India Travel Award for Best Debut Hotel in 2016 as well as The Luxury Hotel Spa Award for Aheli Spa in 2017. So if you're an exhausted traveler on the lookout for a comfortable place to stay in New Delhi, in close proximity to the airport, Roseate House makes a very strong case for itself.
Verdict: I loved my staycation at the Roseate House and for a business hotel, they sure surpass all expectations. From the gorgeous rooftop infinity pool, the Aheli Spa, drinks at Chidyaghar, the cinema for when you want to lounge around and catch up on your #netflix sessions and the highly sought after the opening of Kheer- this hotel is full of surprises. Special thanks to Shreya Dhawan, Chef Nishant Choubey and Chef Anuj Wadhawan for spoiling me rotten with all the delicacies that both DEL and Chidyaghar had to offer. I cannot wait to be back here so I can enroll myself for a yoga session followed by a luxurious and indulgent massage at the award winning spa. Also, keep your eyes peeled and your ears open for an announcement as they plan to launch 'Tara' a rooftop Japanese restaurant by the infinity pool. If this doesn't convince you to book, I'm not sure what will.
P.S - Tara will be taking bookings from the 4th of September and Kheer from the 7th of October.
Quick Notes: Roseate House New Delhi Asset 10, Hospitality District Aerocity New Delhi 110037 Tel: +91 11 71558800, 43558800 | Fax: +91 11 71558801
http://www.roseatehotels.com/newdelhi/roseatehouse/
Photo Credits: Roseate House