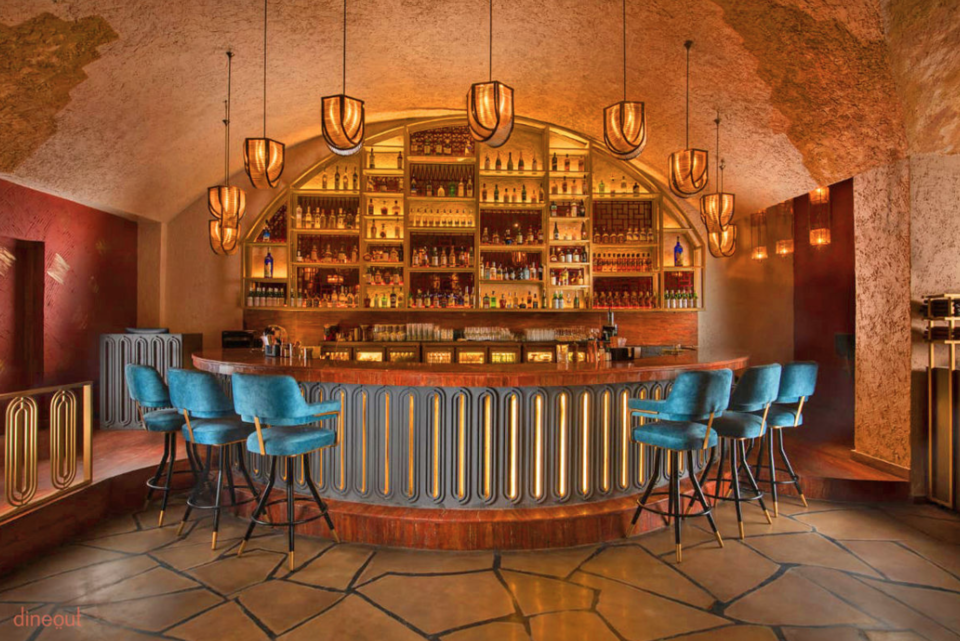 La Roca, located in WorldMark 1, Aerocity, Delhi is one of the best restaurants to visit if you are looking for an evening filled with elegance and food with great taste. This restaurant specialises in the cuisines - Asian, Italian, Continental, Japanese and European. Nestled in the heart of South Delhi - this space is the new hub of fun and entertainment, the ambience of this place being a high scorer in its own merit. I walked into this restaurant one evening while shopping and I am glad that I made that choice then. I started the evening off with some starters, then moved on to their main course with some cocktails gracing my side and ended it with delectable desserts which I thought I could keep binging on for the rest of my life.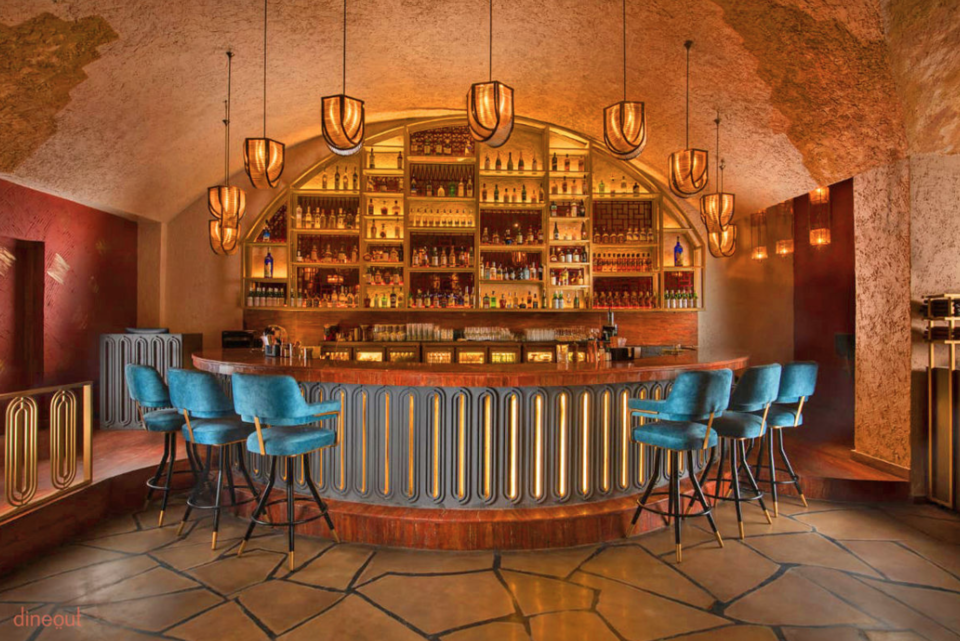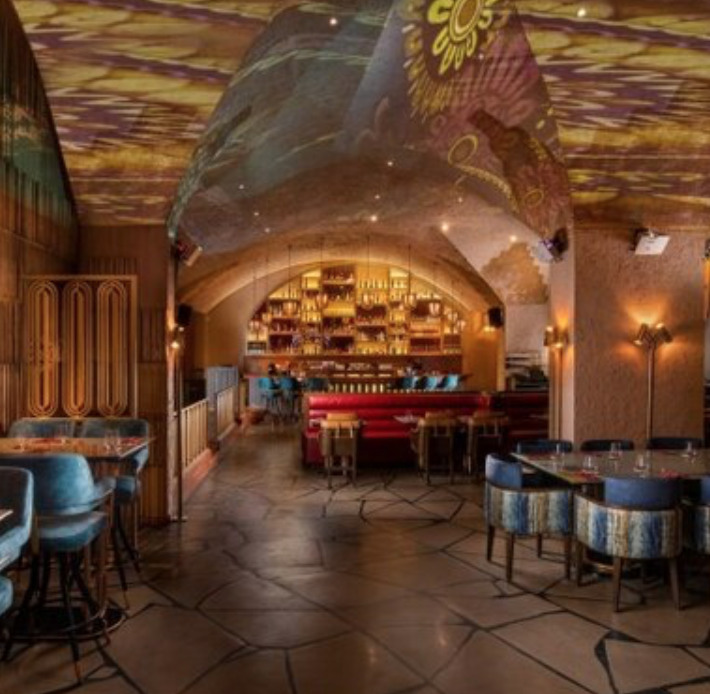 The restaurant turned into a party cave at night as they put their projector on and reflected different shapes on the walls with music playing the background. The modern ambience is perfect for a high end party or a get together. The vibe is very exclusive and the experience is set to make you feel loose after a rough week.
If you are planning to visit this restaurant anytime soon, let me tell you what all you MUST try when you are at it.
Their Avocado topped bruschetta is delicacy worth indulging into. This qualifies as a greater starter if you have an inherent bias towards guacamole laden cheese drizzled dishes. This is every bit the amount sent on the dish as the guacamole coupled with the cheese just excited my taste buds and made me want more and more. Since we are already talking about biases, my forever love for cheese and pasta also compelled me to call for their parmesan based Spaghetti and I loved every bit of it. Served within a bowl that looked like it was a hollowed out stone shell this dish had its unique appeal to it. The spaghetti was artfully bathed in the right amount of cheese which made the dish uniquely creamy and a treat for my tastebuds. So if you love cheese like I do, think no no more just go for it!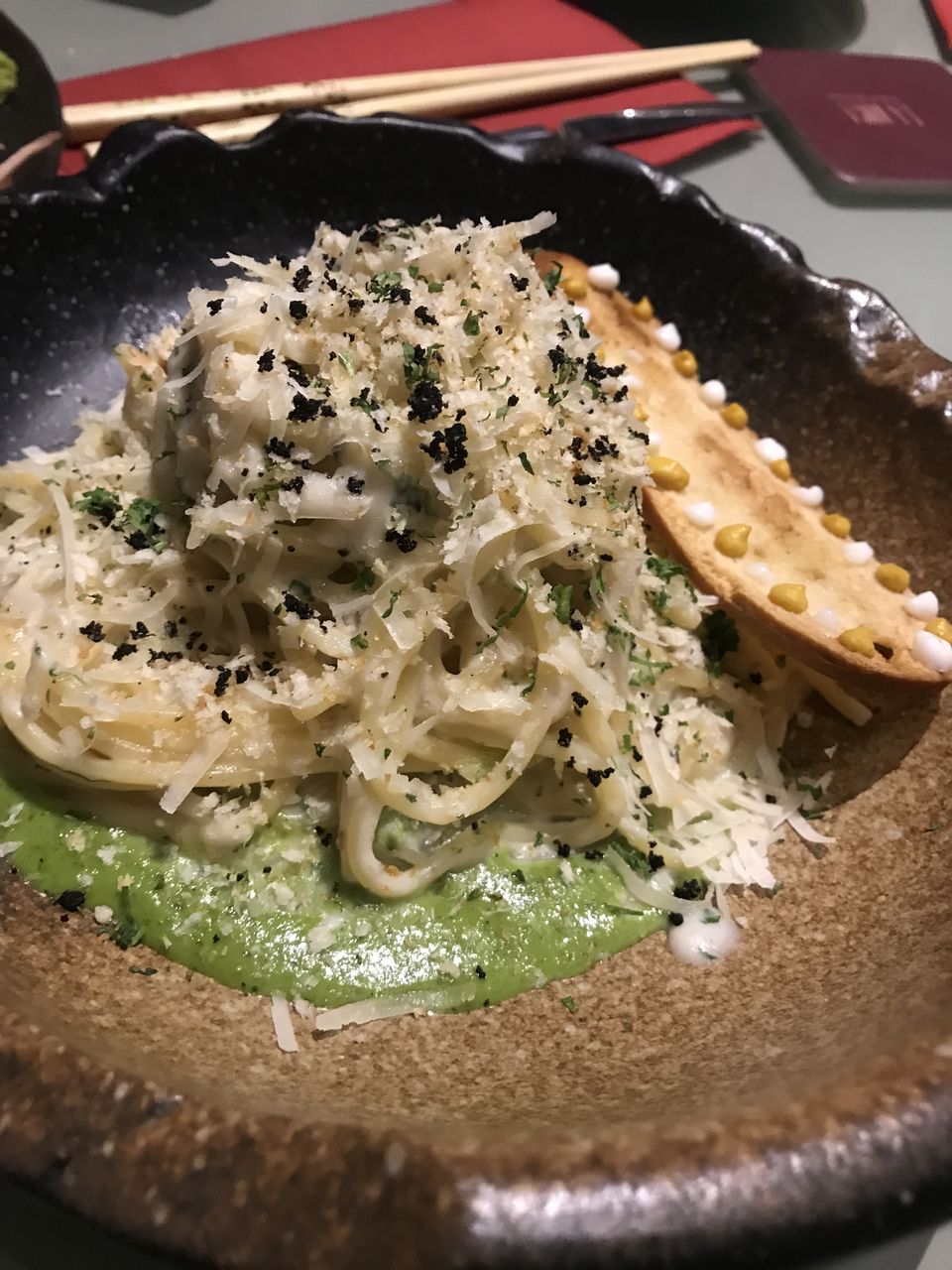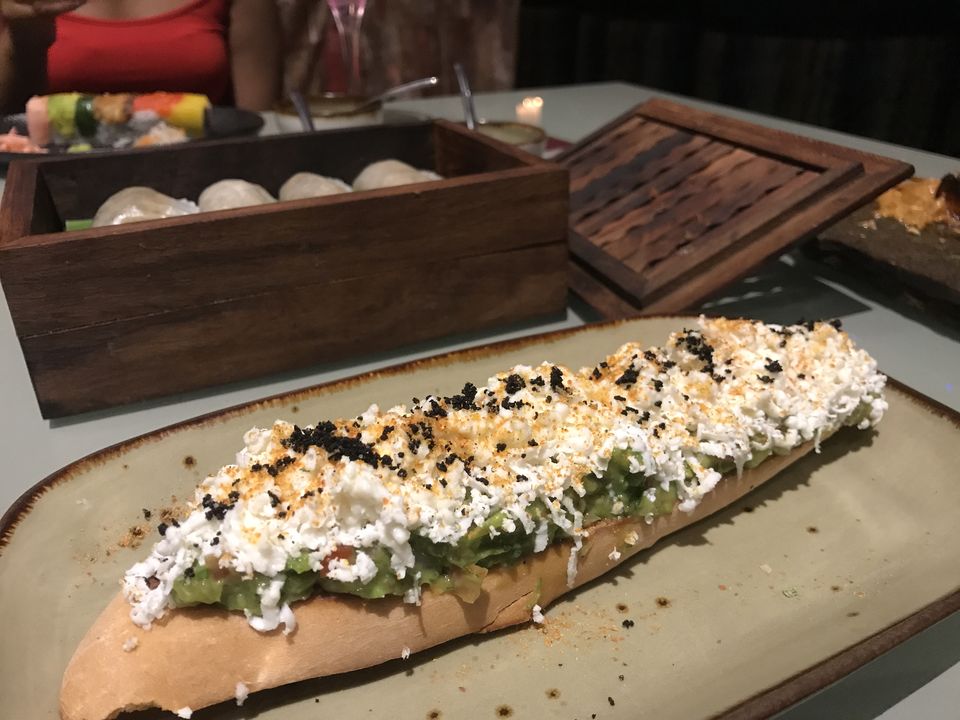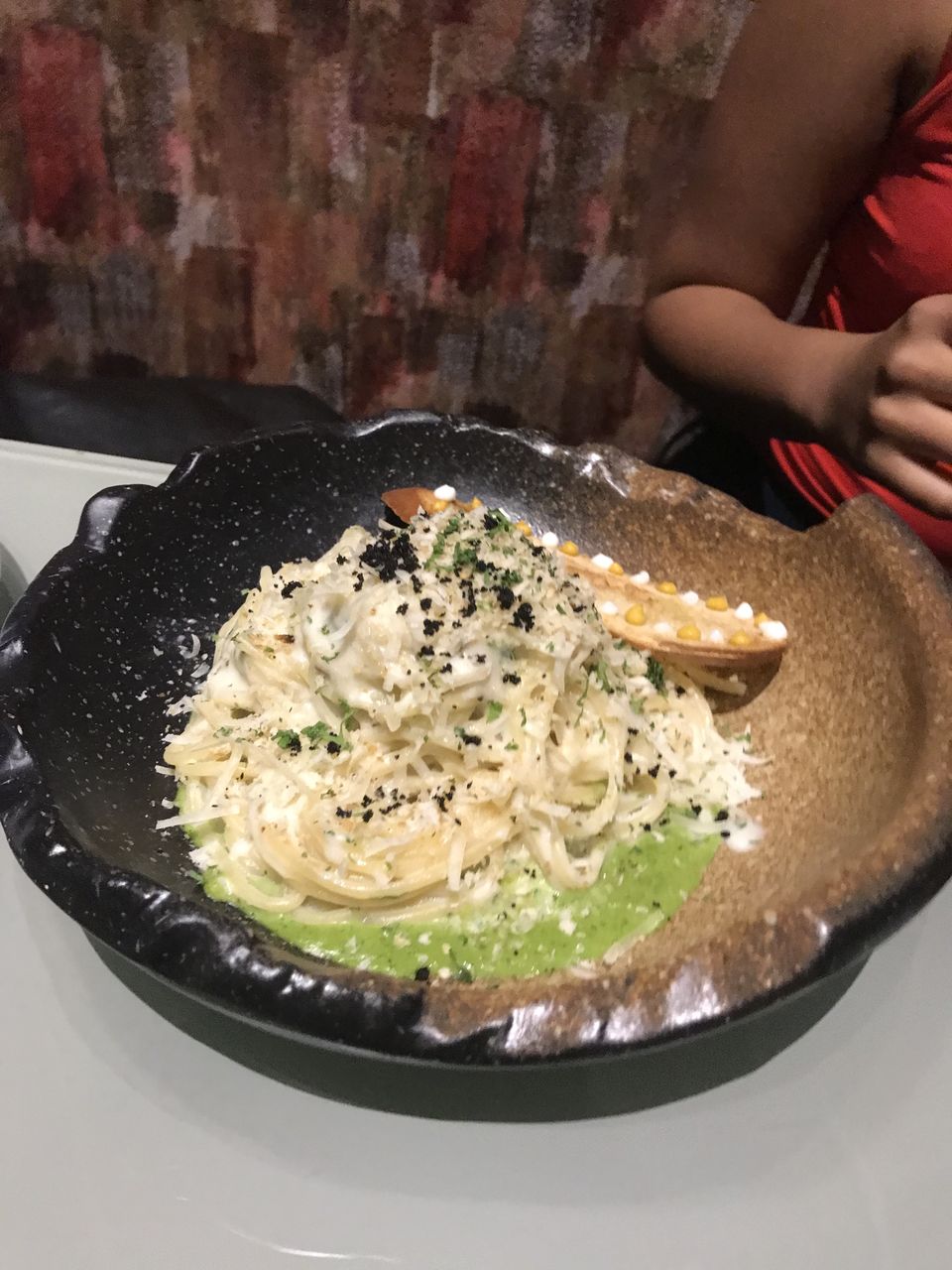 Their Grilled Cottage Cheese Satay was another winner. Served atop a stone plate this dish looked every bit devourable as it was in taste. The taste of the of the soy sauce coupled with the taste of burnt garlic lent this dish its rich aroma. The seving is small but the taste makes a good candidate for a second serving.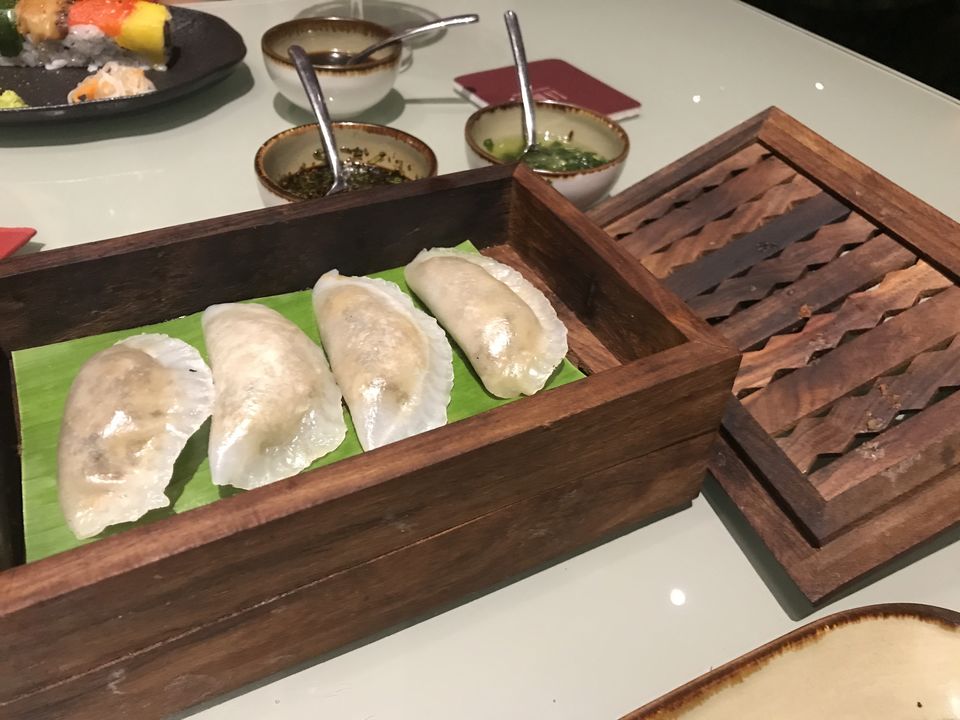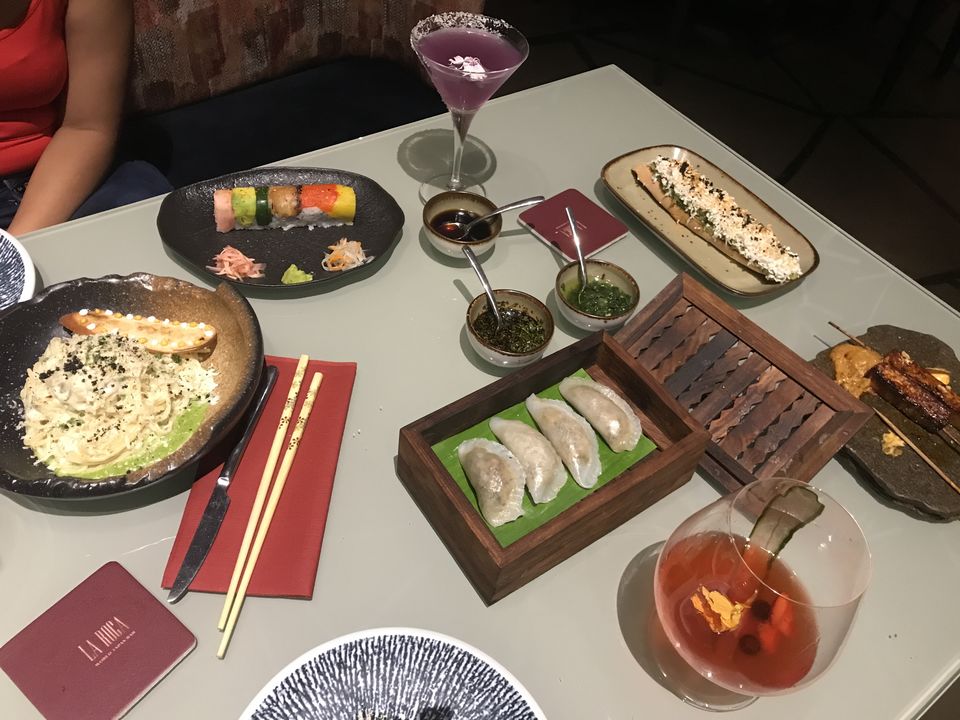 The Trio Mushroom Hargao, served within a bamboo box this dish with three types of mushrooms wrapped delicately within a dimsum is a must try. The dimsum was cooked exoticly in truffle oil and that lent it the special delicate flavor that would leave you wanting to have more and more. There are four dim sums in one serving and it works by the principle that the a thing of delicacy is available in the form of a choicest rarity. Remember to dig into it as soon as it reaches your table - it is best when sampled hot.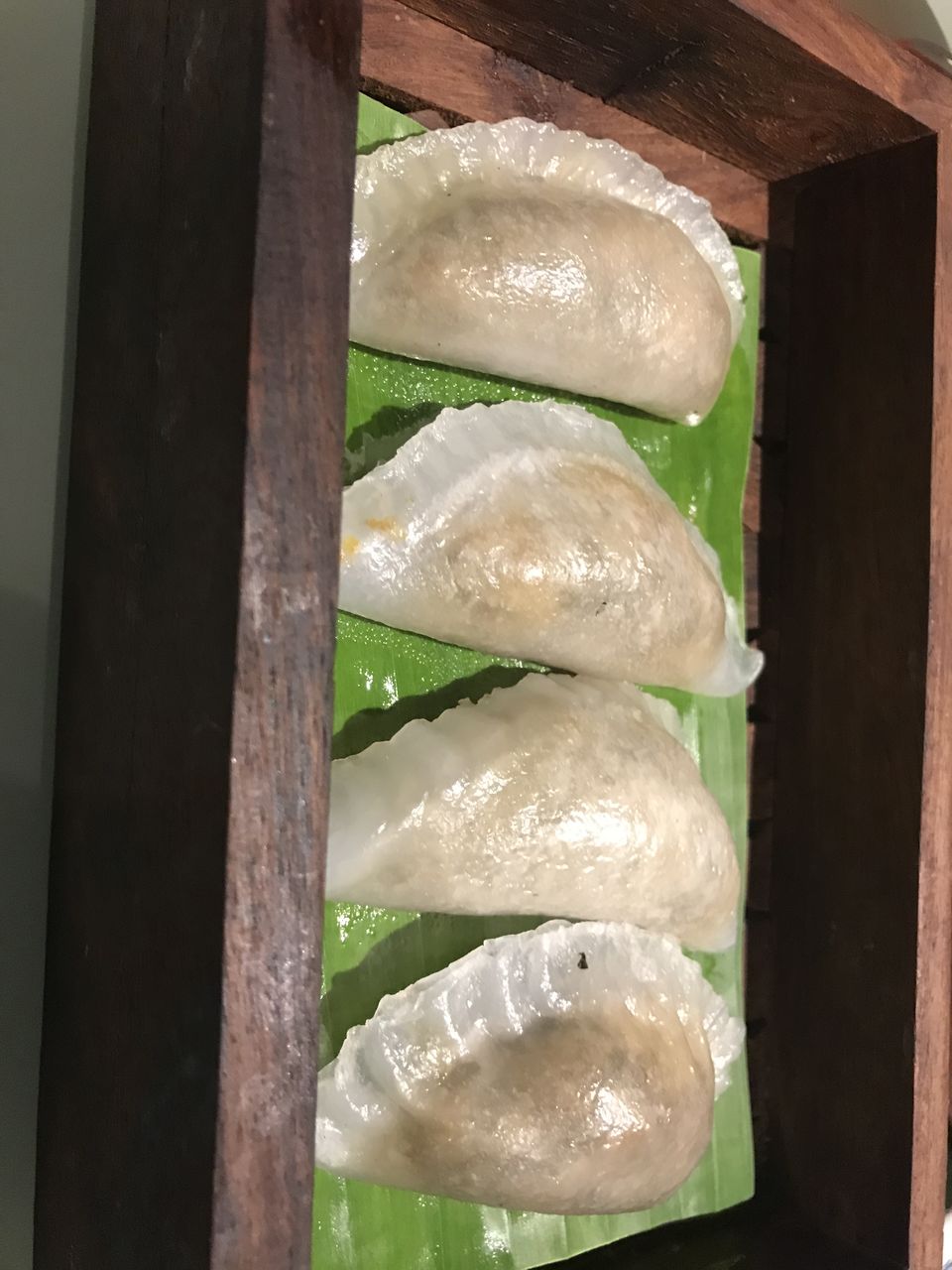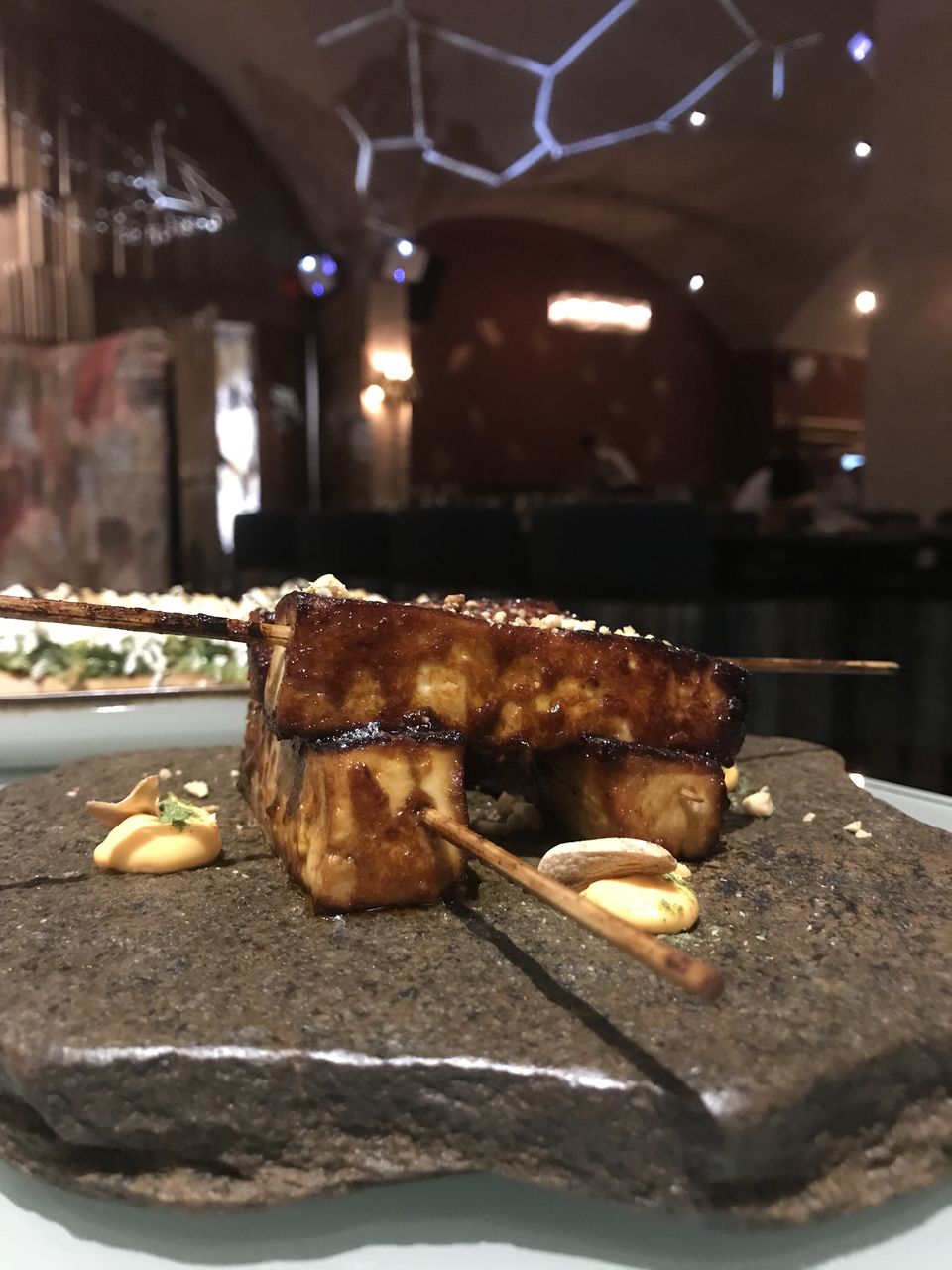 I also couldn't resist sampling their Wasabi Wrapped Spicy Sushi roll and Rainbow Sushi and I must say it was everbit worth it. The Wasabi Wrapped Spicy Sushi is not for the faint hearts - packed to the core with spicy rich wasabi - this dish will induce you to shed a few tears but trust me you will love every bit of it. The Rainbow Sushi on the other hand is a darling with every sushi delicately wrapped with a different vegetable and had its own unique taste. Have them both if you can to know the difference and appreciate them all the same.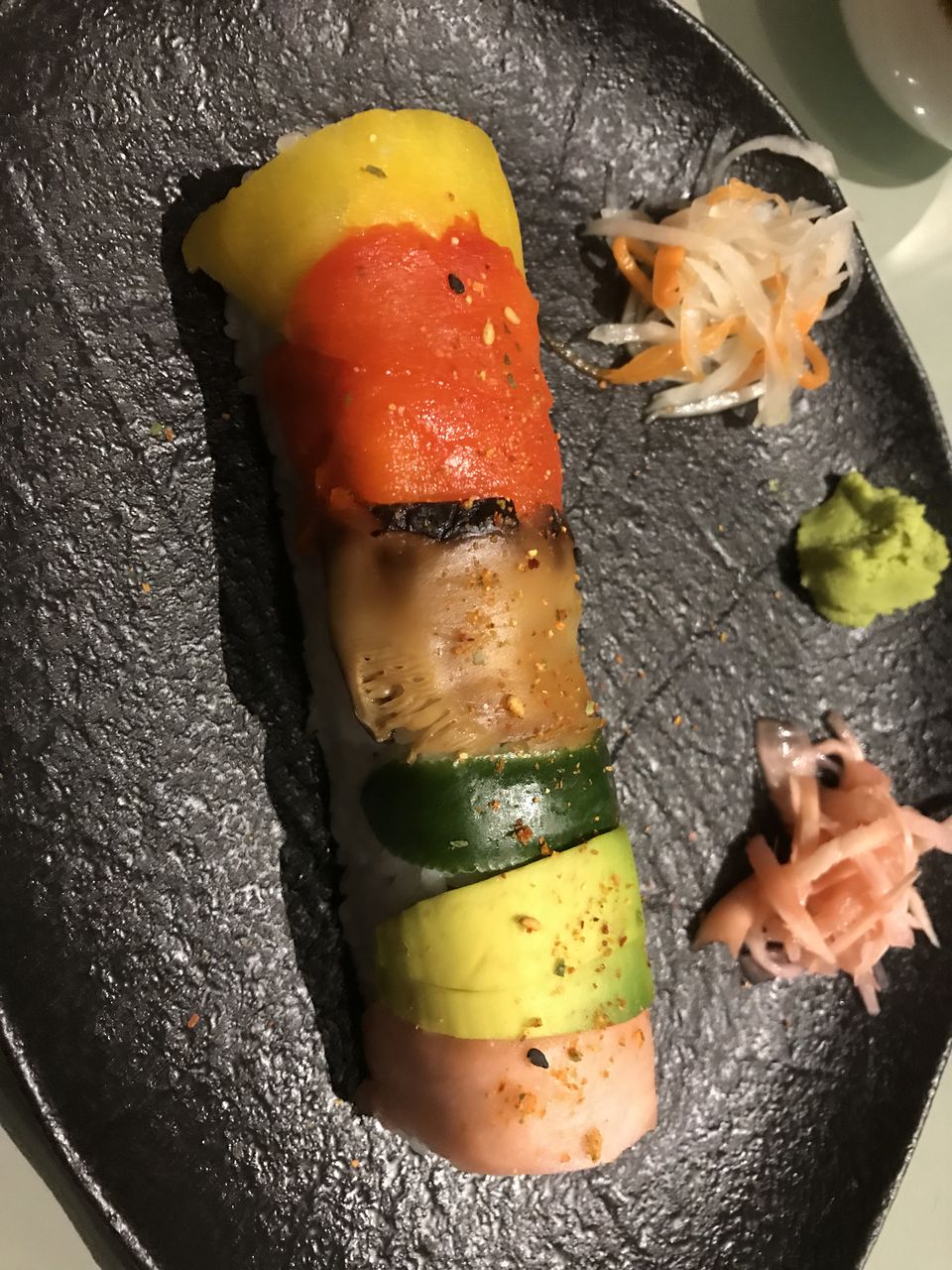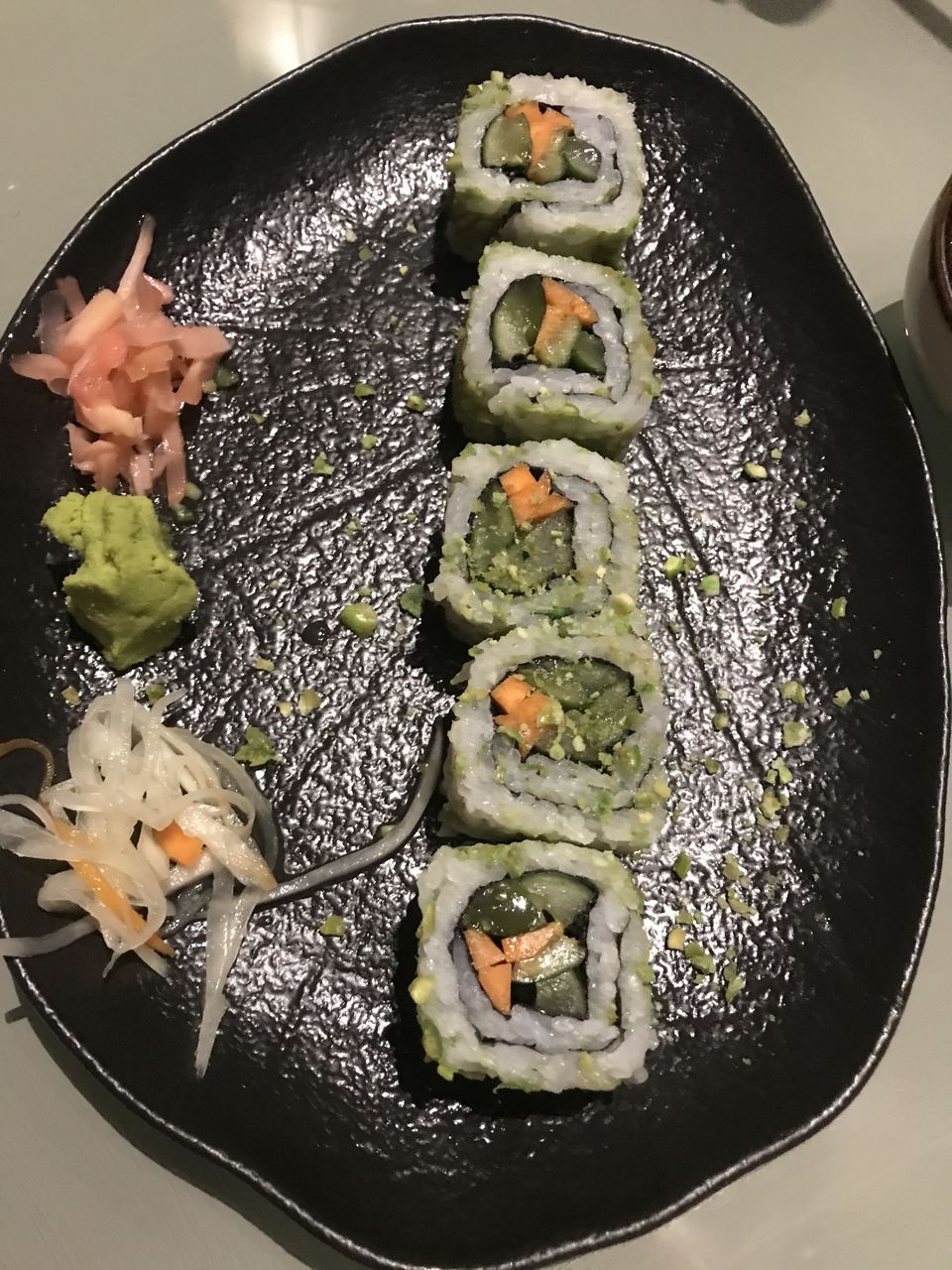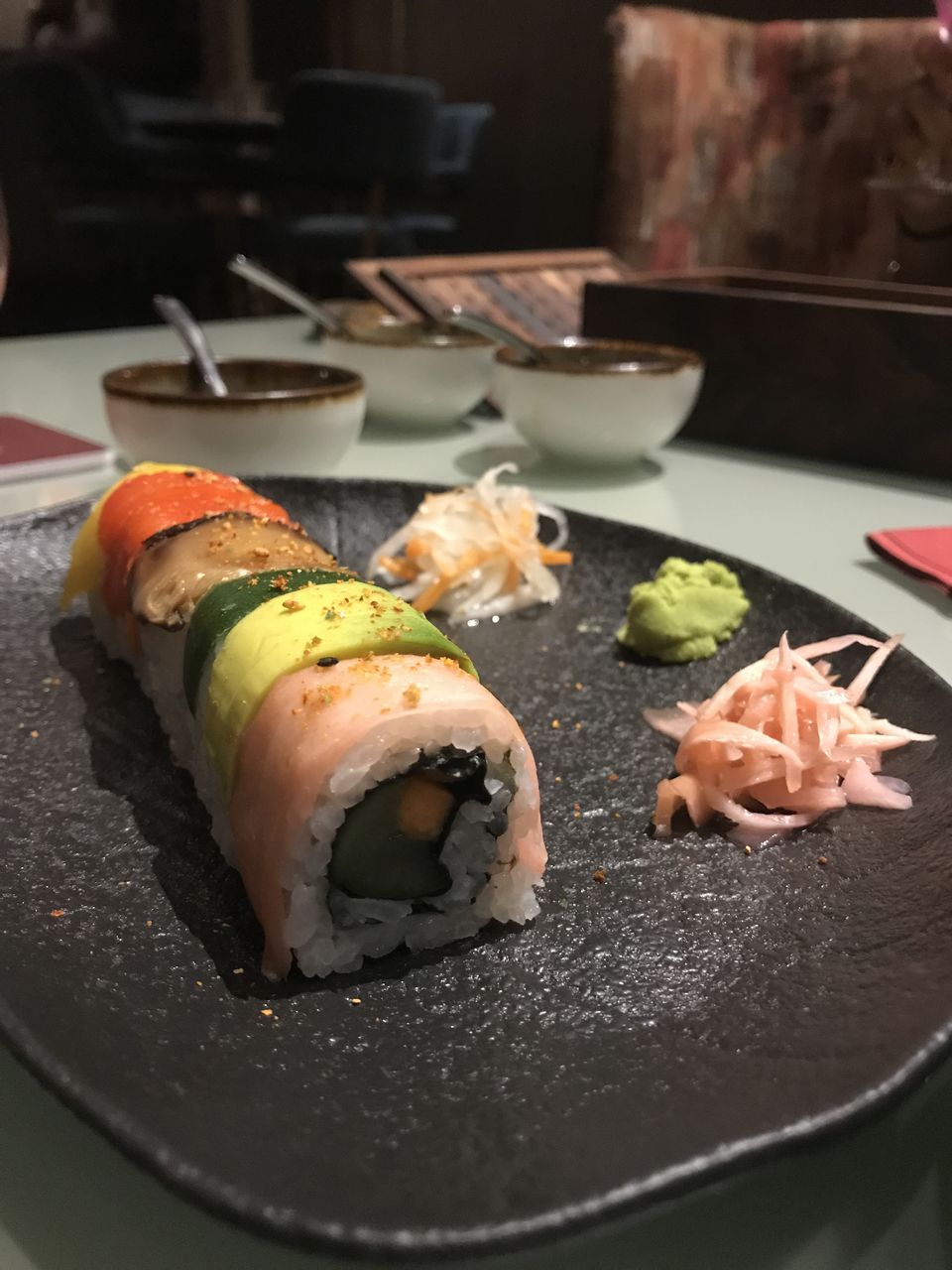 I tried a few of their cocktail specialities out of which my favourites were Scarlett, Violet and the flaming vodka shot. Scarlett had delicate flavor of blueberry to it which I found extremely lovable and I would recommend those who prefer a light drink to go for it. As for Violet - I loved the way it was served - a conical glass topped with a delicate white flower with coconut shavings dusted on the exterior of the glass and all I wanted to do was look but I drank it anyway.
Last but not the least my sweet tooth demanded that I order myself some desserts to end this train of food sampling with some finesse. The La Roca special dessert which had a chocolate dust tree with droplets of chocolate and peanut butter delicately dropped on its branches had my heart, a must try for all. Other than this I also ate the peanut butter jam sandwich and their ice cream stuffed macaroons. Yes, I do love desserts a little too much :P.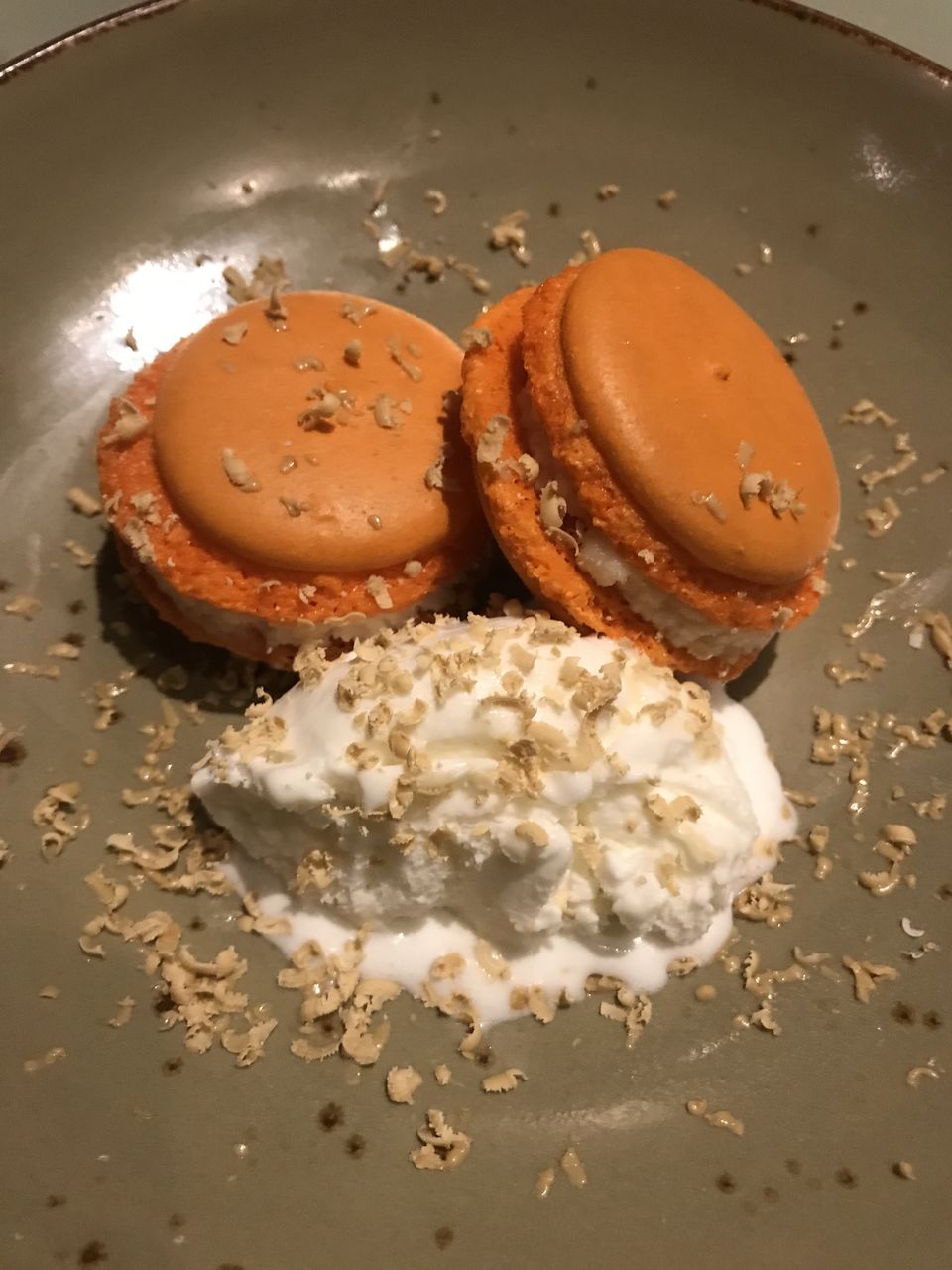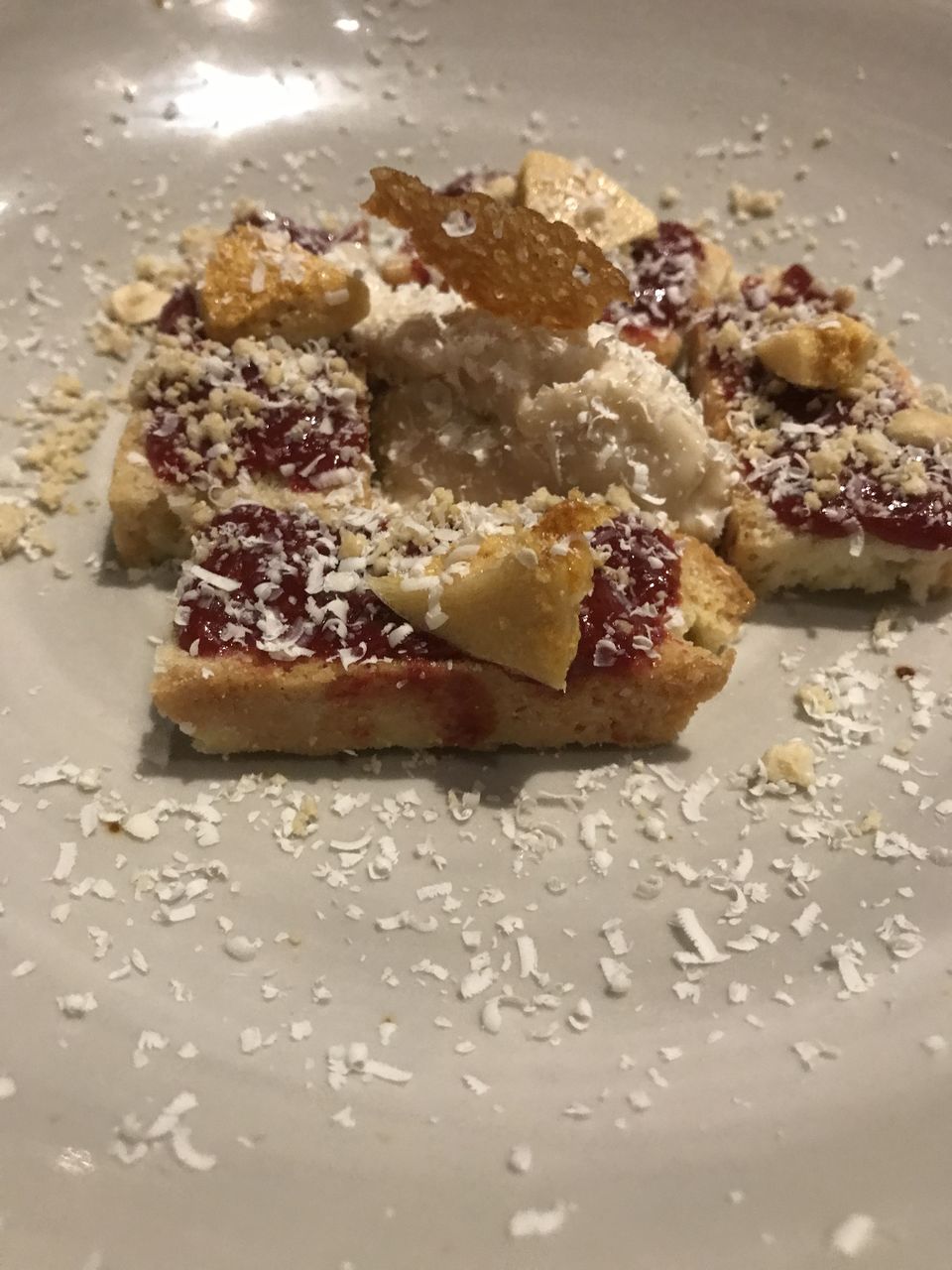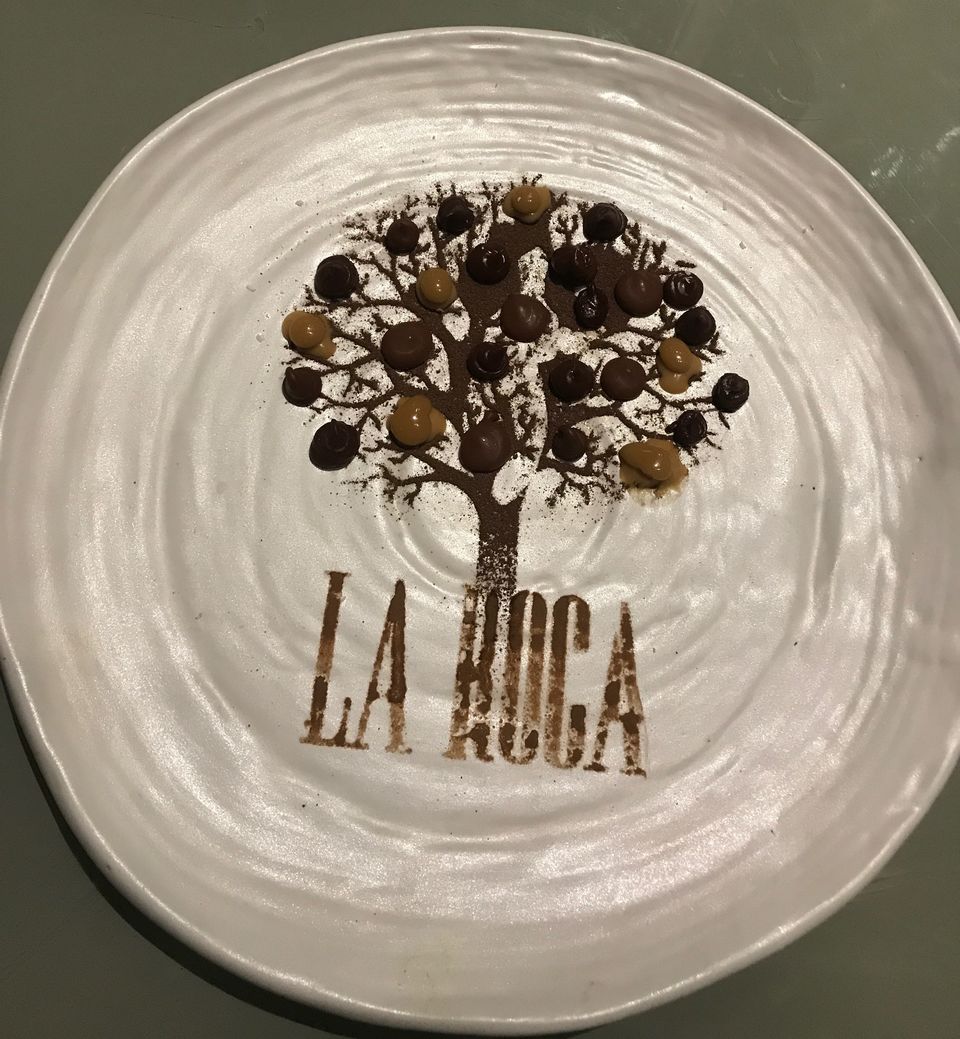 There it is, everything I ate and loved about this restaurant right in front of you. The DJ is amazing and you will have a great time with friends and family when the night starts getting young.