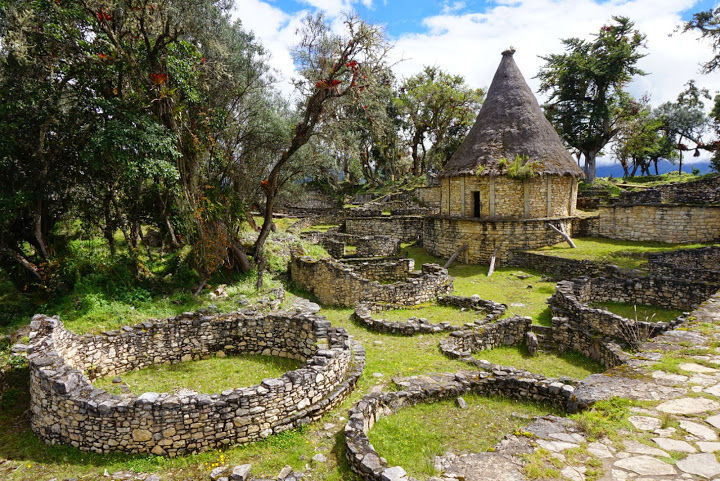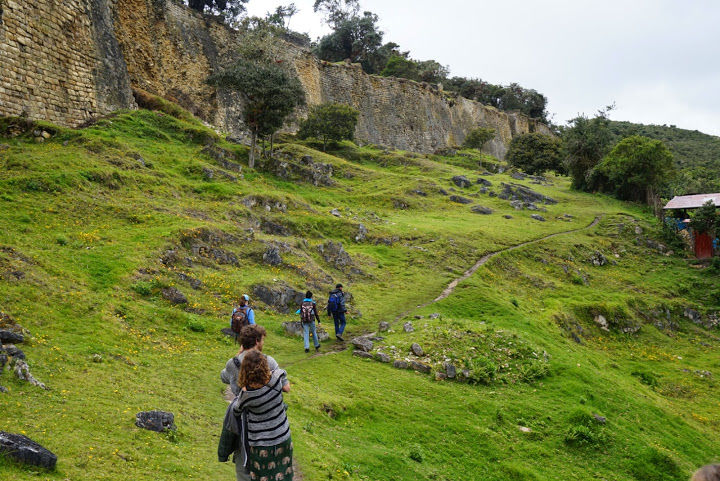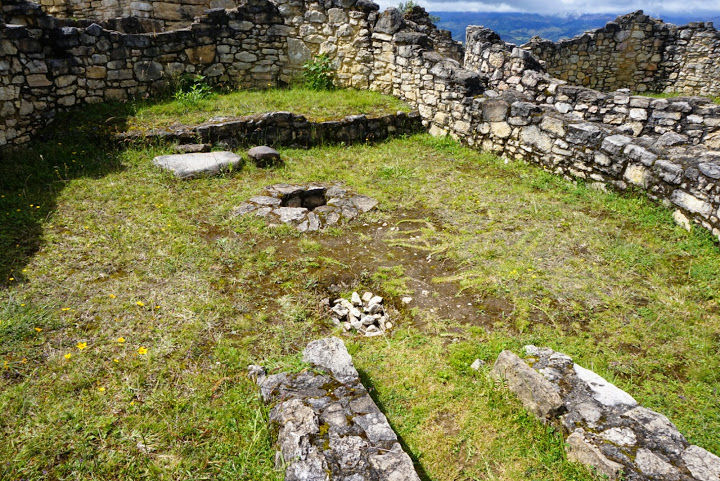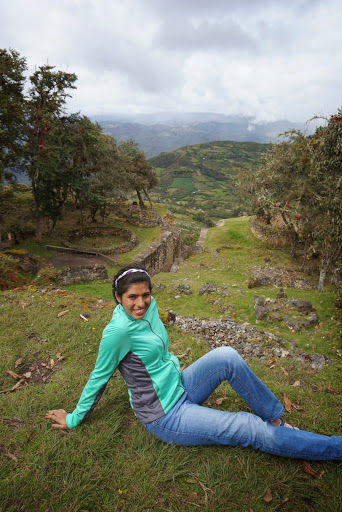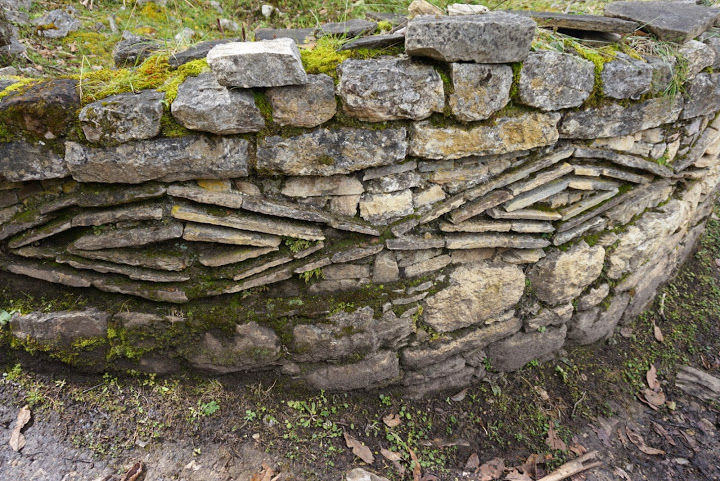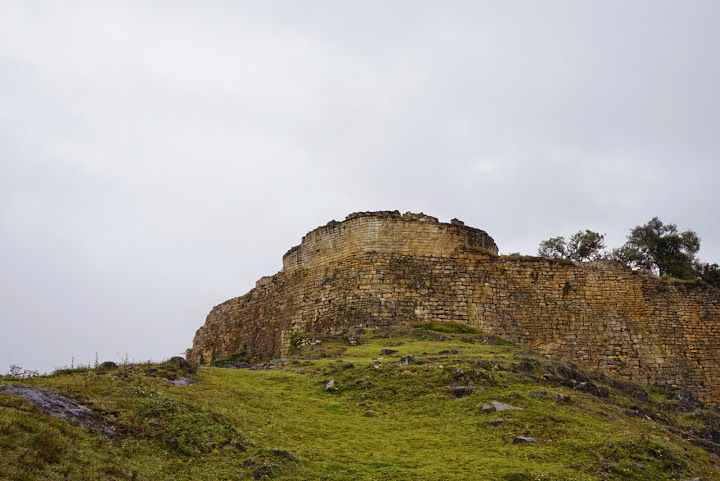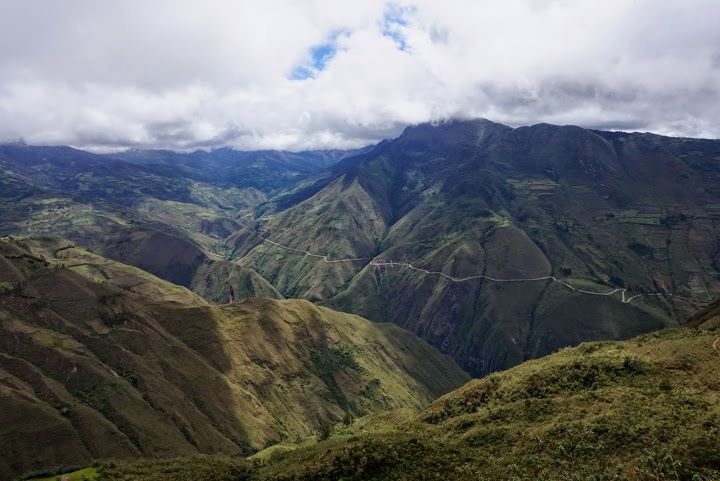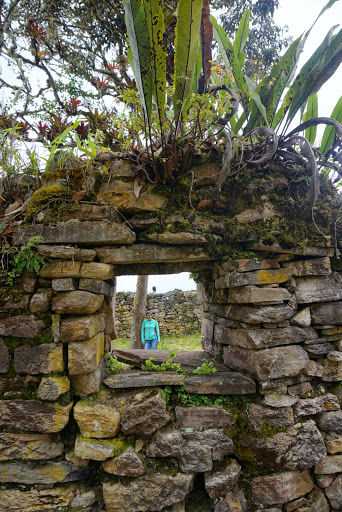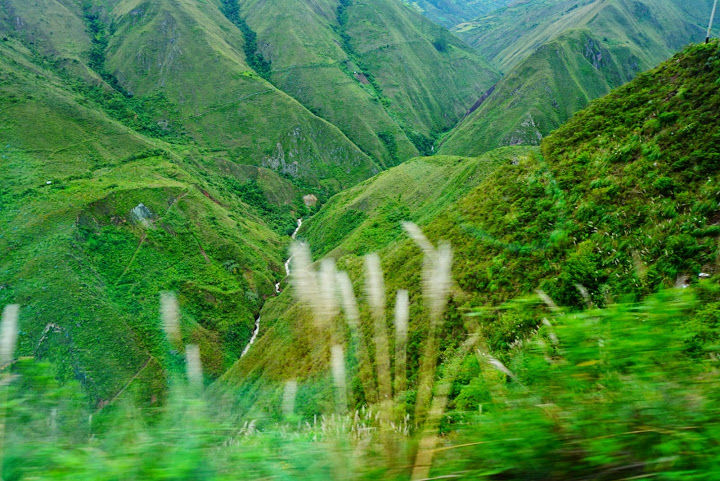 Located on the ridge overlooking the Utcubamba valley in Northern Peru, the 600 m long, 19 m high fortress wall encompasses a well planned city of about 400 houses. The Kuelap fortress (meaning Cloud forest) has for centuries, guarded the secret of the Chachapoyan civilization. The Chachapoyans existed in the 6th century and are known to be excellent architects, surgeons and warriors. This strong double walled fortress filled with stones and sand, is believed to have protected Chachapoyans from multiple invasions in their times.
Most structures within the fortress are residential. Circular houses, with thatched conical roofs and walls about 4-4.5 m tall are a typical feature of their architecture. Guinea pigs breeding enclosures can be seen in some of the ruins. You can see fire pits, water storage pits, cooking paraphernalia and raised platforms for cooking in the photo on the left. In addition to houses, you can site temples, inventories, palatial houses of bureaucrats in the complex.
Myths surrounding the causes of destruction of the "cloud people", are plenty – from earthquakes, to repeated Incan conquests to a bloody massacre by the Spaniards – but there are no proofs or records to back these claims.
Traveling from Lima to Kuelap was a 22 hour ordeal. And as I said, I am glad I didn't miss it. Here's why:
Mystery: There are only 4 written references to Kuelap, which means that very little is known about it. I did not even know about the Chachapoyas until I landed in Lima. But when I heard about it from a fellow traveler, I changed my itinerary (Perks of solo traveling!)
In the process of restoration: Kuelap has been open to public for about 14-15 years now and the ruins are still in the process of being restored. I had never seen a un-restored site before and it was nice to see the ruins of a civilization almost the way they were discovered.
Number of tourists: Number of tourists that visit Machu Picchu = 2500/ day @ 60$. Number of tourists that visit Kuelap = 20000/ year => 65 tourists/ day @ 3$. You can take as much time as you want to enjoy the beauty of this place – take pictures without people interrupting, and invite yourself to a Chachapoyan house like I did (See photos).


Once the decision was made, I was on my way to Chachapoyas from Lima. I did some research on the different routes and here is a quick summary:

Direct bus to Chachapoyas – 40$: There are two bus companies that run direct buses to Chachapoyas – Civaand Movil tours. Civa bus station: Av Paseo de la República, Lima, Peru. Movil tours bus station: Stadium Nacional' in La Victoria, Lima. The buses run in the evening (~4 pm) and you have to book in advance. Since the bus stop is in Central Lima, you can take a short walk in Lima downtown after booking the tickets. The bus takes 22 hours to reach Chachapoyas and takes a short break for lunch. Dinner and breakfast are served in the bus. If you are a vegetarian – forget about food. Just pack some dry food for yourself before you board. Buses are pretty good, but once you hit the mountains, the roads are UNBELIEVABLY BAD – it is a pretty bumpy ride all the way to Chachapoyas.
Lima-Chiclayo-Chachapoyas – 50$: Take a Cruz-del-sur bus from the central bus station to Chiclayo. 13 hours to Chiclayo and you can smell fresh air once again. Visit around Chiclayo, it is a pretty safe city. Nothing in particular, but just the hustle bustle of a small city will make up for a good change. From Chiclayo, you will have to take a Civa or Movil tour bus from a different bus stop (take a taxi for 5 soles from Cruz del Sur bus stop). It will take about 10 hours to reach Chachapoyas.
Lima-Chiclayo Flight; Chiclayo-Chachapoyas (bus): So much shorter, take this route if you have enough budget. Take a flight to Chiclayo from Lima (TACA airlines) and then the same route from Chiclayo to Chachapoyas.

Once you are in Chachapoyas, the Backpackers Hostel in Plaza del Armes is a good place to stay. You may find some tourists there to accompany you to Kuelap and Gocta waterfalls, the third highest water falls in the world after Angel falls and Victoria falls.

Standing 3000 m above sea level, Kuelap and the surrounding ruins, are not a sight to miss. You will experience some of their culture still alive with the locals in the surrounding villages. Take the off-beaten path to witness and learn about this forgotten civilization,the place, people and buildings that once adorned this valley. And if you are one of those, who like to take the road less traveled, check out some other 'offbeat' but more rewarding things to do in Peru, besides Machu Picchu.

This post was originally published on Outbound again.