It's 5am in Peru, and you're wide awake. It could be owed to the jaunty call of the majestic flying condor, the royal blue Hiram Bingham train chugging away in the distance or the euphoric excitement of waking up in a transparent capsule lodged at 1200ft above the staggering Sacred Valley. In the morning, the valley is a rugged, unpredictable canvas terraced by maize, chile peppers and coca plantations, and traversed by the reticent Urubamba river. And as the sun retreats into the Andes mountains, the Peruvian sky looks like an inky blanket dotted with jillion stars from the spaceship-like accommodation of the Skylodge Adventure Suites. This well-kept secret hides in the UNESCO heritage town of Cusco and promises to be a once-in-a-lifetime experience for both you and your partner.
Ideal for
Skylodge Adventure Suites is perfect for the adventure-seeking couple. This could be a thrilling getaway or a one-of-a-kind honeymoon adventure. Offering an extreme yet surprisingly comfortable camping experience to travellers, Skylodge also welcomes children as young as six, so a visit with the family can also be planned.
About the property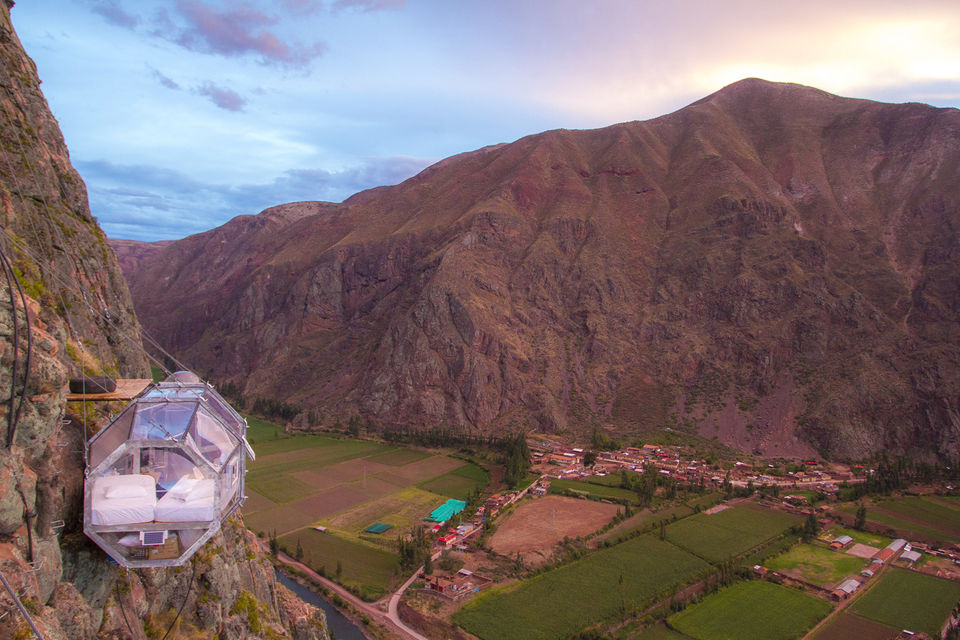 It's surreal – being suspended at 1,200ft in the air, climbing the Peruvian Andes alongside clouds, waking up and falling asleep to a view that seems utterly devoid of humankind. The forested mountains tower over you, piercing the skies; this is probably as close as you will come to feeling like a bird.
The three outlandish capsules lie eight miles away from Machu Picchu and can accessed via a spine-tingling climb spanning 170 steps and aluminium wires via ferrata (a steel cable hiking line, anchored along the mountainside). To head back to the valley floor, you can zip-line your way down from the lodge. Both require guests to have good fitness levels, and be comfortable with heights.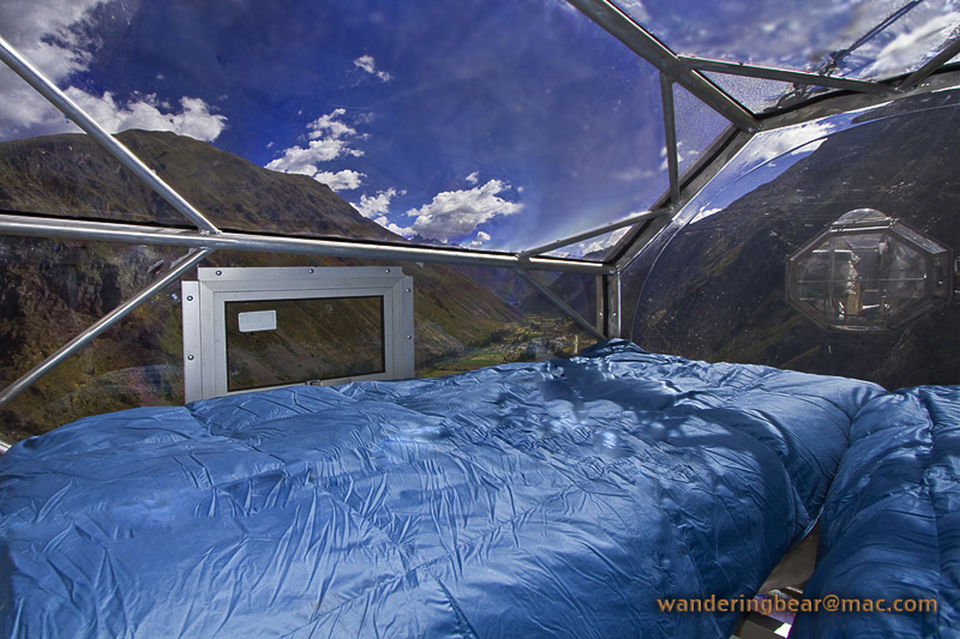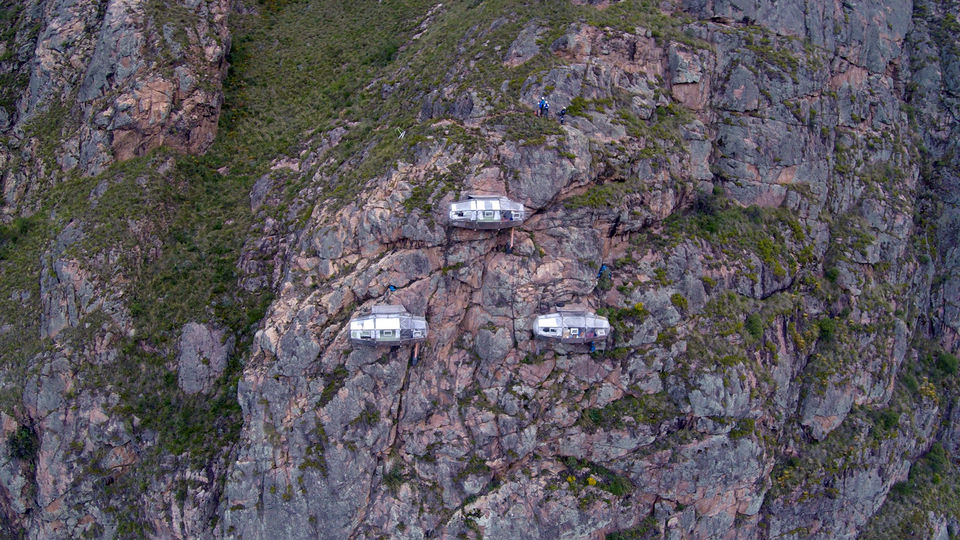 With minimalistic furnishings, Skylodge is emblematic of avant-garde concept hotels. Sporting a harness, you arrive into your appointed rooms, that are a masterclass in design. The capsules are unyielding and docked to the cliffside using 20 robust anchor points (that can uphold weight up to one and a half tonnes). Crafted using weather-resistant polycarbonate and aerospace aluminium, each pod is equipped with four overhead lights running on solar power, and can accommodate up to four people, with one double and two single beds that are decked with warm quilts and the fluffiest of mattresses.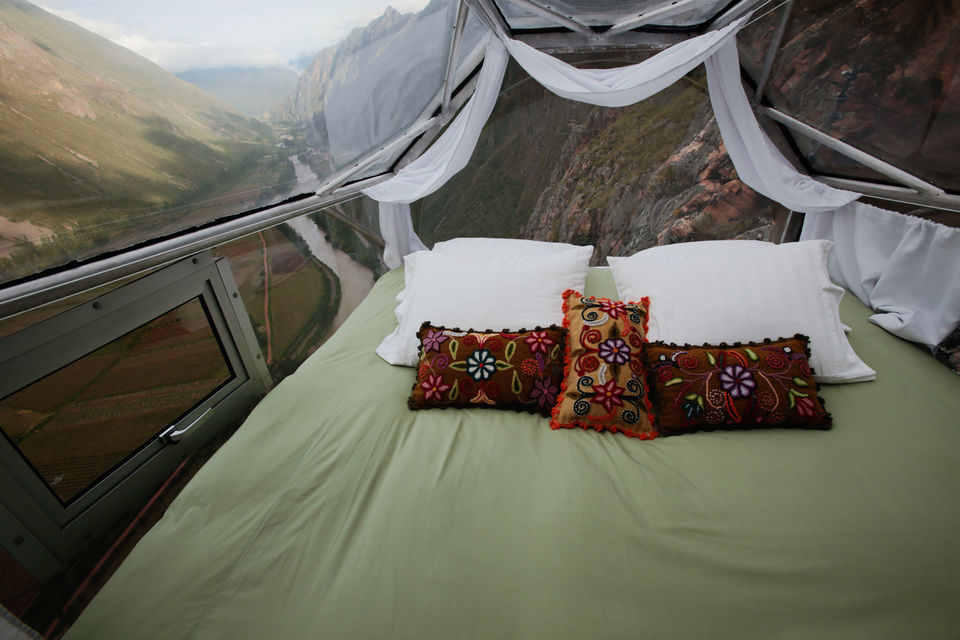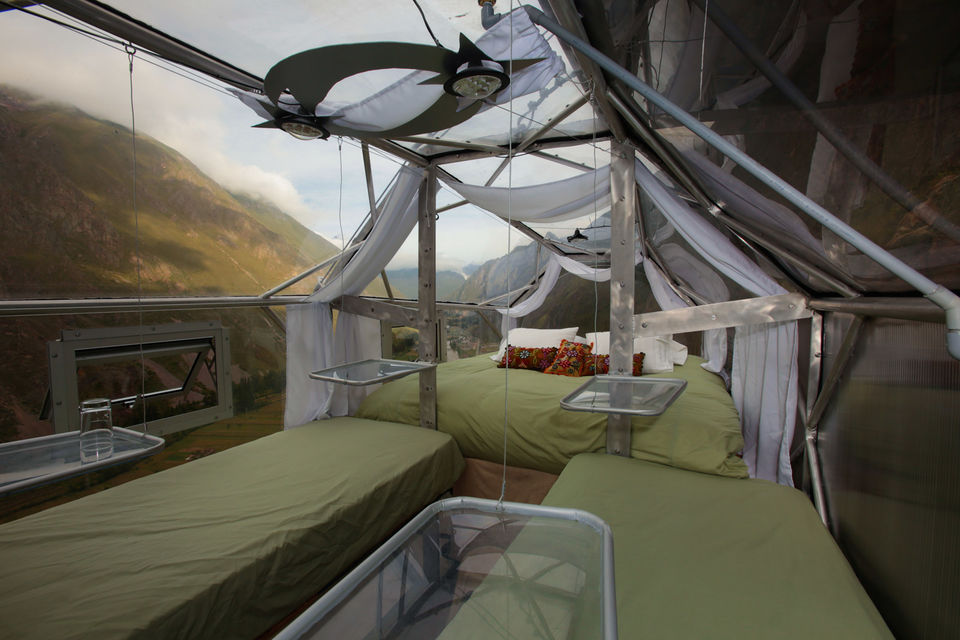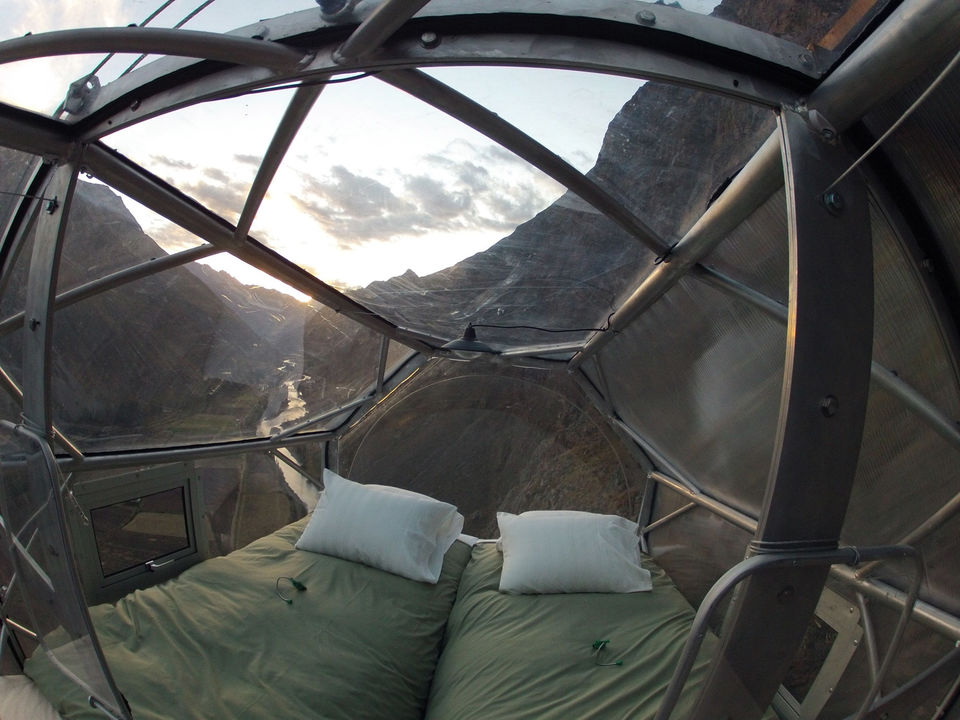 There will be an extremely helpful guide accompanying you at all times, who will be bilingual and can always be seen carrying a backpack stocked with food for the duration of your stay. Skylodge may be devoid of the usual frills of room service, Wi-Fi, gyms or a concierge but is guaranteed to leave you with unparalleled memories.
Food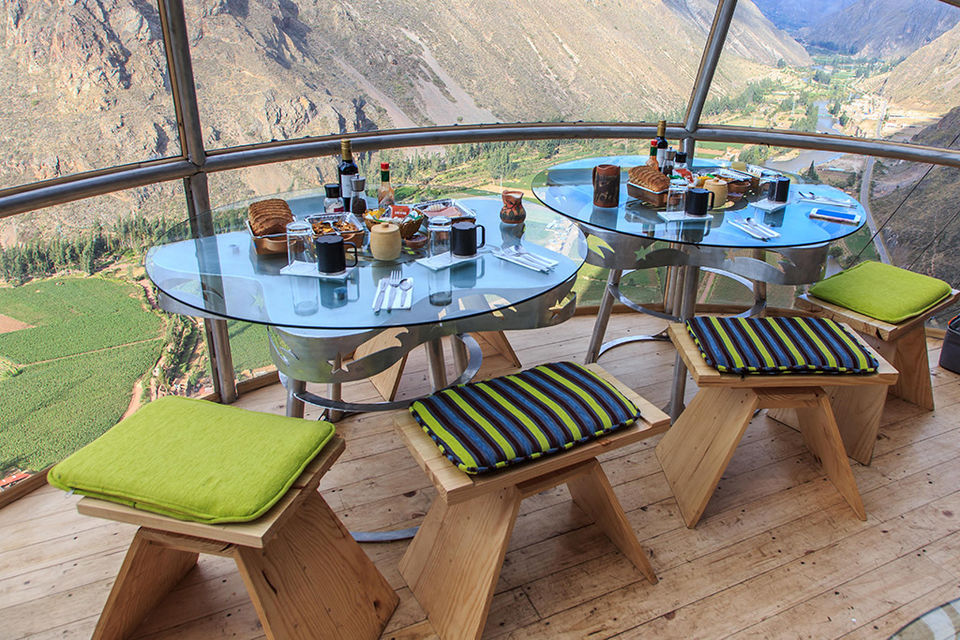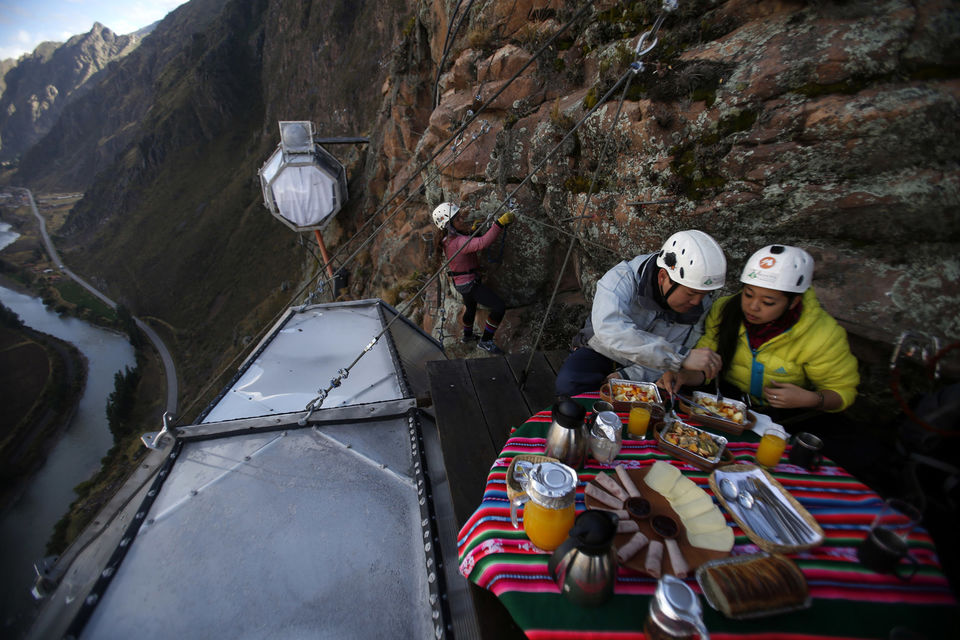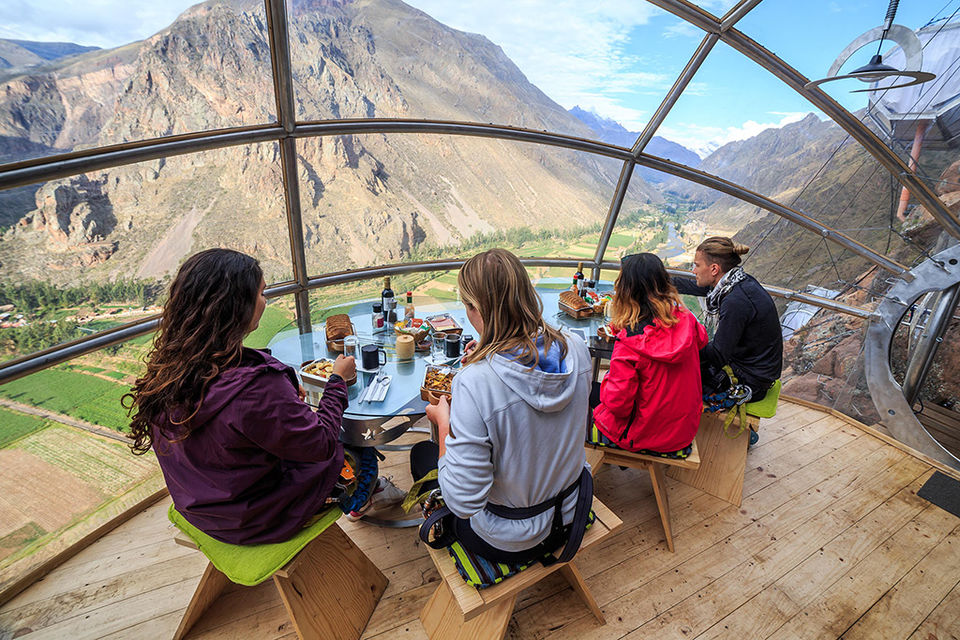 Prepared in advance, all your meals are carried to the lodge in backpacks and irrespective of the harsh mountainous ambience, are heavenly. Skylodge's wacky dining pod is where the food is cooked and served.
Owing to unpredictable weather conditions, on some days the food will be served in your room itself. Your guide will magically appear with individual fold-down tables, and the simple flavours are heightened by way of the spectacular views offered by the Sacred Valley.
Dinner is usually a three-course affair, with the specialities being their pumpkin soup, chicken quinoa salad, chocolate brownies with strawberries and passion-fruit coulis.
Cost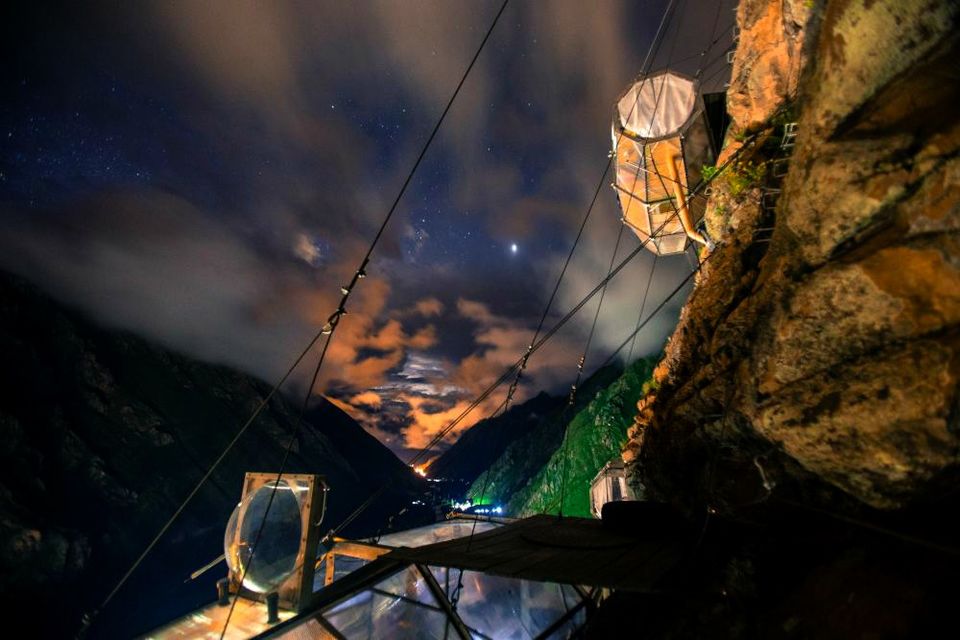 Accommodation in the pods cost ₹30,331 per night, per person and is inclusive all meals and a bilingual guide.
Click here to book an adrenalin-pumping stay at Skylodge.
Best time to go
May through September are the ideal months to visit Peru. The winters are dry, making this season perfect for trekking and general sightseeing throughout the eastern rainforest region. These months see numerous festivals and sporting events across the Andean highlands.
What to do around Skylodge
This artless Andean village market came about in the 1570s and is located in an erstwhile Inca settlement. Every day, the artisanal bazaar is flocked by tourists and vendors whose tables feature plastic tarpaulins, knitted scarfs, trinkets, locally-made jewellery and alpaca jumpers to name a few. A path leading away from the market and towards the mountains, takes you towards the ancient Inca ruins. The Royal Sector remains are a must visit owing to the magnificent moon temple. Head to the Ulrikes Restaurant for some authentic fare and be sure to tuck into a cheese empanada.
Ollantaytambo, sitting on the northern end of the Sacred Valley is another complex featuring Inca ruins and also happens to be the gateway to Antisuyo (the Amazonian section of the Inca settlement). Visit the Ollantaytambo Fortress that is the base point for the popular Inca trail trek.
Go rafting on the white rapids of the Urubamba River. There are numerous tour operators in Cusco who organise daily rafting trips. You could check Eric Adventures for details.
The Inca ruins of Moray should definitely be on your to-do list while visiting Peru. Built like a dug-out amphitheater, Moray sits near the town of Maras that is known for its salt-evaporation ponds.
Getting there
The Alejandro Velasco Astete International Airport in Cusco is connected to all major countries. From here, the most convenient route is via a taxi from Cusco, to reach the Sacred Valley. This will cost you about ₹800-₹1200. Taking a bus or a collectivo (local mini-bus) is the more economic option, and will cost you around ₹60-80.
Travelled to Peru recently? Share your travel journey on Tripoto and inspire millions to travel!
Frequent Searches Leading To This Page:-
skylodge adventure suites peru cost, best hotel in the sacred valley peru