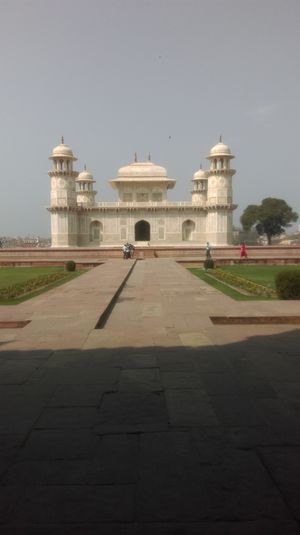 Best time to visit
October to February is the ideal time
Things to do
Explore Islamic Architecture.
Budget
INR 10, Foriegner: INR 110, Video: INR 25
Best Months
September - May
Traveller Types
Couples, Families, Friends
Rank
4 out of 96 attractions in Agra
Tomb of Itimad-ud-Daulah
Itimad-ul-Daulah is among the list of places to visit in Agra. The attraction is a tomb of Mirza Ghiyas Beg, the grandfather of Mumtaz Mahal. It is also known as Baby Taj. Nur Jahan, the daughter of Mirza, who married Jehangir was the one who got the tomb constructed in the year 1622-1628. The finely carved jali on the marble is definitely something that will stay in your memory forever. This structure made by the Mughals is also a completely marble one. Also, it was the first tomb that was built on the river Jamuna banks. Islamic architecture is what the place speaks of. The fine craftsmanship is something that is not to be missed. The place is quite calm and peaceful and gives you a good quality time with yourself and your closed ones.
Places to stay near
Tomb of Itimad-ud-Daulah
OYO 3202 Hotel Gayatri Residency
Reviews of
Tomb of Itimad-ud-Daulah
•
2
Commonly known as Baby Taj, Itmad-ud-Daula is the mausoleum of Nur Jahan's father Mirza Ghiyas Beg. The delicate white structure on the bank of Yamuna bearing intricate carvings and lattice work, is said to be the inspiration behind the Taj Mahal.
SMALL IN SIZE, YET BEAUTIFUL! KNOWN AS THE BABY TAJ
Attractions near
Tomb of Itimad-ud-Daulah