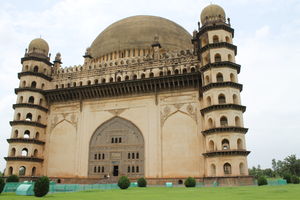 Best Months
September - May
Rank
1 out of 25 attractions in Bijapur
Gol Gumbaz
It is a mausoleun of Mohammed Adil Shah, and was completed in 1656, was designed by Yaqut of Dabul and is located in Bijapur.
Places to stay near
Gol Gumbaz
Home Sweet Home in Historical place
Reviews of
Gol Gumbaz
•
3
After gol gombaaz we had a talked with some local asking them are there places which we can visit and we got places to visit but we didn't had time to visit them because most of them get close by 6pm so bad luck. our bus was at 21:00 so we decided to have some dinner at a thali system hotel and we got a thali in 60rs with 3 chapatis, 2 bhaji, rice and dal. refer below image.
I booked a hotel in Bijapur when I was sitting below that tree. Most of the time I booked the hotel when I was about to reach the place as it gives me the flexibility where to stay at. I reached Bijapur and checked in the hotel at 12:30 pm afternoon. I was too tired to visit Bijapur and decided to take rest for 2 hours as I was riding motorcycle for almost 10 hours. I had a great sleep for those two hours. I woke up at 2:30. Then I decided to visit Bijapur city.My hotel was on the solapur road near the solapur -bijapur highway. So, I took highway again for Gol Gumbaz. It was approx 10 km from my hotel. One can see the Gol Gumbaj from the highway itself. It was really a big and splendid sight.I was getting more excited as I was going nearer to the dome. Only for history lovers: Gol Gumbaz is the largest Gumbad(dome) in the India. It is also the mausoleum of Muhammad adil shah of Bijapur. It is the finest example of the architecture of Adil shahi dynasty.
Our next stop was the face of Bijapur- The Gol Gumbuz/Gumbud. It is without a doubt, the best attraction of Bijapur because of it's architectural marvel! The kind of engineering used in that era will mesmerize you when a whisper made by you is heard at the other corner of the huge dome. Inside Gol Gumbuz, on the ground floor, there are replica tombs of Mohammed Adil Shah & his family at a raised platform . In reality, tombs lie in a crypt below. Don't forget to hire a guide as Gol Gumbuz is not a place for just sightseeing. It is an amazing experience when the guide gives you demonstration of your slightest whisper which is magnified 10 times and heard as an echo at the other end of a pillar. The guide will explain you everything in detail in regards to the historical aspect, why is it known as the whispering tower and all the other interesting facts. It will take you about an hour or two to see the structure completely from the bottom to the top level. A word of caution for our elderly travelers or friends who have a knee problem...to see the top level of the tomb i.e. the dome, one has to climb seven floors and though the Archaeological Survey of India (ASI) has made provisions to sit on a bench on almost every floor, it is quite a steep hike. But at the end, if you make the climb, it is worth it! The entry fee is about five rupees. Another five rupees will be charged if you want to visit the archaeological museum maintained by the ASI before Gol Gumbuz. In case, you are short of time, this could be easily given a miss.
Attractions near
Gol Gumbaz