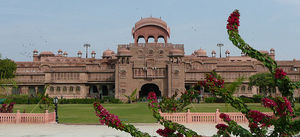 Best time to visit
When in Bikaner
Things to do
Luxury accommodation
Best Months
December - February
Traveller Types
Families, Couples
Rank
5 out of 26 attractions in Bikaner
Lalgarh Palace and Museum
Hotel Lalgarh Palace is a luxury three star hotel in Bikaner. Its well known for thier luxurious accomodation services.
Places to stay near
Lalgarh Palace and Museum
Guest house Prakash Family
Reviews of
Lalgarh Palace and Museum
•
1
It is built entirely of red sandstone and has been described as the finest example of Rajput architecture. The palace has been converted into a luxurious hotel and some royal families still reside in some parts of it. The museum inside has good artifacts that describes the life of the royal families.
Attractions near
Lalgarh Palace and Museum