In India, colors are celebrated like nobodies business but Rajasthan takes this spectrum of colors to extremes. Vibrant, colourful, dazzling, vivid, garish – none of these words do Rajasthan justice. Every city of this princely state is a sensory assault, from pink to blue to mint to turquoise its riot of colours. And why not Rajasthan has a history of vibrant culture which is over approx 5000 years old.
While the most talked about cities in Rajasthan are Jaipur, Jodhpur, Jaisalmer and Udaipur, I am taking you with me to the explore the least unexplored city of this colourful state - BIKANER... a vibrant desert town with fabulous forts and havelies and an energising settlement feel. It's less touristy than many other Rajasthani cities hence one can explore the city on its own pace.
Here is what I saw in my three days stay in Bikaner and my recommendation as well (in no particular order):
In Bikaner, it's very easy to stay in a place or haveli as they are in abundance and almost all except Junagarh palace are converted into heritage hotels which can give you your very own taste of royalty. So my journey started from one such Palace-
Narender Bhawan which was adobe to the last King of Bikaner and was incidentally the place that I booked for my stay in the city without knowing its history. Narender Bhawan is a very tastefully done 5-star hotel known for its tasteful verandas, antique decor, elaborate sit-outs, and lip-smacking food. the hospitality of the hotel staff definitely makes you feel like a King or Queen while you are staying here.

Junagarh Fort is an invulnerable fort that holds the record of having never been captured. It was constructed in 1588 AD and the only fort which is not situated on a hill. It's in fact in the middle of the city and the whole of the main market in Bikaner is behind this fort. The fort complex houses some glorious palaces constructed in red sandstone and marble and an assortment of courtyards, balconies, kiosks, and windows is a delight to watch.

Gajner Palace can safely be called the best jewel of the Thar, the calm and serene environment of this palace just makes you forget the hustle and bustle of the city life. The fact that its situated almost 30 km away from Bikaner on N.H 11 and near to a bird sanctuary just adds to the overall charm. Founded in the year 1784 it was meant to serve as a hunting and relaxing lodge for the royal family as well as for visiting guests. It has now been converted into a hotel but you can still visit the palace by paying the cover charges of INR 250 P.P. and have lunch, dinner or a cup of coffee in the lakeside restaurant or simply take a boat ride to the other side of the lake.

Rampuria Haveli, honestly my reason to travel to Bikaner was this visit to this spectacular haveli. Believe you me walking around this place is an experience. Rampuria haveli is surrounded by a few more havelies of its kind and was built sometime in the 15th century as the residence for traders traveling across the silk route to keep their base in Bikaner as they were invited by kings to do business in the kingdom. The grandeur of a haveli was directly proportionate to the wealth of the merchant who owned it. Build with red sandstones sourced from nearby villages, the buildings naturally look very colorful, without any need for additional paintings.

Karni Mata Temple or the "temple of rats" is a very famous temple situated at Deshnoke which is 30 km away from Bikaner. There are approx 15,000 black rates and 5 albino or white rats which are believed to be the incarnation of Karni Mata and her four sons. The temple is very famous for its legendary stories and folklore. The temple is also believed to be a place of high faith where people come to seek the blessing of the goddess. It is also believed that if someone accidentally kills a rat then it should be replaced with a silver rat.
Kote Gate is a massive red stone gate in the middle of a thriving market and there are 5 such gates in the city built in the 18th Century, shopping here is an experience you shouldn't miss out. While you're in this city, it becomes imperative that you shop for souvenirs to take home. At Kote Gate, you can find the best of everything at reasonable prices. From colorful attires and fabrics of bandhni and lehariya to Kundan jewelry to artifacts, you are sure to find something or the other that will make all the effort worthwhile. Your art of bargaining will come handy here :-)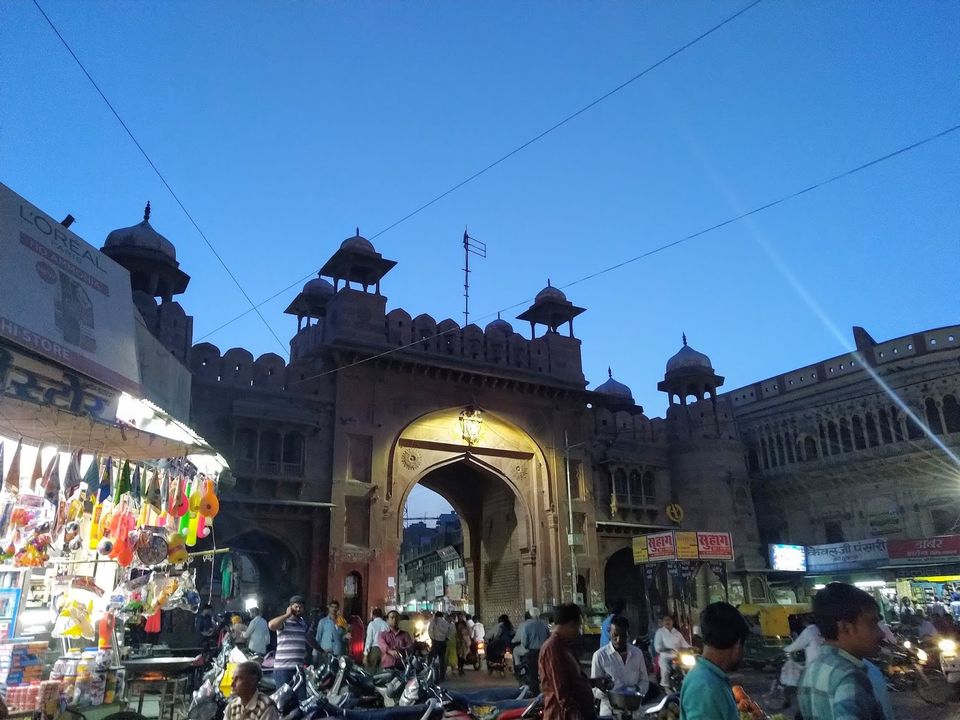 My top pick to shop and eat in the city :
Chotu Motu Joshi sweet shop:
This ordinary-looking, blink-and-you-miss-it sweet shop on station road has been a favorite pit stop for snacking or breakfast among the locals and tourists. Without putting a dent on your pocket this place can fill you up with its delicious poori-bhaaji, Bikaneri methi daana sabzi, Kesar jalebi, ghevar, Bikaneri namkeen and what not. While the place lacks in looks and amenities, it more than makes up for in flavors.
Sarees from KEM Road:
Popularly known as Khajanchi Market, KEM Road is the best place to buy Rajasthani sarees and lehengas. And the good news is that the price is quite affordable.
B.C Jain Jewellers in Bada bazaar for artificial Kundan Jewellery:
They are the biggest seller of Kundan jewelry here. Mind you reaching this shop and entering tests your patience to the limit, It is a small shop in a very old house in the crammed street of old Bikaner.
Chunni Lal Sharbat Wala:
You are in for an experience of your life when you enter this sharbat shop which is one of its kind. Chunnilal Tanwar Sharbatwale, an iconic shop on Bikaner's Purani Jail Road has been around since 1939 when Chunnilal Tanwar used to hand out sharbat made with a variety of flowers and spices. This lone shop continues the tradition of making flower and spice sharbats from the fresh flower and spice extracts. Everything is made at there home and flavors range from Bela (jasmine) and Gulab (rose) to Saunf (fennel) and Laung to (clove) from Kesar to Safed Gulab (White Rose), as well as half a dozen others. It's a challenge that you can't stop at one and will try flavors after flavors and will definitely take a few bottles home.
Bikaner offers an experience that lets you admire the old world charm. You will be blown away by its ability to overload your senses with the pure, concentrated intensity of its colors, smells, tastes, and sounds...
Bikaner will surely get into your heart and will never go…