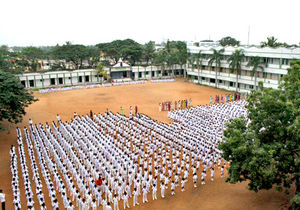 Things to do
charitable institutions
Udhavum Karangal
This is a Non- Profit organization in Coimbatore. They are a group of volunteers who work for the welfare of women and give shelter to homeless women. There are many people who have been victims of torture and other wild mentalities. The families of these victims have not accepted them and thus they have found a safe home for themselves in the place known as Udavum Karangal. The noble work for the society has earned them a lot of respect and recognition and donations are what fund them throughout the year. They not only give shelter to the woman but also educate and train them in various fields to make them self sufficient.
Places to stay near
Udhavum Karangal
SHADE POINT-Single Occupancy.
Cozy stay near Taj Coromandal Hotel - Room No.2
Guru's Cozy Home - Central Location
Oyo Rooms T Nagar Off Panagal Park
Reviews of
Udhavum Karangal
•
1
On our way tot the Chennai airport, we stopped at Udhavum Karangal Orphanage. It has one more branch in Tamil Nadu. Udhavum Karangal means 'Helping hands'. It's not entirely an orphanage but houses and serves orphans, single mothers and infants born to their psychiatrist patients. You can spend a day there, interacting with kids, playing with them and taking elementary classes.
Attractions near
Udhavum Karangal