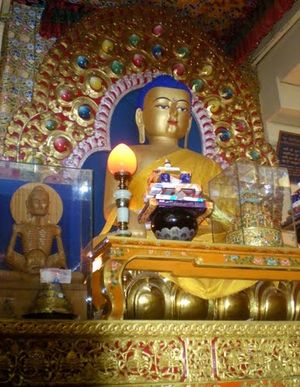 Best time to visit
September to March happens to be the best time to come here
Open hours
From 7 in the morning till 7 in the evening all through the week and as well as on public holidays as well.
Things to do
Say a prayer at the Dharam Chakhra.
Traveller Types
Families, Solo, Couples, Friends
Rank
34 out of 49 attractions in Dharamsala
Namgyal Monastery
The 14th Dalai Lama happens to have the Namgyal Monastery as his residence and is a considered as a centre of learning since its establishment either in 1564 or 1565. It was then called Phende Lekshe Ling and was renamed in 1751 to Namgyal Monastery by Lama Gyalwa Sonam Gyatso, the third Dalai Lama. This was done to honour the Goddess Namgyalama. The Tibetan Uprising of 1959 caused the place to be relocated to where it now stands. The Namgyal Monastery is home to 200 monks that are from the four main monastic lineages of Buddhism. The place takes care of an eldery home in Shimla and as well as a temple n Kushinagar.
Places to stay near
Namgyal Monastery
Reviews of
Namgyal Monastery
•
5
Attractions near
Namgyal Monastery