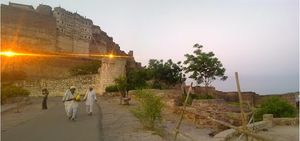 Best time to visit
Early morning or late afternoon
Open hours
8am-6pm October-March, 7am-7pm April-September
Things to do
Bird watching, explore nature
Budget
INR 50- Entry, INR 100- Guide
Best Months
December - February
Traveller Types
Couples, Friends, Families
Rank
7 out of 88 attractions in Jodhpur
Rao Jodha Desert Rock Park
This is a recent development in the city in 2006 and still calls to be a priority in the things to do in Jodhpur. The entire park is located on a ground of 72 hectare and full of the local species to give an idea about the diversity of the place to the tourists. The attraction is just next to the Mehrangarh Fort and the best part is that it has something different to offer at various times of the year. There are walking trails in the park where you can do bird watching as well as explore various reptiles and butterflies. There is a small café here for those who want to take a food break.
Places to stay near
Rao Jodha Desert Rock Park
CrashPad - 4 Bunker Room & B'fast
CrashPad Hostotel Jodhpur
Bhavyam Heritage Guest House
Reviews of
Rao Jodha Desert Rock Park
•
3
4 PM- RAO JODHA DESERT PARKIn an attempt to restore the city's ecology and plants native to rocky environments, this park was built in 2006. Spread across 170 acres, this is the best place to explore the native flora-fauna. You can choose the trail you would like to take with some very helpful staff. It is one of the most refreshing and unique experiences in Jodhpur.Take any walking trail to explore this unique attraction in Jodhpur.6 PM- STROLL IN THE BAZAAR AREA NEAR CLOCK TOWER
It is located just 10 minutes away from Jaswant Thada. Entry fee was ₹100 per head !! So we thought that it might be something interesting. Some sort of adventure.
It was developed in the year 2006 with the aim of restoring the ecology of a large rocky wasteland area next to the fort. The most fascinating about this place is that it is interesting to expore this at different time of the year as it's foilage changes with evey season. It is open from 9:00 AM to 5;25 in the evening and one can also hire a guide for this.
Attractions near
Rao Jodha Desert Rock Park