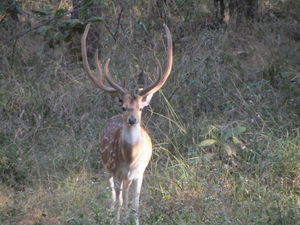 Best time to visit
Beat the heat and visit this park between October to March.
Open hours
All through the week from 6:30 am to 10:30 am and then from 2:30 pm to 5:30 pm.
Things to do
Capture a video of your safari.
Budget
Indians would have to pay INR 1250.00 while foreigners need to pay INR 2250.00
Best Months
December - May
Traveller Types
Couples, Families, Friends
Rank
4 out of 41 attractions in Khajuraho
Panna National Park
The presence of deep gorges, cascading waterfall and dense forests filled with teak trees is what the Panna National Park is all about. Home to many wild cats and antelopes, this place is famous for its tigers. If the drudgery of the city life has gotten to you, a day spent at this park will surely relax your senses. Have a guide take you on a tour and catch glimpses of some rare animal and bird species like the King Vulture and honey Buzzard here. The authorities also organize regular safaris of the park. However, one must come in their own jeep as the park doesn't rent out any.
Reviews of
Panna National Park
•
4
Attractions near
Panna National Park