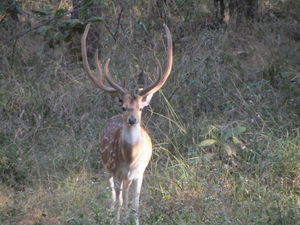 Best time to visit
Beat the heat and visit this park between October to March.
Open hours
All through the week from 6:30 am to 10:30 am and then from 2:30 pm to 5:30 pm.
Things to do
Capture a video of your safari.
Budget
Indians would have to pay INR 1250.00 while foreigners need to pay INR 2250.00
Best Months
December - May
Traveller Types
Couples, Families, Friends
Rank
4 out of 41 attractions in Khajuraho
Panna National Park
The presence of deep gorges, cascading waterfall and dense forests filled with teak trees is what the Panna National Park is all about. Home to many wild cats and antelopes, this place is famous for its tigers. If the drudgery of the city life has gotten to you, a day spent at this park will surely relax your senses. Have a guide take you on a tour and catch glimpses of some rare animal and bird species like the King Vulture and honey Buzzard here. The authorities also organize regular safaris of the park. However, one must come in their own jeep as the park doesn't rent out any.
Reviews of
Panna National Park
•
3
Next day early morning at 5 AM we left for the Panna Tiger Safari. We booked a jeep right from the hotel instead of booking it after reaching the Tiger Reserve. It took 1 hour to reach Panna Reserve.It was raining there so we were in a dilemma that our safari might get cancelled but thankfully the rain stopped and we were allowed to enter the Reserve.The place is very beautiful and very interesting.Sighting the tiger wasn't in our cards but we got a view on Hyena, which is also a rare species in the area.
The reserve, primarily comprising deciduous and teak trees, had lost all its tigers to poaching in 2009. Subsequently, the big cats were reintroduced from other reserves in Madhya Pradesh like Pench, Bandhavgarh and Kanha to revive their population. Of the founder population, four were females (T1, T2, T4, T5) and one male (T3.) WWF (World Wide Fund for Nature) had lent technical support through radio collars and remote surveillance systems to monitor the translocated tigers. The results were in favour as the tiger population rose to 30 in 2014. The wildlife in the reserve is sustained by river Ken which flows through the reserve and is one of the cleanest rivers in India.I stayed at 'Ken River Lodge', situated on the banks of river Ken and about a kilometer from the national park gate. As I reached the lodge, a resident naturalist greeted me. He was my guide for jungle safaris over the next few days. The lodge is meant for nature lovers. My cottage was a concrete structure with a private sit out surrounded by dense forests and other lodge huts. The room had rustic furniture, dim lighting and a fireplace. An old cooler was fitted in the window, the white painted walls were damp and cold. The shower area in the bathroom was marked with the huge bark of a tree. "It must be freaking cold and lonely out here at night," I thought. I went out to explore the rest of the property. A sprawling tree house stood high on the river bank and housed a reading room and a restaurant. I got to know that the tree house had been destroyed by floods and re-constructed twice before. The nearby woods had a small area earmarked by a sand beach and an abandoned rowing boat. This later turned out to be my favorite hangout where I would spend hours watching the river stream drift slowly with the soft breeze, photographing kingfishers perched on small rocks in the middle of the river, reading a book and watching the sun go down gradually.The mornings were marked by hurried tea sessions at dawn followed by safaris in open Suzuki jeeps through the undulating jungle tracks for hours with short breakfast breaks. We chased the elusive tigress 'T1' and her cubs relentlessly who had been prowling in one of the zones. It was fun to observe the naturalist and the jeep driver interpret alarm calls made by troops of 'langurs' and deer. All throughout, the warm blankets and hot water bottles from the lodge staff kept me comfortable whether it was from the biting cold air gushing on my face as the jeep hurled its way or at bedtime when I would retire early to prepare for next morning safari.Spotted deer, wild boar, 'sambhar' and wolf were common. My naturalist kept narrating his experience when he had spotted two sloth bear playing under a mini waterfall last monsoon. Apparently, special permission had been sought to enter the park at that time which remains closed during rainy season. Panna was also a brilliant place for watching birds like stork-billed kingfishers, plum-headed parakeets, serpent eagles, spotted owlets and white-browed fantails. In the lodge, the lethargic house cat would ensconce itself in the warm ashes left from last evenings' bonfire. The three playful pet puppies named 'coffee', 'cocoa' and 'caramel' would bask in the sunshine and slide over the potted plants.Long bonfire conversations with owners Vinni and his wife, fellow guests and lodge staff characterized the evenings. Of course, the dominant topic was tiger tales. I learnt that tigers, being shy and lonely creatures, lived and hunted alone unlike the lions who moved in herds. Tigers were nocturnal which meant they would mostly hunt at night. Summers were an apt time to spot them as they would throng near water bodies to quench their thirst. One night while having dinner which mostly comprised a multi-cuisine buffet, I was startled as the pet dogs suddenly started howling and running in one direction."Oh, don't worry…must be a wild boar or a sloth bear," said the unfazed landlady. I sighed and closed my eyes. The rustic charm of this place had begun to grow on me. Last evening, I took a boat ride to a small island near the lodge. The boat was old and rickety and my feet got all wet as the water gushed inside. Nevertheless, we somehow maintained balance by decanting the water from the boat. I watched the sun go down and noisy birds return to their homes from the aloof island and promised to return in search of the elusive tiger – this time in summers.
I love safaris and this one was fabulous. Though the tiger eluded us once again, we did see many more beautiful creatures, and the sight of the Karnavati River running through the park is a magnificent sight.
Attractions near
Panna National Park