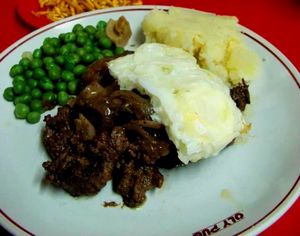 Olypub
This is a famous bar and restaurant in the Park Street area of Kolkata. They probably serve the cheapest beer in the whole city. The ambience is cozy and comfortable and their meat steaks are superb. If you are shopping around Park Street, this is a very good place to grab a quick bite and wash it down with a mug of chilled beer.
Places to stay near
Olypub
Treebo Globe International
OYO 1084 Hotel Walson Inn
Reviews •
2
Olly Pub- Want to have some good booze with your mates that too in a pocket friendly range? Well you can visit this place near Park Street which serves you not just your favourite booze but also some great snacks to nibble on. Chicken rum ball and dry chilli chicken belongs to two different food families but ordering them both at a same time would blow your taste buds and your tummy with a good night's sleep for the day!Enough of tickling your taste buds in these famous restaurants, it is time to narrate one of the most shocking fact - it is the only city that serves a sumptuous vegetarian meal only at INR 15!!! You don't believe me? Neither could I believe this because; I spend nearly a lot of Rs 15 on my 'Marlboro Lights' in Delhi, while this city still serves a meal with the same money. Trust me the quality of food is no cheap standard but I cannot guarantee you the health of your stomach after few days though!
Regular customers swear by this long-standing bar and eatery on Park Street. Olypub has managed to keep its grungy, rustic appeal that keeps its patrons coming back year after year. Go here for, arguably, the best beef steak in Kolkata, reasonably priced drinks, and a heavy dose of nostalgic banter drifting in from one of the nearby tables.