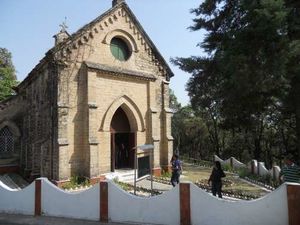 Open hours
Unable to verify. Audio- Visual show- 8:00 AM every day
Rank
6 out of 10 attractions in Lansdowne
St. Mary's Church
A historical church built in the 19th century by a royal engineer named Col. A.H.B. Hume, this is just near the Tip N Top Pint. This is like a heritage monument of the hill station but all church services were stopped after 1947 given the deteriorating conditions of the building. The charge of administration was taken by the Garhwal Regiment and it was then converted into a museum like we find it now. The museum houses nothing but a pretty good collection of old pictures and details about pre- independence era of this place. You can also enjoy audio- visual representation of the British Era when you come here.
Places to stay near
St. Mary's Church
cozy room in a bunglow in Lansdowne
Samskara & Samsara Homestays
Galaxy Hotel & Restaurant
Reviews of
St. Mary's Church
•
2
It is situated near Tip 'n' Top. The church is maintained by the Garwhal Rifles of the Indian Army but no service is conducted here now. Visit this church for its architecture, gallery and a movie based on Garwhal Rifles.
Attractions near
St. Mary's Church