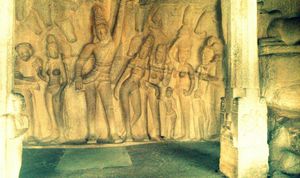 Best time to visit
8:00 AM - 3:00 PM
Open hours
7:00 AM - 6:00 PM
Things to do
history tours, photography
Best Months
June - February
Traveller Types
Couples, Families
Rank
10 out of 32 attractions in Mahabalipuram
Krishna Mandapam
The cave temples of Mahabalipuram are a prime attraction here and is also a UNESCO Heritage Site. This is a group of cave temples which were built many years ago and now fall under the category of historic monuments. The Krishna Mandapam is one among these and also the largest of all. This is dedicated to Lord Krishna who is extremely revered by the local people and also is the hero of the most of the legends popular here. As you enter the temple you wilk still find it beautifully decorated with the carvings of the various incidents of Krishna's life. The strong adulthood of Lord Krishna is what is focussed on more. The most attractive incident carved is when the Lord lifted the whole Govardhana Mountain to save the people from heavy rains.
Places to stay near
Krishna Mandapam
Relaxing place 1 min from the beach
100mts to Beach and center in town
Reviews of
Krishna Mandapam
•
1
This sculpture depicts Krishna as the protector of all living things and epitomes rural bliss.
Attractions near
Krishna Mandapam