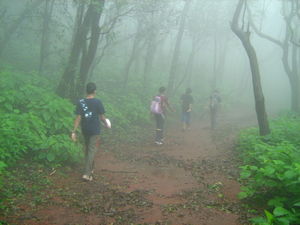 Things to do
Walking, photography
Traveller Types
Families, Couples, Friends
Rank
5 out of 20 attractions in Matheran
Panorama Point
You can start from Dasturi Naka and then do some moderate trekking for about half an hour to reach the top to the Panorama Point. As the name says it all, this point is from where you get an awesome panoramic view of the surrounding valleys and an areal angle of the natural beauty here. It is said that a trip to Matheran cannot be completed without a visit to the Panorama Point to view te mesmerizing sunrise here. The toy train station is also nearby.
Places to stay near
Panorama Point
Reviews of
Panorama Point
•
2
The Panorama point in Matheran is 5420 feet above sea level. To visit this place, you have to pay entrance fees. It is private property so one has to endure that they drive slowly. It is one of the best point in Matheran. It's a lovely place and the view is very panoramic. The mountains surround the place where the hills bloom with wild flowers and greenery. To reach this point, one has to reach Kasturi Naka and from there either walk the 6 km distance or enjoy the pony ride. You will encounter many monkeys on your way to the point.
This is a highly recommended spot for everyone alike. Spend long gazing hours at the untouched beauty of widespread forest and true gem of nature. If you are planning for a stay in Matheran overnight, do give this place a shot early morning for sunrise.
Attractions near
Panorama Point