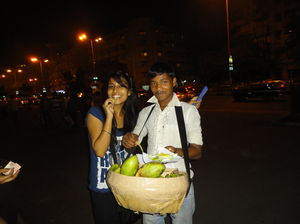 Best time to visit
6:00 PM - 9:00 PM
Marine Lines
One of the most happening places of Mumbai, this is where the locales and tourists come to enjoy the cool sea breeze during the evenings. Recently named as the Netaji Subhash Chandra Bose Road, this place is also given the name of Queen's Necklace due to the bright lights that are put on in a line after the sun sets. The Chhoupatty Beach is at the very end of the Marine Drive. This drive was set up in the the 1920- 1930's and is a very busy place with festivals all round the year. Starting from the Hindu Thread ceremonies, Nariyal Purnima and the Ganesh Chaturthi immersions all take place here. there are also stalls selling bhel puri, batata and sev puri, kulfi and paan around the beach area.
Reviews of
Marine Lines
•
2
For the very first time, India witnessed the Grand Prix of the Seas. The Nexa P1 Powerboat, which was held at Marine Drive from March 3 to 5.The debut season of the Powerboat Grand Prix got a phoenominal response from the crowd.The inaugural Nexa P1 Powerboat championship concluded with the Baleno Booster Jets taking top honours. In second were the Llyod Dolphin.
Marine Lines is a huge curve ending on Nariman Point. Here people are seen walking, talking and cosing around. You ought to get a chance to eat the raw mango and meet many acquaintances just having the time by themselves being in the crowd of the city yet away from it. This is the only good thing which Delhi lacks as a city - A place providing solace to everyone who passes through it.
Attractions near
Marine Lines