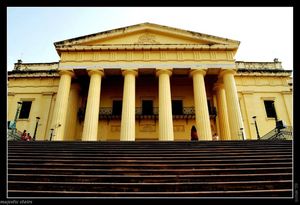 Best time to visit
11:00 AM - 3:00 PM
Open hours
9:00 AM - 5:00 PM except on Fridays
Things to do
History tours
Budget
Rs 10 for Indians, USD 2 for foreigners
Best Months
December - May
Rank
1 out of 25 attractions in Murshidabad
Hazarduari Palace Museum
Murshidabad was at one time the capital of the province of Bengal under the rule of the Sultans. The Hazarduari Palace was built during the rule of the Nawab Nasib Humayun Jah. It was built by a British architect in the Greek or Doric style. The museum inside this palce is known as the Hazarduari Palace Museum and is a very interesting place with over 20 galleries. There are over 1000 antiques and most of these focus on the history of Bengal and the royals of this region. There are also exhibits of weapons, clothings and other such things.
Reviews of
Hazarduari Palace Museum
•
1
The name of the palace owes to more than thousand real and false doors, vast corridors in it. In 1985, the palace was handed over to the Archaeological Survey of India for better preservation. The museum is regarded as the biggest site museum of Archaeological Survey of India. This three-storey palace was built in 1837 by Duncan McLeod for the Nawab Najim Humaun Jah, descendent of Mir Zafar. The total area of Hazarduari Palace is 41 acres.
Attractions near
Hazarduari Palace Museum