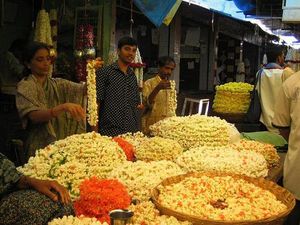 Best time to visit
8:00 AM - 5:00 PM
Open hours
7:00 AM - 8:30 PM
Traveller Types
Couples, Friends
Rank
19 out of 77 attractions in Mysore
Devaraja Market
This is the best market in the whole state and is full of colors. This is otherwise nothing but a local market where you can get farm fresh fruits, vegetables, tea and rangoli powder colors. The colors are decoratively exhibited in a way that it looks no less than a rainbow.
Places to stay near
Devaraja Market
Varsha Enclave- White House
Vedanta Wake Up - Gokulam
Vishranth Service Apartment
Reviews •
1
About 125 years old, the Devaraja Market gives you everything from the local culture. This colourful, traditional market has something for everyone. From rich Indian spices, to traditional souvenirs, the Devaraja Market is always filled with tourists and locals. There is always something to choose from on its 800+ stalls. An hour might not just cut it here. Get your bargaining skills along!
Attractions near
Devaraja Market