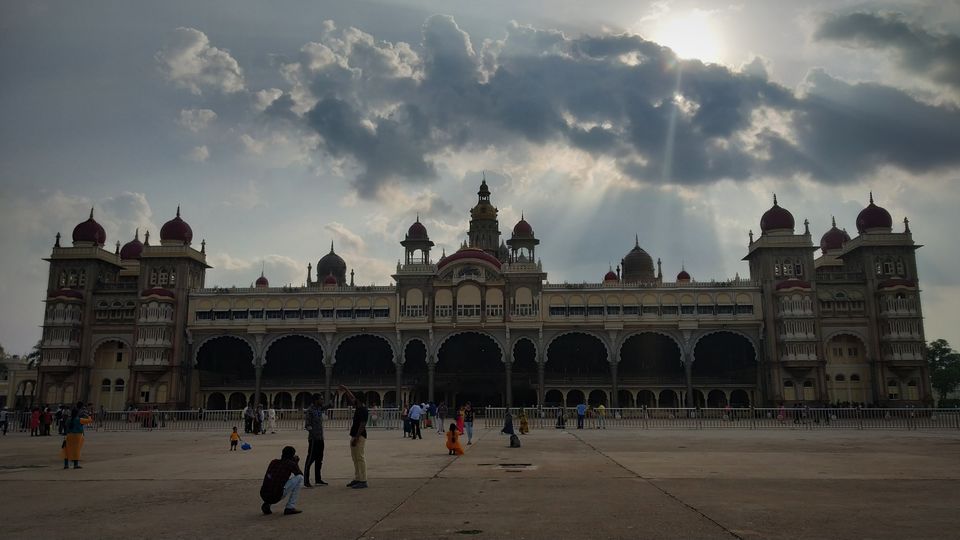 Last year, someone very close said to me in a casual and teasing tone, "You should travel to south India with a south Indian only." I accepted that time but the words got stuck in my mind. I started wondering "Why?" To get the answer, I decided to travel to Karnataka on my own in order to take my first step towards understanding the South Indian culture, tradition, art, food, and most importantly, people. Being a north Indian, I was so curious to begin exploring that part of our country and see for myself the richness of diversity.
My strolling shoes took me to Bangalore, Mysore, Coorg, Gokarna and Hampi during those, what I call, "My Eager Eleven Days". I took local buses and autos to roam around. During my luckiest days there, I used to find someone understanding either English or Hindi, and on lucky days, I managed without knowing Kannada. But let me tell you something, a warm smile is a universal language! It happened to me a lot of times that when I was speaking in English/Hindi and the other person is talking in his mother tongue, our conversation still made sense and we understood each other completely. So, there is nothing like a language barrier. The people were very helpful and everyone appreciated a female solo traveller.
I spent my first four days in Bangalore and Mysore. So in the first part of the series, I am presenting here how you can have the best time in these 2 fabulous cities. Read on to know what all you can do and see when going there.
Timings- Open all days from 10:30 am to 5:30 pm
Entry fee- Rs 240 for Indians (+Rs 300 for taking photographs)
Ideal time- 3 hours
As soon as I landed in Bangalore, I decided to visit Bangalore Palace- the central attraction in the Silicon Valley of India. The majestic palace, an epitome of old regal opulence, was built in 1878. It is extraordinarily vast and spread across 45,000 square feet. If you are a lover of history and designs, then you can see a mixture of Tudor and Scottish Gothic architecture here. You can take pleasure in looking at the wooden structure of the palace adorned with lovely carvings.
You can also take the audio tape available inside the palace for understanding the details better. Visit this elegant and lavish palace to witness one of the most powerful dynasties of South India.
Timings- Open all days from 6 am to 6 pm
Entry fee- Rs 40
Ideal time- 2 hours
Once called the Garden City of India, Bangalore is renowned for its Lalbagh Botanical Garden. Covering an area of 240 acres and housing nearly 2,000 plant species, the garden is a paradise for all nature lovers. You can see rare plants of French, Persian and Afghani origin here. There is a glass house also that showcases an annual flower show. Bird lovers have the opportunity of spotting Brahminy Kite, Pond Heron, Common Egret, Myna, Parakeets, and more. This botanical garden is definitely a delight for photographers.
It is a hub of recreational and commercial activities in Bangalore. Among so many enticing goods, you can buy traditional handicrafts, silk, sarees, cutlery, and so much more from here. Also, you can choose to have a quick bite to eat from a plethora of cafes and restaurants. The nightlife of Bangalore is quite happening because of various high-end pubs in MG Road. You can enjoy a stroll on the street when you're in the city.
It is one of the trendiest and most-visited shopping destinations in the city. This is home to a number of thrift shops and high-end stores selling a wide variety of articles. Whether you are looking for a pair of Jimmy Choo shoes or a silk sari, Commercial Street is every shopaholic's delight.
Timings- Open all days from 6:30 am to 9:30 pm
Ideal time- 3 hours
A must go if you want to get the real feel of the Heritage City!! You will find here fruits, vegetables, incense and spices. And if you follow the sweet fragrance, then you will find diligent women and men selling beautiful flowers. The market offers amazing photography opportunities as well. If you don't want to buy anything, even then you should include this place in your itinerary to get an insight into the daily life of the city. With more than 800 shops, the market is spread over 3 acres of land.
My tip- You should definitely visit the section of the market that is dedicated to fresh flowers. You will be amazed to see how quick the flower vendors string marigolds and tuberoses into beautiful garlands. Walking across this street is pure bliss!
The Chamundi Hills houses the famous Sri Chamundeshwari Temple. It also has the statues of Nandi and Mahishasura. There are two ways to reach the temple- directly by car or by climbing 1,000 steps. I chose the latter option. The auto driver dropped me at the starting point and told me to be careful of the monkeys. Well, that was the moment when I thought whether I should even go or not, since I have developed a serious phobia after getting bitten once. Also, I saw one monkey in front of me. I was scared but I decided to start climbing the stairs. After climbing nearly 100 stairs, I was considering to go back because I couldn't see anyone on the way and I was dead scared of the monkeys. But I decided to focus more on what I want rather than what I don't want. So, I continued and by the time I was halfway, I was so tired that I had lost my will to live. Taking a 5-minute rest and thinking about my prayers, I continued again. Nandi (Bull temple) is located approximately at the 800th step towards the summit of the hill. There is also a viewpoint on the way from where you can see the entire city. For me, it was magical to spend some time there. After a while, I finally reached the top of the Chamundi hills. It was windy at that time and the aura of that place was so pleasant. It will definitely be an unforgettable experience for you.
Timings- Open all days from 10 am to 5:30 pm
Entry fee- Rs 70 for Indians
Ideal time- 3 hours
Mysore Palace is an incredibly breathtaking example of Indo-Saracenic style of architecture. I was spellbound by the awe-inspiring grandeur of this palace. You will see Muslim designs and Rajput style combining with Gothic elements and indigenous materials. Curved arches, bow-like canopies, expansive pavilions, splendid chandeliers, carved doors, stained glass ceilings, decorative walls, and bay windows and columns in varied styles- you will be amazed by all this. If you get a chance, then visit the palace during the vibrant Dussehra celebrations.
So, this was all about my stay in Bangalore and Mysore. After that, I travelled to my favourite part of Karnataka (it has become my favorite after I had delightful experiences there) about which I will be telling you in the next part. A lot happened in the next few days ranging from getting invited to a south Indian family to meeting 2 first time solo travellers. The journey has strengthened my faith in "What you seek is seeking you"!
Happy travelling :)
If this hasn't inspired you enough, then you should check out my Instagram page strolling_shoes and follow my adventures around the world!
Frequent Searches Leading To This Page:-
what to do with leftover mysore pak, mysore palace gate names, mysore palace hotel, mysore palace hd images, mysore palace hashtags, mysore palace history in english