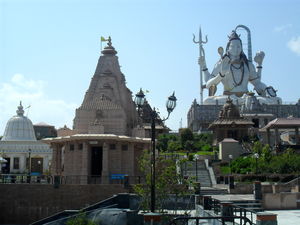 Best time to visit
Summer or Cold Winter
Things to do
Char Dham or Siddheshwar Dham
Rank
1 out of 7 attractions in Namchi
Char Dham
Char Dham or Siddheshwar Dham is a popular vacation spot in Sikkim. It is a copy of all the 12 Jyotirlingas and Char Dhams in India. You'll discover here a 33 m tall Shiva statue raised on the Solophok peak. It's an enormous journey complex with Hindu sanctuaries all around. Generally, it's a decent place that gives you positive vibes. Char Dham is a journey destination arranged at Solophok Hill, which is at a separation of around 5 km from Namchi Town. Solophok Hill has a verifiable and religious significance, as it is trusted that meeting this spot washes away one's sins. The venture is visioned by CM of Sikkim. They have built the sanctuaries of all the 12 jyotirlinga, Char dham and other essential sanctuaries. The sight is awesome and you will love to see the climate there. Best time to visit Char Dham or Siddheshwar Dham is during summer or during winter.
Places to stay near
Char Dham
Summit Sobralia Resort & Spa
Reviews of
Char Dham
•
3
2) Namchi Char Dhaam / Sidheswar DhamWell this is a must must visit place as here Sikkim has built India's Chaardham Replica and it is really beautiful. On the top of the hills , in between clouds . Its a treat to watch the place if the weather remains clear. Must visit...Entry fee 50/- per person .After this we proceed towards Gangtok and reached by 7 pm.
Visit only if you're fond of temples as they are too many
This is one of the most popular destinations in Namchi. An imitation of the main Hindu pilgrimage spots -- the four dhams and the 12 jyotirlingas -- all within one compound. Situated at one of the highest points in the town, I enjoy the views and the serenity that pervades this place.
Attractions near
Char Dham