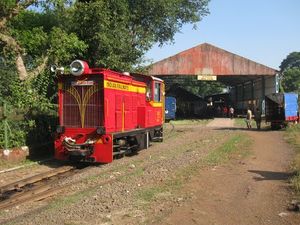 Things to do
communication
Neral Railway Station
This is a railway station forming a part of the Mumbai Suburban Railway Network on the Central Mumbai Line. This is located in the town of Neral in the Raigad District and is a junction between Kalyan and Karjat. This connects Mumbai and Pune and is the beginning of the narrow gauge railway line that leads to Matheran.
Places to stay near
Neral Railway Station
Reviews of
Neral Railway Station
•
3
No I didn't come this far just to hear that a place like that never existed, I thought to myself . I asked another rickshaw wallah and he said he knew a different place with a similar pronunciation. Apparently he knew a village called Peth and he knew that people do visit this place for Trekking. Well trust me when you are left stranded and somebody gives you a similar option like that you don't feel bad to try that, so did I. He assured to drop me halfway and he further guided me to board another rickshaw who would leave me till the base camp. I started the journey and after an hour and half I reached the base camp of Kothaligadh, Peth.Some quick facts about this trek,1. The difficulty level to this track is EASY.2. It is suitable for Beginners and best done in Monsoon3. Duration is 4 hours (depending upon your speed)4. Carry your own Water and Food.5. Its at a height of 3100 ft.
Nearest rail-head. You can take the toy-train to reach Matheran, or cabs which will drop you at Dasturi Naka, point beyond which it is the eco-zone.
It is 1 hour train journey from Thane you can take Toy Train from Neral to Matheran or take a Vehicle from Neral to Matheran
Attractions near
Neral Railway Station