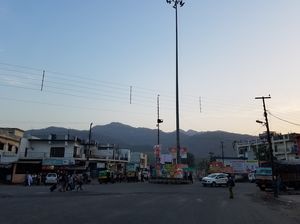 Places to stay near
Anand Vihar ISBT
1 Bed room with attached toilet
Reviews of
Anand Vihar ISBT
•
3
March 25, the day I decided let Rishikesh be in Rishikesh. Its funny because I have been asked many time - Have you been to Rishikesh? (PS: People call me Rishikesh by name). I asked my friends and they politely accepted to join me.Transportation :Trains, Flight (Dehradun Airport, approximately 35 kilometres away) and Buses, all mode of transport is available to reach here. We chose Bus because we couldn't get confirm booking in train. An AC sleeper bus cost each INR 500. You can save money by checking offers or doing pre booking. Bus normally takes 8 to 9 hours, so taking a night bus journey was a better option. We boarded our bus from Anand Vihar ISBT with the hope to see the gateway to heaven next morning.
We booked sleeping Volvo bus tickets to Rishikesh costing 450rs. We took a bus from Anand Vihar, New Delhi at 11 pm after having dinner at Dheemi aanch, a nearby Dhaba at the bus stand.
It begins now, the Plan B, the substitute to what would have been a journey through the heavenly valleys of Kashmir. Plans aborted and flights canceled bring us here to the dark petrol pump opposite Anand Vihar ISBT.Nothing is intricately planned, we only have one sure shot destination in mind. How to reach our destination is not elaborated on the internet or anywhere. For now, we know we have to reach Uttarkashi, and from there on we have to let our sixth sense take us forward.
Attractions near
Anand Vihar ISBT