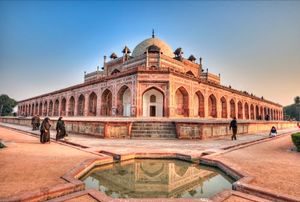 Best time to visit
3:00 PM – 5:00 PM
Open hours
6:00 AM – 6:00 PM
Budget
Rs 10/- for Indians, Rs 250/- for foreigners, Rs 25/- for video photography
Best Months
September - May
Traveller Types
Couples, Friends, Families
Rank
4 out of 370 attractions in New Delhi
Humayun's Tomb
Humayun's Tomb is one of the most important monuments of the city and a perfect example of wonderful Islamic architecture was made by Mirak Mirza Ghiyas, a Persian architect. The initiative to make this monument was taken by Humayun's senior widow Bega Begum. The monument is considered as a precursor of the Taj Mahal in terms of beauty. It was built in 1565 AD and is located on the crossing of the Lodi Road and Mathura Road. The main features of this monument are the beautiful gardens, fountains and of course the double domed mausoleum. Apart from Humayun's tomb, there are many other Mughal rulers who have their mausoleums built in here.
Places to stay near
Humayun's Tomb
OYO 2705 Hotel Preet Palace
★☞ The historical Center of Delhi !
Stay in a true Delhi neighbourhood
Bnb room 4 near metro and airport
Reviews of
Humayun's Tomb
•
48
Attractions near
Humayun's Tomb