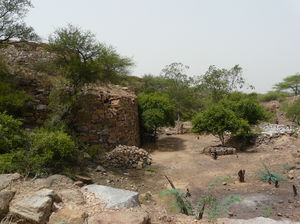 Best time to visit
Across The Year
Open hours
7:00 AM - 7:00 PM
Things to do
Nature Walk, History Walk, Photography
Traveller Types
Solo, Families
Rank
178 out of 370 attractions in New Delhi
Qila Rai Pithora
Qila Rai Pithora also known as Rai Pithora's Fort was a fort city integrated 12th-century by Chauhan king, Prithviraj Chauhan. Chauhan Rajputs had bought out the city of Delhi, from Tomar Rajputs. It also incorporated, much older Lal Kila built earlier by 8th-century Tomar Rajput ruler, Anang Pal I. It had been from the fort that the Tomar, Chauhan and the Slave Dynasty ruled over Delhi from 12th to 13th century. Remains of the fort walls are scattered across South Delhi, visible in present Saket, Mehrauli around Qutb complex, Kishangarh and Vasant Kunj areas.
Places to stay near
Qila Rai Pithora
Jugaad Hostels PrivateRoom-SouthDel
Reviews of
Qila Rai Pithora
•
2
Lal Kot & Qila Rai Pithora: The Tomer Rajputs are believed to have settled in the Suraj-Kund area and shifted later about 10 kms west where Anangpal raised the citadel of Lal-Kot, the original red fort of Delhi. It is now only survived by ruins and some scattered walls throughout Mehrauli. the walls are about 900 years old and can be seen beyond Jamali Kamali mosque.
7. Qila Rai Pithora: This fort is visible from South Delhi, especially Saket and Mehrauli. Remains of this fort from the 12th century lie in scatters across the region around Qutub complex. Better known as Lal Kot by some, this fort was the first red stone fort built in Delhi. Hence, the name! A major part of this fort has been left in ruins. But, it still reflects the glorious past. It has seven gates worth being photographed. A flight of earthen and stone steps leads upwards where one can get a complete view of the Qila. Its gateway and round bastion is of much significance.
Attractions near
Qila Rai Pithora