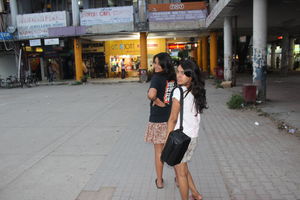 sector 17 market
A local market in the Sector 17 of the city of Gurgaon. This place is also lined with the best hotel and holiday resorts as well some very good restaurants. If you have chosen a hotel closeby, do not hesitate tp fill your bags from the market here. This is not a specialized market and thus you get everything here. This incldes clothes, handicrafts, unk jewellery, food and many other things.
Places to stay near
sector 17 market
Holiday Inn Chandigarh Panchkula
OYO 5375 Hotel White House
Reviews of
sector 17 market
•
2
Sector sataraa is the shopping hub of Chandigarh.
After grabbing a quick snack at one of the cafes in the best market Chandigarh city has to offer, we stumbled upon a live concert by some amateur bands followed by some major classical singers. The good thing about this concert was, that it was open to everybody. It is a huge market place lined with many famous brands to shop from and multiple multi-cuisine restaurants. What I personally loved about this market was unlike the other markets in all the fast paced cities, it had a very leisurely and peaceful touch to it.
Attractions near
sector 17 market