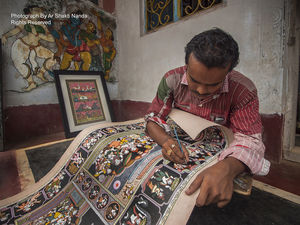 Things to do
tours, shopping
Best Months
September - February
Rank
4 out of 30 attractions in Puri
Raghurajpur Artist Village
If you want to explore what the art of Odisha looks like, Raghurajpur is the best place to visit. This is a village hidden amidst palm and betel vines, where artists can make you get lost in the charm of their art. There you find thatched huts with outer platforms where the artists sit and do their work. These are also like their art studios where you can watch them working. Pattachitra or artwork on mud plates is the traditional part and other items of terracotta, papier mache and other stuffs are also made here. The Gotipua is the academy of dance here which polishes the art of Odissi started and nurtured by the Great Guru Shree Kelucharan Mahapatra. Other than this the worship of the loacl deity is also worth a watch here.
Places to stay near
Raghurajpur Artist Village
Reviews of
Raghurajpur Artist Village
•
1
In the year 2000, Raghurajpur was first recognised as Odisha's first heritage craft village. The village is within the Puri District and is known worldwide for the resident artisans who have mastered the art of Pattachitra, which are miniature paintings on cloth or palm leaves. The 120 families in the small village are dedicated to this ancient craft and apart from the traditional paintings, other items such as paper weights, side tables, masks, papier mache and toys are beautifully crafted by the residents of this village.
Attractions near
Raghurajpur Artist Village