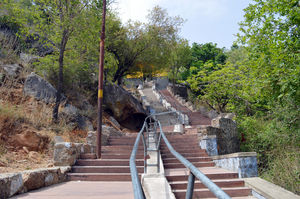 Best time to visit
During the Navratri season.
Open hours
All through the week and even on holidays frm 7:00 am to 7:00 pm
Things to do
Pray for oneself and family when you visit the temple.
Arbuda Devi Temple
One will find the Adhar Devi Temple to the North of Mount Abu and it is dedicated to the worship of the Goddess Durga. In order to reach this place, one has to climb a flight of 365 steep steps. The place is a pilgrimage site and the reason why it is named so is because the adhar of the Goddess Durga that fell here and was found to be hanging mid-air. The temple offers one lockers and storage facilities as well as washrooms for ladies and gents. One is allowed to carry their cameras to capture pictures and videos. The temple is beautiful and offers one a great view of the surroundings. One ill feel a sense of peace and calm overwhelm you when one visits this temple.
Places to stay near
Arbuda Devi Temple
Hotel Good Luck Residency
Reviews of
Arbuda Devi Temple
•
1
Mount Abu was originally called Arbudanchal, named after Arbuda Devi. We visited the arbuda temple which is at a higher altitude and can be reached by climbing up a flight of stairs. This was the last place we visited before ending out trip of Mount Abu and heading for Delhi. It took us approximately 20 minutes to reach the shrine using stairs. And we are glad that we made the effort since this was a cave temple. We had to crouch through a very narrow hole to enter the Sanctom Santorum that housed a gorgeous stone image in black decked with ornaments and silk. The goddess apparently is one of the forms of Shakti and is extremely revered among the locals.
Attractions near
Arbuda Devi Temple