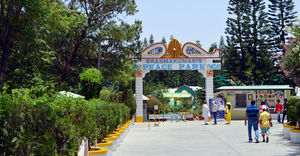 Best time to visit
9:00 AM – 4:00 PM
Open hours
8:00 AM – 7:00 PM
Things to do
Relax, meditate
Peace Park
This park is an effort of the spiritual organization known as the Brahmakumari Spiritual Organization. They are very popular and they make people aware of the fact that their body can be rejuvenated with the help of spiritual therapies, yoga and meditation. In this beautiful park, the theme is "the sound of silence". As you enter the park, you will be shown a video of around 15 minutes in which you learn about the importance of meditation and raj yoga. After this you can choose a place of your own comfort and meditate there. They also have parks for children and places for adults to sit and relax. If you want to detoxify your mind and body, this is a perfect place to visit.
Places to stay near
Peace Park
Mount Abu Luxury Apartment
OYO 3422 Hotel Golden Berry
Reviews of
Peace Park
•
2
Peace Park: The Brahma Kumaris Peace Park is both lovely and serene, a natural environment where silence and recreation co–exist. The park offers a perfect recreational environment, with level playing fields, picnic areas, swings, and nature walks. Nestled between two famous peaks of the Aravali hills–the well known spiritual pilgrimage destinations of Guru Shikhar and Achal Garh—Peace Park is an oasis of natural beauty only 8 kms from the Madhuban campus.
We visited another Brahma Kumari site on our way back from Guru Shikhar. This was a garden with some installations. The garden was well maintained and provided occasional benches and sitting areas. On an elevation in the garden was a huge Om. This seemed to be a favourite location for posing for photographs. They had some Brahma Kumari paraphernalia and guides to inform people about their order. Tip: Not a great place on a hot day
Attractions near
Peace Park