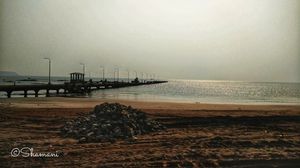 Best time to visit
The waters here are shallow and thus one can visit the place round the year.
Things to do
Enjoy the water sports here get an adrenaline rush
Budget
There is no entry fee to visit the beach.
Traveller Types
Friends, Couples, Families
Rank
23 out of 40 attractions in Ratnagiri
Mandavi Beach
This beach at Ahmedpur is considered to be the best in all of Gujarat and is a great place to vacation, soak in the sun while lying on its sandy beaches. The water is fine for wading or swimming and one will spot a number of sand castles being built by kids all along the beach. One can also make the most of the water sports like skiing, parasailing, surfing, water scooters and speed boats that are available at the beach. Indeed, Mandvi Beach is a great place for one to vacation and has become a favourite spot with the locals and as well as the tourists.
Places to stay near
Mandavi Beach
Attractions near
Mandavi Beach