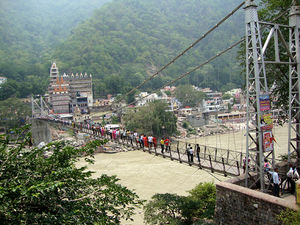 Best time to visit
Plan a trip to Rishikesh anytime from March to October.
Open hours
The bridge is open all through the week from 5:00 am to 10:00 pm.
Things to do
Feel the bridge vibrate if you cross over it on your vehicle or simply get some great pictures clicked here.
Traveller Types
Families, Friends
Rank
3 out of 45 attractions in Rishikesh
Lakshman Jhula
Considered to be the most popular of all the attractions in Rishikesh, the Laxman Jhula is a suspension bridge built across two banks of the Ganga River. This majestic structure was constructed in the year 1939 and has become a landmark in Rishikesh since then. Strong winds cause this bridge to sway a bit and it even vibrates when vehicles pass over it. The legend behind the bridge is that Laxmana of the Ramayana had crossed over the Ganges using ropes from the very same spot where the Laxman Jhula stands today. The view atop this bridge is stunning and one is bound to pose for a few clicks here.
Places to stay near
Lakshman Jhula
ADB Rooms Hotel Vyas & Nirvana Yoga
Reviews of
Lakshman Jhula
•
19
Attractions near
Lakshman Jhula