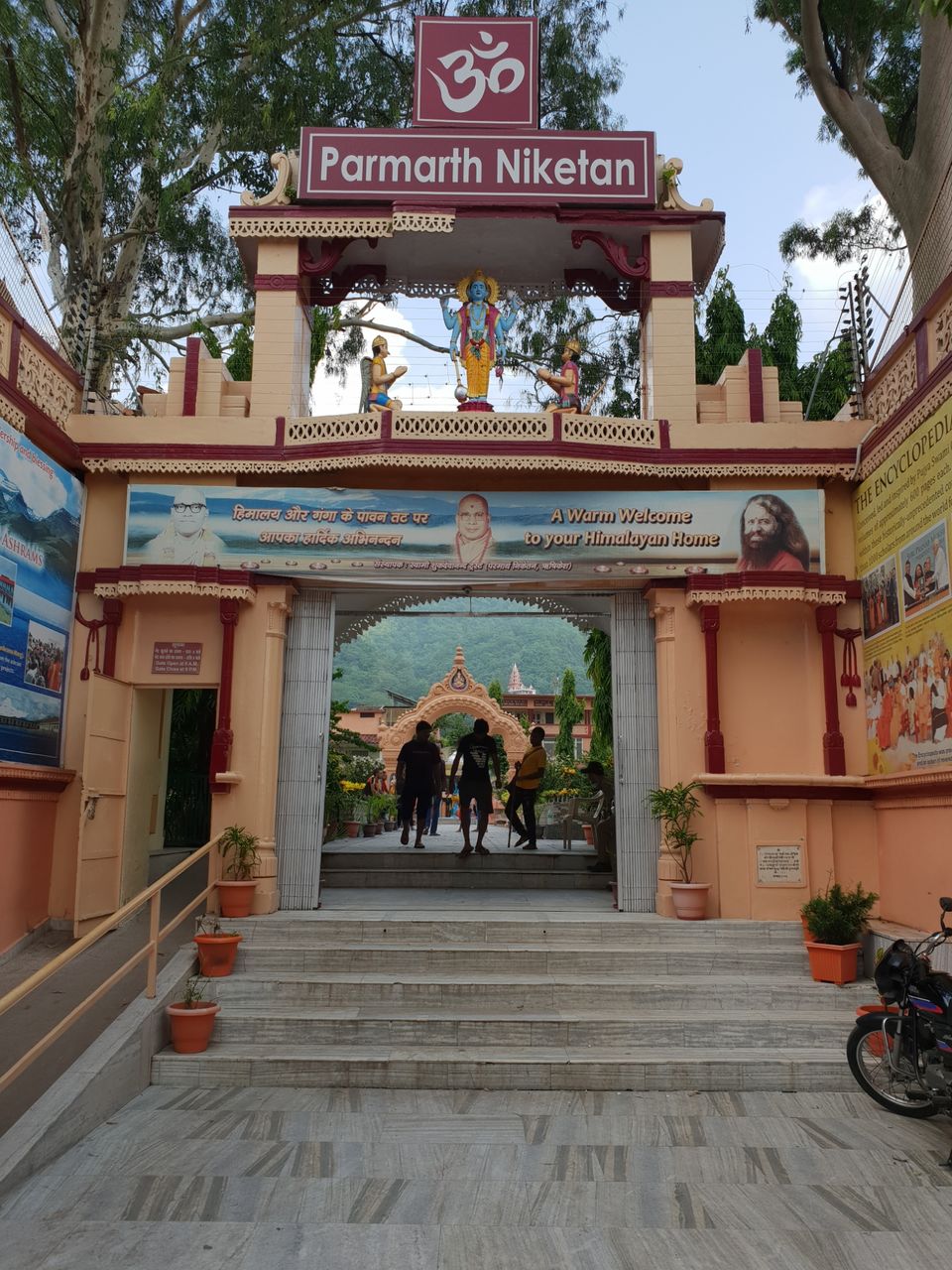 July my favourite month...
Every year I try my level best to visit one or the other place during my birthday month.
Because a birthday trip is far more worth than splurging money on alcoholic parties.
So this year also I did the same, I visited YOGA CAPITAL OF INDIA i.e. RISHIKESH as I was pretty fascinated to do camping and river rafting there. ( but was unable to do so..due to monsoon????????)
But trust me ... I did not plan anything regarding this trip. I simply asked my husband to take me to Rishikesh on 6th and he agreed. But because of our hectic working hours we were unable to even book a single hotel online.
We started our trip on 7th July from Ludhiana (Punjab)in the morning at 6.30 a.m. by car.
The distance between Ludhiana and Rishikesh is 291.6km(via NH 44 and NH 344 , so it took us almost 7.5 hours to reach the destination. As we took few halts in between to enjoy the scenic beauty as well to have something from small eateries and offcourse to click few pictures. ????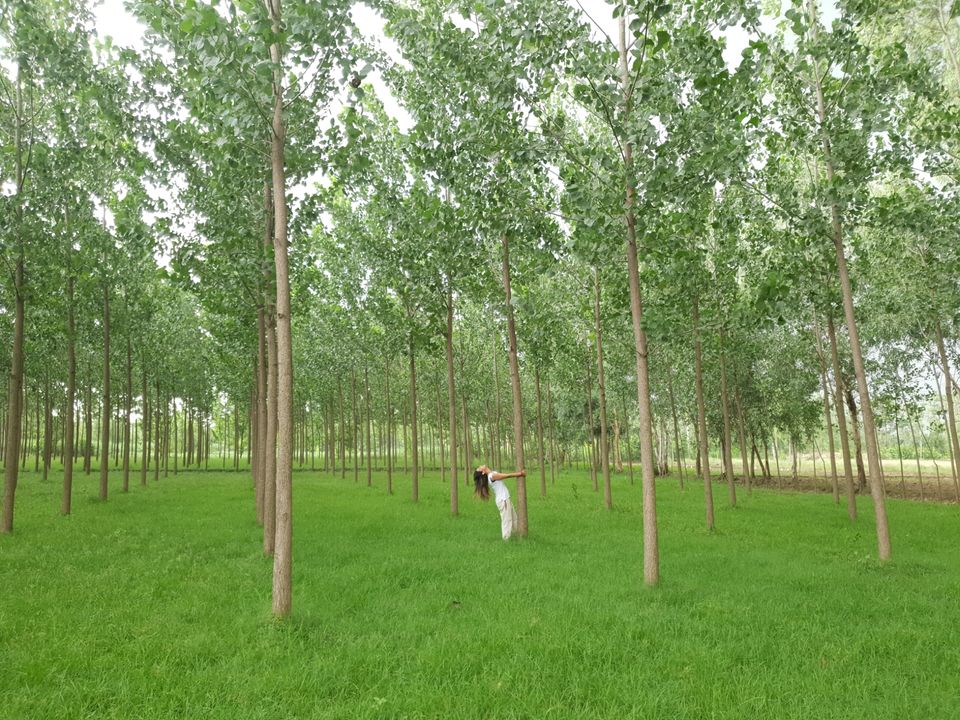 We reached Rishikesh at 1.30p.m. meanwhile on my way I was looking for hotels and campsites to stay..but I was not getting anything adequate, finally I came across one campsite , had the word with owner and he offered us the camp in 1100 per head including all the three maeals, I immediately agreed(as it was a good deal????) , he shared his location and we headed towards it, the campsite was located in Shivpuri( which is almost 19 k.m. ahead Rishikesh) in the beginning the roads to Shivpuri were quite smooth but after few kilometres we came across unmetalled narrow road which was lil risky to drive as Shivpuri is loacted at a height of 372metres above sea level. Finally we reached the campsite within 1 or 1.5 hours. The camps were really good and beautiful, room coolers were there along with 2 single beds. Due to monsoon no one was staying there so the place was looking lil monotonous, somewhere deep inside my heart I was not happy because I was unable to do river rafting and paragliding, then I asked myself why I should stay here. So I dropped the place, I explored the location , clicked few pictures and came back towards Rishikesh.
We checked out few places and finally selected Omkarnanda Gita Sadan for our stay, it costed Rs 2000 per night. It was a decent place, which provided us the view of River Ganges and Shivalik range, it was really mesmerising. By then we were quite hungry as it was 4.30pm, so we decided to have our lunch, we had it at famous restro CHOTIWALA,which was located at the walking distance from our place. The place served the food which was average in taste, I have only one quote for the place "NAAM BADE AUR DARSHAN CHOTE".
Without wasting anytime, we headed towards RAMJHULA, the most eminent place in the town.By crossing we reached the other shore of the river where LIVE GANGA ARTI TAKES PLACE which is daily performed at the time of sunset at the banks of River Ganges conducted by Parmarth Niketan.
Luckily we got the chance to attend that, I am not a very religious person, but the atmosphere there somehow forced me to attend the whole arti. The experience was out of this world, I have never witnessed something like this before, in this River Ganges is give homage and respect with shlokas and mantras. Even a massive idol of Shivji is present there.
After attending the arti we went inside to explore the Parmarth Niketan, that was the time when I became awestruck, the place was magnificent???????? albeit nobody has seen heaven, but now I can say heaven would surely be identical of this place. And then something urged me to stay there, I quickly ran towards to reception area to find out about the availability of rooms. Unfortunately, ????no rooms were available, I requested if somehow they can manage, then I got the answer ,"for booking room in Parmarth we need to book it online that too minimum 15 days prior."
But after few seconds, a lady sitting at the reception told me that may be tomorrow there will be availability of one room and I can confirm by calling them next morning.
After spending some leisure hours at the ghat, we went back to our room.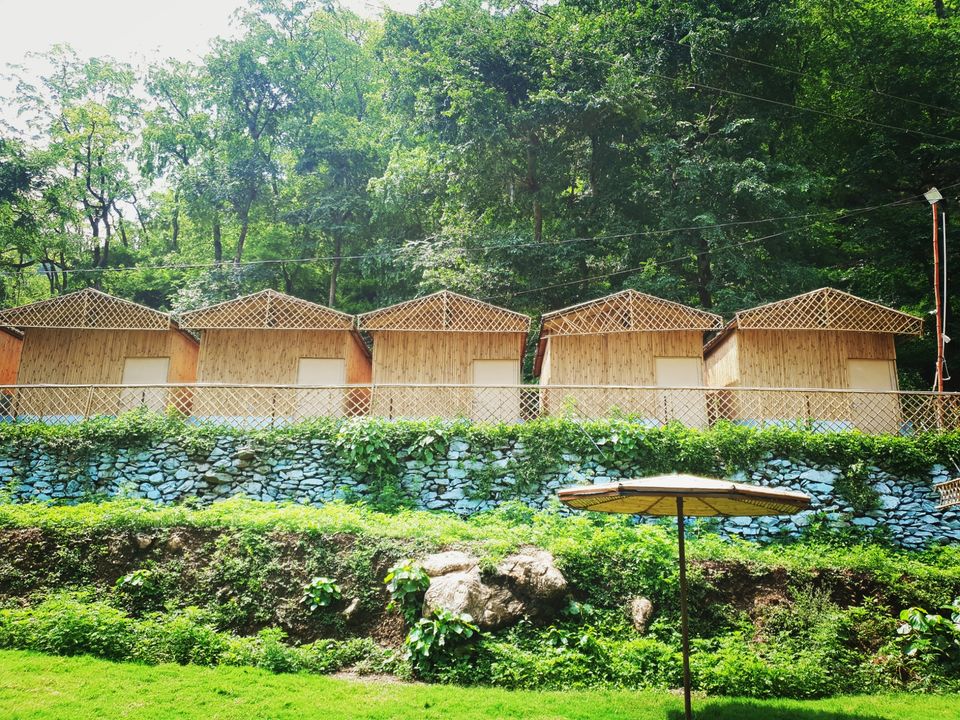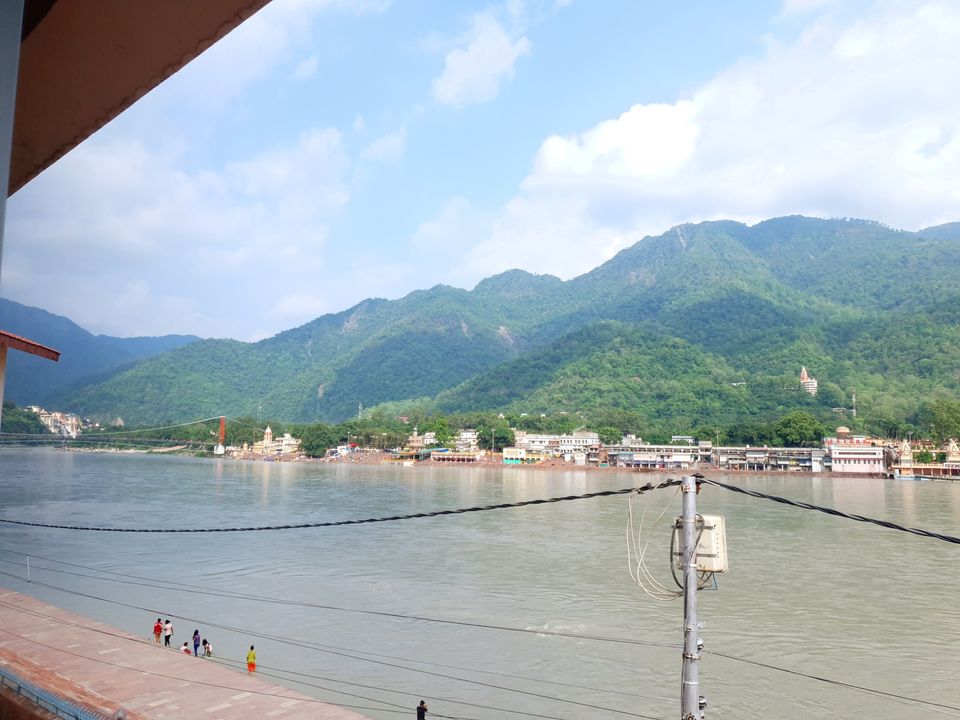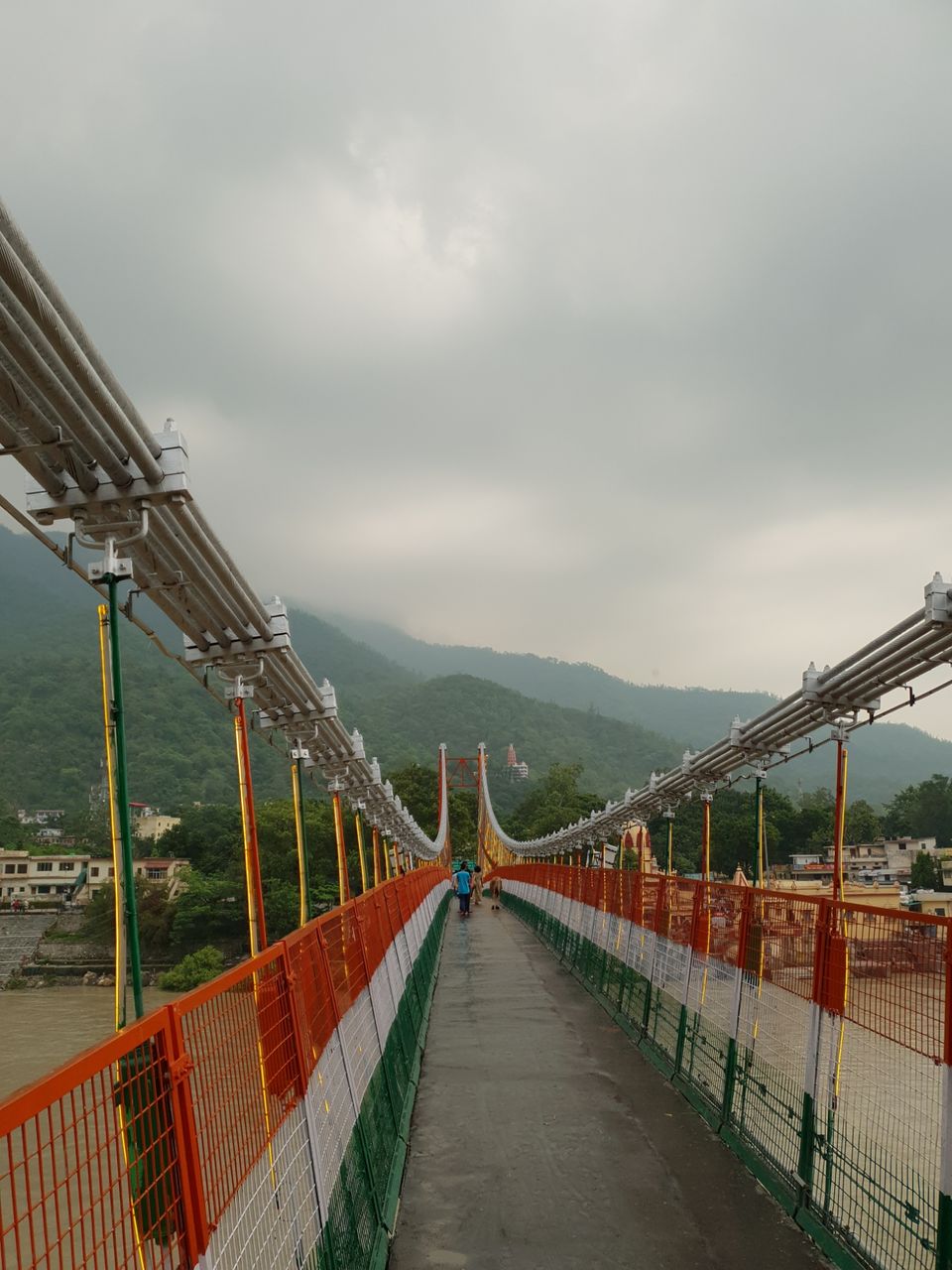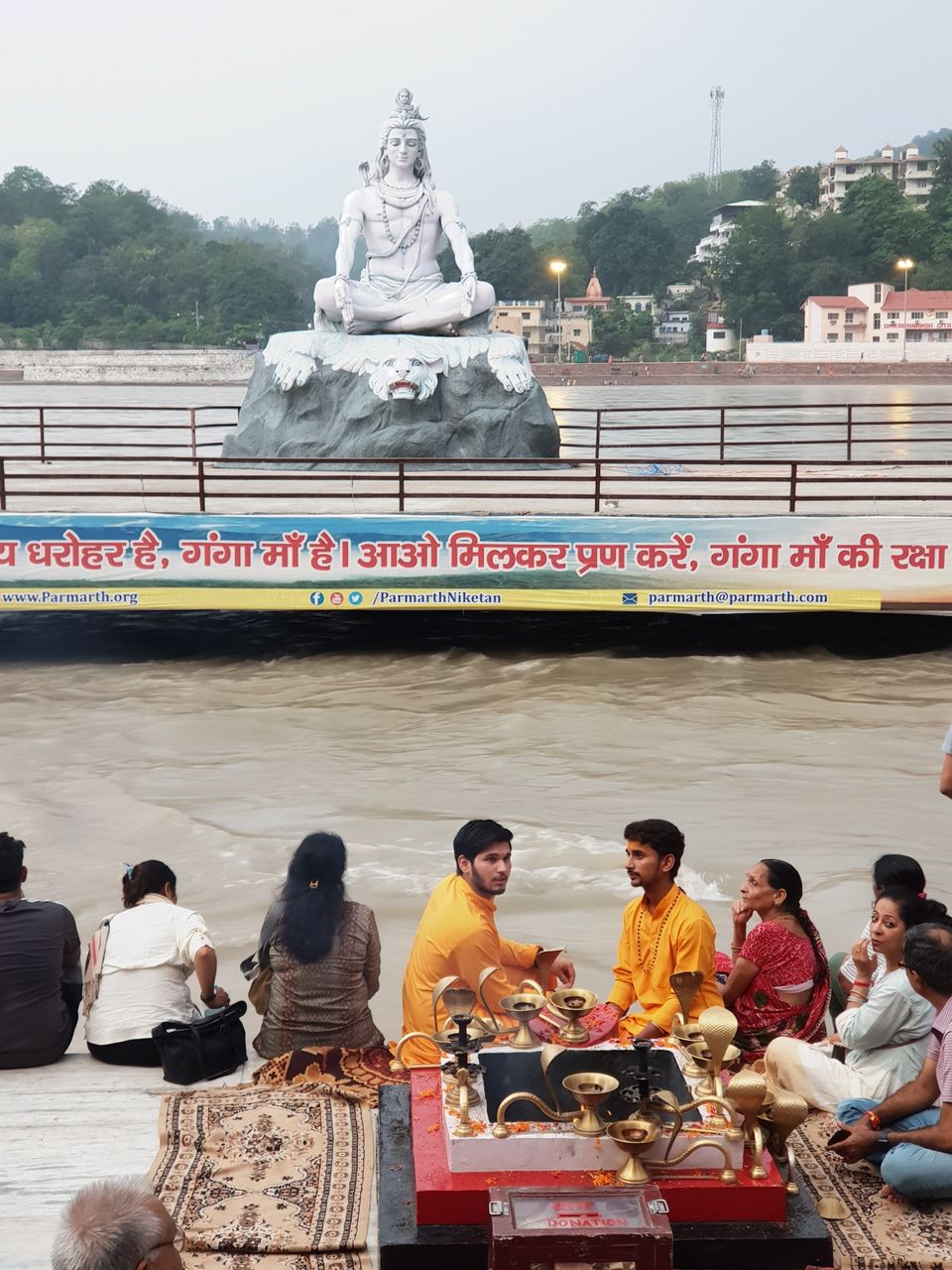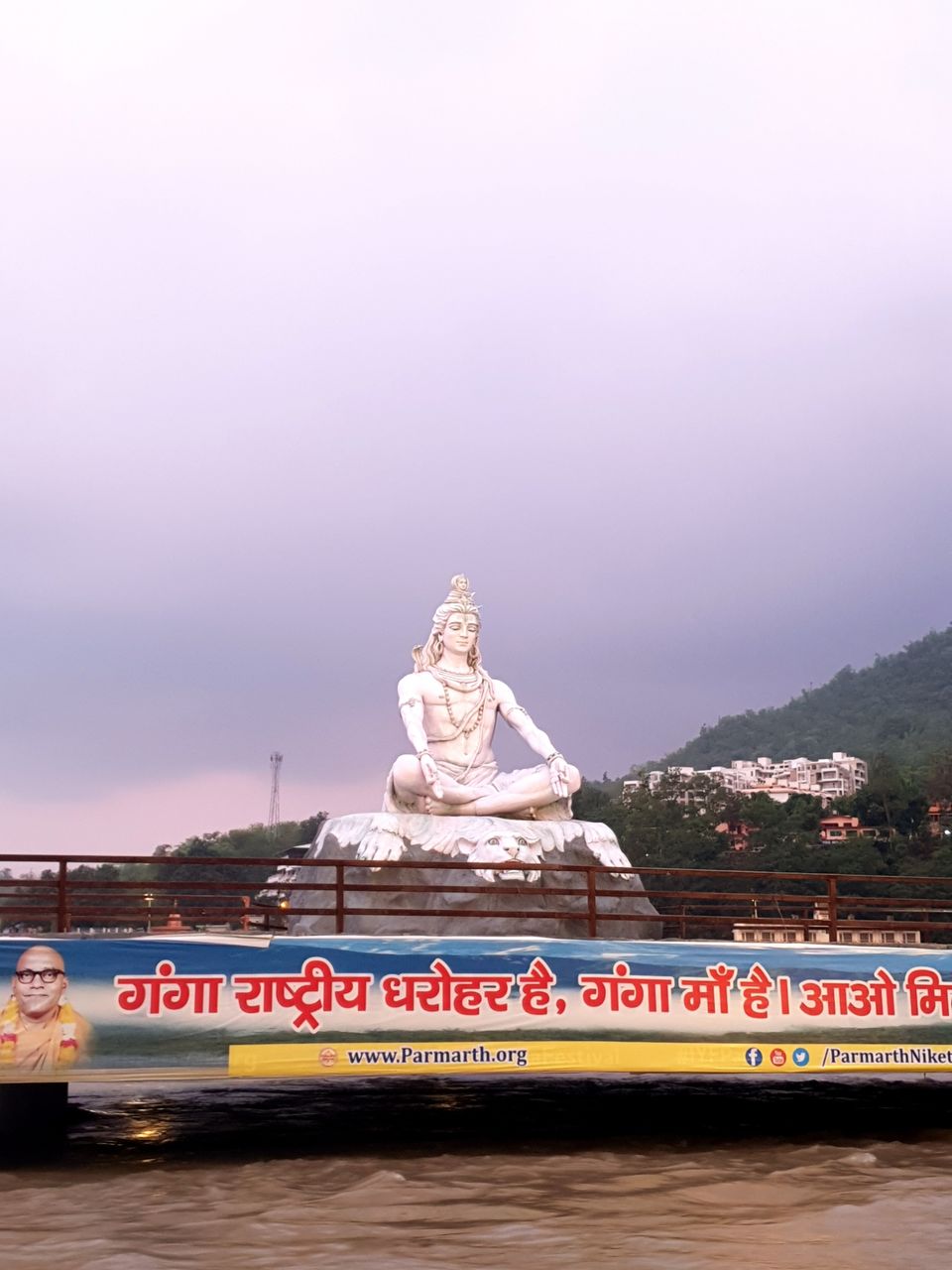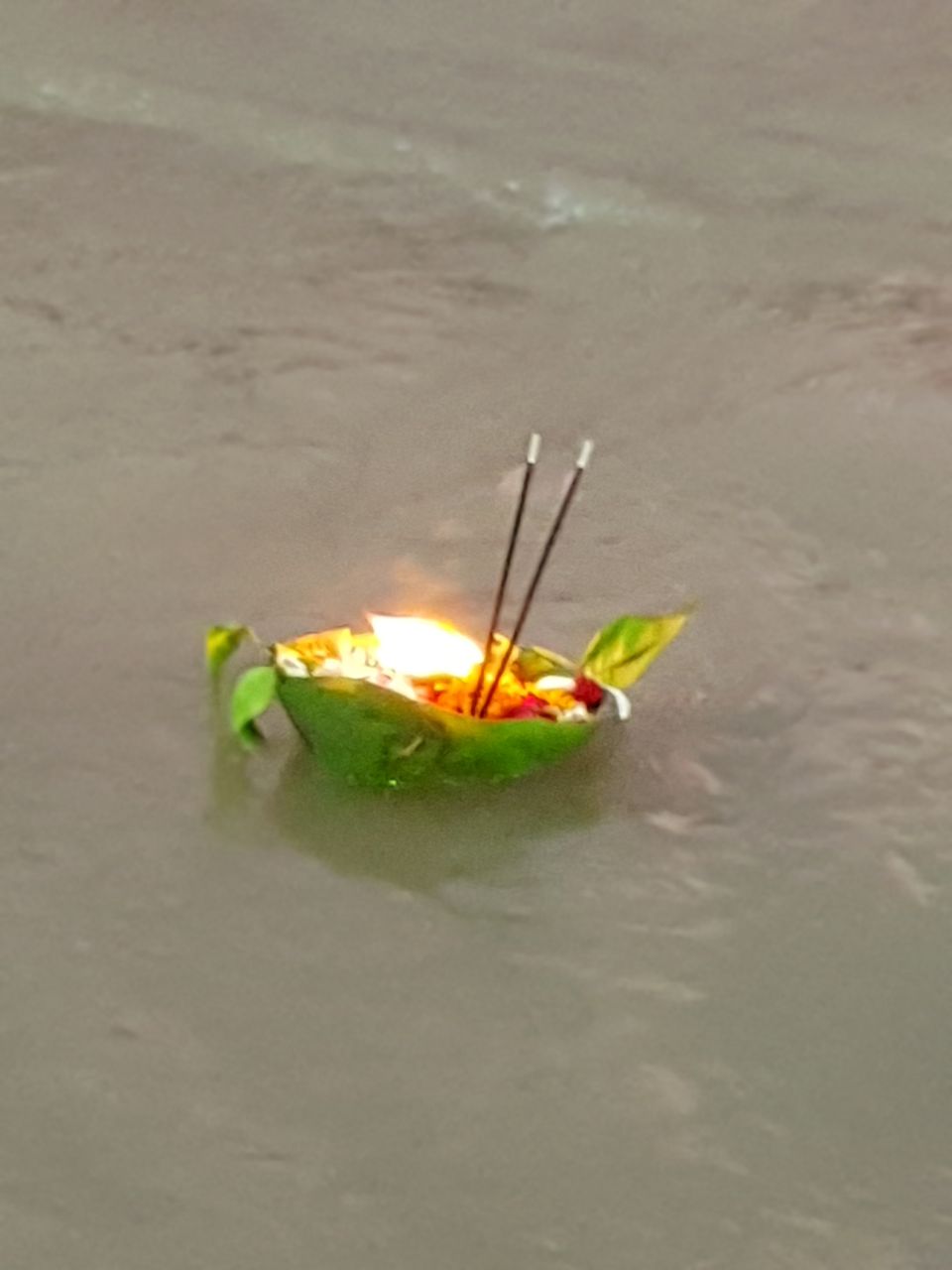 My next day started at 5.30am...and to my surprise , when I opened the curtain people were already doing Yoga at the ghat. I also quickly ran towards there, to inhale fresh air and do few Yogs. Well, to be honest enough I am really short of words to describe the nature's beauty which was confronted by us. It was like the river and the sky have merged together, and clouds not only crossed mountains and rivers infact they crossed us as well.
We spend almost 2-3 hours there and it made us elated to the core. Then we started wandering around the city, from all around, the bhajans and kirtans were audible, the atmosphere was so pure and serene, one can forget all the worries of life. We also didn't miss chance to see LAXMAN JHOOLA, mandatory place too see , when in Rishikesh.
Around 9.30 a.m. I called Parmarth Niketan to confirm about the status of room availability, by good fortune I got the room there but they asked us to check in after 11.30am, that wasn't a big deal for us.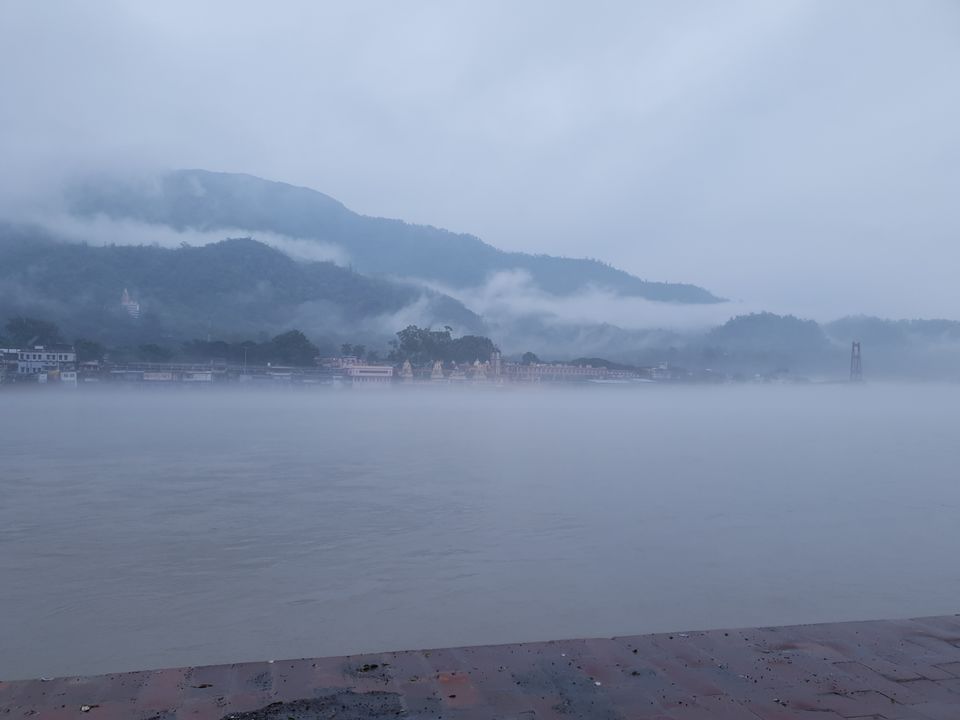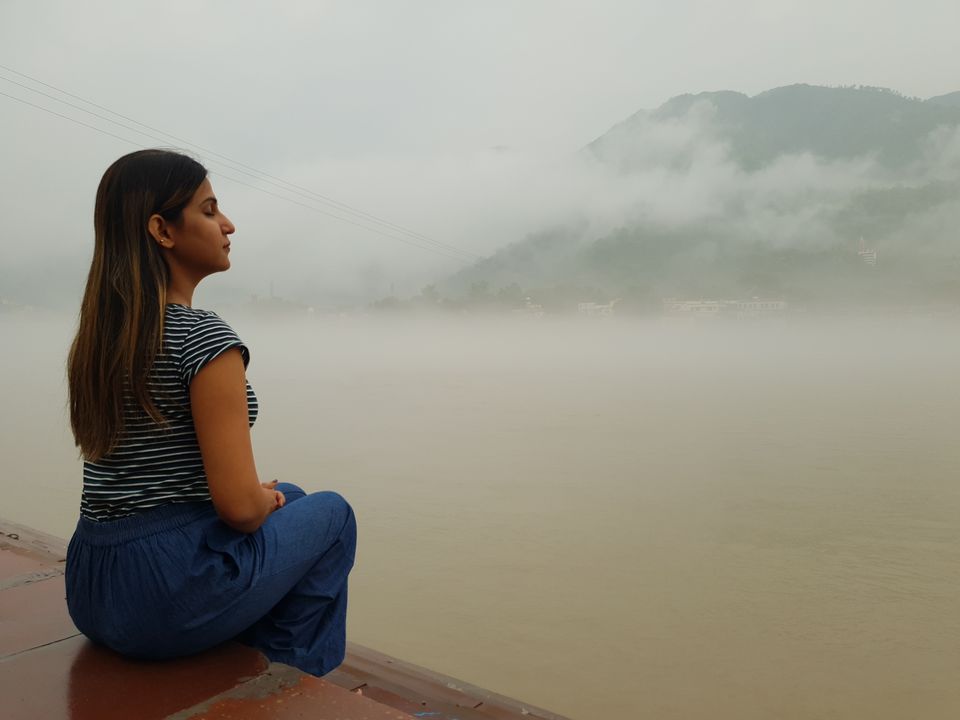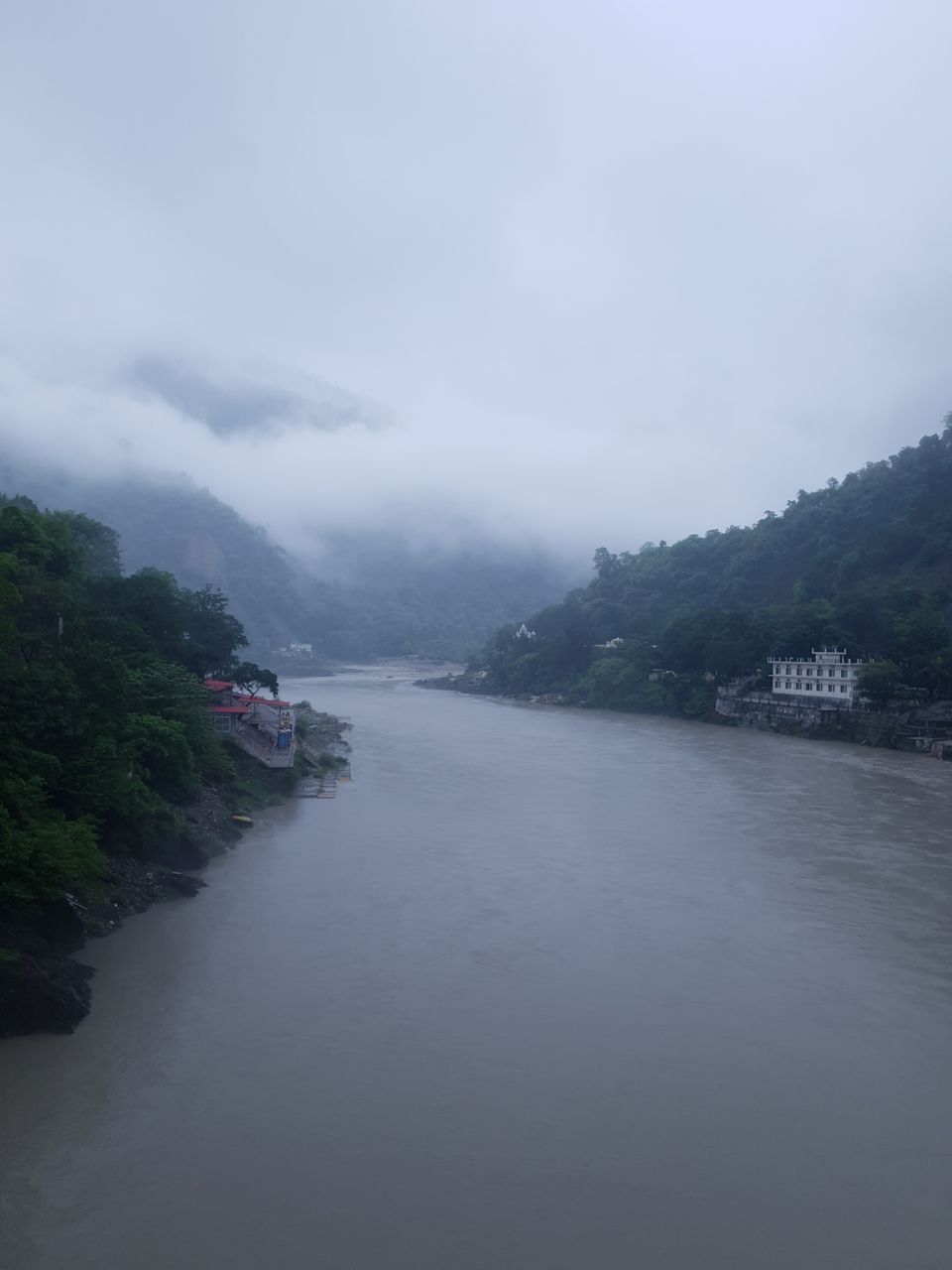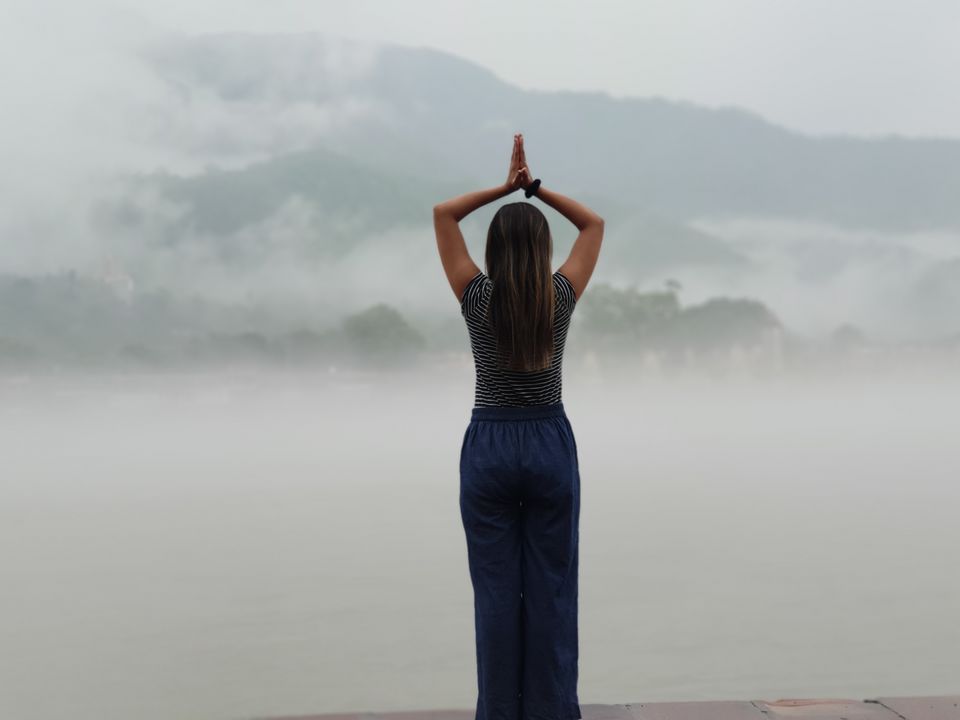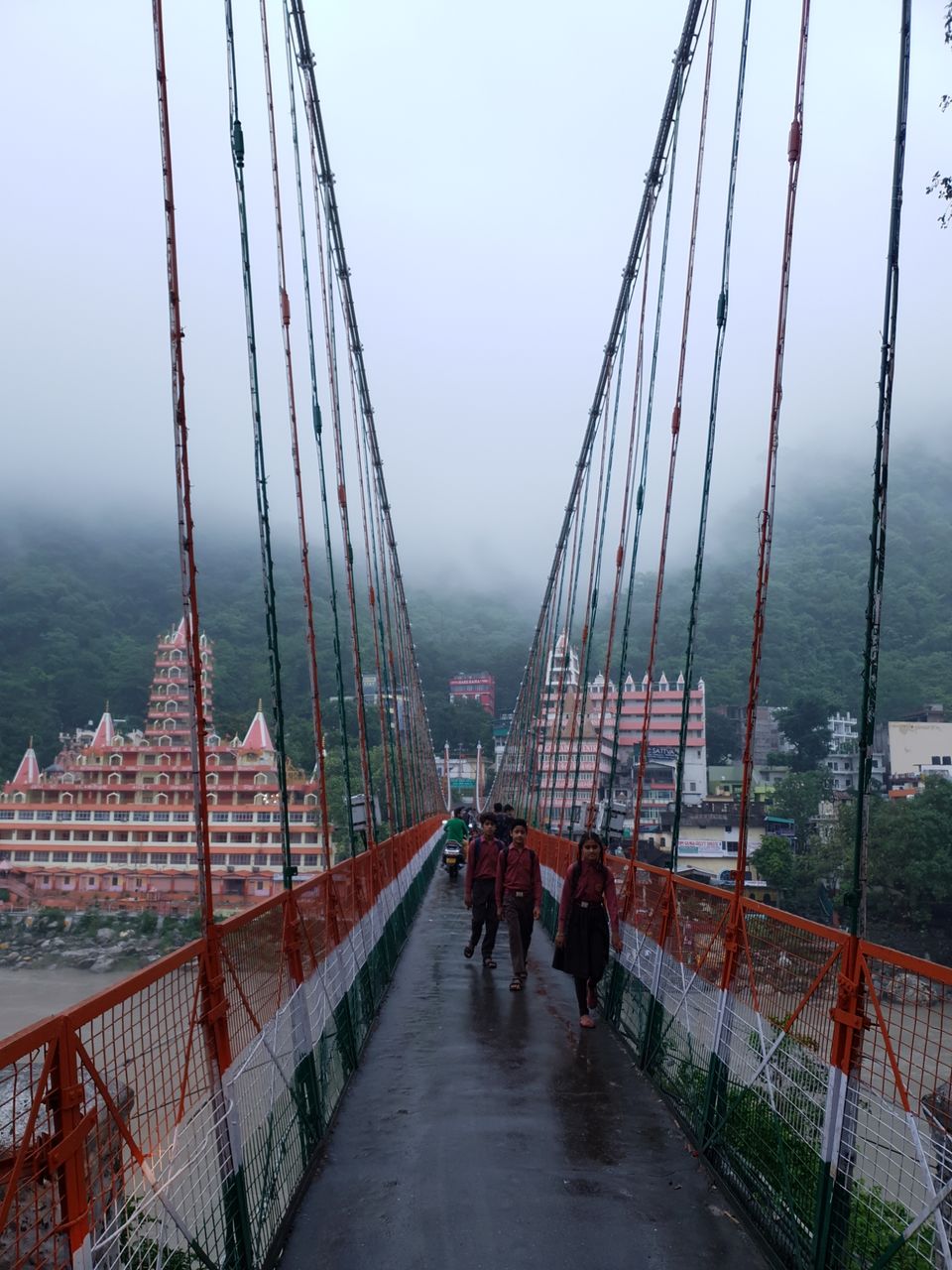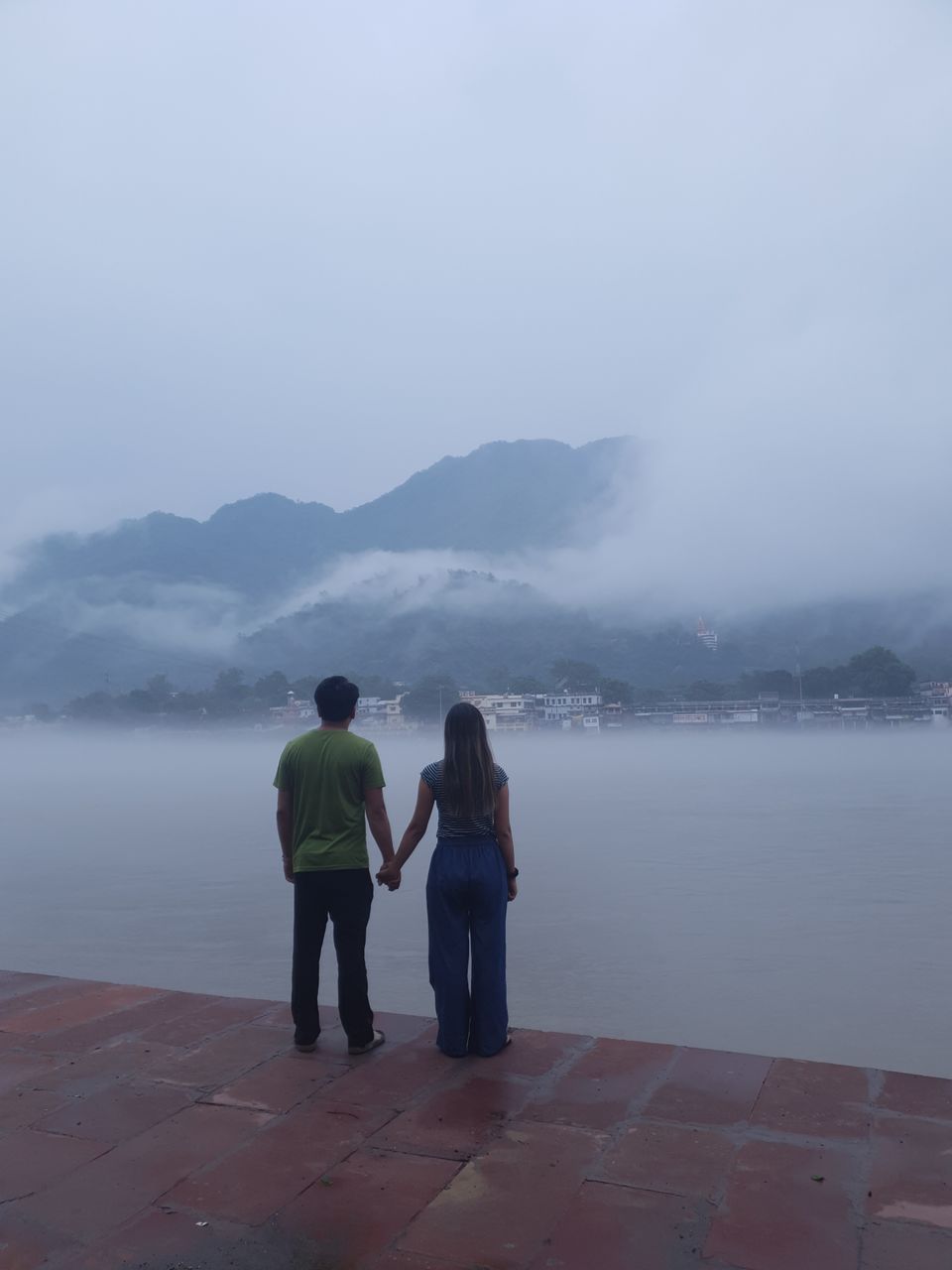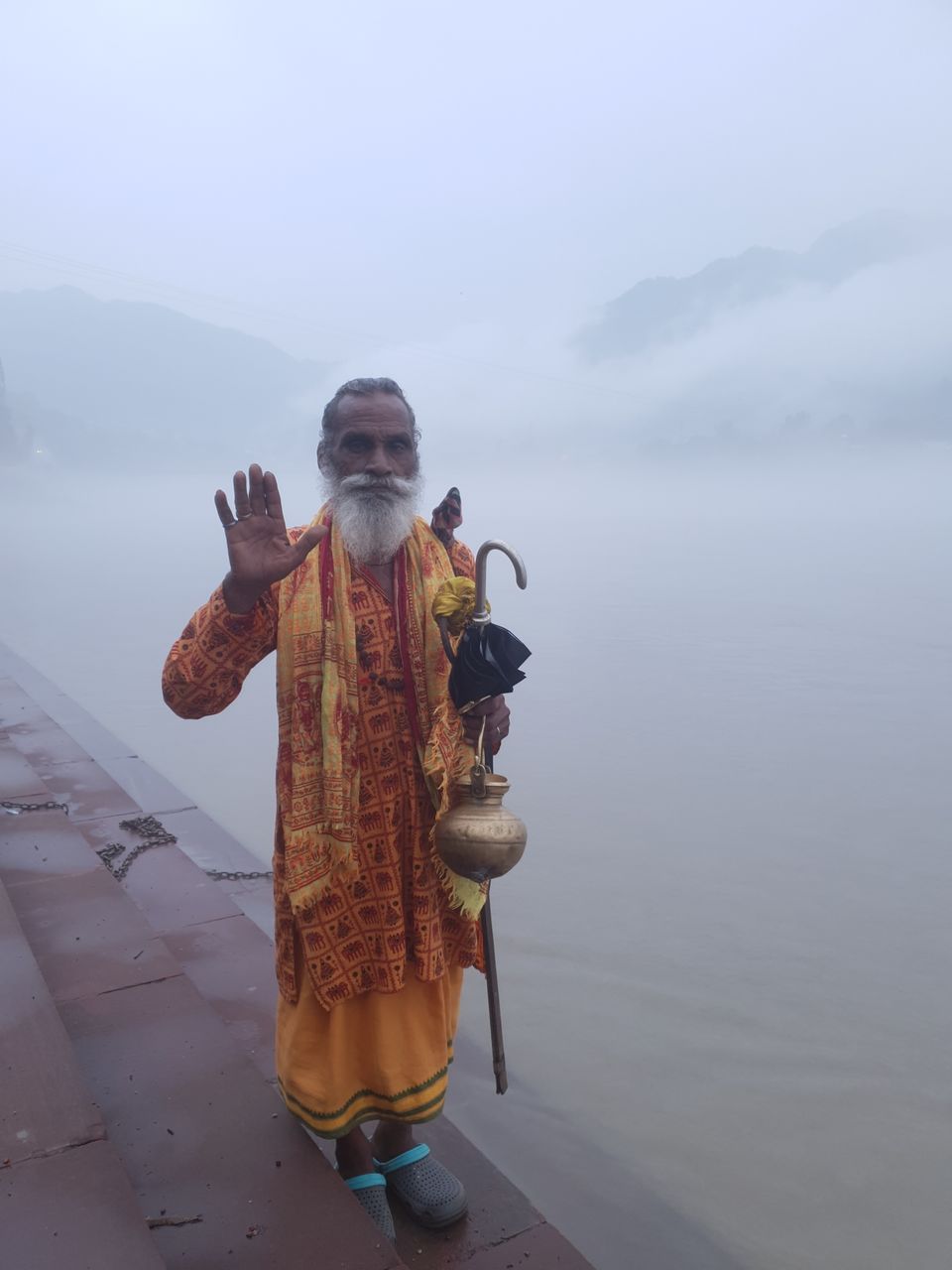 We reached Parmarth at around 1.30, we parked our car inside the ashram, their parking area is located at the backside, to reach there people need cross RAJAJI TIGER RESERVE which itself is a lovely drive, and if you are lucky enough then you can get the chance of getting a glance of few wild animals. We spotted few Langoors and Swampdeers.
Finally we reached our destination, completed the formalaties and got the room. The price of the room was Rs 1000 (AC) with an impressive view of Shivalik range. The room was similar to, as of a 2 star hotel.
We kept our luggage, got freshened up and then moved out of room to visit the ashram, as it is the largest ashram in the city, so it took us alot of time to see the whole place.
All the corners of the ashram are clean and pure, one can attain peace of mind, there are numerous lush green gardens with variant flora around. It has almost 1000 rooms which are bifurcated into different blocks, we stayed at Ganga block. There are two categories of rooms AC (Rs 1000) and Non AC (Rs 800). Facilities provided are a blend of modern and conventional trend, with spirituality imbibed in everything. The place welcomes all types of guests and pilgrims from all corners of the world irrespective of any caste, creed or religion.
During my stay, I felt like my whole body and mind has been completely revitalised , I did not experience anything more divine than this.
Moreover, the ashram has a canteen as well, which serves fresh and healthy food at a very minimal price of , cost of one thali was Rs 70,(timings of the canteen are 6.30 a.m. to 10.30 p.m.)We had our lunch and dinner there only.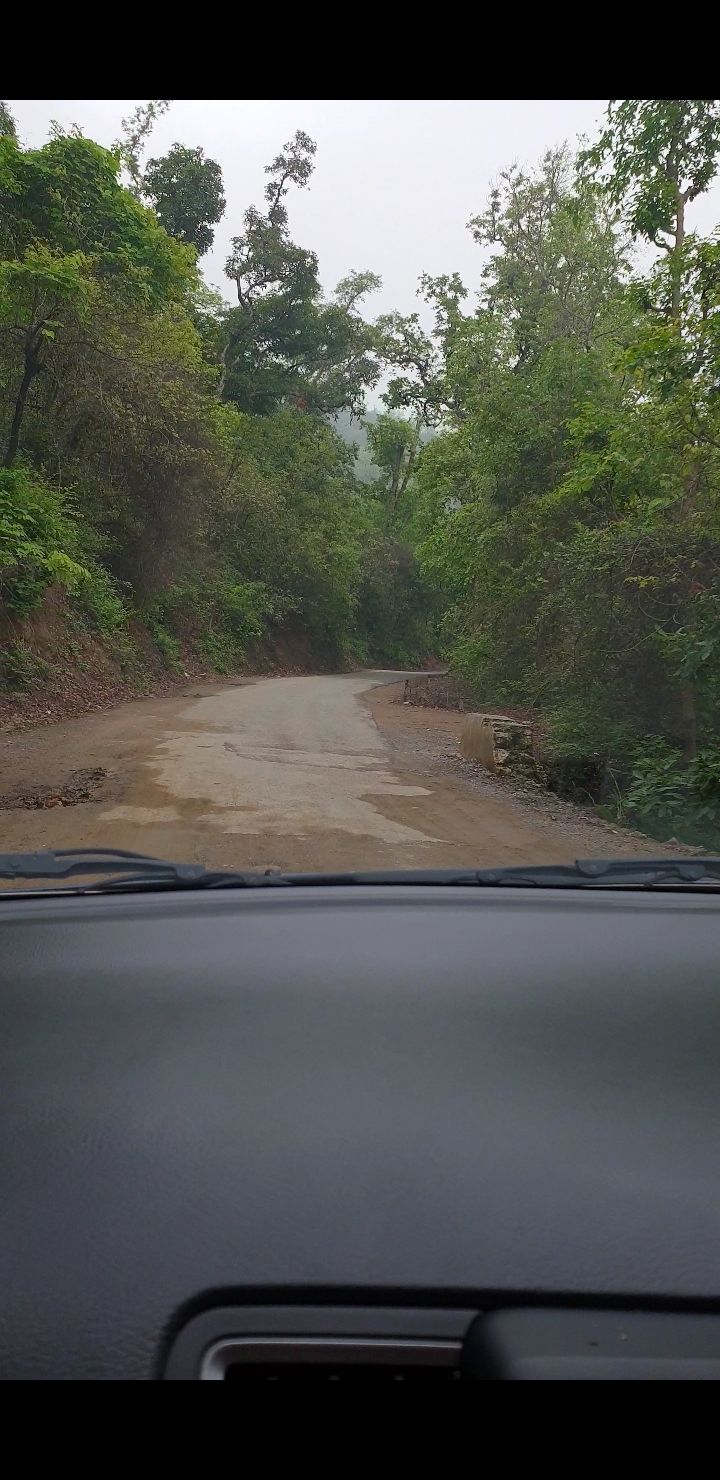 3rd morning was the memorable one , as I woke up at around 6.30 a.m. and took the holy dip in magical Ganges...Uuuuhhhh gosh ...the water was freezing I was even unable to put my feet inside the river ???????? but after 5-10 mins my husband suddenly pushed me ....aaaahhhhhhhh...I wasn't even able to scream....I was that much stunned...it was completely out of the blue...The water was that frosty....Gosshhh..but after then I was not ready to come out???????????????? as I started enjoying I spend almost 25 mins in the river.
We went back to our room, got freshened up, had our breakfast in cateen , then we moved out to do liltle bit of shopping from the bustling streets of Rishikesh. The market was lined up with different shops which included ethnic arts, handicrafts and many food joints. We did quite a handful of shopping and relished our taste buds with PaaniPuri's (made up of rice flour) which I never tried before...they were damn delicious (a must try). We spent almost whole day in this only. At evening we came back and attended the Ganga Arti, massive amount of people were present there on that day, as celebration of Guru Purnima was started. At night we went back to our room and next morning approx 8.30 a.m. we checked out.
This is how our trip ended and I came back home without any regret of not doing river rafting.
????????
Activities in Parmarth Niketan:
1. Daily morning universal prayer.
2. Daily satsang.
3. Live Ganga arti.
4. Ayurvedic Treatments.
5. Daily Yoga.
6. Meditation.