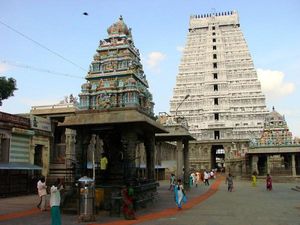 Arunachaleshwar Temple Kulam
A peaceful temple on the peak of the Annamalai Hill, this is one of the temple in the Naadu Naadu Range. Hymns about the deity of Arunachaleshwar here has been mentioned in the Thembakam scripts also. This is a seat of elemental worship and Lord Shiva is worshipped in the form of fire. The temple is itself in the form of the Black Shiva Linga and water rippes down the stone walls continuously. The lord is seen to be in the lap of his mother and this is a scene of love, softness and grace. The Girivalam ritual is performed on every full moon here and this temple is a major reason for the tourist footfall in Tiruvannamalai. Also, you can worship here with a lot of peace since not many people come here due to the climbing they have to do to reach the temple.
Places to stay near
Arunachaleshwar Temple Kulam
House of love Near Ramana
Rainbow Guest House Tiruvannamalai
cozy 1bhk flat near ramana
Reviews of
Arunachaleshwar Temple Kulam
•
1
Tiruvannamalai (Thiruvannamalai) is a world renowned temple town in TamilNadu which is synonym to deepam(fire). Here Shiva (Arunachaleswar) is worshipped in the form of fire. This temple enshrines Lord Annamalai (Lord Shiva) and Goddess Unnamalai (Goddess Parvati). Ashes and Kumkum are offered as prasad or blessing to devotees in Annamalai lingam and Unnamalai temple respectively in the Arunachaleshwar temple. Note: Arunachaleswar Temple daily opens at 5.30 a.m. and closes at 9.30 p.m. During the midday period of 12.30 p.m. to 3.30 p.m. all the shrines inside the Temple Complex, including both Shiva Sannidhi and Unnamulai Shrine, are closed. However several of the Gopuram Gates to the Temple are continuously open throughout the day, so one can enter and exit the Temple Complex without interruption.
Attractions near
Arunachaleshwar Temple Kulam