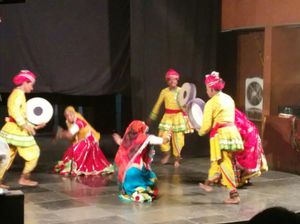 Best time to visit
October to February
Open hours
10:00 AM to 6:00 PM
Things to do
Watch Puppet show, Rajasthani folk dance
Budget
INR 70 for the show
Best Months
September - February
Rank
2 out of 3 attractions in Udaipur
Bharatiya Lok Kala Mandal
The Bhartiya Lok Kala Mandal is more of a cultural centre that organizes theatre shows and performances from time to time. The puppet show is the most famous here that a lot of visitors crave to see. The show takes place every half an hour so it is quite a difficult thing to miss. Rajasthani dances is another of the activity that you can check out at this Mandal. The museum here is full of different types of puppets. There is a craft collection exhibited on the racks as well for those who have an interest in history and culture. The entry fee is minimal and therefore affordable.
Places to stay near
Bharatiya Lok Kala Mandal
Hotel Hanuman Ghat & Cafe Helsinki
Reviews of
Bharatiya Lok Kala Mandal
•
1
We visited the Bhartiya Lok Kala Museum (handicraft museum) expecting to see a puppet show. The museum has many good exhibits relating to various tribes in Rajasthan and it helps learn more about the Rajasthani culture. The puppet show will be conducted only if there are a minimum number of visitors and we were lucky to witness it along with a small crowd. It was a memorable experience to see a live puppet show. We congratulated the artists after the show and gave some tips too.We had our lunch at a restaurant named Green chilly, the food was quite filling and tasty. Further we explored a government aided handicraft showroom. There were plenty of interesting stuff to see, but a bit expensive as they are all either exquisite hand-made items to support village artists or traditional classic pieces from history. These showrooms were previously Havelis (mansions) of the Royal members, now given free of rent to the artists to sell their items. We visited another shop named Riyo near the city palace from where we bought some natural fibre clothes. The sales person explained the various types of natural clothing materials available such as textile made from bamboo fibres, lotus stem fibres, etc. The fabric felt very smooth on the skin unlike the artificial textiles that we usually buy.
Attractions near
Bharatiya Lok Kala Mandal