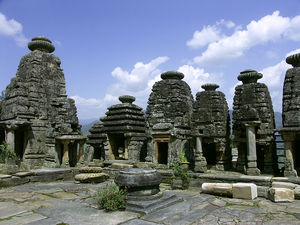 Katarmal Surya Temple
This temple was constructed in the 9th Century AD by the Katyuri Kings, it has about 44 smaller temples bulid around the deity, Surya. It is also a monument of national importance under the Ancient Monuments and Archaeological Sites and Remains Act of 1958.
Places to stay near
Katarmal Surya Temple
Hotel Shivalik River Retreat
Couple room in a cottage, by GuestHouser
Reviews of
Katarmal Surya Temple
•
3
One resides at Odisha, the "Konark Surya Temple" aka Sun Temple and the other at Haughty Mountains of Almora distt., in a small village known as "Katarmal Surya Temple" aka Katarmal Sun Temple.The former "The Most Renowned", while the later "The Hidden Gem" of Kumaon region. Both are true masterpiece of art and structure.
The temple comprised of the main shrine and a cluster of smaller shrines around it. In the sanctum Santorum , there was a stone statue of The Surya perched on his regal chariot drawn by the seven horses. There were other broken pieces of idols as well and we could identify Ganesh, Vishnu and Shiv. We saw lamps and flowers and a priest. More importantly the cluster of shapely stone structures of varying sizes perched, quite high on top of this hill, secluded from civilization, basking in the brightness of the sun in all their regality, was serendipitous. The place left a deep impression on us. We spent about an hour there absorbing the beauty of the temple and clicking photographs.
This is the second Sun Temple of India after Konark. A little known place, it is about 3-4 KM from Kosi, a town that you can reach easily by bus and then walk it to the temple. Though the temple has not been spared the ravages of time, it is nevertheless still beautiful, and the fact that it is nestled in the hills with no metaled road connecting it, it still remains calm and peaceful. Being a Sun Temple, the first rays of the sun are supposed to fall directly on Shiva's idol. But this would be an ambitious journey indeed. But even in the middle of the day, this crumbling, decadent structure has its own charm.
Attractions near
Katarmal Surya Temple