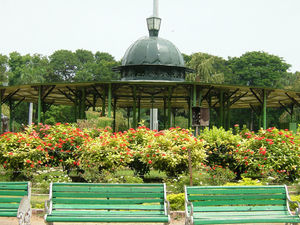 Best time to visit
11:00 AM - 6:00 PM
Open hours
5:00 AM - 8:00 PM (garden timings), 10:00 AM - 10:00 PM (train timings), 10:00 AM - 6:00 PM (zoo timings), 5:00 PM light and sound in Gujarati, 6:00 PM in English and 7:00 PM in Hindi. Closed on every Thursday.
Things to do
museum tours, photography, toy train rides, zoo tours
Budget
Rs 7 per adult for planetarium, Rs 5 per child for planetarium, Rs 40 oer adult for toy train, Rs 20 per child for toy train, Rs 10 per adult for zoo and Rs 5 per child for zoo
Rank
3 out of 57 attractions in Vadodara
Sayaji Baug
This park was built by Maharaja Sayaji Rao III in the year 1879 and it was named after him. The local people also call this park the Kamati Baug and it is just on the banks of the river but also in the middle of the town. The location is such that you can reach this place from any part of the town. This park has soft green grasses, fountains, 2 museums, a flower clock and also an operational toy train. You need at least an hour and a half to finish exploring each and every part in detail and then can enjoy the light and sound shows in the evening.
Places to stay near
Sayaji Baug
palmera serviced apartments
Reviews •
1
It is a historical garden, like a jogger's park and yet has statues and band stand and ground clock and many other attractions. It is in the heart of the city and a huge garden with pleasant atmosphere.
Attractions near
Sayaji Baug