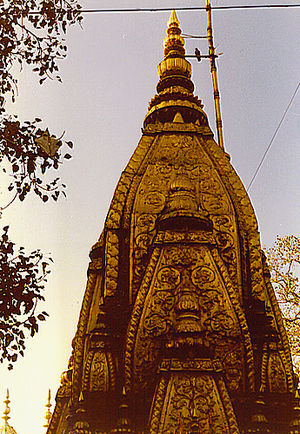 Best time to visit
6:00 AM - 8:00 PM
Open hours
4:00 AM - 11:00 PM
Traveller Types
Families, Couples
Rank
8 out of 84 attractions in Varanasi
New Vishwanath Temple
Better known as the Kashi Vishwanath Temple, this is one of the most famous Hindu temples in the world. Moreover, this is the holiest existing place for Hindus in the country. The Shivalingam worshipped here is said to be the oldest and holiest of all other Jyotiralingams. The temple is also known as the Golden Temple as the gopuram or upper facade is wrapped in gold sheets. This place of worship is also mentioned in the Mahabharata which has always made Varanasi the holiest place of worship for the Hindus in the world. The temple was built much later by a Maratha queen named Ahilyabai Holkar. This is also one of the most visited places on Earth.
Places to stay near
New Vishwanath Temple
Banaras Paying Guest House
Reviews of
New Vishwanath Temple
•
1
A beautiful quiet place where one can learn about different gods of Hindu religion.
Attractions near
New Vishwanath Temple