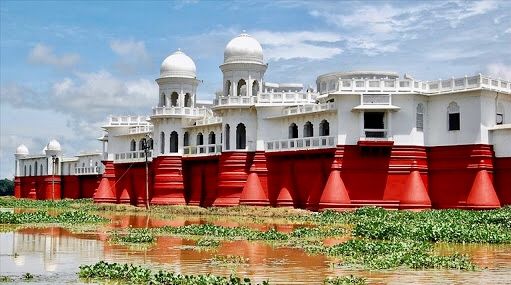 While the lights glittered and dazzled the City Place of Udaipur for an extravagant Indian wedding, the Neermahal Palace of Agartala watched a quiet sunset on the backdrop of fading chirps.
Located on a fast disappearing lake Rudrasagar, Neermahal Palace bears a striking resemblance to the Jag Niwas Palace of Udaipur and represents the unheard royalty of the kings in the east.
King Bir Bikram Kishore Debbarman of the Manikya dynasty built this palace in the year 1930. Constructed by a British company called Martins and Burns, the palace was completed in 9 years after its commencement.
The King was a progressive ruler who pioneered the planning of the present day's Tripura and is also considered as the father of Tripura's modern architecture.
Why travel to Neermahal Palace
Neermahal is one of the many jewels the north-east wears in its crown. It's rightly so because of the beautiful architecture which is a perfect unison of Hindu and Muslim culture. The elegant white towers, artistic bridges, and windy balconies make it a sight for sore eyes.
This sandstone and marble structure is divided into two parts - East & West wing. The eastern side has an open-air theatre which was used for cultural events, while the western side commonly known as Andar Mahal was reserved for the Royals.
One of the most interesting facts about this palace is that it's the largest palace in India situated on a lake. However, due to rapid civilization around the lake has led to a depletion in the water levels.
In the month of August, the local body and the government organizes the Neermahal Water Festival which is a cultural gathering celebrated with gusto. The biggest attraction of this event is the boat race on the Rudrasagar Lake.
When to go
The perfect months to visit the palace is from October to February.
Timing: 7:00 AM to 10:00 PM (Monday to Sunday)
Getting there
Tripura's capital Agartala is the nearest city to the palace which is connected by air & railway. Travelling to the palace from the city will take approximately 45-55 km.
North East India is full of such hidden gems and its time to notice them and preserve them. If you are aware of any such place then do share it with us here.
Why should English readers have all the fun? Tripoto is now available in Hindi: https://www.facebook.com/TripotoHindi/