It is a kind of coincidence that the Adventure team of Agra went to Rajasthan just before Lockdown. We came back on the 15th of March and now again, today, that is 17th October, we are going to Rajasthan.
This time let me take you all to Khuri.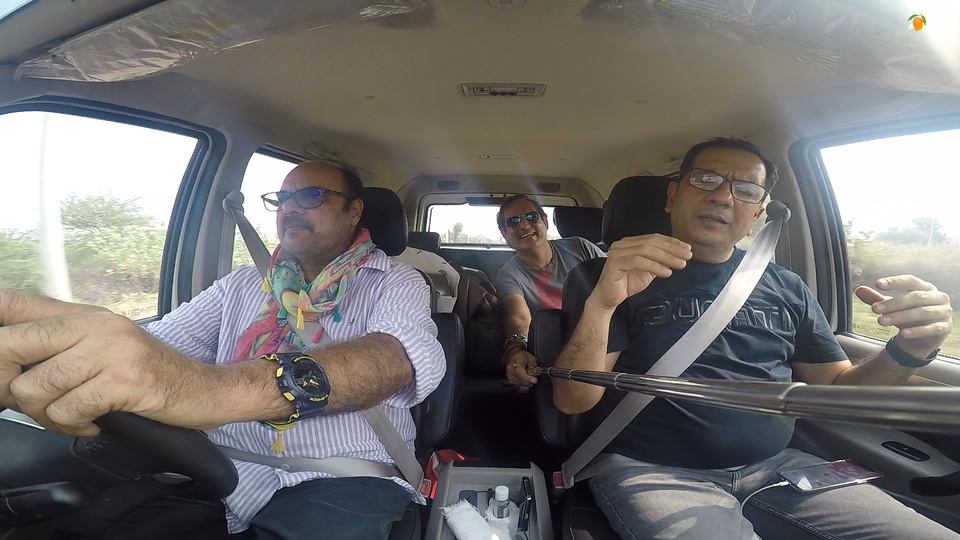 And to reach here, we took a little different route. As per google maps, we should have gone to Nagaur from Jaipur. But we took the route from Jaipur to Ajmer and from Ajmer to Merta, and from Merta to Nagaur. We did this on the thought that we might discover something new but it does not happen. Recently monsoon was over and we found Rajasthan quite green, I did not expected this.
I appreciate that Govt. and people of Rajasthan together want to make this desert state into heaven. We should learn from them. However, now if you want to see the real desert then you have to come to Jaisalmer.
Harvijay sir is 70 years old and he drove non stop to Khuri, it took us 14 hours. A big achievement for this age.

It was 5.30 pm when we reached Khuri. We already pre-booked Mama resort here for our stay.
There is no Petrol pump in Khuri if you are coming by your vehicle and please make sure your car or bike petrol tank must be full. There is no petrol pump in this village. However you can get it from one shop here. (ask any local resident for it's address)
Today the petrol price is Rs. 100/- and diesel is Rs. 90/- here. (October 2020)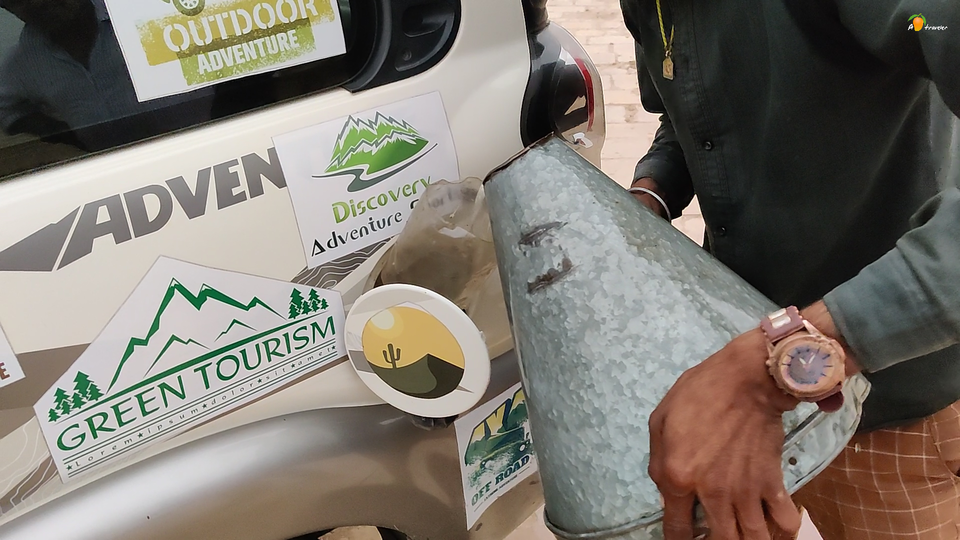 ABOUT KHURI
Khuri is an off-beat location. If you love the desert, or you are quite an adventurous fellow or if you want to stay alone with yourself that you don't want to see any dog out there... sorry... I mean you don't want to see even a Camel, then this is your kind of destination.
This place is not like sam sand dunes. Sam sand dunes are quite commercialized now. However, you would find resorts and activities here just like sam sand dunes. Since this place is in a lonely location so it is also kind of expensive.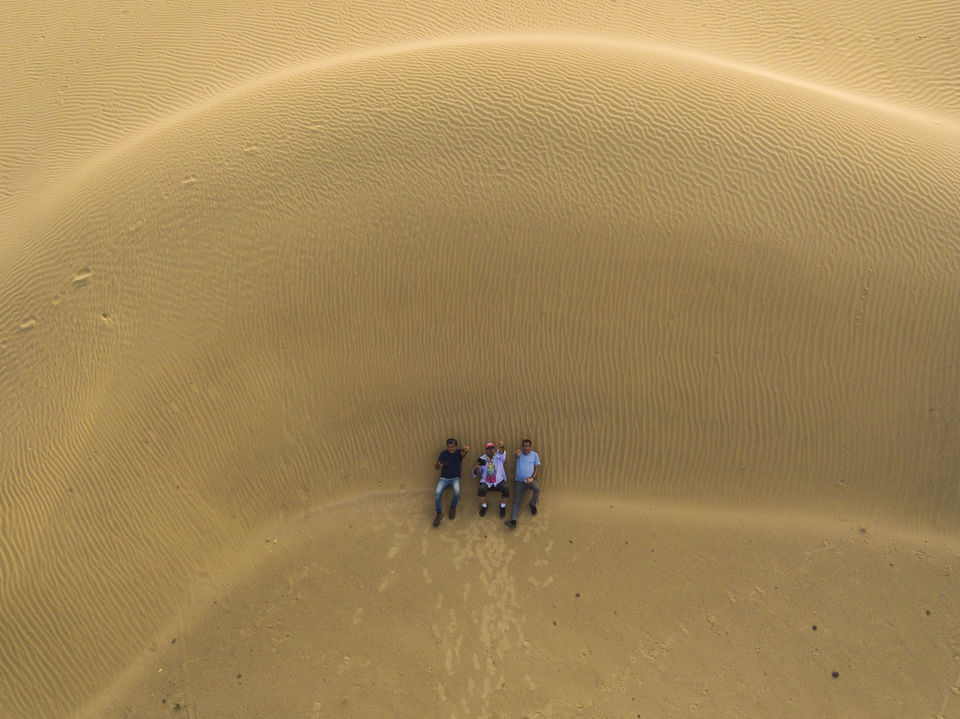 MY EXPERIENCE
Now let me tell you what we did here. In the morning the next day we first booked a safari to give us some sort of off-road experience.
After 30 minutes of dune bashing ride, we reached a very interior village called Dhareli. I hope I am pronouncing it rightly.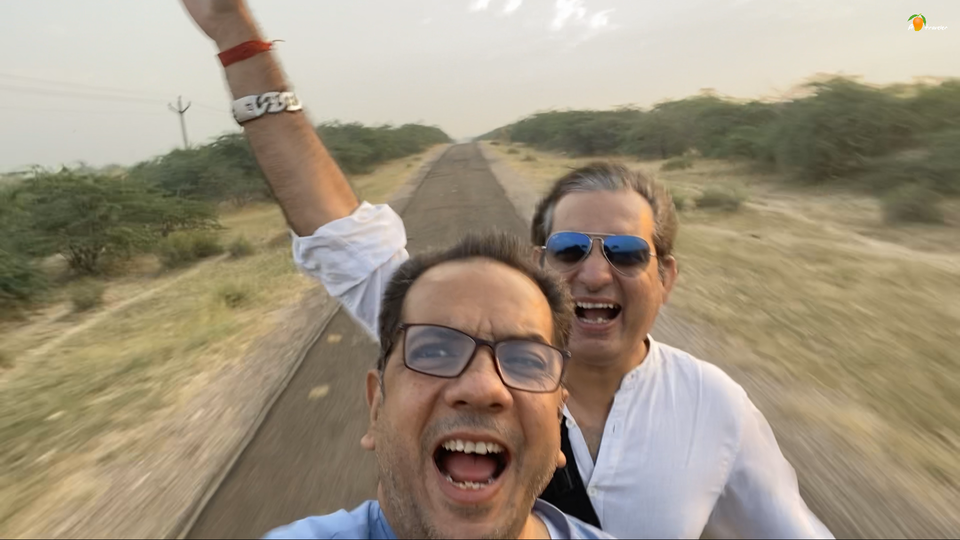 Here people lifestyle is simple. Either they are shepherds or few do Agricultural work as there is less water here.
Goverdhan Ji, who is a fantastic driver took us to the sand dunes of this village. It was morning time and shepherds pass with their livestock from here.
Let me confess that I was surprised when I saw a small pond here. Maybe here these people are not much educated but they have a lot of common sense. In future water is going to be one of the biggest problems. We should learn from these people how to conserve rainwater. This pond they had made just for their livestock and after these animals drink water from here they move forward in the deep desert to eat.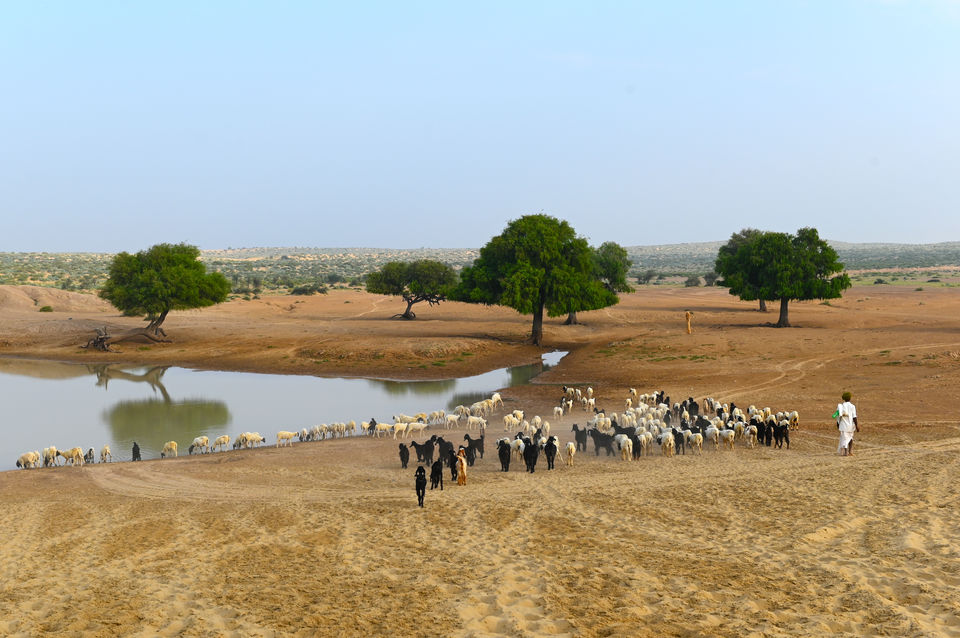 Now let me tell you in this desert what these sheep and cows eat. It is called Tumba. and these sheep and goats eat this. Here people grow this a lot and here local people mix seeds of this vegetable in millet and eat it.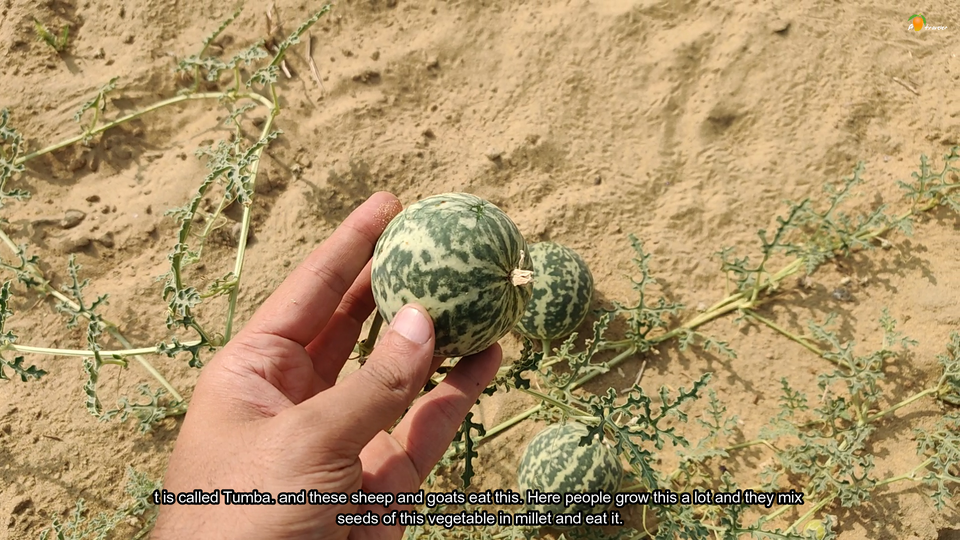 As we were exploring this I saw an insect whom I am seeing from my childhood on the National Geographic channel. It is a tiger beetle. Local people call it goonga. It was taking cow-dung and maybe it gives its children in it. I was not all scared of it but the moment it opened its wings, believe me, I became Usain bolt.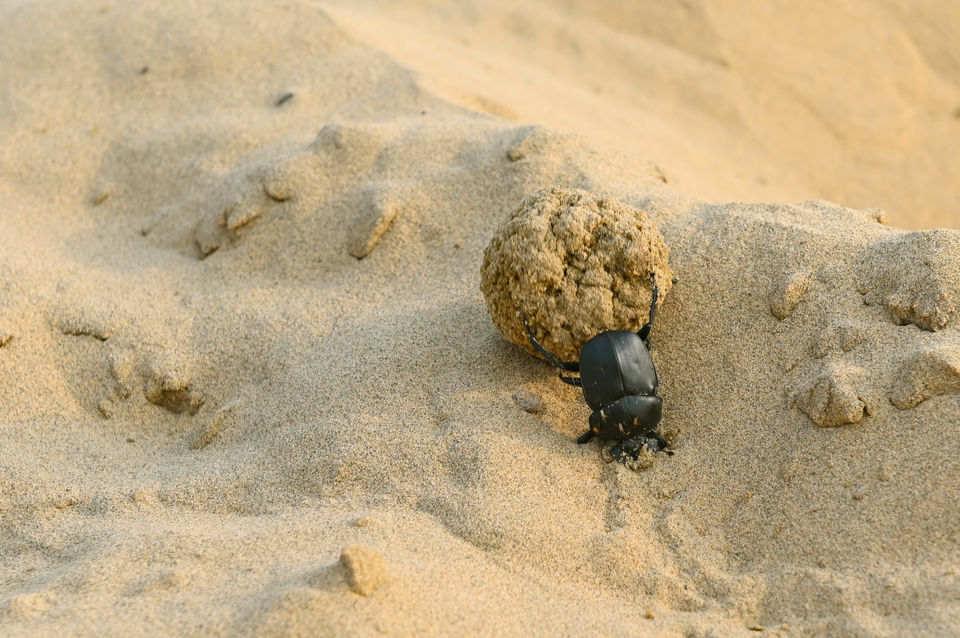 As we move further our Goverdhan ji told us a story of some errect stones that were just close to the dunes. The story says that these stones came out from the earth of their own and some believe that in one marriage the whole Procession was disappeared or killed. In their memory, these stones were put as a memorial.
However when I went close to these stones I found sculptures on it, so I don't believe that stones came up automatically sprang up from the earth. I am sticking to that marriage story.
One more interesting thing here. Since we are in Rajasthan and particularly in Jaisalmer, here there is a lack of rain. Every year people sacrifice a goat on these stone to please RAIN GOD.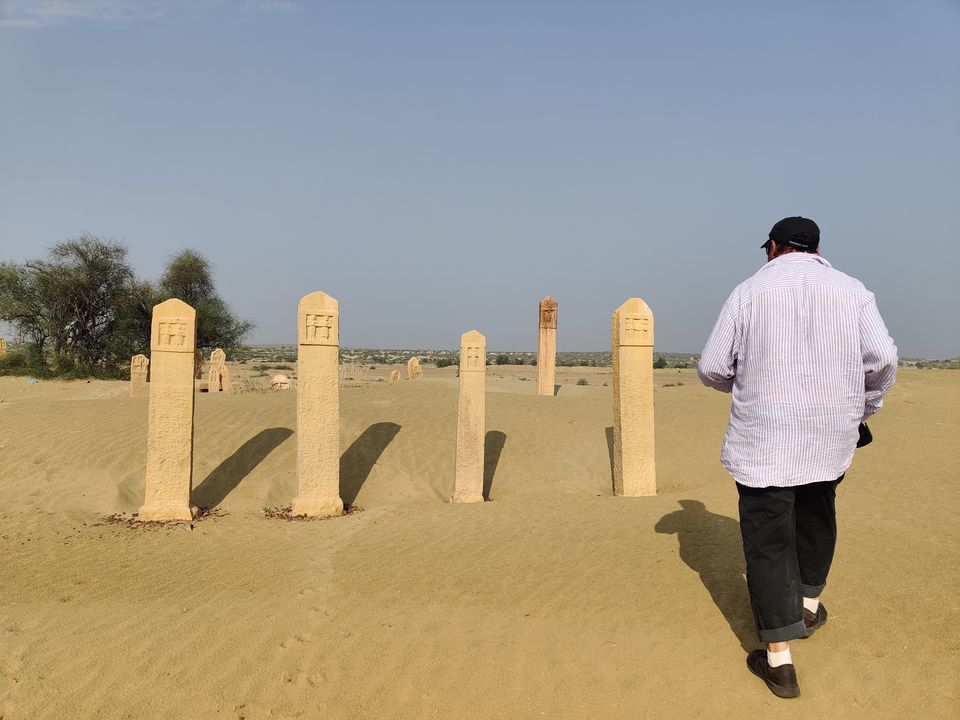 In this village Dhareli, when our jeep breaks down, we got some time to meet with locals and kids and we would never forget those beautiful moments with them. It was fun.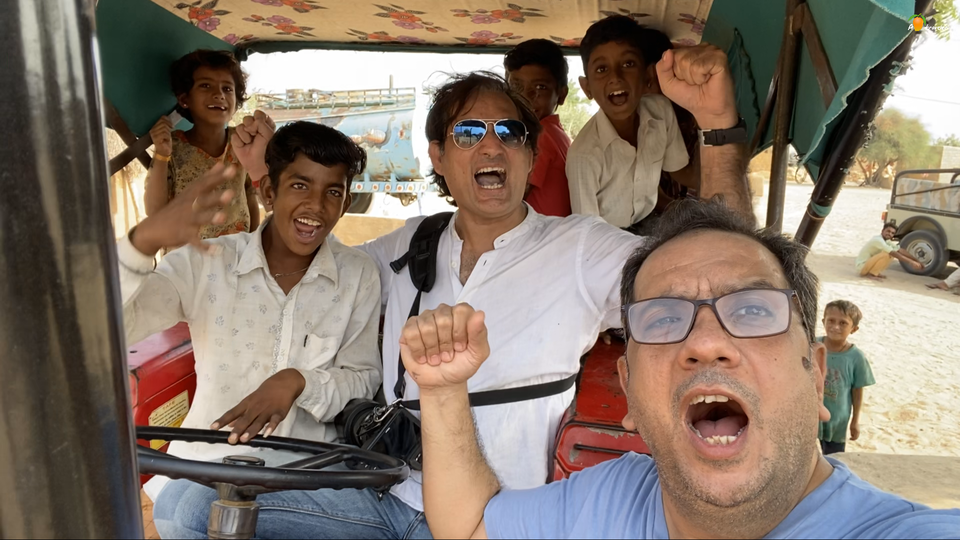 Before we reach our next location, Sun God was dancing on our head, and the heat of Rajasthan is popular in India So, Goverdhan Ji bought fruit for all of us that looks like watermelon but it is not. It is called Mathira and it is grown here in monsoon. If you come to this part of the country, please try it, and I guarantee that you won't get disappointed.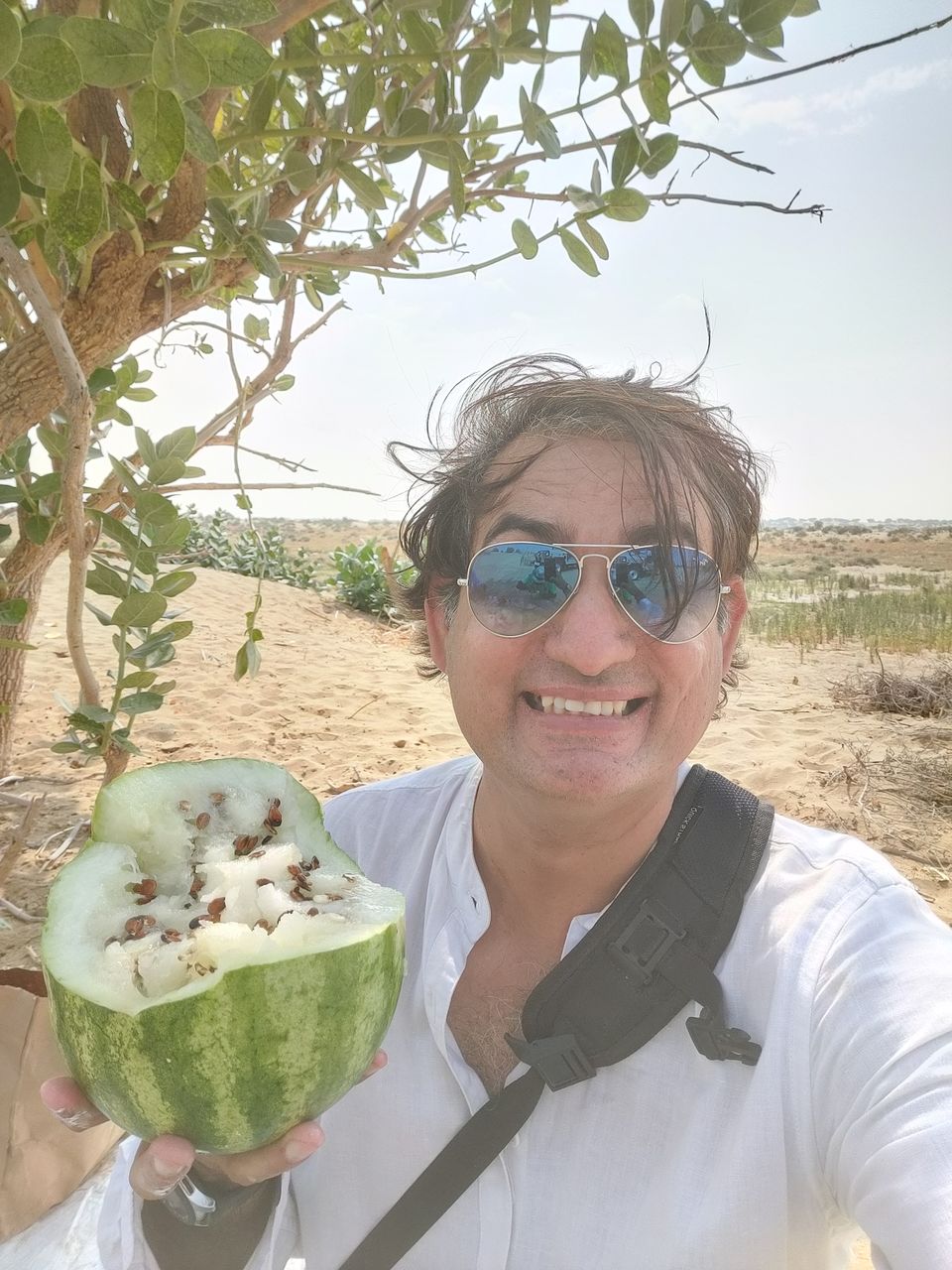 Our next halt was at Dao Village where lives a very talented man name Hardas ram ji. He plays a musical instrument which is now played by just a few people. The name of the instrument is Al-gooja for us. And it is now played only in Jaisalmer and Barmer.
Al means Allah and gooja with sound - The sound of Allah. It has two parts. One is male and the other is female. The long one is male and the short one is female. Hardas Raam Ji also teaching this instrument to his son, so this instrument keeps on living for some more generations. (check video for the music he played)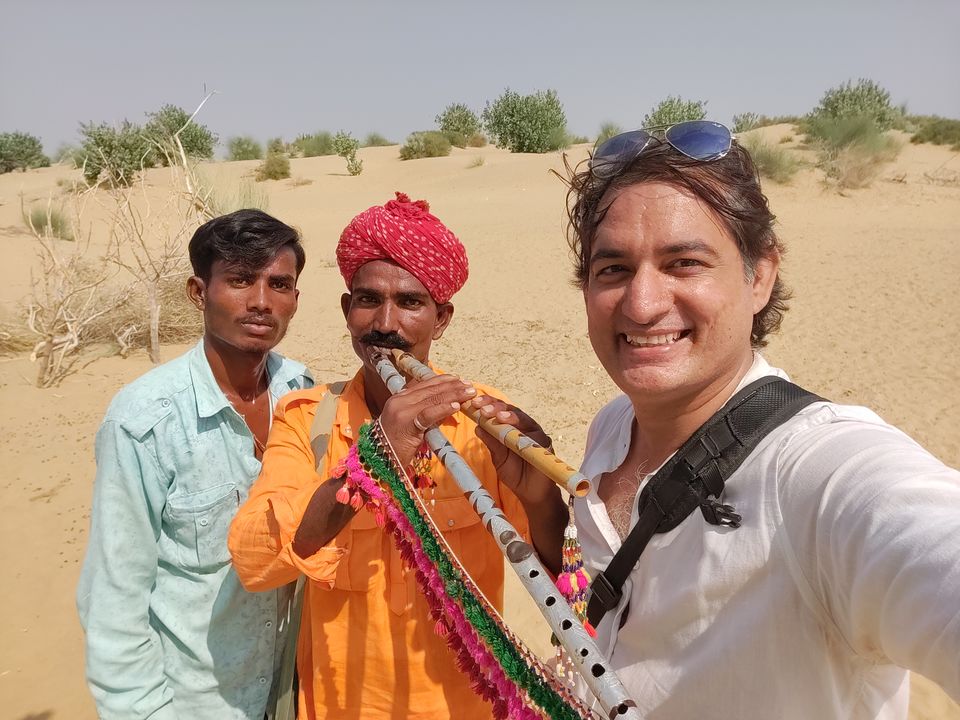 After taking leave from him, we left our resort for lunch, and to take a little rest. However, in the middle of the way, we saw some sand dunes which I hope never seen by any tourist. You can see them in Village Dao.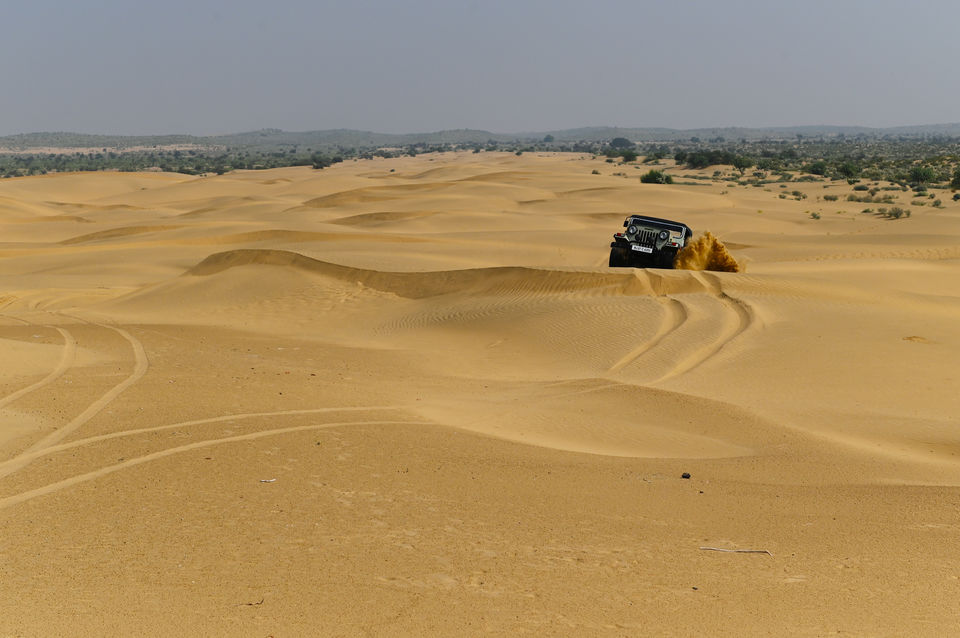 We again went out in the evening and this time we saw the nearby sand dunes. I was so surprised but then I remembered it is because of the corona pandemic there was no tourist at all and these sand dunes to looks like never been touched.
Here you can do a camel ride but, when we went nothing was available. Maybe in winter when tourism again gets active, all things will get a start as now most of the people in Khuri are dependent on tourism. You can also stay in the night on these sand dunes but we had some different plans.

In night we saw our milky way somewhere in deep interiors. It was a wonderful experience.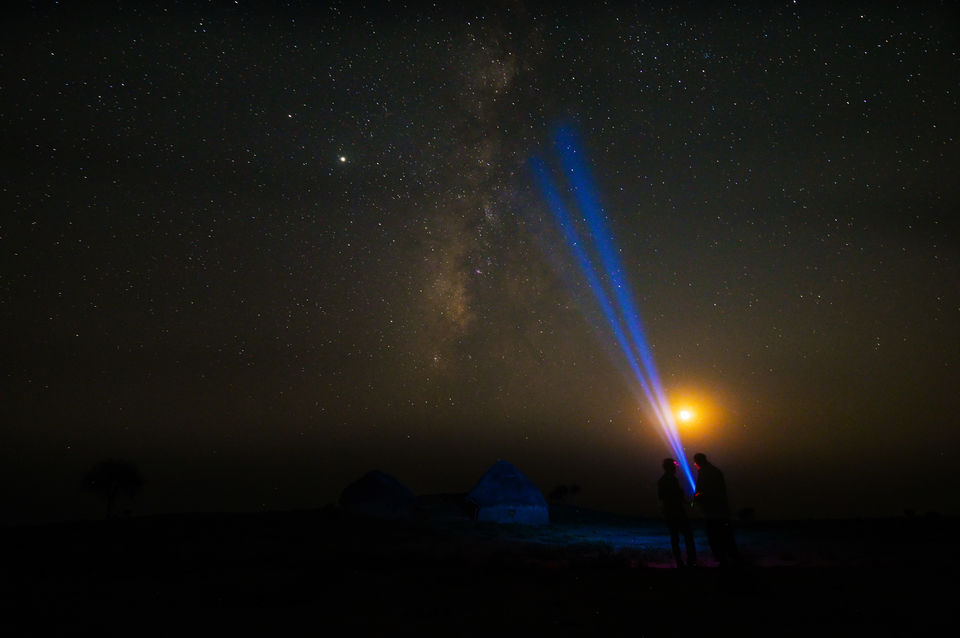 WHERE TO SAY
We stayed at Mama resort. It is a beautiful resort and made full of love. You can stay here in cottage rooms or tents.
The food here is simply delicious. This resort is on the main road at Khuri village and is near to the Police station.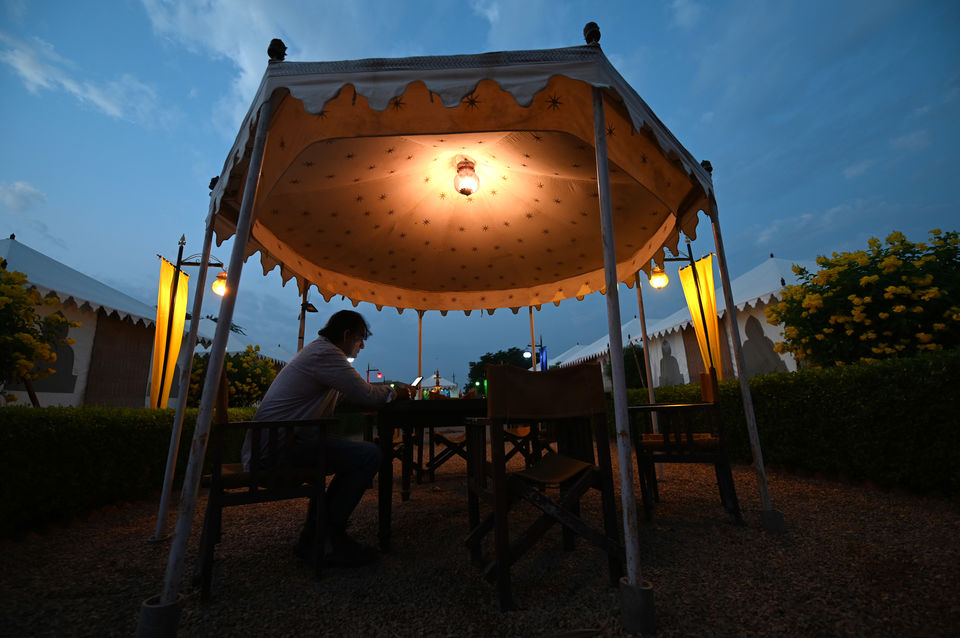 BEST TIME TO COME
The right time to come here is in winter. That is from November till March.
HOW TO REACH HERE
The nearest airport, railway station, and bus stations, all are at Jaisalmer.
I hope you like this blog. Will come back with some other destination very soon. Until then have a wonderful time, stay safe, and take all possible precautions while traveling.