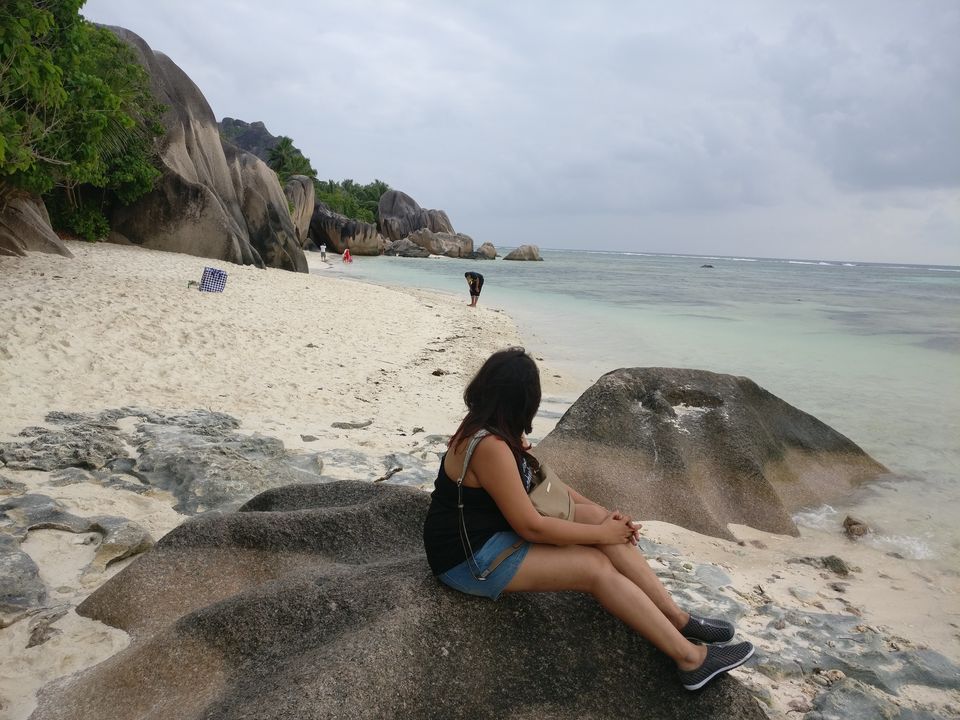 La Digue is the third most populated island of Seychelles. It is smallest of the three main Islands in Seychelles, with a population of 2000. If you stay here even for a day, you will run into the same people quite a few times. The island is extremely laid-back with just a handful of motor vehicles on the road. People either walk or ride bicycles thereby giving the Island a relaxed vibe.
Boasting of one of the world's most photographed beaches, Anse Source d'Argent, the island oozes charm. Your trip to Seychelles is not complete without visiting La Digue. La Digue is the real definition of allure. People generally plan a day trip here either from Mahe or Praslin even though the fascinating island is worth spending a couple of days or more. Personally, I want to go to La Digue again and stay for a week or more...just to enjoy nature and do nothing.
A fun fact
Seychelles is a Malaria free country. Yes, you read that right. Anopheles mosquitoes, which transmit the malaria parasite by their bite are present almost throughout the world. Only five areas are exceptions: Antarctic and Iceland, where there are no mosquitoes at all, New-Caledonia, the Central Pacific islands, like French Polynesia, and the Seychelles in the Indian Ocean.
This does not mean that there no mosquitoes on the island. I recommended applying mosquito repellent all the time.
For Flight Recommendations, Best time to visit Seychelles Foreign Exchange, Visa, Itinerary, Mobile Network, Language Barrier, Culture in Seychelles, Food in Seychelles, Driving in Seychelles, Important tips please refer http://bulbulonthewing.com/2019/06/14/mahe-island-the-busiest-yet-laid-back/

Accommodation
You can get a decent apartment for approx 80-100 Euros per night. La Digue is expensive as accommodation options are limited here as compared to Mahe and Praslin. I stayed at Elje Villa, Anse La Reunion. The bedroom is small but nice. However, the common kitchen and drawing room is quite big and nicely decorated. Contact the host in case of any doubts about the amenities. The staff will try to help the best they can. There are 2 adorable dogs here as well.
There is a supermarket nearby at a distance of about half a kilometer.
Reaching La Digue
There is only one international airport in Seychelles which is in Mahe. Thus, you can either take a helicopter (there is a helipad in La Digue) or ferry to La Digue.
It is advisable to book your ferry tickets in advance although I could see the tickets being sold on the spot as well. Nevertheless, it is better to buy in advance rather than disturbing the itinerary at the end moment. I booked my ferry tickets through Cat Cocos.
One tip
Put the valuable and important things in your carry bags. The staff will ask you to check in your big suitcases and handbags. They will allow carrying a small light bag.
Conveyance from La Digue Jetty
As mentioned in my earlier blog on Mahe, driving is the way to travel around in Seychelles. But, it is the bicycle which you have to ride to explore La Digue. You can rent one from the jetty itself or request for one from your host. The rent is approx 9-11 Euros a day If you take a taxi to your accommodation, the minimum fare would be around 5-6 Euros.
Getting around in La Digue
The best is to walk or cycle. As mentioned above, you can rent a bicycle either from the jetty or your host for 9-11 Euros a day. There is an option of taxi (too fast) and ox cart (too slow) as well. But, it is expensive and not worth when you are on such a heavenly island. Nevertheless, Cliff Pirame is a reliable taxi service. But, book them well in advance. The fare ranges from 120-150 Euros per day.
One tip here
If you are 2 or more, bargain for the bicycle rent. I bargained for 2 bicycles at 17 Euros for both. I was quoted 20 Euros.
A couple of tips here
a) Do check with your hotel/host if they provide complimentary bicycles and transfer service from the jetty.
b) It is better that you rent a bicycle from the jetty itself. If you are carrying no more than 2-3 medium-sized bags and your property is not very far from the jetty, the owner of the bicycle usually carries all your bags and will drop you to your property. This is a great help as you will save on the taxi fare.
Exploring La Digue - Top things to do
1) L'Union Estate Park
The estate is situated in the L'Union Village and is the biggest building on the island belonging to France Alber Rene, the former president of the Seychelles. The park is a national reserve. You need to pay an entrance fee of approx 6 Euros at the park entrance. The ticket gives access to tourist attractions inside the park and is valid for the whole day.
a) Anse Source d'Argent
Have you ever seen beautiful photos of beaches and wondered if beaches like this actually exist in the real world? Well, you will believe it when you visit Anse Source d'Argent.
This picturesque beach seems to be decorated by mother nature herself with every rock, tree, and granite boulders being unique and spectacular. The crystal clear turquoise water adds immensely to the beauty. You feel like you are in the arms of nature. The length of the beach, with small bays, is about a kilometer. Every 100-150 meters provides a different view. The beach is perfect for snorkeling.
Movies like Crusoe, Emmanuelle and Cast Away have been shot here.
Tips for Source d'Argent
a) Try to visit the beach before 11 am (access to the beach opens at 7 am) to avoid daytrippers crowd from Mahe and Praslin. You will have the beach to yourself to click enviable photos. I was at the beach at 2 pm but didn't find a lot of people. I guess I was lucky.
b) Wear sunscreen all the time just like at any other beach.
c) Wear rubber slippers/shoes to protect your feet against corals.
d) Carry your snorkeling kit as the beach is excellent for the activity.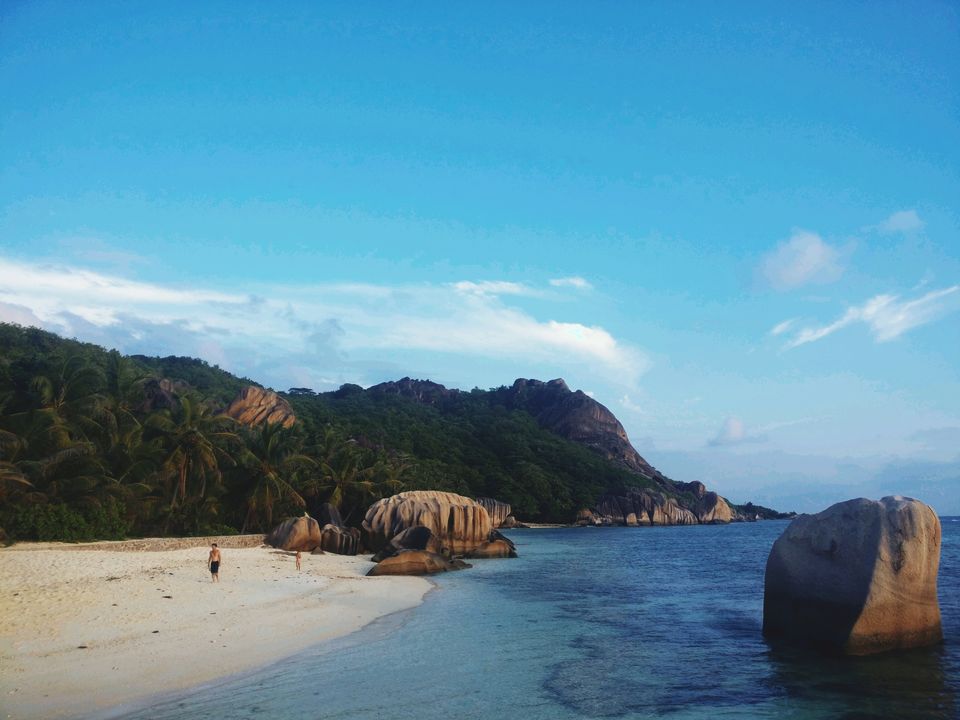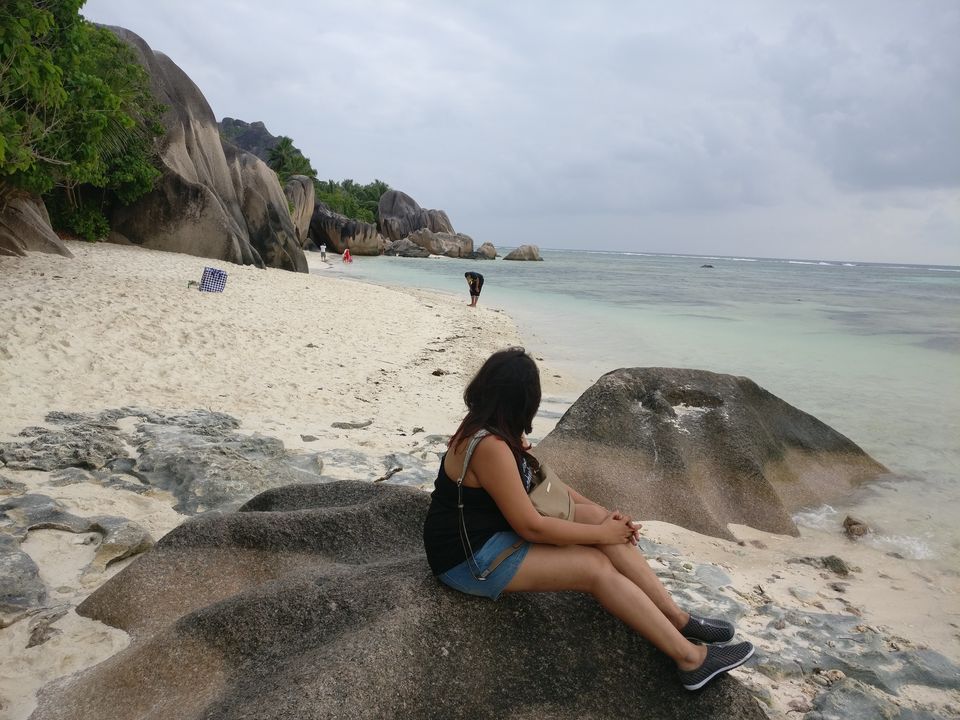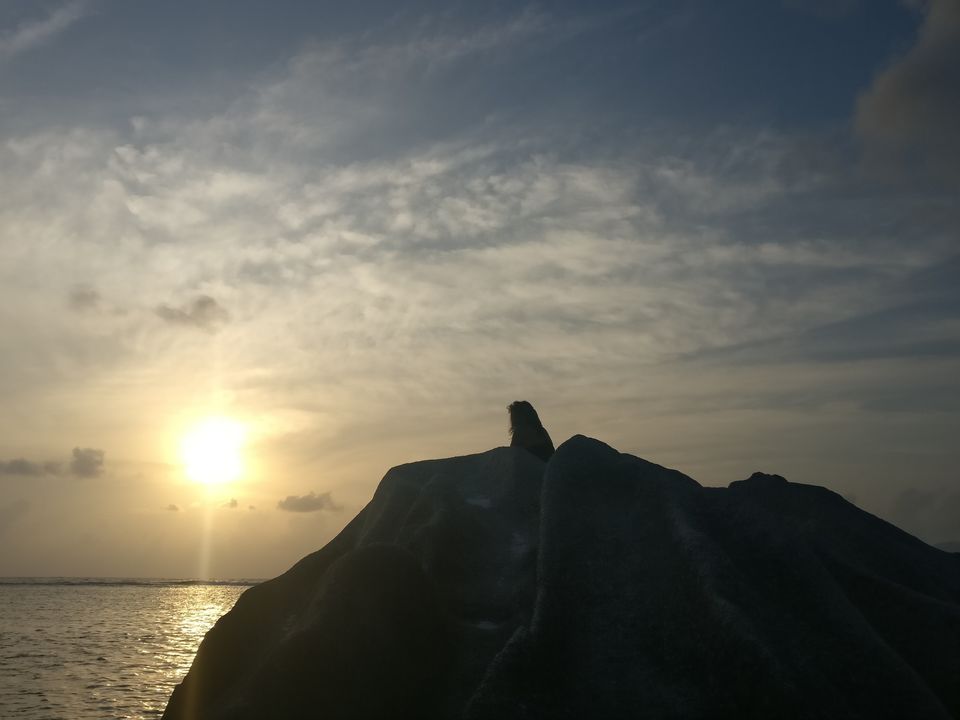 b) Giant Union Rock
It is the largest contiguous granite rock on earth and is said to be over 700 million years old. Climb the mountain to enjoy a beautiful sunset from its summit.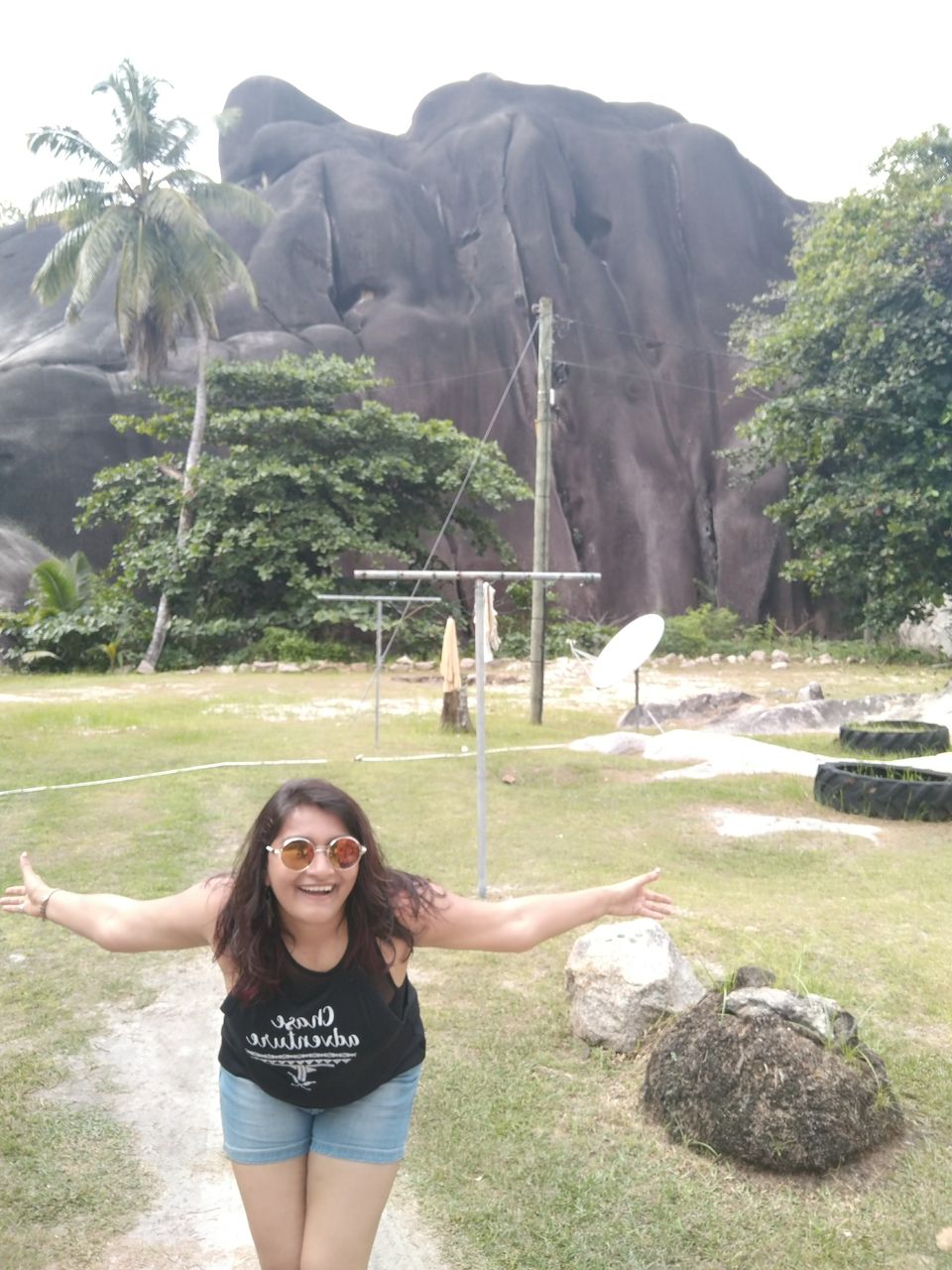 c) Rare Aldabra Giant Land Tortoises
The main population (some 100000) of the Aldabra giant tortoises resides on the islands of the Aldabra Atoll in the Seychelles. You can find a few of this species in a small enclosure in the park. A board near the enclosure said that these tortoises were between 30-100 years old. I was amazed to see the tortoises as I had never seen such giant ones before. It was lovely feeding them though I felt sorry for them as they cannot go out of that enclosure.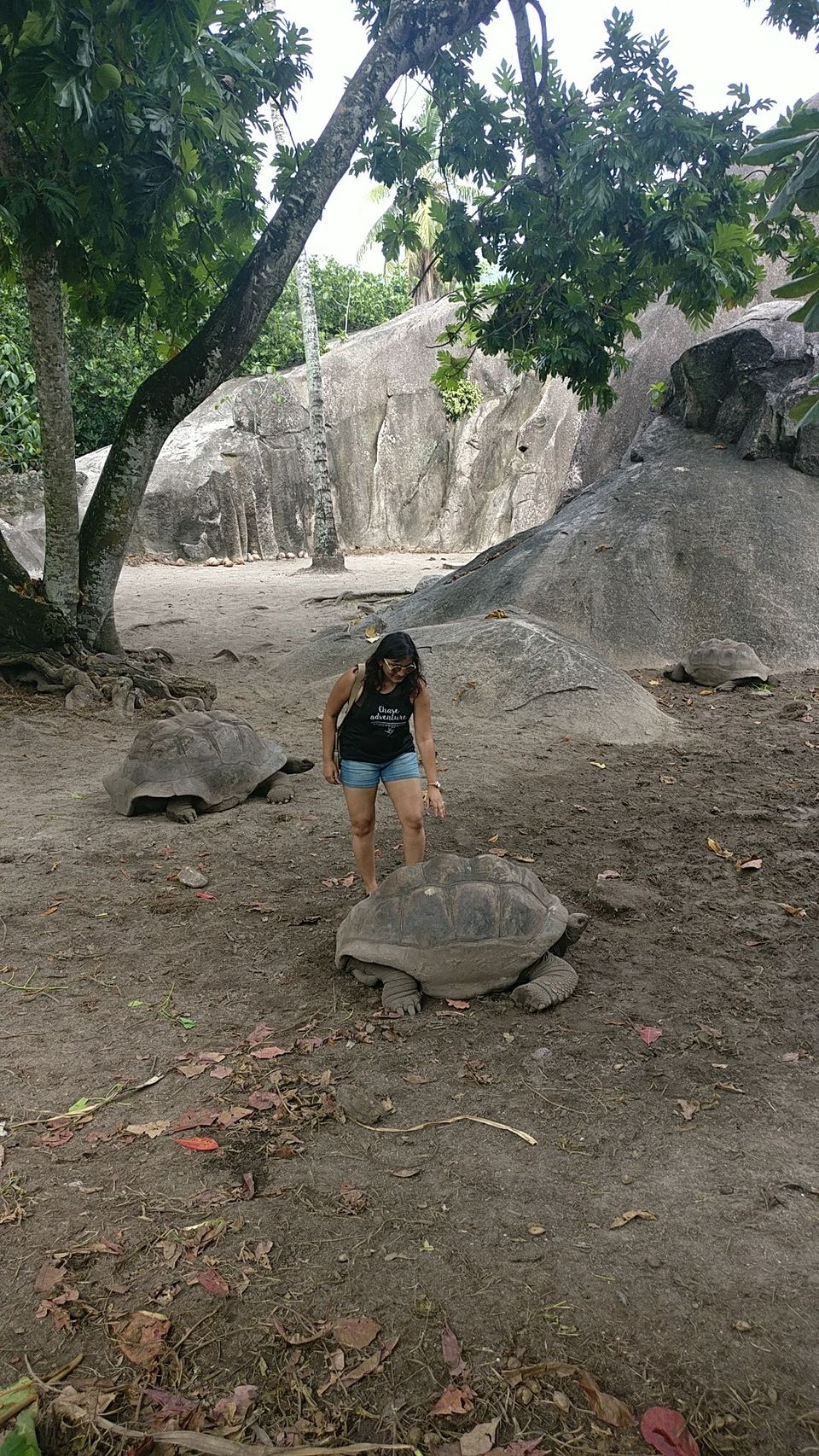 d) Coconut plantation
It is like any other coconut plantation. However, you should find joy in small things too. Well, I myself plucked a coconut from the tree and had it. Yes, a couple of kind Indians, who were the caretakers as well, helped me. So, I had fresh coconut water on the farm itself.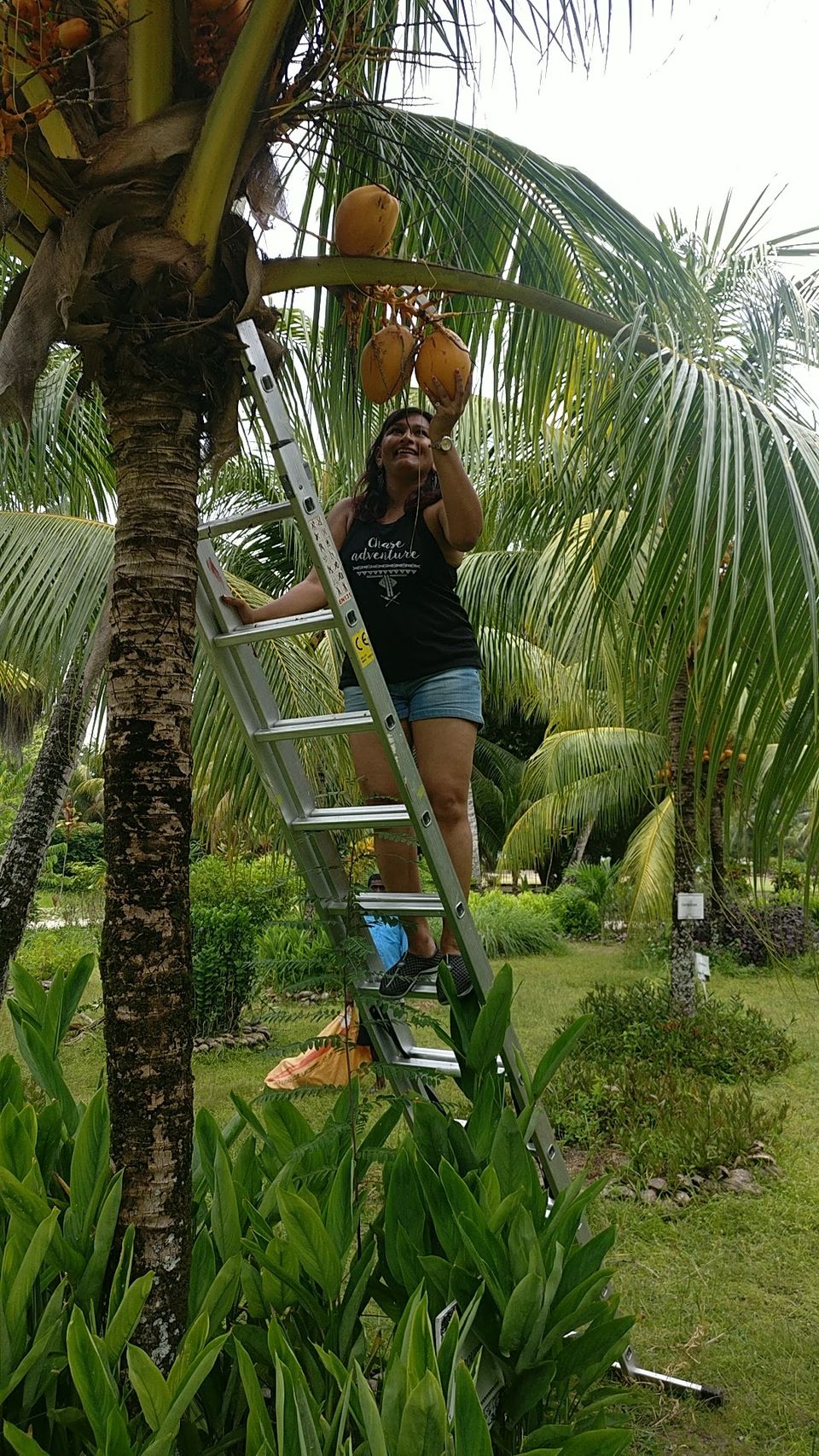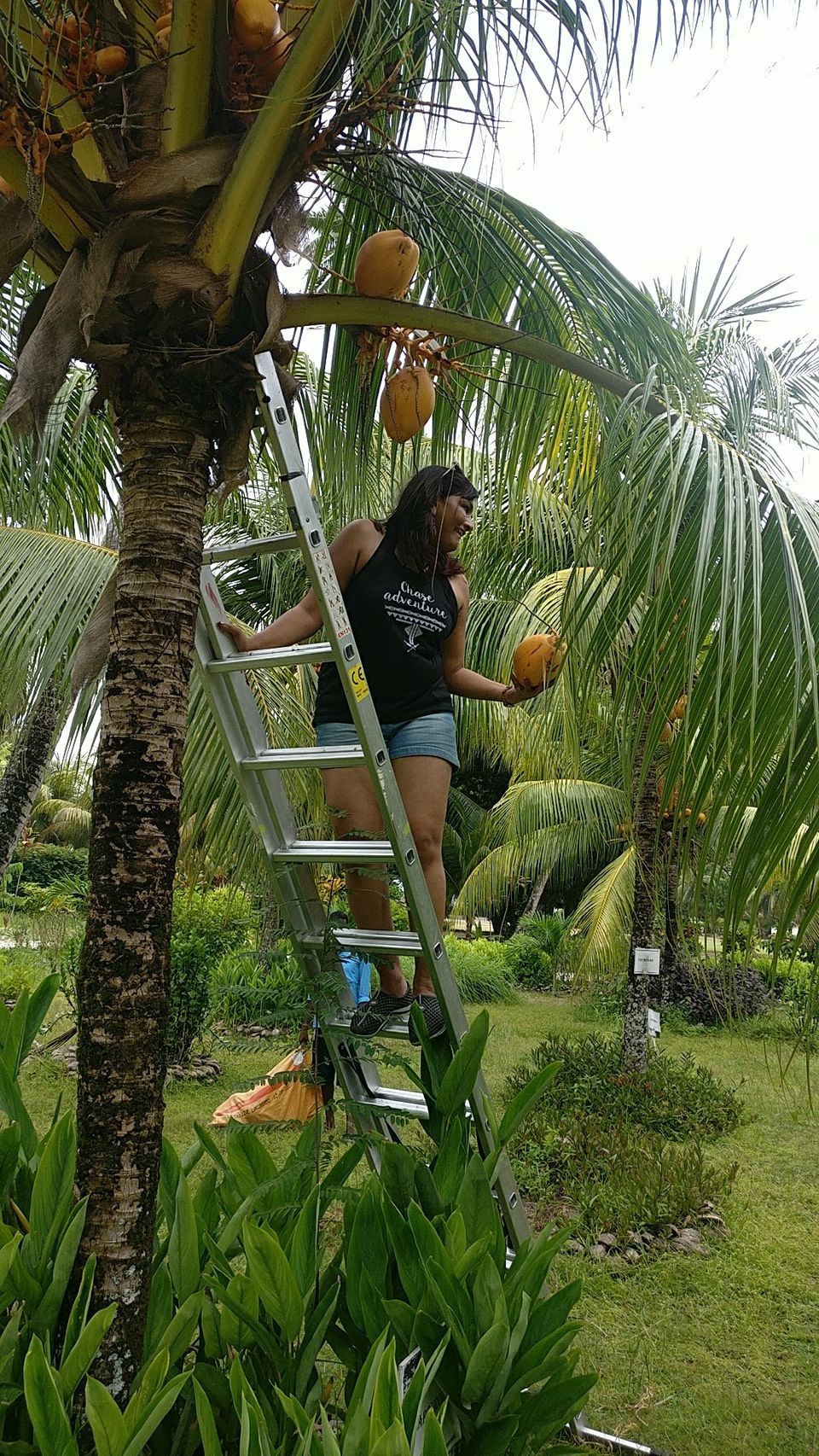 e) Vanilla Plantation
This was one of the things that were fascinating to me and I was very keen on visiting. I had heard that one can smell (quite a strong one) vanilla as soon as you enter the plantation. But unfortunately, the harvesting season is from May to August. However, the caretaker showed me the flowers of the plants which had a vanilla fragrance. So, I was not very disappointed.
f) Coconut Mill
Here it is shown how they process green coconuts make coconut oil. Also, they also use the residue to make toilet paper and pot scrubber. This can be skipped if you want to spend more time on the beach.
g) House of the owners of the plantation
This is a 19th-century house, which was also used for Emmanuelle movie. The house was under renovation and therefore was not opened to the visitors.
One tip here - What to buy
There is a small souvenir shop inside the park itself. The is a fixed price here. You can buy vanilla essence, coconut face scrub, and nutmeg from here. I had bought these and I do not regret at all. Vanilla essence is the best since it is directly from the farms. Just one very small drop will bring out the flavor.
2) Cycle around and explore
Well, this was actually the best part of my Seychelles trip. Apart from beaches, there is so much more beauty this island has to provide. Given that it is less than 5km from north to south, the best and enjoyable mode to get around is on foot or bicycle. I was staying in the western tip of the island. Therefore, I could easily bike towards the east and then towards the north. The path is pleasing to the eyes, ears, and heart. I wish I could explain someone else's eyes how hypnotizing the path was; I wish I could explain someone else's ears how the sound of the ocean waves and breeze in a peaceful island recharged my mind, and I wish I could explain someone else's heart how the charm of island sank deeper in my heart with every heartbeat.
It gets difficult to cycle at some points though. But as they say - Difficult road often lead to a beautiful destination...There are a couple of juice stalls on the route where you can take a halt and refresh yourself. I did cycle towards the south as well. But, it did not excite me that much. There are beautiful beaches down south as well. However, could not go to any beach as it was too windy and rainy and hence wasn's safe.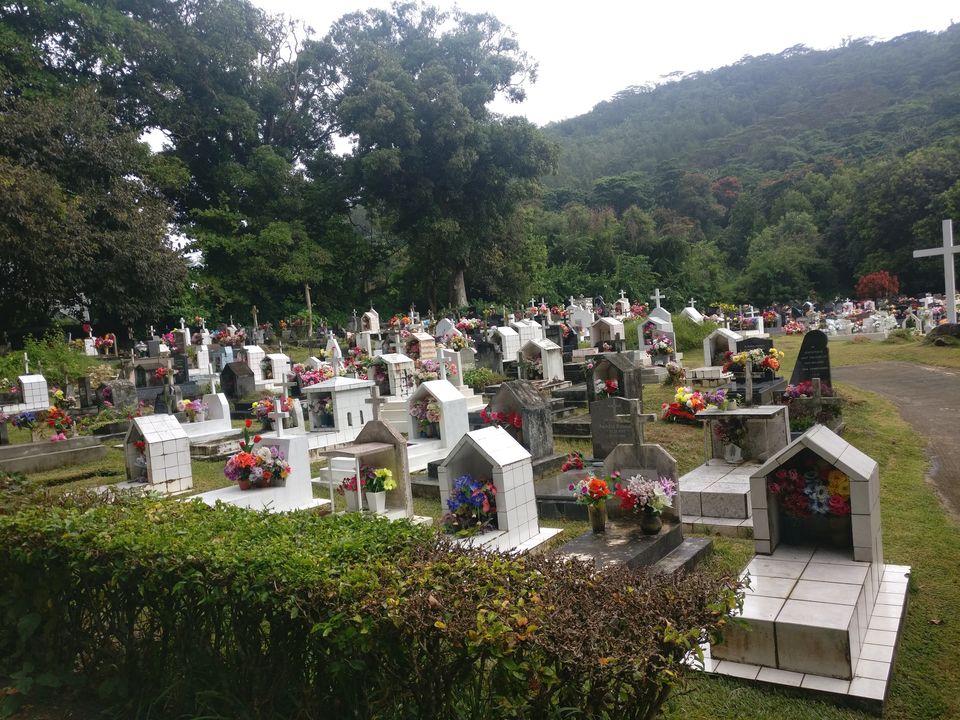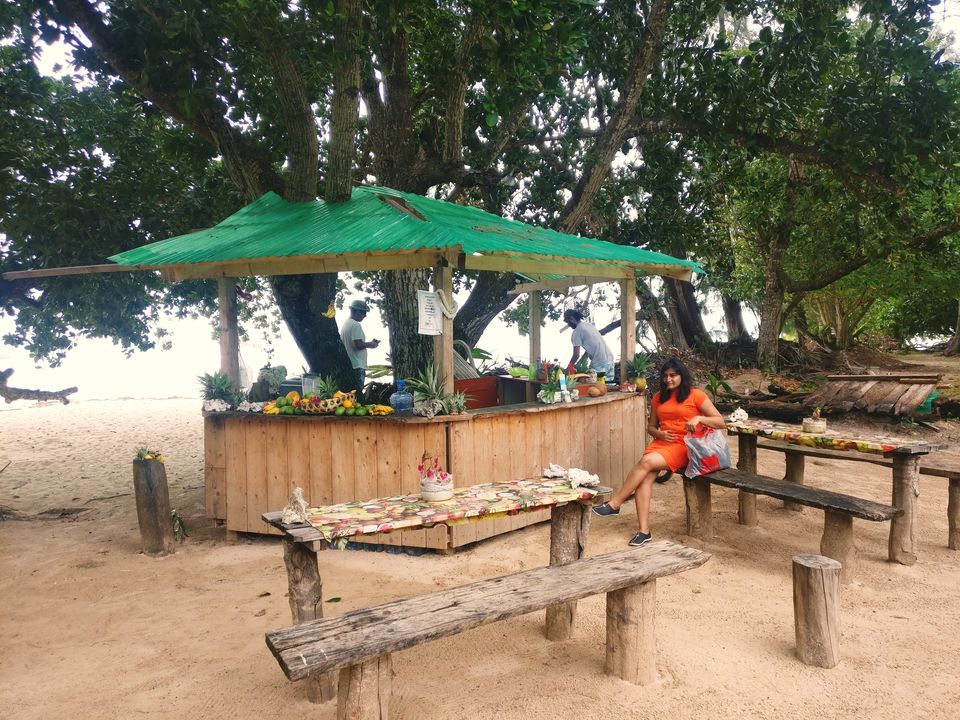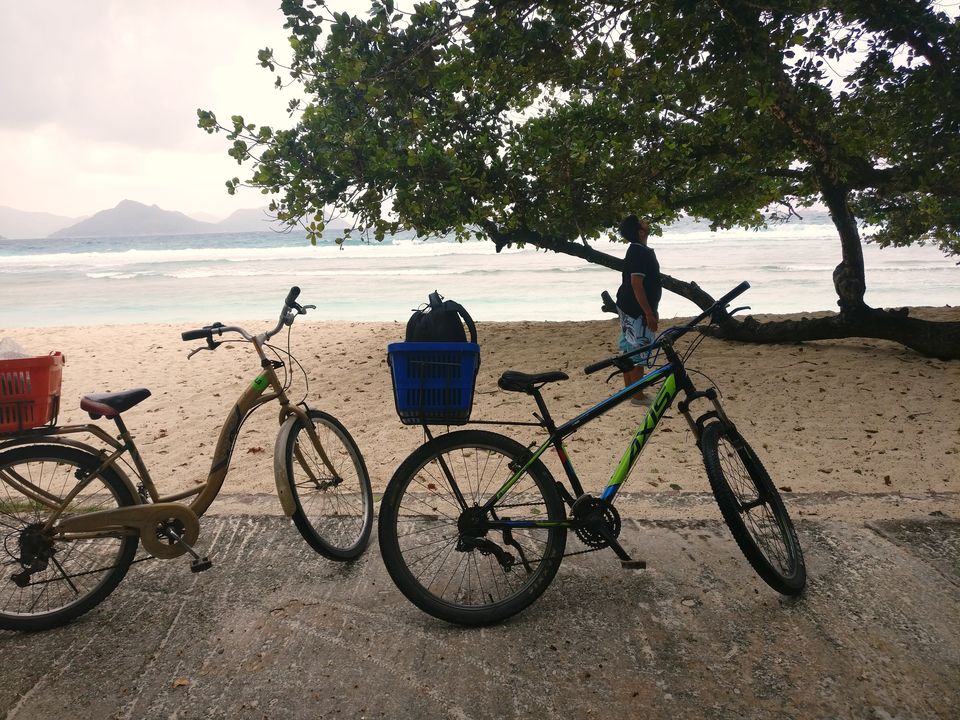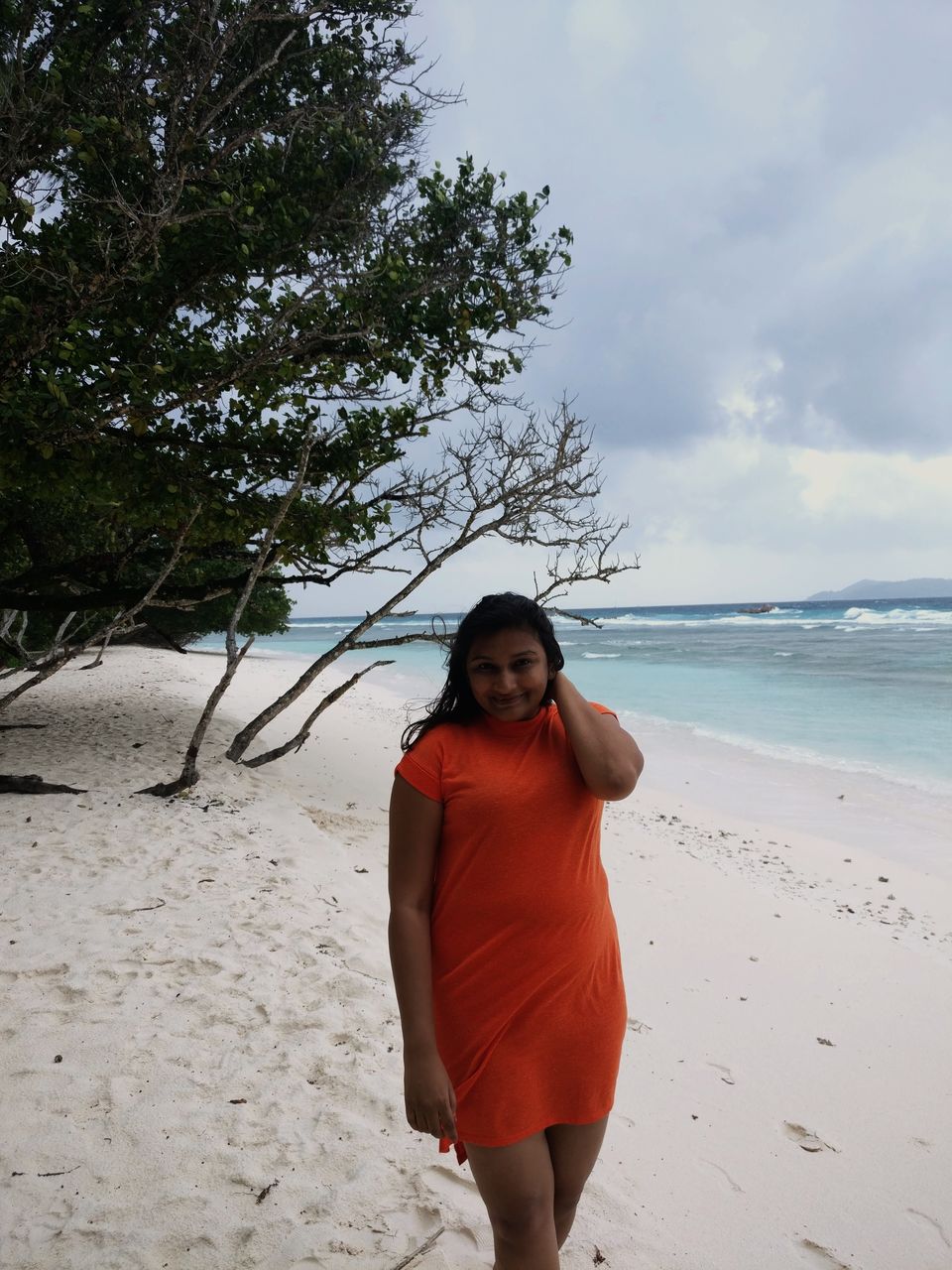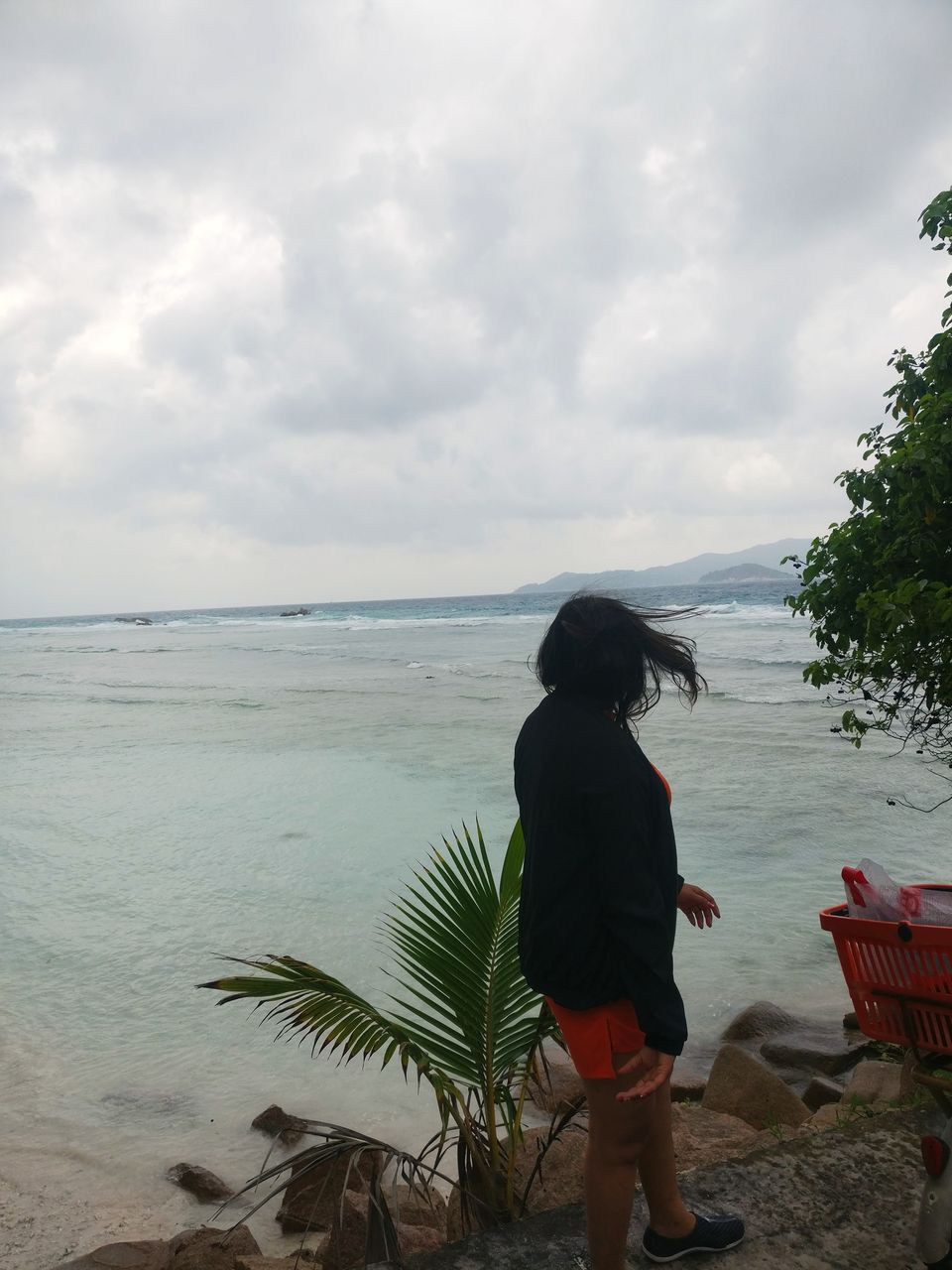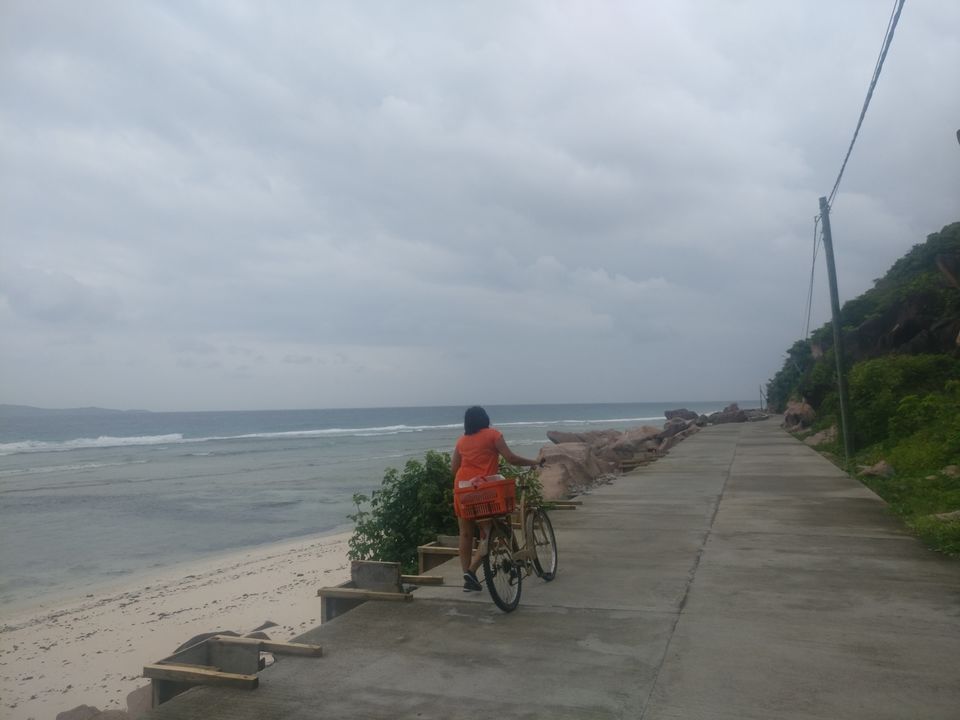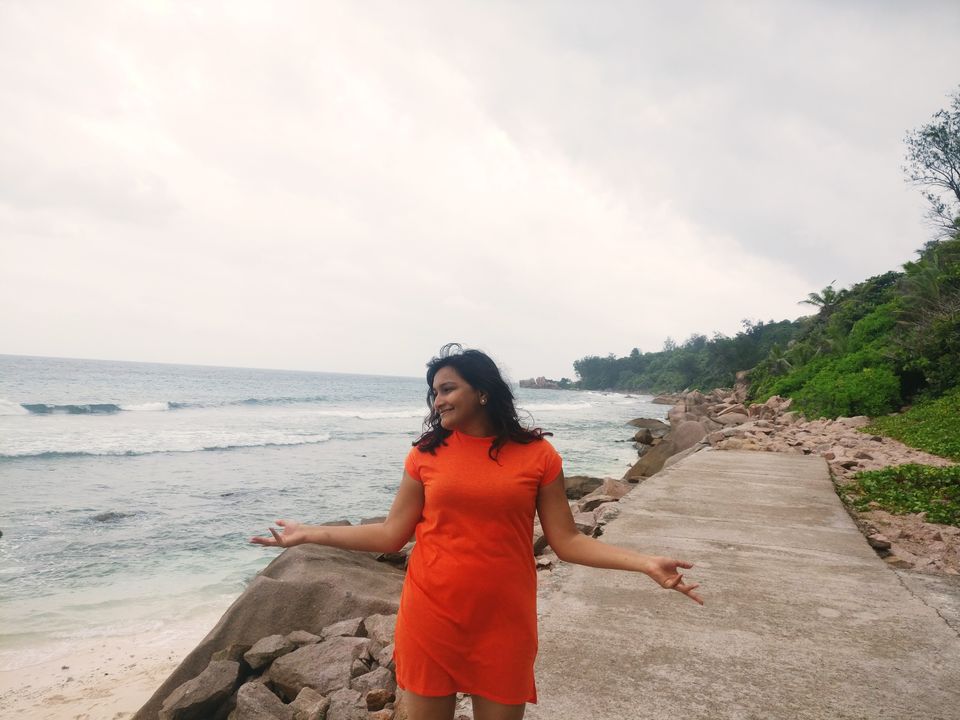 3) Other beautiful beaches
If you have time in hand, there are several other beaches on the island.
a) Grand Anse -It is considered as one of the most beautiful beaches on La Digue. The beach is good or surfing and sunbathing.
b) Petite Anse - Some people suggest that Petite Anse is more beautiful than Grand Anse, thanks to its incredible scenery.
c) Anse Severe - It is one of the most renowned beaches, thanks to its incredible sunset views. The beach is equally beautiful during the day, with shallow, calm water and excellent views of the ocean and of Praslin. The beach is great for swimming and snorkeling.
A few other are Anse Banane, Anse Cocos, Anse Fourmis, Anse La Reunion etc.
La Digue is one of those destinations where I would like to go back. It is a different world here. The air is pure and fresh. People here do not leave in a culture full of hares. It is a stress-free and relaxed life here.