There are a lot of places and villages that can be explored around Kaza. We were going to cover Key Monastery, Komic, Hikkim and Langza village and then the local market of Kaza. All of us were having breakfast in the common area when captain reminded us about our postcards :) We were going to visit the world's highest post office in Hikkim and could send postcards to our friends and family. Everybody began writing their messages and the addresses which they remembered. Once I was done, I went to the terrace to catch the view of the mountain overlooking our hotel. It felt so close yet so far!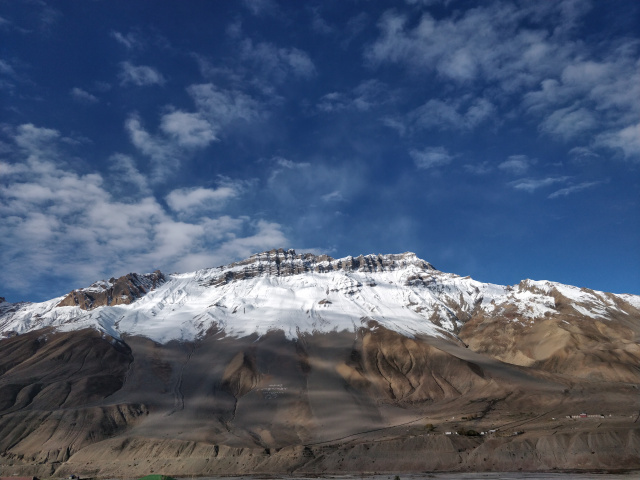 We started our journey for today with the Spiti river by our side. Our first stop was this installation.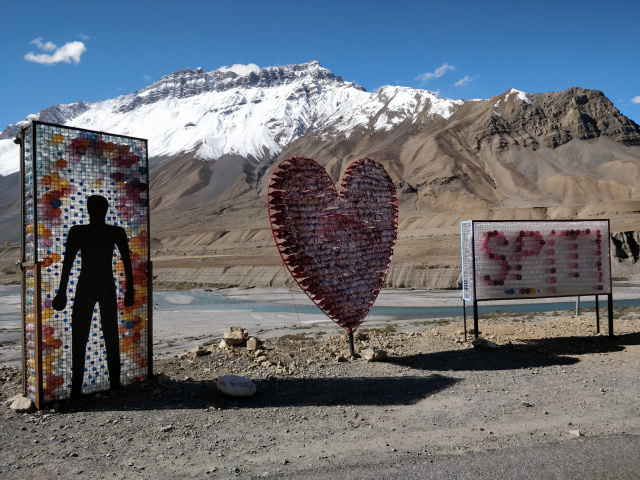 Made out of discarded plastic bottles, this is a testament to the fact that even Spiti is not untouched by this horrible and totally avoidable environmental problem. It just needs a simple change of mentality in people. There is no need to buy bottled water. One can carry a reusable one and ask the hotel or homestay to refill it. They would be more than happy to do it! Incase you still want to buy, please make sure that you take the empty bottle back to wherever you came from so that it won't be an additional burden to this pristine valley.
If you google Spiti, the first image that comes is that of Key Gompa. This beautiful monastery is the biggest and oldest learning for Buddhists in Spiti. It is situated at an altitude of 4166 m (13668 ft) and has a unique fort like architecture. When we got the first view of the monastery, I knew this was a totally different kind of construction. Most of the monasteries that I had seen here and in Sikkim previously were a building with multiple levels on a flat surface. But Key was in its own league.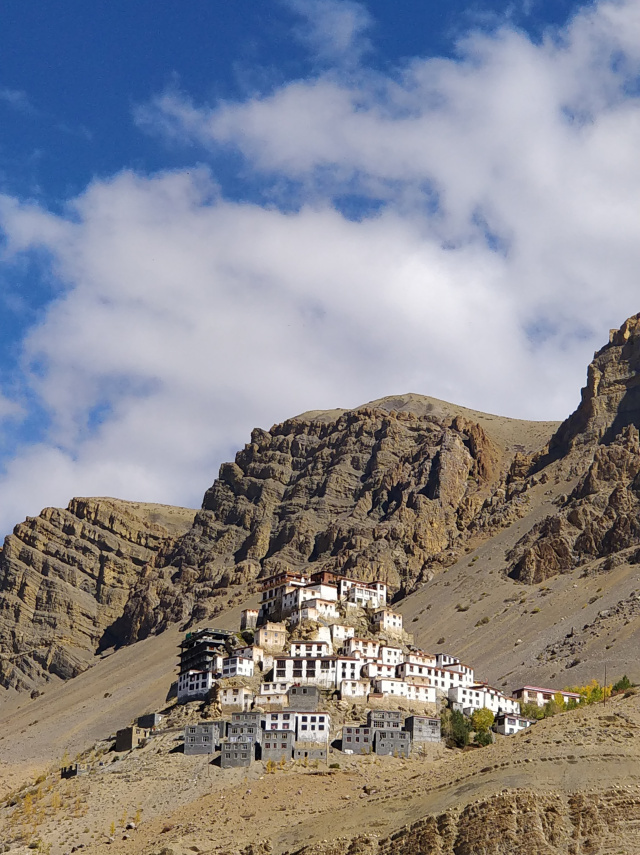 We reached the entrance after 15 mins and went inside to explore. Here also, cameras are not allowed inside the main prayer hall. Inside were centuries old paintings and relics. We also saw small spaces devoid of any light perhaps used by the monks for meditation. One of the monks who was explaining us about the place also offered all of us some herbal tea at the end. The views from the top of the monastery were stunning. One could see the Spiti river flowing making zig-zag tracks.
After leaving from here, we headed towards Langza village. Famous for the Medicine Buddha statue, Langza is situated at an altitude of 14500 ft. The statue is situated at an elevation and overlooks the valley. To be able stand here, under the statue, was an unforgettable and peaceful experience. Walking upto the statue with snow-capped peaks in the background, it felt so surreal.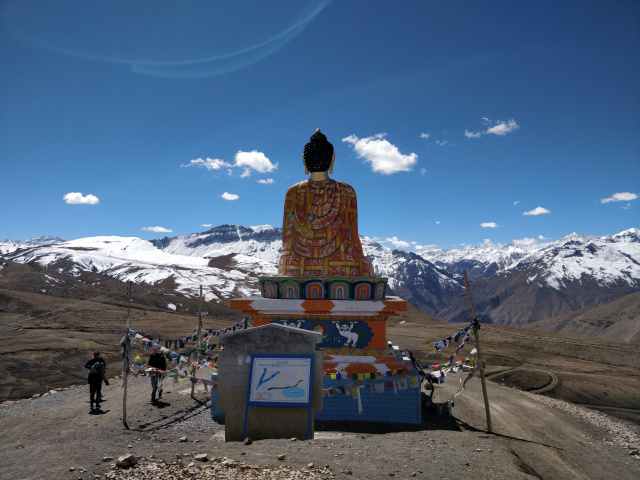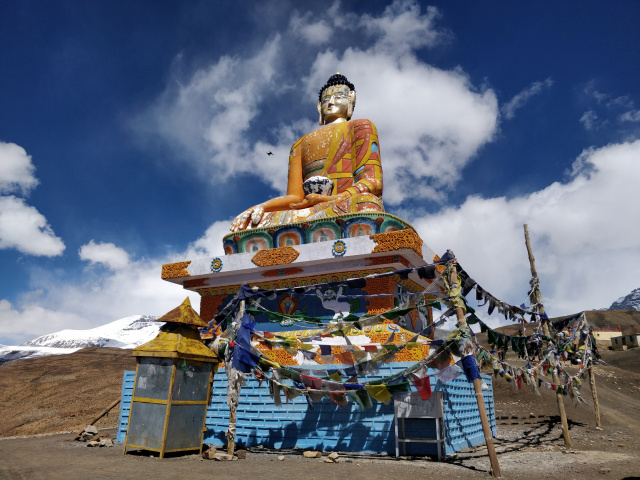 One of the highest villages in Spiti Valley, Langza is also known as the 'fossil village'. Millions of years ago, Spiti was part of the Tethys Sea. One can find lots of ammonite fossils in the village. These are basically marine molluscs which inhabited the sea. But the sad part was that children from the village were selling them for 100-150 Rs. I was tempted to buy from them and take them home as a souvenir but realized later (Thanks to our friend Kasturi) that such priceless and historical items deserve to be here or in a musuem rather than in someone's house cabinet.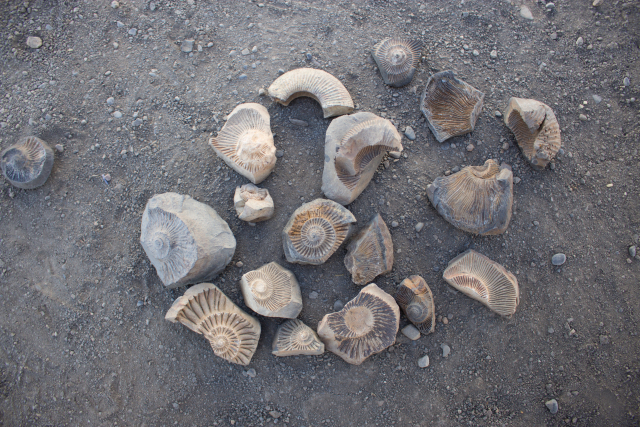 Our next stop was Komic village. Also known as the world's highest village with a motorable road, Komic is situated at an altitude of 15027 ft. And the road till here was a delight to the eyes! We saw snow right next to us for the first time!
We had planned to take a lunch break here. But our luck was so bad that the only cafe present here didn't have any supplies to prepare food! So we were roaming here and there. There was a monastery nearby which was closed. We met a lot of fellow travellers from different parts of the world. One guy was from Switzerland and had trekked all the way up from Kaza. It was interesting to hear his travel adventures.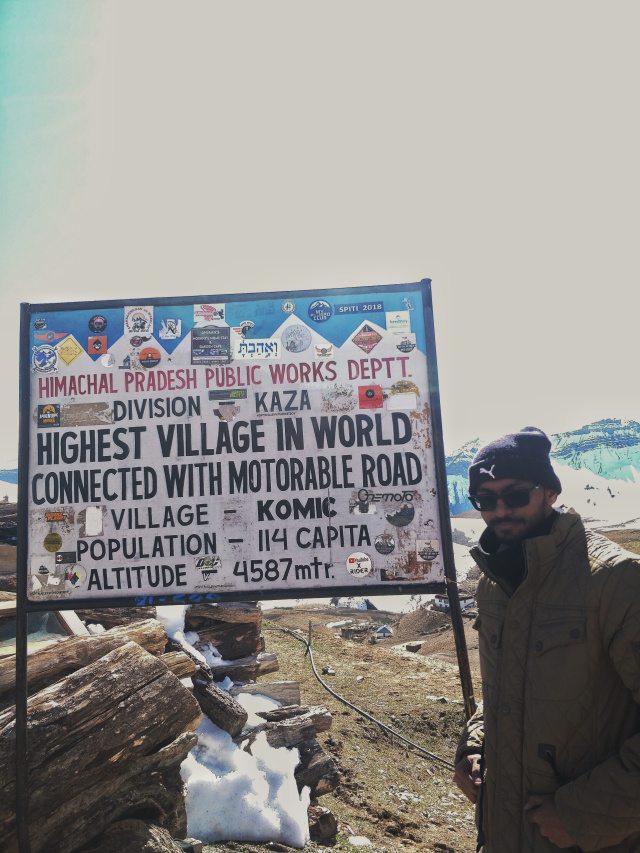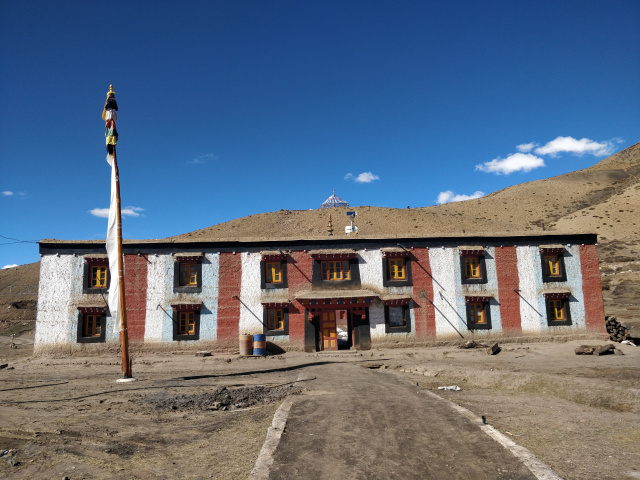 Our next stop was Hikkim which was just few minutes from here. Infact, it falls on the way to Komic. Situated at an altitude of 4400 m (14400 ft), Hikkim is famous for having the world's highest post office. But our hopes to send our postcards from here faded away when we saw that the post office was closed! It was 2nd October so I guess being a national holiday it was shut. We enquired with locals if we could give our postcards and keep the money for stamps with someone who would later give it to the post master. But all the shops were also closed. This place was one of the main reasons for me to come to Spiti. I was mentally preparing myself to come again next year when suddenly a bunch of kids appeared. We were chatting with them when suddenly one of them went to the door and opened the post office! Thanks to our friend Jyoti who somehow convinced her. Her mother also felt good on seeing so many tourists and helped us in getting the stamps. I had written 3 postcards hoping that atleast some of them will reach. And guess what? 1 has already reached last week!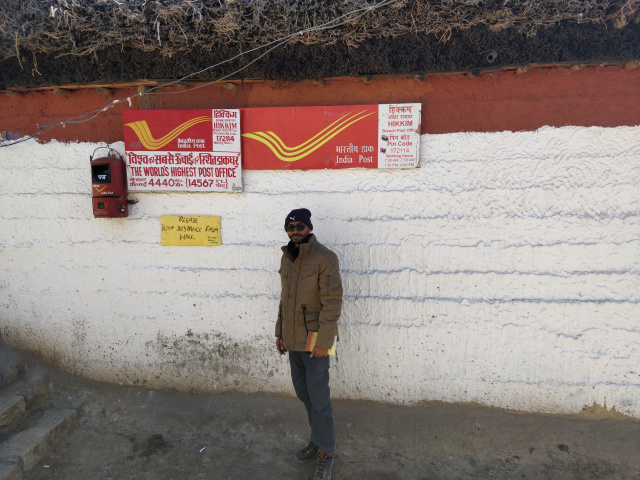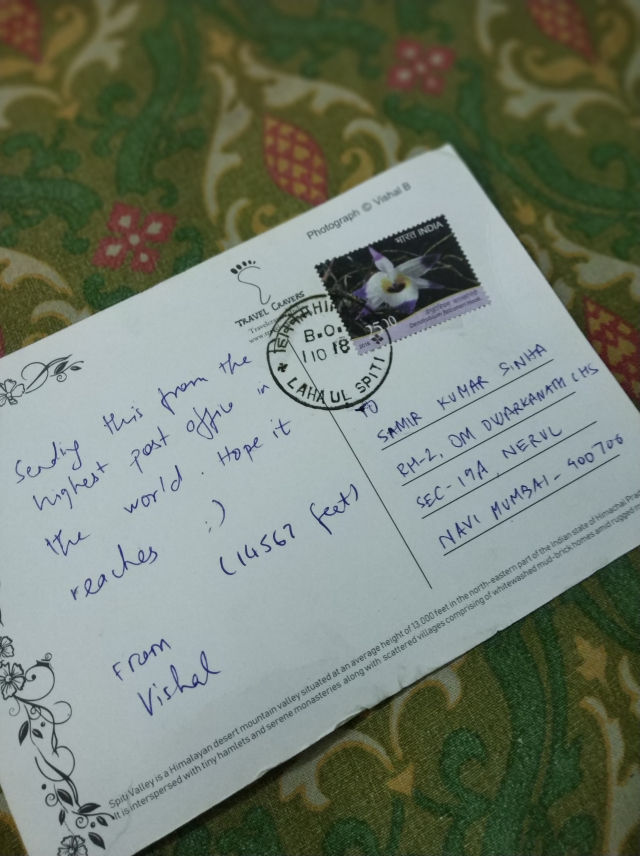 After thanking the lady and her daughter, we left for Kaza. Some of us wanted to do some shopping so we headed to the market area. But first, we landed at Himalayan Cafe and ate to our heart's content. Then we went for shopping. I have a fascination for fridge magnets and prayer flags and I bought a lot of them. We also went to Taste of Spiti which is run by Spiti Ecosphere. They are doing a lot of good work in helping the locals. The postcards here were really cute and I ended up buying some to take back home.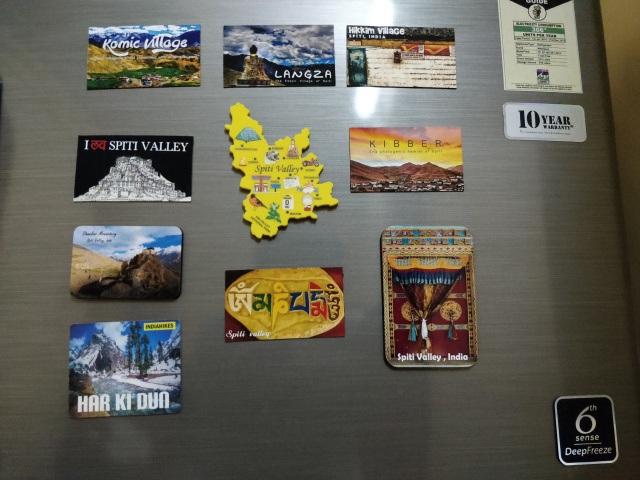 By the time we were done, the stars had lit up the sky. Walking under them, reminiscing about the day, we didn't even realize that the hotel had come! And today we even saw the Milky Way. But by the time we decided to capture it, clouds had covered it. Nevertheless, my dream of seeing the milky way was fulfilled. Now the only thing remaining was to capture it :) After dinner, all of us gathered for the bonfire. Each one of us was given the task to speak about all the remaining folks. Apart from my roommates, I hadn't interacted much with others. So today I got a chance to know all of them properly :) I realized that Ninel's name was not Phenyl :) (I hope she doesn't kill me for writing this!!) Jokes apart, she is from Goa and has a really sweet voice. And Veena and Jyoti worked just two buildings away from mine! The world is indeed small. Bharat and Rini were fondly called bhaiya and bhabhi by all. Rini was likely a watchful protector and always used to check with everyone if they were sick or not or if they needed something. Feroz Sir and Noddy Khan were the Youtube celebrities of our group. At such a young age, Noddy has achieved a lot and is living his father's dream. It was heartwarming to see both of them bond so well. The 6 guys from Tavera were a class apart. Even though they were in a group, they gelled very well with the rest. When their turn came to speak, all of us were waiting to know what would they say. And trust me, what they shared, left us in splits :) Poor Jyoti and Veena were tagged as being bimaar (sick) and that they were trapped badly in this trip! :) It was fun to hear all this light-hearted banter. Once everyone was done, we went to our rooms, to spend the last night of our trip in Spiti. We still had 2 more days. But Spiti Valley was coming to end.