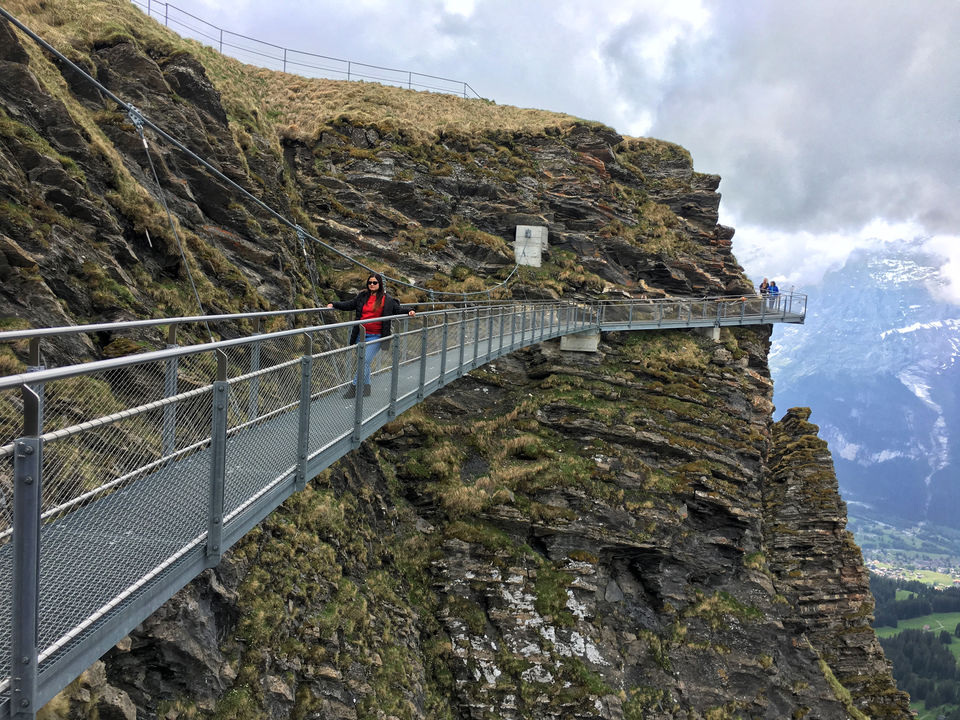 Previous post link

https://www.tripoto.com/trip/eurotrip-4-road-trip-in-switzerland-5d90690b7d953
Day 9:
#TheRoadTripContinues.
#GrindelwaldFirst
We left our Bnb and headed towards Grindelwald First a not so famous mountain peak for Indians.
The journey was one of the most scenic journeys ever. I cannot literally explain the beauty with words.
We reached the parking near the cable car station, but it was full, so we moved ahead and found another nearly 500 meters away. This excursion is known for the adventure activities at the peak. There are a total of 4 activities to choose from. You can either book at the location or take a package. We took a package for 2 activities along with the return cable car. The price was 86 CHF (6000 INR). We did the first glider activity after reaching the top. , then the cliff walk. Had some coffee at the restaurant on the peak, then after a lot of thinking decided to do the trot bike activity, which is basically a tricycle which you ride downhill.
It was quite fun, but the queue for the Trot bike was enormous and took nearly an hour to get to the starting point. We spend the whole day at Grindelwald first. Later returned to our Bnb in Darstatten again a small mountain village. The day was fun filled and adventurous. There are a lot of options in the Jungfrau region. You can either choose to go on a full day excursion to Jungfrau which will burn a hole in your pocket at nearly (18000 INR) for 1 person, or go to Lauterbrunnen, or Go to Murren. Alternatively you can visit Mt Pilatus near Lucerne. Look them up and choose the one which suites you most.
Day 10 :
#ZWEISIMMEN
#GSTAAD
Today was the day to follow the DDLJ trail in Switzerland.
We started from our Bnb and headed to Zweisimmen, a small village in Switzerland. A couple of scenes for the movie DDLJ was shot here. It was a 30 minute ride from our Bnb. We parked near the railway station and surprisingly it was free. A first time in Switerland. The place was amazingly beautiful. After spending a couple of hour exploring the place we headed towards Saanen, another location of the DDLJ trail. A Beautiful church and picturesque greenery makes this place a paradise.
We then headed towards the beautiful village of Gstaad, yet another location of the DDLJ trail. The small town/village with its distinct architecture was fascinating to explore. All these locations are very well connected by rail from Interlaken and Lucerne, Zurich. So anyone can visit these places even would out renting a car.
We were on cost cutting mode, so by the time completed Gstaad, it was already time for lunch. Our next destination, Interlaken. We had to cross our Bnb and travel around 30 minutes to reach Interlaken. So we decided to have lunch in our Bnb itself. It cost us around 30 minutes but saved us a lot.
After lunch we were at Interlaken. Parking was pretty easy. Its readily available on the streets as well near Interlaken OST but all of them are paid. We headed towards Harder Klum, just behind the Interlaken OST station. It was a brief ride but pretty expensive around 38CHF ( 2600 INR ) for a 10 minute ride. The view from the top is spectacular. We spent the rest of the evening exploring Interlaken. Finally we returned to our bnb at around 10.30pm
Day 11 :
#Rhinefalls
#Zurich
It was our last day of our road trip. By this time we were pretty confident about driving. Our plan was to return the car by evening at Zurich airport then explore Zurich.
The system of renting the car is pretty simple. You rent the car at a given date and time. You receive the car with fuel tank indicator showing full. When you return the car you must do so at around the time of receiving the car give or take half an hour. The tank must be full or atleast the indicator must show full tank.
So we started our journey from Darstatten for Zurich, via Bern and Rhine falls. It was almost a 230 kms journey, but mostly on motorway at a maximum speed of 120 km/hr. as we had enough confidence we covered the distance in roughly 2 hours and 30 minutes. We arrived at Rhine falls at 11am. The entry was 20 CHF ( 1400 INR) . The place has a pretty large parking area ( parking free). The entrance is through an old Castle. The place is very beautiful. The amount of water rushing down every second is un fathomable. There are boat cruises which have 10,15 and 30 minutes ride time and prices accordingly. It takes you very close to the waterfall and you will get wet by the water spray, so better to carry poncho, rain jacket if you plan to use the ride. Unfortunately we did not have any protection so we enjoyed the views from the banks.
We had our lunch in an Indian food truck, where the prices were exorbitantly high, but we did not have much time. After breakfast we started for Zurich, a 40 minutes ride. We planned to visit our Bnb first, drop our luggage and then return the car. On the way we filled up the petrol in the car, and then reached the airport. The return service is marked all the way and was very easy to navigate. As we approached the return area, a staff approached us, he scanned the bar code in the car, physically checked for scratches and dents and checked the fuel indicator and within 2 minutes we were done.
We had successfully completed our maiden road trip in Switzerland! It felt like some kind of an achievement to have completed it without any fines or breaking any rules, but driving there is pretty easy, you follow your lane and your speed. No extra skillset required. Anyways, we had some time left to explore some parts of Zurich so we again headed towards Zurich main station for the airport. We spent the remaining of the evening sitting by the Zurich lake enjoying street performances. Later it was time to return to our bnb which was close to the airport. The way was to take the train to airport then take the bus, or hire a cab. Incidentally as the case was in paris, the combined fare for 4 person in public transport was more than in a cab so we hired one using UBER and within 15 minutes were back in our Room. This marked the end of the remarkable Switzerland Trip.
Day trip to Milan will be concluding part in my next log.
I would like to thank everyone who are spending their time to read my logs and like, share and comment on them. Means a lot to me !
Thanks !